iPhone SE 2020 Review: Apple's Latest Value Play Impresses
iPhone SE: Camera Testing and Battery Life
A whole bunch of virtual ink has been spilled decrying the fact that Apple equipped the iPhone SE with just a single rear camera—a less robust one than what's found on the iPhone 11 at that—and rightly so. A year ago, the
Pixel 3a
shipped with a single camera, but it was the exact same sensor as what was found on the
flagship Pixel 3
at the time. Apple and Google have traded blows over the last couple of years in a heated competition over what device had the better camera. Since that time, Motorola's One family (Hyper, Action, and Zoom) each make a case for great cameras at midrange prices, too.
Still, corners have to be cut in a midrange phone, and the A13 Bionic has an improved image signal processing chain over the A11 found in the iPhone 8. We'll be comparing against the best iPhone camera around, the standard medium-angle 12-megapixel camera on the
iPhone 11 Pro
. This isn't really a fair fight, since the iPhone 11 Pro costs more than twice as much as the iPhone SE, but it's what we had available for testing. It's important, however, to compare with a high-end device since (for instance) Google brought over the Pixel 3's excellent camera experience to the Pixel 3a, and we expect the same treatment if the rumors of a midrange "Pixel 4a" turn out to be true.
iPhone SE Video Tests
We took the
iPhone SE
to the park on what turned out to be a rainy, dreary day. You'll see some still photos from this outing on the page, but the less-than-ideal lighting served as a decent enough backdrop for some video on the local lagoon. There was a pretty stiff breeze, and the iPhone SE made no attempt to filter out wind noise, so you'll hear that, too.
The iPhone SE defaults video capture to 1080p 30 fps even though the camera is equipped for 60 fps video at normal speed and up to 240 fps in slow motion. This first video was taken with the defaults. The original bitrate is around 10 megabits per second, so around 80 MB per minute. That's fairly standard for an
iPhone
, and roughly on par with other smartphones. The results look pretty decent, although we don't see much close up in this sample. Wavy water can be a challenge for cameras to encode due to the semi-random nature of the surface ripples and the fact it just never sits still, but we don't see much noise in the original. The YouTube conversion looks pretty good, too.
Next up we captured some
4K
video at 60 fps, which represents the best quality the camera can capture. This video, along with the next one, are in my back yard on another overcast day.
While the original capture was at 3840x2160,
YouTube
just won't show it at a higher resolution than 1080p for some reason, but at least it plays back at 60 fps this time. Despite that setback, you can see that as long as I'm not shaking the phone when I throw the toy, the video is pretty smooth. We wouldn't call the focus razor-sharp, however, as both the dog and the scenery remain kind of soft upon a close inspection. 4K and 60 fps comes at a hefty price in terms of storage. This 30-second video consumes 230 MB of space on the device, so it takes up space at a rate of around 460 MB per minute. That means you'll capture around 90-100 minutes of video (after factoring in system space requirements) before the 64 GB iPhone SE runs out of storage.
Finally, the iPhone SE's camera can capture 1080p video in slow motion at frame rates up to 240 fps in real-time. Those videos play back at 30 fps, so the resulting video is running at 1/8 the original speed.
Even though the camera only has around 4 milliseconds to capture light, the video isn't dark at all. The iPhone SE again stays focused on the dog as she runs around, and there's still not a lot of noise. Focus is pretty consistent throughout, though it's once again a little soft. Objects are easy to identify, but we don't think you'll be recording a feature film with the iPhone SE. It's important to remember the phone's price point, and see that this is just one of the corners
Apple
chose to cut in its design process.
iPhone SE Still Photography
Next up let's take a look at some still photos to get a feel for how the iPhone SE's camera performs. The rear snapper has a 12-megapixel sensor behind a six-element lens with a pretty wide aperture of f/1.8. That means the sensor gets to gather lots of light because the opening on the lens is pretty wide, but it'll have a fairly shallow focus depth. That's not really any different than many other smartphones, though, so let's take a look. In all of our comparisons, the iPhone SE is on the left and the
iPhone 11
Pro is on the right. That's not exactly a fair fight, but it's what was available. The iPhone 11 Pro always captured pictures with its main 12-megapixel lens.
The first thing we see is that the field of view is pretty narrow on the iPhone SE compared to that of the 11 Pro. That's going to hold throughout our shots, but being up close it's much more obvious in this photo than it is others. That's not a bad decision overall, since there's just a single sensor in this camera, and a narrower field is often preferable for photographing people or posting lunch on
Instagram
. It's not ideal for wide shots like a scenic sunset, but having only a wide angle camera might have been harder to live with.
The iPhone SE captured a pretty clear photo in this bright, sunny scene. However, the iPhone 11 Pro has several things going for it in this instance. The iPhone SE has a somewhat softer focus when we zoom in on the fine details. For instance, the contour on the left Spider-Man's head against the sky is razor-sharp on the iPhone 11 Pro, while there's a bit of a blurriness to the iPhone SE's image. Both cameras do a pretty decent job of picking up on the details in the right side Spider-Man's eyes and suit.
Barbara just didn't want to pose on this early morning with a touch of light coming in through the window, and both phone cameras made a blurry mess of her wagging tail. These photos were taken at roughly the same time from slightly different angles, so the field of view difference isn't as obvious. The focus, however, is again a bit sharper on the more expensive
smartphone
. If you click on the full-sized images, you can see both phones did a good job of keeping her face and body in focus. Again, the iPhone SE is a little softer to our eye, but it's certainly not turning in bad results at all.
In our overcast shots, we see more of the same comparisons. Again, the iPhone SE is much closer to the statue, and perhaps just a little bit out of focus. Despite being larger, the text on the base of the statue is not as sharp in the iPhone SE. These are small differences, but it's pretty consistent throughout our shots so far. There's also a little bit of a color temperature difference that starts to appear. The grass on the left on the iPhone SE looks a little bit more blue-ish than it does through the lens of the 11 Pro, but it's pretty subtle. Let's look at one more park shot, where it's way more obvious.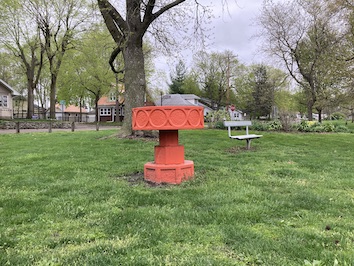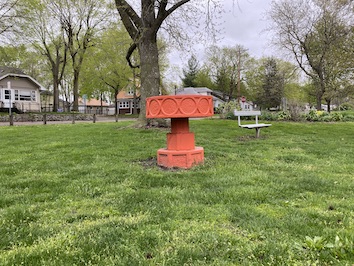 iPhone SE (Left), iPhone 11 (Right)
This bird bath illustrates a huge difference between the two phones when no other photo we captured could do it. Sure, the grass in the previous photo was a little more blue, but here the grass is
very
blue compared to the iPhone 11 Pro. The difference in our positioning is that the bird bath was to our east when the sun was coming up and the statue was more to the west, with what little sun there was coming over our shoulder. Other differences again include a little softer focus and a narrower field of view.
And here we finally find the
iPhone SE
's achilles heel: a dark room. At around 7:30pm we opened a single east-facing curtain and took a picture. The iPhone SE's depiction of the scene is truer to the real ambient lighting in the room, but it's a dark, noisy, blurry mess. The iPhone 11 Pro does a much better job getting by with what light is available. Unfortunately a Pixel 3a with Night Sight wasn't available for testing, but we think that Google very likely has the upper hand in low-light midrange smartphone photography.
iPhone SE Battery Life
Unlike some lower-cost
Android
phones, Apple included
Qi
wireless charging in even its cheapest iPhone, which is really nice to have. It'll come in handy for folks at their desks, especially considering the relatively small battery inside the iPhone SE. Under that glass facade is an 6.96 Wh power pack. Apple estimates the iPhone SE will run for 40 hours of music playback, 13 hours of video playback, or 8 hours of streaming video playback. A smaller body necessitates a smaller battery, but there's also a smaller display to power so it may not be such a big deal.
Unfortunately,
PCMark
's battery test, which we traditionally use for Android phone reviews, isn't available for iOS. For that reason we're relegated to relaying battery life as a subjective impression, rather than a hard number. That said, this diminutive phone does relatively well in regular daily use considering the size of the power pack tucked away under the hood.
Most iPhones these days have batteries with much more capacity than the iPhone SE. If you're a relatively light user, or indoors and on Wi-Fi most of the day, we found the battery sufficient to get us through a whole day using the phone as our primary device. Sitting off the charger, unused, for 5 hours resulted in the battery showing a 98% charge level, so it seems the
A13 Bionic
is pretty frugal while sitting idle.
When we were out and about, and more importantly, in direct sunlight where the screen had to crank up to maximum brightness, the iPhone SE chewed through the battery. A favorite post-work activity in my family is to go for a walk around our neighborhood while playing
Pokemon Go
. That'll drain the battery pretty quickly, and the iPhone SE fresh off the charger was down to 80% after just an hour. Meanwhile, my iPhone 11 Pro was able to keep the battery level up at 89%. If you're a heavy user, you might want to be near an outlet at some point during your day, and that 22W charger might come in handy.
Related content
Comments