AMD Threadripper 3970X And 3960X Review: Multi-Threaded Domination
Ryzen Threadripper 3970X & 3960X - Our Summary And The Verdict
Performance Summary: AMD's 3rd Generation Ryzen Threadripper 3970X and 3960X are monstrously powerful processors. In our single and lightly threaded tests, these new CPUs competed favorably with Intel's high-end desktop Cascade Lake-X and Skylake-X-based processors, though the higher-clocked (and lower core count) Coffee Lake-based processors are still the single-thread leaders. In the vast majority of multi-threaded workloads, however, AMD's 3rd Generation Threadrippers cannot be touched. Both the 24-core Threadripper 3960X and 32-core 3970X continually shredded the just-released 18-core Core i9-10980XE by wide margins. With some basic overclocking via Ryzen Master, the Threadripper 3970X more than doubled the performance of the Core i9-10980XE in Cinebench R20. Power consumption, while relatively high in aggregate, was not out-of-line considering the processors' high core counts and strong performance.

With the launch of these 3rd Generation Threadripper 3000 series processors, AMD turns the high-end desktop processor market on its head. For creative professionals that use applications that will leverage the massive core resources available in these CPUs, the latest
Threadrippers
cannot be touched. Not only is performance on another level versus virtually all other desktop platforms, but the vast majority of quirks and performance anomalies present with previous-gen Threadripper WX-series processors have been eliminated, thanks to the Zen 2 architecture, massive amounts of cache, and a new chiplet topology that allows every CPU core to connect to main system memory. There are still some applications (like some games) that don't behave well on many-core processors, but 3rd Gen Threadrippers are a massive improvement regardless.
Like mainstream
Ryzen
3000 series processors, these new Threadrippers and the companion
TRX40
chipset support PCI Express 4.0 and the platform as a whole offers a massive amount of usable IO. Keep in mind that not only do these Threadrippers offer more usable PCIe lanes than other platforms, but they're double the bandwidth of PCI Express 3.0 solutions as well.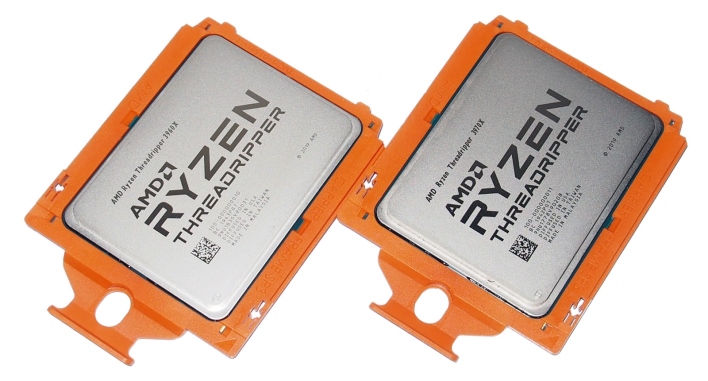 AMD knows it's got a killer platform on its hands and has priced these new Threadrippers accordingly. The
24-core Threadripper 3960X arrives at $1399
and the 32-core Threadripper 3970X at $1999. That makes the 3960X 40% pricier than the Core i9-10980XE and 3970X roughly double the price. Intel's new pricing strategy makes Cascade Lake X the more affordable solution, while 3rd Gen Threadripper is now the premium king-of-the-hill.
As impressive as these new Threadrippers are though, AMD is still not done. The company plans to pack even more cores into the sTRX4 socket with
a 64-core / 128-thread Threadripper 3990X
at some point in the future. And let's not forget even higher core count
EPYC
processors are out there, which may get re-purposed for next-gen WX-series 3rd Gen Threadrippers. AMD has a lot of flexibility to alter core counts and re-jigger its product stack, thanks those handy chiplets and IO die.
In the end, we can't help but be impressed with what AMD has done with these new 3rd Gen Threadrippers. They are incredibly high performers and offer features (like PCI Express 4.0) not available elsewhere. If you're a creative professional looking for the most powerful many-core platform out there, look no further.
Great Multi-Threaded Performance
More Predicable Perf Than 2nd Gen CPUs
Big Single-Thread Improvements
PCI Express 4.0 Support
Easy 1-Click Overclocking

Premium Pricing
Somewhat Higher Power Than Expected
Requires New Motherboards / Chipset
Related content