AMD Confirms Ryzen Threadripper 3990X 64-Core/128-Thread Flagship Zen 2 CPU
Earlier this month, we reported that our suspicions about a 64-core/128-thread Ryzen Threadripper 3990X processor had been
confirmed by an MSI leak
. And now, AMD has confirmed the existence of the Threadripper 3990X, and it will be an absolute performance beast.
AMD is just giving us a high-level look at what the processor will offer, but we can confirm 64 physical cores and 128 threads. In addition, AMD says that the Threadripper 3990X will feature a total of 288MB of cache (L2+L3), while operating within a 280W TDP.
AMD already has bragging rights with its 24-core/48-thread Threadripper 3960X and 32-core/64-thread Threadripper 3970X compared to the newly released 18-core/36-thread Intel Core i9-10980XE, but the Threadripper 3990X is just the icing on the cake in the high-end desktop (HEDT) market.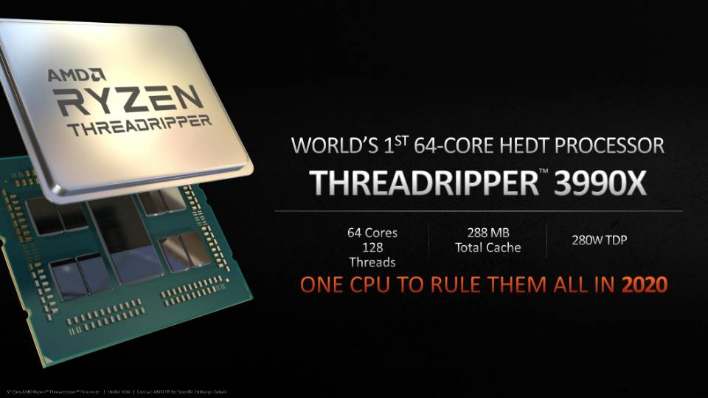 At this time, AMD hasn't doled out any specifics on clock speeds, but given the sheer number of cores available, we'd expect specs might be pared back slightly from the 3.7GHz/4.5GHz base/boost clocks of the Threadripper 3990X.
At this time, AMD is only indicating that the Threadripper 3990X will be available in 2020 – no other specific timeframes have been given. The company is also not divulging any details on pricing, although we'd expect that it won't come cheap. The Threadripper 3960X is priced at $1,399, while the Threadripper 3970X comes in at $1,999. Given its core count, we wouldn't be surprised to the see the Threadripper 3990X debut with a price tag of $2,999 or higher.
In the meantime, be sure to check out our review of the Threadripper 3960X and 3970X to get an idea of what's in store for the 64-thread/128-thread flagship processor in 2020.