AMD Threadripper 3970X And 3960X Review: Multi-Threaded Domination
Ryzen Threadripper 3970X & 3960X - Ultra Performance For Creators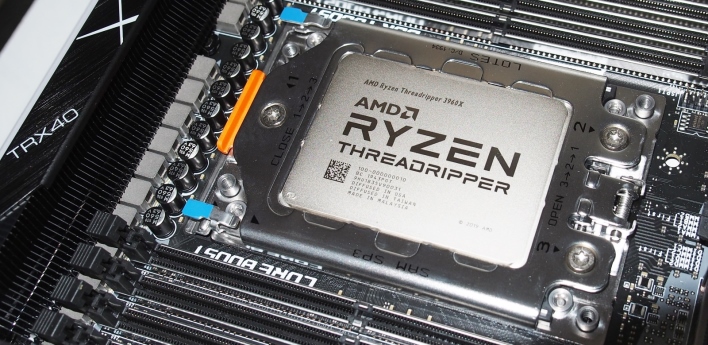 AMD has been on an impressive run since the release of its first-generation
Ryzen processors
a couple of years back. After a long stretch playing second-fiddle to Intel in the desktop processor space, unable to effectively compete at the high-end of the market, AMD's Zen micro-architecture propelled the company into a much more competitive position. And follow-on products turned the heat up on Intel even further.
Today, that heat becomes a blazing hot inferno as
AMD
completely reshapes the HEDT landscape with a pair of processors as impressive as we've ever seen. At the risk of spoiling the rest of this review, AMD not only overtakes Intel in the HEDT market with this release of its 3rd Generation Threadripper 3970X and 3760X, it blows past them and leaves Chipzilla in the dust under certain workloads.
The 3rd Generation
Threadripper
3970X and 3760X are 32-core (64-thread) and 24-core (48-thread) processors, respectively, much like AMD's previous-generation WX-series Threadrippers. These new processors, however, expand upon the goodness that arrived with mainstream Zen 2-based
Ryzen 3000-series processors
and erase many of the caveats that came with previous-gen, many-core Threadrippers. Take a look at the specifications below and then we'll dig in a bit deeper to show you what we're talking about…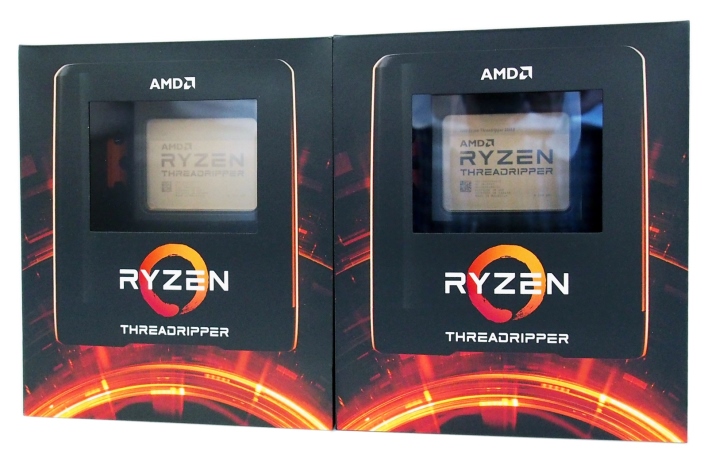 AMD 3rd Generation Ryzen Threadripper 3000 Series

Specifications & Features
---
Before we continue, note that 3rd Generation Ryzen
Threadripper
processors leverage all of the same technologies that debuted with the mainstream Ryzen 3000-series processors for socket AM4. They leverage the same chiplet topology, 8-core 7nm
Zen 2
CPU chiplets, and 12nm IO die, all linked together via AMD's Infinity Fabric – there's just double of everything crammed under those integrated heat-spreaders.

As such, we won't be digging into the architectural details again here. If you'd like a refresher of Zen 2 and all of the changes and enhancements AMD made with its latest CPU architecture, be sure to
check this article out
.
At first glance, the 3rd Generation Threadripper 3970X and 3760X looks just like their many-core predecessors. They use what looks like the same socket (but is not – more on that later) and are compatible with the same memory, coolers, etc. From the top and bottom, there's not much to see that'll appear any different than previous-gen Threadrippers, but a lot has changed.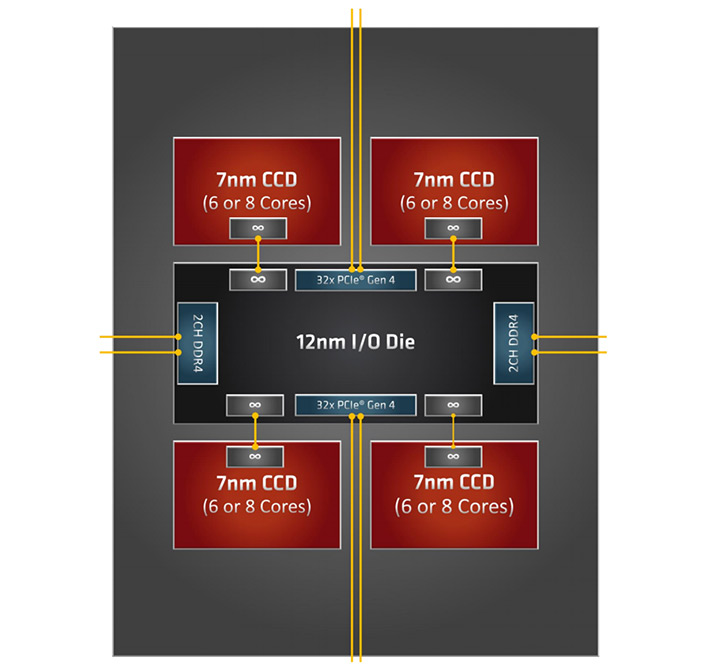 The CPU cores at the heart of the 3rd Generation Threadripper 3970X and 3760X are grouped into four, 7nm 8-core chiplets (with either 6 or 8 cores enabled), each with dual, four-core compute complexes (CCX). Those chiplets are linked to an IO die (manufactured at 12nm) that houses the memory controller, PCI Express lanes, and other off-chip IO. Instead of having one large die like most previous-gen processors, like the Ryzen 3000 series, 3rd gen Threadrippers are comprised of multiple chiplets that are linked together via
AMD's Infinity Fabric
.
The processors support PCI Express 4.0 and leverage quad DDR4 memory channels, with official support for DDR4-3200, though higher speeds are possible with overclocking. Finally, TDPs are rated at 280W for these beasts at their stock frequencies (3.8GHz base / 4.5GHz boost for the 3960X and 3.7GHz base / 4.5GHz boost for the 3970X).
If you check out the CPU-Z details for the new 3rd Generation Ryzen Threadripper 3970X and 3760X, you'll see that the chip is code named "Starship" and just like the previously-launched Ryzen 3000 series processors, it is based on stepping 0, but the revision isn't reported (Ryzen 3000 series processors use revision MTS-B0). The processors have 32K of L1 data cache per core, and 32K of L1 instruction cache per core, which is actually half that of second-gen
Ryzen
. The re-configured L1 cache, however, has 8-way associativity. The 512K of L2 cache per core is also 8-way associative, and there is 16MB of shared L3 cache per CCX, which is 16-way associative. On the 32-core (64-thread) Ryzen Threadripper 3970X, that brings total cache up to a whopping 146MB (144MB L2 + L3), while the 24-core 3960X tops out at 70MB and 8-core processors max out at 143.5MB (140MB L2 + L3).
AMD 3rd Gen Threadrippers - What's In That Box?
Like the previous-gen Threadrippers, AMD has gotten creative with 3rd Generation Threadripper 3000-series packaging. The processors are shipped in relatively large boxes, which contain a plastic display case that holds the processors upright in a pedestal.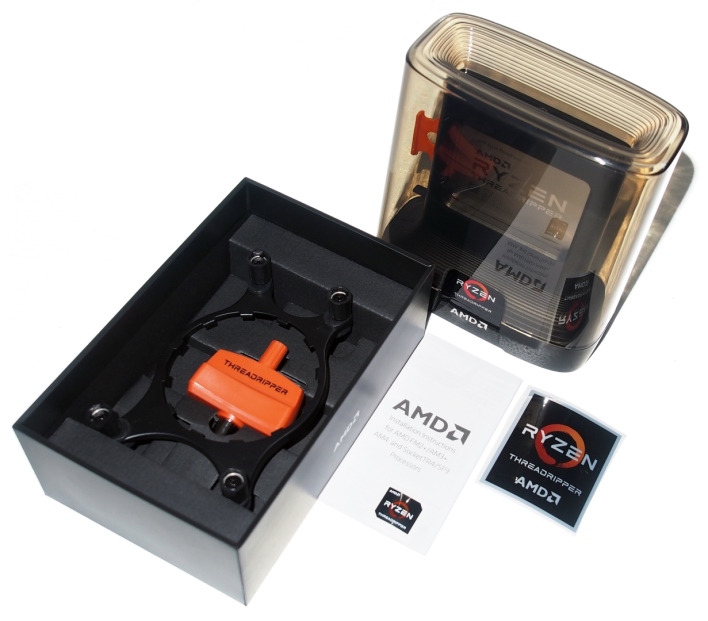 Underneath the case, AMD includes a mounting bracket for circular Asetek style AIO liquid coolers, some basic documentation, a couple of Ryzen Threadripper decals (one large, one small), and a Torx torque-driver for engaging / disengaging the processor socket. If you haven't seen how AMD Threadrippers are installed into their sockets, be sure to see
Dave do the deed in this video
-- subscribe and hit that reminder bell while you're on the channel too.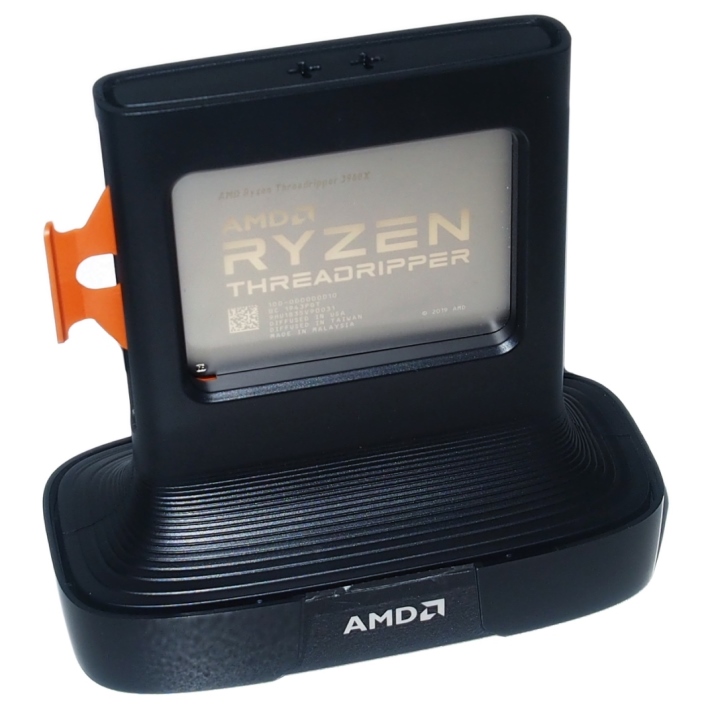 The top of the processor's display case pops off to reveal the pedestal that holds the CPU. There is small clip on the side that locks the processor in place. Once removed, the processor will slide right out of the side stand. The packaging is not quite as in-your-face as previous-gen Threadrippers, but it's unique nonetheless.
Related content