Intel Core i9-10980XE Review: 18-Core Cascade Lake-X Battles AMD [Updated]
Intel Core i9-10980XE - 18-Cores Of Cascade Lake-X Muscle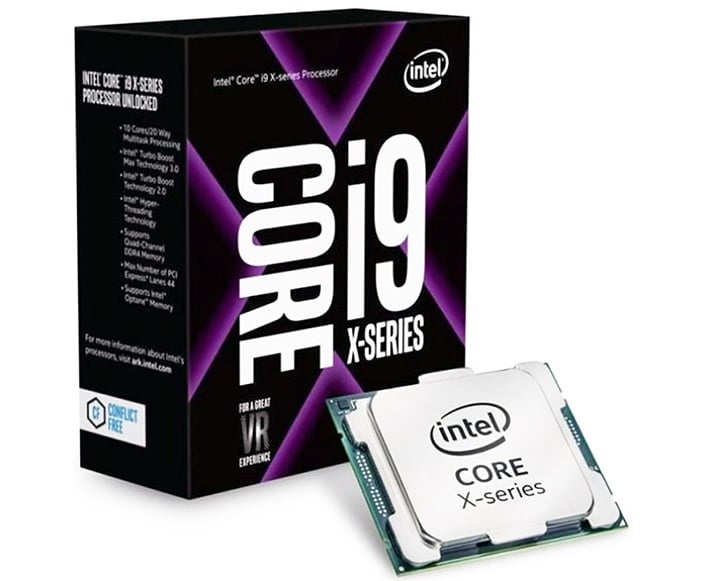 Intel officially took the wraps off of its upcoming
Cascade Lake-X
based HEDT processors back in early October, revealed its updated pricing strategy, and the new features coming to its flagship desktop processor line-up. If you missed the original announcement and array of leaked performance data since then, Cascade Lake-X is a essentially a refresh of Skylake-X (the processor cores are mostly unchanged), but with official support for faster memory, more aggressive clocking and boost algorithms, and DL Boost integration, to help accelerate and array of
AI
workloads.
Cascade Lake-X will work in existing X299-based motherboards (with the proper BIOS support), its peak core count is unchanged (18), and despite higher boost clocks, its power envelope remains the same as well. Where Intel has really shaken things up, however, is pricing. Whereas the previous-generation flagship Core i9-9980XE launched at $1,979, the new 10th Gen Core i9-10980XE we'll be showing you here today arrives with an MSRP of
only
$979. As you'll see,
the Core i9-10980XE
is faster than the previous-gen in almost every way, and our power numbers were somewhat surprising as well, but pricing has been slashed by more than half.
Intense pressure from rival AMD has clearly had an impact on Intel's desktop processor strategy, and
AMD plans to release
some new
HEDT
(High-End Desktop) processors of its own a few hours after this article goes live. However, since Intel has officially lifted the embargo on the Core i9-10980XE we thought we'd show the goods ASAP. So, here goes...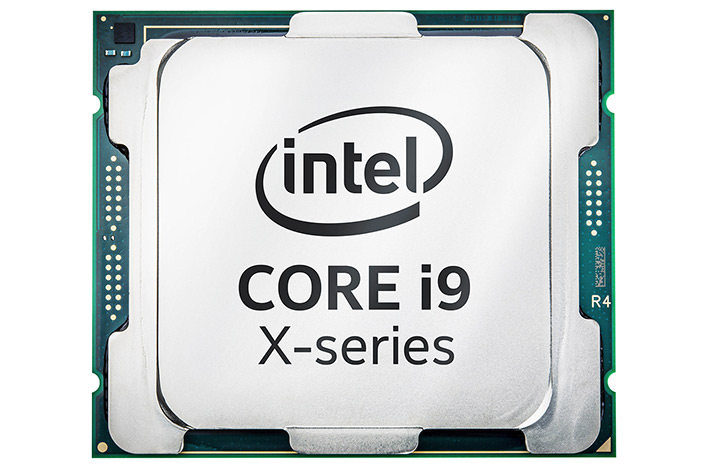 Intel Core i9-10980XE HEDT Processor

Specifications & Features

Intel Turbo Boost Technology 2.0: Dynamically increases the processor frequency up to 4.6 GHz when applications demand more performance. Speed when you need it, energy efficiency when you don't.
Intel Turbo Boost Max Technology 3.0: Now identifies the two best performing cores to provide increased single- and dual-core performance up to 4.8 GHz. Natively supported with the latest Microsoft Windows* 10 releases, Linux* distributions based on kernels since 2017, or the Intel Turbo Boost Max Technology 3.0 driver for legacy Microsoft Windows products.
Intel Deep Learning Boost: A new technology unique to Intel architecture designed to accelerate artificial intelligence for faster image tagging, image enhancement, and marker-less motion tracking.

Intel Hyper-Threading Technology: Allows each processor core to work on two tasks at the same time for up to 36 total independent tasks (threads) providing parallel processing capability for better multi-tasking with threaded applications.
Intel Smart Cache: 24.75 MB of shared cache allows faster access to your data by enabling dynamic and efficient allocation of the cache to match the needs of each core, which can help significantly reduce latency to frequently used data and improving performance.
CPU Overclocking Enabled (with Intel X299 Chipset): Fully unlocked core multiplier, base clock, and memory ratios as well as options to modify power settings and per core overclocking enable ultimate flexibility for overclocking.
Solder Thermal Interface Material: Delivering improved thermal conductivity between the CPU die and the integrated heat spreader for improved overclocking capability
Integrated Memory Controller: Supports 4 channels of DDR4-2933 memory. Support for memory based on the Intel Extreme Memory Profile (Intel XMP) specification.
PCI Express 3.0 Interface: Supports up to 8 GT/s for fast access to peripheral devices and networking with up to 44 lanes configurable, per x16 port, as 1x16, 2x8, or 1x8 and 2x4 depending on the motherboard design.
Chipset/Motherboard Compatibility: Compatible with the Intel X299 chipset with the latest BIOS and drivers.
---
As noted, Intel's 10th-Generation HEDT Core X processors are based on the company's Cascade Lake-X architecture. At its core, Cascade Lake-X is similar to Skylake-X, save for a few tweaks. Updates made to Intel Turbo Boost Max 3.0 will allow for two cores to achieve max boost simultaneously, not just one like 9th-gen parts. DL Boost has been integrated into the processors as well, and the total number of platform PCIe lanes will remain consistent at 72 (processor + chipset) across all SKUs. Intel is also adding in support for
Wi-Fi 6
and multi-gig Ethernet, increasing maximum memory support to 256GB, and is boosting the peak official memory frequency to DDR4-2933, though higher frequencies are possible with overclocking.
Cascade Lake-X features monolithic many-core designs, with the same restructured cache hierarchy and a high-speed mesh interconnect distributed between the cores as Skylake-X. It is not Intel's newest microarchitecture – that designation is currently reserved for the
Coffee Lake refresh
on desktops and
Ice Lake
in notebooks – but Cascade Lake-X is the foundation of Intel's top-end
HEDT
and many-core Xeon processors for the time being.
The 10th Gen Core X line-up's configurations correlate closely with Intel's 9th Generation, though Intel has streamlined the line-up to pick up where the mainstream Core i9-9900K leaves off. These 10th Gen parts are manufactured using Intel's 14nm++ process, they feature higher base and Turbo Boost frequencies than their predecessors, and they are also outfitted with soldered thermal interface material (STIM) to better wick away heat from the CPU die into the integrated heat spreader. All the chips have the same number of PCIe lanes (44), but some have more smart cache than others due to their Core configurations. The Core i9-10900X, i9-10920X,and9-10940X all have 19.25MB, while the top end Core i9-10980XE we'll be showing you here has 24.75MB. In terms of clock speed, the entire line-up bumps things up a few bins versus their predecessors, though expect the biggest performance deltas with single or lightly-threaded workloads. All-core boost on the flagship Core i9-10980XE is still 3.8GHz, though it will boost up to 4.8GHz with some workloads.
Intel Core i9-10980XE CPU-Z Core, Cache, And Clock Details
The Core i9-10980XE features 18 Cascade Lake-X cores (36 threads with HyperThreading) with a base clock of 3.1GHz, which is 100MHz higher than the 9980XE. The Core i9-10980XE also offers max Turbo Boost 2.0 and Turbo Boost Max 3.0 frequencies of 4.6GHz and 4.8GHz, which are 200MHz and 300MHz higher than the 9980XE, respectively. As mentioned, max all-core boost is 3.8GHz, which is similar to what we saw with the 9980XE when taxed in benchmarks like
Cinebench
and Blender that will utilize every core. The Core i9-10980XE has 24.75MB of shared L3 cache, 1MB of L2 cache per core, and a TDP of 165W, which is the same as the previous-gen.
Now, let's see how this thing performs...
(Update: 11/25 -- This article has been updated with 3rd Gen Threadripper 3000 series performance results.)
Related content