AMD Radeon RX 6500 XT Review: Budget RDNA 2-Powered Gaming
AMD Radeon RX 6500 XT: UL, Crytek And VR Benchmarks
How We Configured Our Test Systems: We tested the graphics cards represented in this article on a Gigabyte X570 Pro Wi-Fi motherboard, equipped with a Ryzen 9 5950X and 16GB of G.SKILL DDR4 RAM clocked at 3,200MHz. The first thing we did when configuring the test system was enter the UEFI and set all values to their "high performance" defaults, then we disabled any integrated peripherals that wouldn't be put to use. The memory's clock was dialed in to its optimal performance settings using its XMP profile and the solid state drive was then formatted and Windows 11 Professional was installed and fully updated. When the Windows installation was complete, we installed all of the drivers, games, applications and benchmark tools necessary to complete our tests.
Our Test System Configuration:
---
Hardware Used:


AMD Ryzen 9 5950X


(3.4GHz - 4.9GHz, 16-Core)



Gigabyte X570 Pro Wi-Fi

(AMD X570 Chipset)


16GB G.SKILL DDR4-3200



Samsung SSD 970 EVO




Integrated Audio




Integrated Network



NVIDIA GeForce GTX 1650
NVIDIA GeForce GTX 1660 Ti
AMD Radeon RX 6600
AMD Radeon RX 5600 XT
AMD Radeon RX 5500 XT
AMD Radeon RX 570
AMD Radeon RX 6500 XT
Relevant Software:
Windows 11 Pro
AMD Radeon Software v22.1.1
NVIDIA GeForce Drivers v511.23



Benchmarks Used:


VRMark
3DMark (Time Spy, Port Royal, DXR)
Unigine Superposition VR Future
Crytek Neon Noir
Marvel's Guardians Of The Galaxy
Final Fantasy XIV Endwalker
Gears 5
F1 2021
FarCry 6
---
UL 3DMark Time Spy DX12 Benchmarks
3DMark Time Spy is a synthetic DirectX benchmark test from UL. It features a
DirectX 12
engine built from the ground up to support bleeding-edge features like asynchronous compute, explicit multi-adapter, and multithreading. Time Spy is designed to test the DX12 performance of the latest graphics cards using a variety of techniques and varied visual sequences. This benchmark was developed with input from AMD, Intel, Microsoft, NVIDIA, and the other members of the UL Benchmark Development Program, to showcase the performance and visual potential of graphics cards driven by close-to-the-metal, low-overhead APIs.
Radeon RX 5500 XT
. The newer card has a slight edge in game test 2, whereas the 5500 XT is every so slightly ahead in game test 1. The Radeon RX 6500 XT is also significantly faster than the GeForce GTX 1650 and Radeon RX 570, but there are huge performance gains to be had by opting for a Radeon RX 6600 or GTX 1660-class GPU over the entry-level solutions.
UL 3DMark Port Royal Ray Tracing Benchmarks
Port Royal was released as an update to UL's popular 3DMark suite. It is designed to test real-time ray tracing performance of graphics cards that support Microsoft DirectX Raytracing, or DXR. Although DXR is technically compatible with all DX12-class GPUs, the graphics card must have drivers that enable support for the feature.
With the batch of mainstream GPUs we tested for this article, only the RTX 6000 series products support
DXR
. Trying to run this benchmark on the 4GB Radeon RX 6500 XT, however, yields a warning that it may not have enough memory to properly run the tests. As such, performance craters and is nearly 7x lower than the Radeon RX 6600. Unfortunately, this is a trend you'll see in the remainder of the
ray tracing
enabled tests as well.
We also experimented with the DirectX Ray Tracing Feature test, which was recently incorporated into 3DMark...
This more specialized benchmark focuses solely on DXR Ray Tracing effects. Neither Radeon offers good performance here, but the delta separating the two cards shrinks significantly.
Crytek Neon Noir Benchmarks
Crytek's Neon Noir demo was created with an advanced version of CRYENGINE's Total Illumination technology, which is used in
Crysis Remastered
to enhance the game's visuals. Neon Noir was developed on a customized version of CRYENGINE 5.5., and is both API and hardware agnostic. It enables ray tracing to run on virtually any modern GPU, however, future integration of the technology will be optimized for the latest GPUs and APIs like Vulkan and DX12...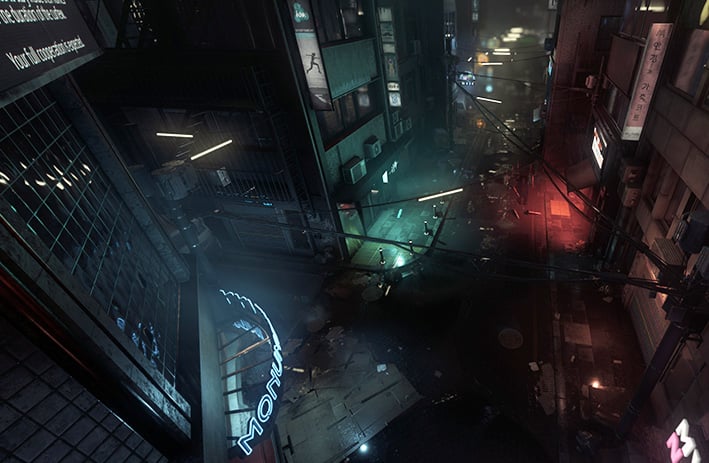 Crytek Neon Noir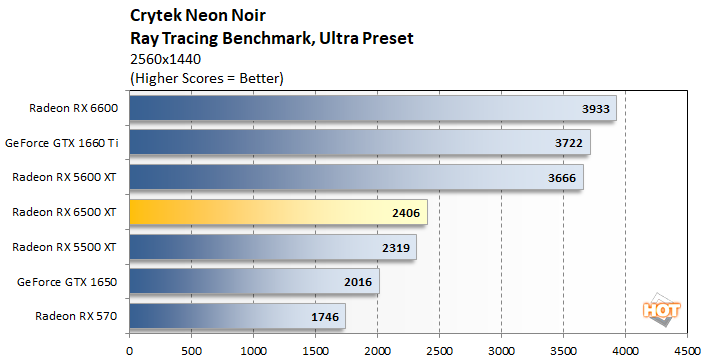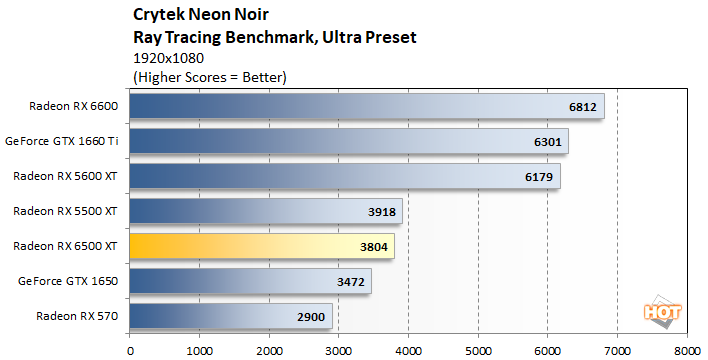 The new
Radeon
RX 6500 XT edges out the Radeon RX 5500 XT when running at 1080p here, but the 5500 XT sneaks past the 6500 XT with the resolution increased to 1440p, thanks in part to its higher native memory bandwidth.
VR Benchmarks: VR Mark & Unigine Superposition
Superposition is the latest benchmark from Unigine, powered by the UNIGINE 2 Engine. It offers an array of benchmark modes, targeting gaming workloads as well as
VR
, with both DirectX and OpenGL code paths. There is an extreme hardware stability test built-in too. Unigine Superposition uses the developer's unique SSRTGI (Screen-Space Ray-Traced Global Illumination) dynamic lighting technology, along with high quality textures and models, to produce some excellent visuals. We ran Superposition's VR Future benchmark to compare the performance of all of the graphics cards featured here.
Radeon RX 6600
.
UL VR Mark Blue Room Benchmarks
UL's VRMark is designed to test a PC's readiness for the HTC Vive and Oculus Rift virtual reality headsets. The benchmark does not, however, require that one of the headsets is attached to the PC to run and it uses an in-house graphics engine and content to ensure comparable results between different platforms. We ran the
"Blue Room"
VRMark test at defaults settings here, which is currently the most taxing test offered by the tool.
The tables turn in VRMark. Here, the Radeon RX 6500 XT outruns the lower-end GeForce RTX 1650 and Radeon RX 570, but the previous-gen Radeon RX 5500 XT has a small edge.
Related content