Snapdragon 765 And 765G Are Qualcomm's First Fully Integrated 5G Phone Chips
We've already brought you an overview of Qualcomm's new flagship
Snapdragon 865 Mobile Platform
, but the chip giant also has two "lesser" chips on deck for the mid-range to premium smartphone markets. The two chips are the Snapdragon 765 and Snapdragon 765G; the latter of which is a gaming-oriented SoC.
Like the Snapdragon 865 + Snapdragon X55 solution that we've already discussed, the Snapdragon 765/765G are 5G-enabled solutions, but they are superior to the flagship SoC in one critical aspect. Whereas the Snapdragon 865 requires a separate 5G modem that increases physical space and power requirements for OEMs, the Snapdragon 765/765G have an integrated 5G modem.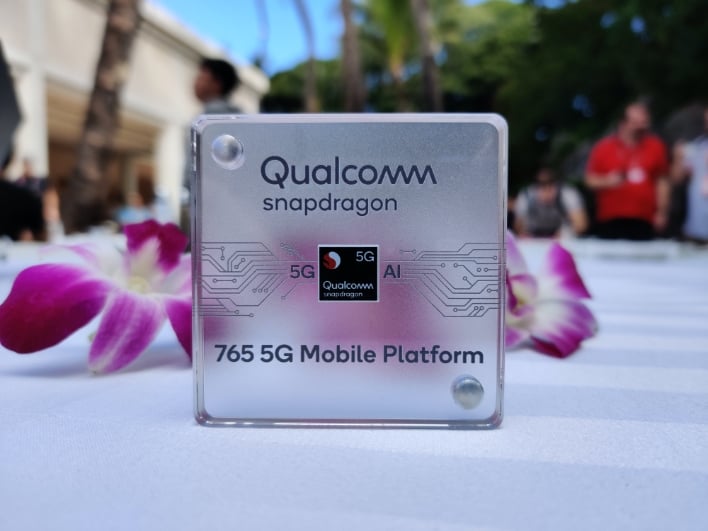 In this case, the SoCs are using Qualcomm's new Snapdragon X52 5G modem, which offers reduced peak downlink/uplink speeds compared to the Snapdragon X55 at 3.7Gbps/1.6Gbps compared to 7.5Gbps/3Gbps. However, we'd imagine that in the real-word given the nascent 5G networks that are available, there won't be much difference in performance between the two 5G modems. And as you might expect, the Snapdragon X52 support both mmWave and sub-6GHz spectrum, SA/NSA modes, TDD/FDD with Dynamic Spectrum Sharing (DSS) along with global 5G roaming and multi-SIM support.
The interesting thing to consider here is that OEMs looking to provide a true flagship smartphone in a thin, light, and uncompromised form-factor will be torn between two chips. The Snapdragon 865 carries the performance crown, but has the added baggage of being a two-chip solution. The Snapdragon 765/765G will promise greater efficiency thanks to its integrated 5G modem, but won't offer the sheer processing horsepower of the Snapdragon 865. Decisions, decisions...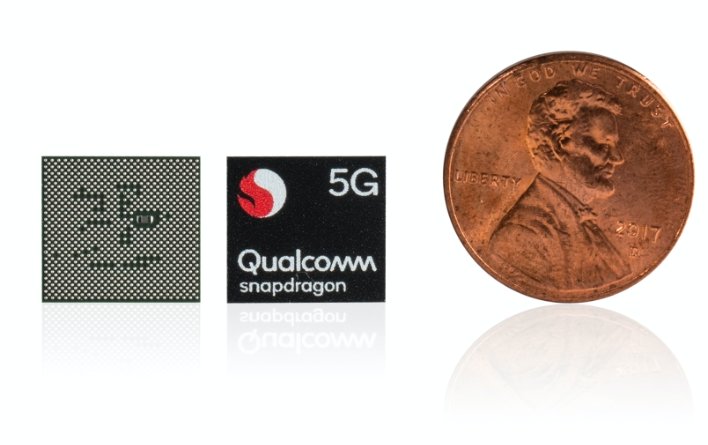 Moving along, both the Snapdragon 765 and Snapdragon 765G are powered by Kryo 475 CPUs (operating at up to 2.3GHz) and an Adreno 620 GPU. The latter offers a 20 percent improvement in graphics performance compared to its predecessor. The gaming-oriented Snapdragon 765G goes one step further with an even higher clocked Adreno 620 GPU that improves performance by 20 percent over the Snapdragon 765. Qualcomm is also touting 5.5 TOPS of AI compute performance with the Snapdragon 765G along with support for Snapdragon Elite Gaming features (which we discussed when the Snapdragon 730G was announced earlier this year).
The Snapdragon 765/765G support Wi-Fi 6 and Bluetooth 5.0, and bring with them support for 60Hz displays at QHD+ resolution, or FHD+ displays at 120Hz. Up to 192MP capture is supported, with up to 22MP dual rear cameras. 4K HDR video capture is also supported along with 720p/480fps.
Qualcomm says that the first smartphones shipping with Snapdragon 765/765G will arrive in Q1 2020.