Qualcomm Snapdragon 865 Amps Performance, Cameras And AI For Flagship 5G Phones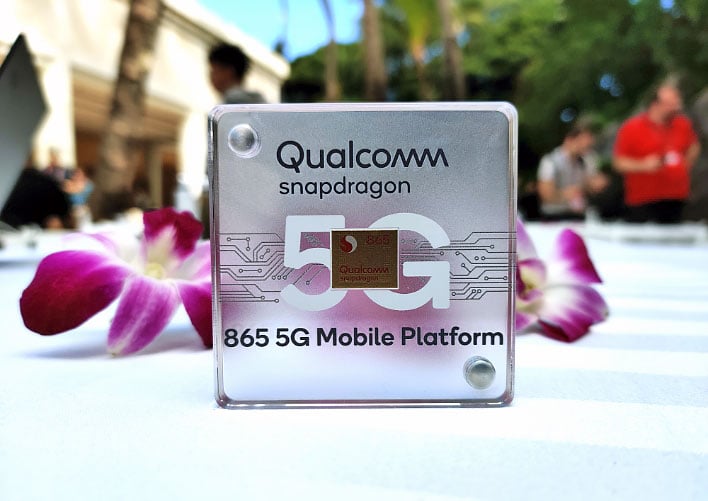 Qualcomm yesterday announced its new
Snapdragon 865 and Snapdragon 765/765G Mobile Platforms
, but the company was rather mum on specific details other than to say that both were 5G-enabled. Today, we're getting a full picture on what to expect when the first devices with these chips land next year, along with a clearer picture on the 5G modem situation with the respective platforms.
Kicking things off is the Snapdragon 865, which is the flagship SoC replacement for the Snapdragon 855/855+. The Snapdragon 865 is paired with a separate Snapdragon X55 5G modem; which is an interesting development. It is not an integrated 5G solution, which means that flagship Android smartphone will still have to go with a two-chip solution to enable 5G connectivity, which means more real estate taken up inside the chassis and increased power consumption.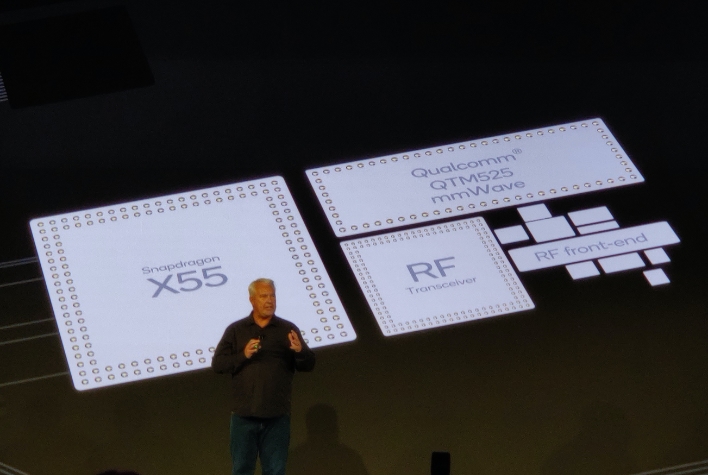 On the flip-side, the Snapdragon X55 5G modem does provide some tangible benefits over its Snapdragon X50 predecessor. It offers increased peak downlink speeds, which now top out at 7.5Gbps, while uplink speeds are capped at 3Gbps. The Snapdragon X55 also remains a 5G solution that supports both mmWave and sub-6GHz spectrum that will support deployments from all global carriers.
There also one other wrinkle with this two-chip solution. Reportedly, Qualcomm is mandating that OEMs will only be able to purchase the Snapdragon 865 bundled with the Snapdragon X55. There will be no opportunities for the Snapdragon 865 to be bought separately, which means that we won't see (at least not anytime soon) Snapdragon 865 smartphones without 5G connectivity.
As for the actual guts of the Snapdragon 865, Qualcomm announced that it is comprised of a Kryo 585 CPU of unknown core configuration. However, the company is quoting up to a 25 percent performance uplift over the Snapdragon 855. Also along for the ride is a new Adreno 650 GPU that likewise offers a 25 percent uplift in performance. This performance is likely to be further enhanced by support for up to 16GB of LPDDR5 (2750MHz) memory; LPDDR4x memory is also supported at up to 2133MHz.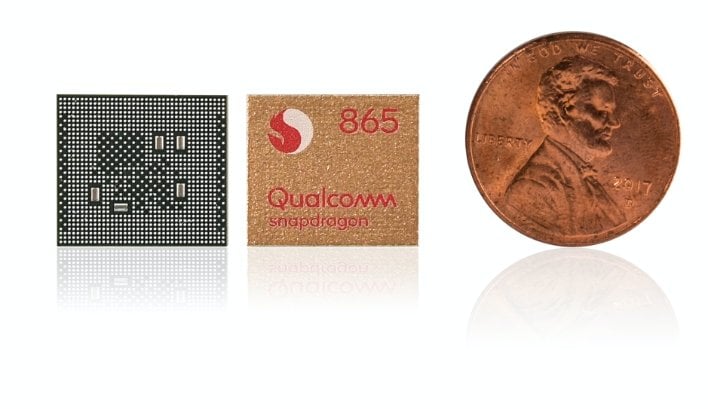 As you might imagine in this AI-centric tech world, Qualcomm has added in its fifth-generation AI engine that can deliver 15 TOPS of compute performance, which represents a doubling in performance over its predecessor while curbing power consumption by 35 percent. Other ancillary items include the Spectra 480 ISP, which supports up to a 200MP sensor, and up to 64MP dual cameras. Both 4K/120fps and 8K video is supported along with 720p/960fps slow-motion capture. The Snapdragon 865 also includes integrated support for current Wi-Fi 6 and Bluetooth 5.1 wireless standards.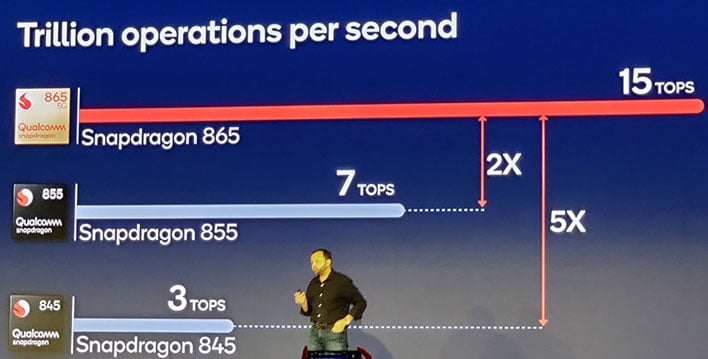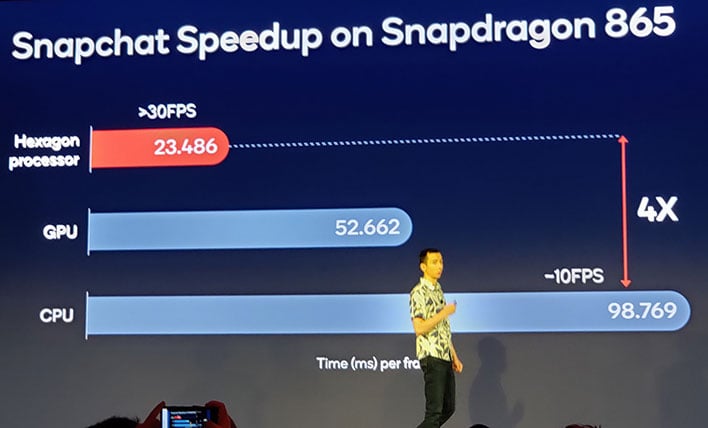 Update, 2:56PM 12/4/19: Qualcomm also highlights the fact that Snapdragon 865 will deliver 15 TOPS of total throughput, from all its compute engines, aggregate, and over 2X that of the previous generation Snapdragon 855. In addition, the company is claiming edge-based machine learning leadership with the new mobile platform in popular inferencing workloads.

The company notes that the first flagship Android smartphones using Snapdragon 865 will arrive in the first quarter of 2020, and we'd expect that LG, OnePlus, and Samsung will be among the first to use the SoC + 5G modem solution.