Qualcomm Snapdragon 865: Next-Gen Android Phone Benchmark Preview
Qualcomm Snapdragon 865 - Graphics And First Impressions
Next we'll see how the Snapdragon 865 testing device holds up with GFXBench, which has been one of our standard mobile graphics performance
benchmarks
for years. In order to ensure display refresh (v-sync) and resolution are not limiting factors, we are comparing off-screen test results here. GFXBench tests
OpenGL
ES graphics workloads and we're specifically testing GLES 2.0 and 3.0 rendering performance in the following two benchmark modules.
3D Graphics Benchmarks: 3DMark And GFX Bench

Pushing The Pixels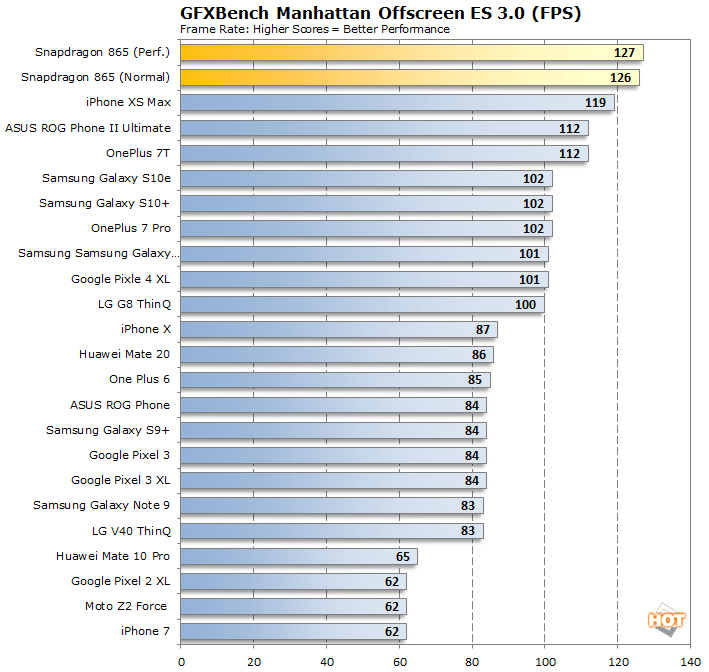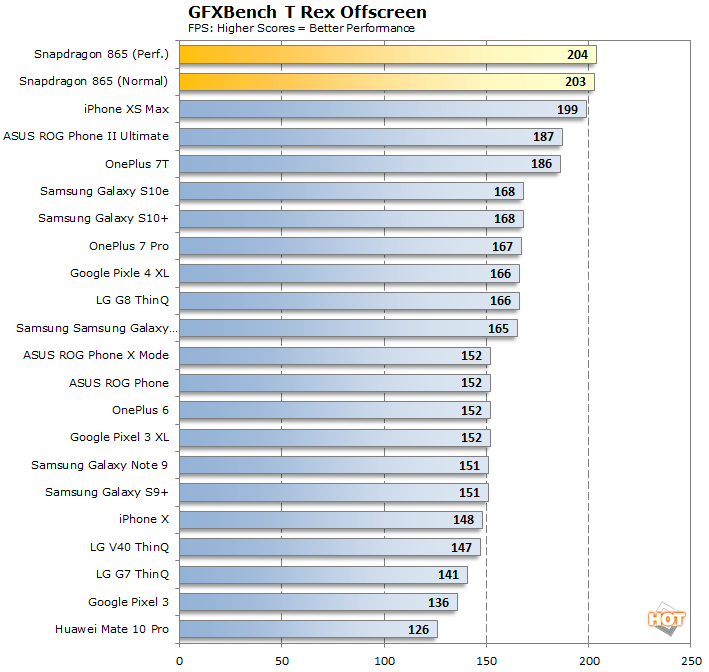 The Snapdragon 865 leads the pack in both of the GFXBench tests we ran, whether operating in normal or performance modes. Its leads aren't massive over the
Snapdragon 855 and 855+ based devices
here, but do represent a double-digit performance improvement.
Futuremark's 3DMark has been a staple 3D graphics benchmark at HotHardware across all mobile and desktop platforms alike. 3DMark Sling Shot is a newer benchmark module that's been added to the
3DMark
mobile suite, which uses an advanced OpenGL ES 3.1 and Metal API-based workload that employs demanding rendering techniques, like volumetric lighting, particle illumination, multiple render targets, instanced rendering, uniform buffers and transform feedback.
Futuremark 3DMark Sling Shot Extreme Benchmark

In this test we again run it in off-screen mode, so as to remove display resolution differences from the equation and thus can compare cross-platform results more reliably.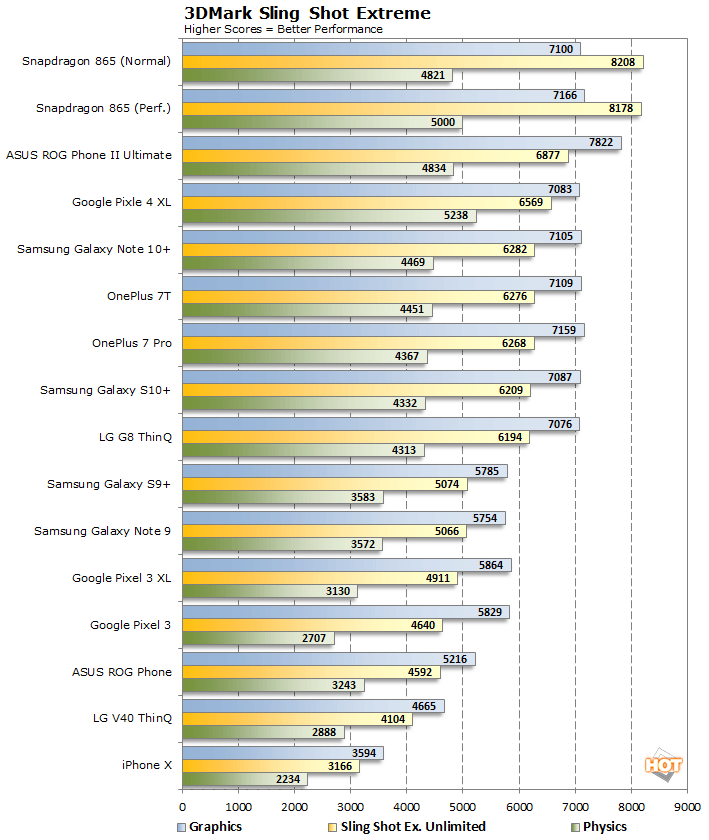 The Snapdragon 865 once again leads the pack in terms of graphics performance in the 3DMark Sling Shot benchmark, but it actually ended up trailing the 855-based Google
Pixel 4 XL
in the Physics benchmark, which is CPU dependent.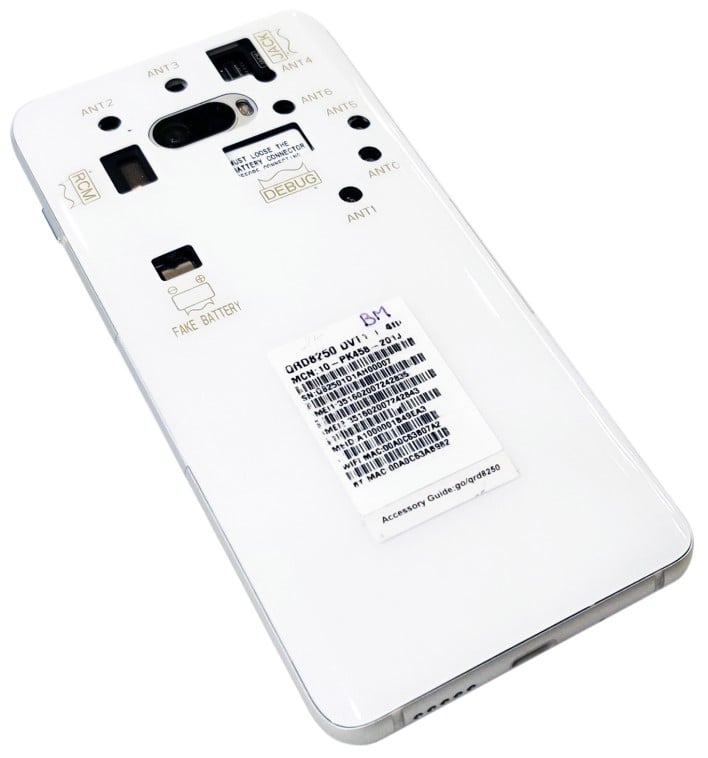 That's all of the
Qualcomm
Snapdragon 865 performance data we have to share with you at this point. We only had a limited time with the device and a limited set of benchmarks to run, but think what we've presented here should be enough to pique everyone's interest. Obviously, since this was just a testing platform and not a final, retail-ready device destined for consumers, we don't have any battery life metrics to share. Considering the Snapdragon 865's improvements in terms of performance and power efficiency, and its multi-chip configuration which necessitates the use of the X55 5G modem, it's going to be interesting to see how it compares to some of the mature and optimized
855-based devices
currently available.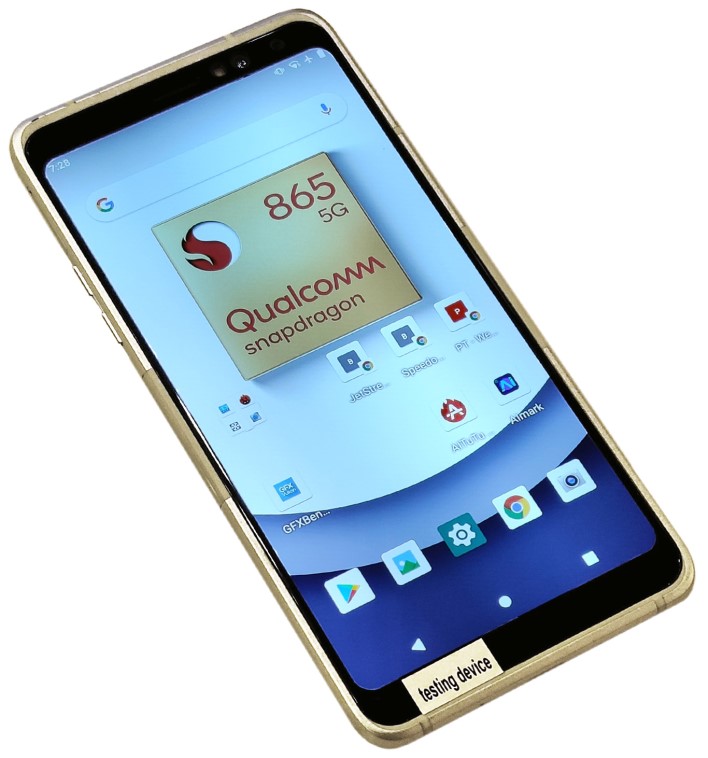 The Qualcomm
Snapdragon 865
will be the foundation for a wide array of flagship Android smartphones coming next year. Xaomi officially announced its Mi 10 based on the Snapdragon 865 at Qualcomm's summit, and others like OPPO and Motorola pledged support for the platform too. That said, you can expect virtually all Qualcomm's other partners like LG, Samsung, and OnePlus (to name but a few) to leverage the Snapdragon 865 -- and its more mainstream cousin the
Snapdragon 765
-- as well. Looking through the numbers, we excited to see what a more mature, fully optimized device based on the Snapdragon 865 can do. Even in this early stage, the Snapdragon 865 has proven to be quite the speedster.
Related content