Qualcomm Unveils Snapdragon XR2 5G Platform To Supercharge Next-Gen VR Hardware
Companies like
Qualcomm
are trying their best to bring the future into the present with
virtual reality
(VR), augmented reality (AR), and mixed reality (MR) experiences. This requires a convergence of hardware and software. As it applies to the former, Qualcomm today announced its new Snapdragon XR2 platform. What exactly is it?
Qualcomm is billing it as the world's first 5G-supported extended reality (XR) platform. As the name implies, it's also the second-generation XR platform. Building upon the
first-gen XR1 platform
, Snapdragon XR2 ups the ante with more capable hardware to drive "premium quality" experiences with "next level features."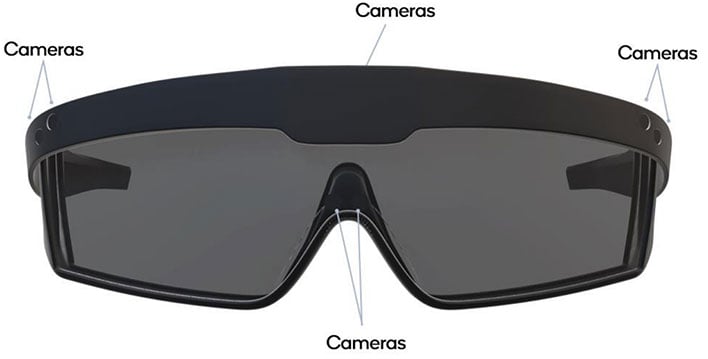 "The Snapdragon XR2 platform is packed with significant performance improvements compared to our current widely adopted premium-tier XR platform to deliver 2x the CPU and GPU performance, 4x more video bandwidth, 6x higher resolution and 11x AI improvement. The Snapdragon XR2 platform is the world's first XR platform to support seven concurrent cameras and a dedicated computer vision processor," Qualcomm explains.
Qualcomm says this is also the first XR platform to enable low latency camera pass-through to unlock what it says is "true MR." Combined with the seven cameras and a custom computer vision processor, Qualcomm claims its platform enables real-time and highly accurate tracking of not just the head as a whole, but also the lips and eyes, along with 26-point skeletal hand tracking.
"Computer vision provides highly efficient scene understanding and 3D reconstruction. Together, these features allow users to be transported to new environments where they can intuitively interact within a digital world," Qualcomm says.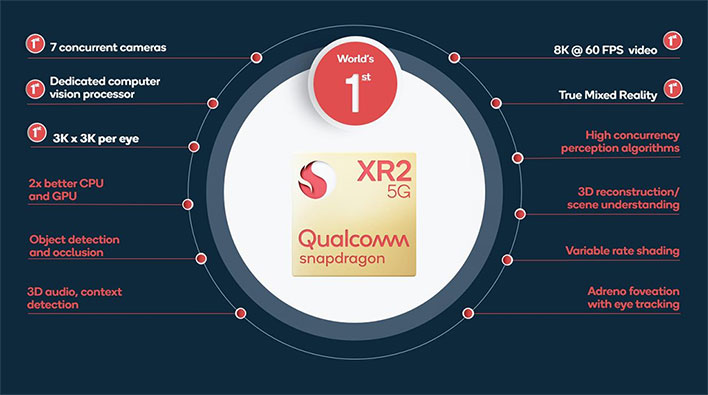 From a feature standpoint, the Snapdragon XR2 platform can support a resolution of 3K x 3K per eyeball. It can also drive 8K experiences at 60 frames per second, though it's not clear what exact experiences Qualcomm is talking about—my hunch is that it's more related to video than 3D graphics, as even 4K is demanding on today's hardware.
Qualcomm also hasn't shared details about what specific system-on-chip (SoC) sits at the heart of its latest-generation extended reality platform. This is par for course—Qualcomm didn't share such details about the Snapdragon XR1 either, and instead only said it sits below the
Snapdragon 845 VR platform
. So, it's anyone's guess where the hardware sits in relation to Qualcomm's new
Snapdragon 865
SoC.
Not surprisingly, AI and
5G
figure into the equation as well. There has been much focus on both technologies as of late, and in this case, Qualcomm says several Snapdragon XR2 features have been improved using AI, including visuals, interactivity, and audio for a more immersive experience. And with 5G support baked in, the XR2 platform is ready to level experiences once networks catch up (5G availability, while
expanding
, is far from ubiquitous right now).
Qualcomm says multiple OEMs are planning to implement the Snapdragon XR2 platform into commercial devices, while other customers are in various stages of prototyping and evaluation. That likely means we will see Snapdragon XR2-based devices show up in the market in the first half of next year, though Qualcomm did not share an expected time frames.