OnePlus Nord N10 5G Review: A Solid Phone If You'll Settle
OnePlus Nord N10 5G: Audio Quality, Performance Benchmarks And Battery Life
OnePlus Nord N10 5G Audio, Data And Call Reception
We used the OnePlus Nord N10 5G on T-Mobile, AT&T, and Verizon's 4G LTE networks in San Francisco without any problems. Calls quality and data speeds were fine. Obviously, this is a sub-6GHz
5G
phone, but our European review unit only lists one US-compatible 5G band, and that's band n41 (2.5GHz) for T-Mobile, which isn't deployed in the Bay Area. We don't have 5G specs for the US model yet, so stay tuned.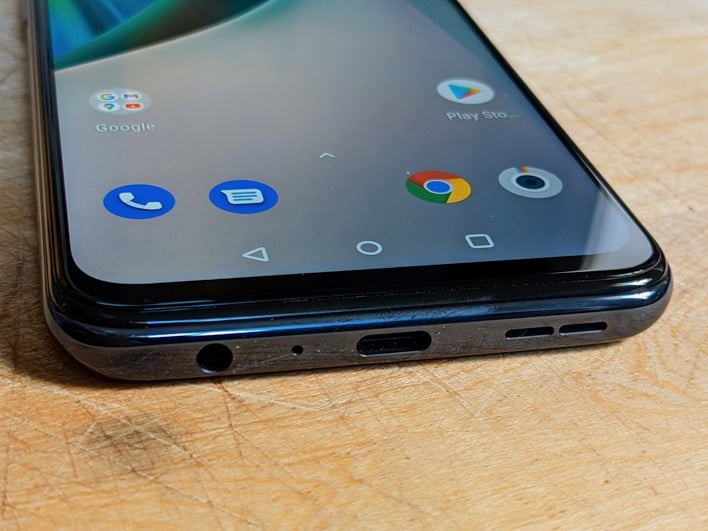 The N10 5G packs stereo speakers and a headphone jack with Dirac audio enhancement. It also supports aptX HD and LDAC for lossless audio over Bluetooth. While the stereo speakers are a big improvement over the Nord's basic mono setup, it's the headphone jack that surprised us the most. The DAC sounds great, and the amp delivers enough power to drive a wide variety of headphones and earbuds.

OnePlus Nord N10 5G Performance Benchmarks
Performance has always been one of OnePlus' strengths, and the
original Nord
proved that with proper optimizations, the
Snapdragon 765G
can
feel
just as quick as the
Snapdragon 865
in day-to-day use. The OnePlus Nord N10 5G features a
Snapdragon 690
SoC with built-in 5G, 6GB of LPDDR4x RAM and 128GB of UFS 2.1 storage (plus microSD support up to 512GB). And honestly, it's kind of a mixed bag.
While the Snapdragon 690 fares rather well in our benchmarks (see below), the N10 5G just doesn't deliver the kind of performance you'd expect from a OnePlus handset. Basically, it's just competently fast, not impressively fast like previous OnePlus handsets we've tested. Despite the 90Hz display keeping everything smooth, the N10 5G lacks that amazingly quick and responsive OnePlus experience we've all come to love.
That being said, the N10 5G juggled our usual collection of benchmark apps without hiccups. We didn't experience much in the way of latency or performance issues. Hard-core gamers aside, we think most people will find this phone snappy enough.
GeekBench 5

Synthetic CPU Benchmark
The latest version of Geekbench for Android has aligned its scores with the desktop version of Geekbench 5. Let's see how the OnePlus Nord N10 5G fares versus some of its competitors...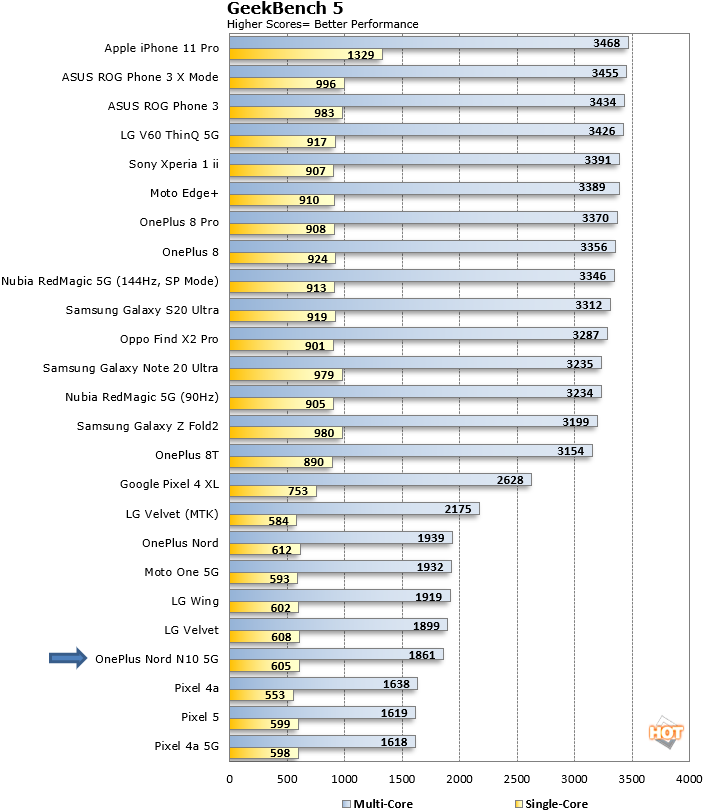 In these Geekbench 5 tests, the Nord N10 5G finishes in the middle of the pack.
The iPhone 11 Pro
still has the strongest single-core performance overall, but despite using a Snapdragon 690, the Nord N10 5G manages to hang with Snapdragon 765G-equipped devices like the original Nord and
LG Velvet
,
Futuremark PCMark For Android

General Purpose Pocket Computing Performance Metrics
Futuremark's PCMark for Android is an excellent suite of tests if you want to benchmark a wide range of tasks on any handset -- things like image and video editing, as well as lighter-duty, everyday workloads such as email and web browsing. When you see the test running live, it's clear the scripted application tests are carefully selected and tuned to make use of the each mobile platform in a very controlled way.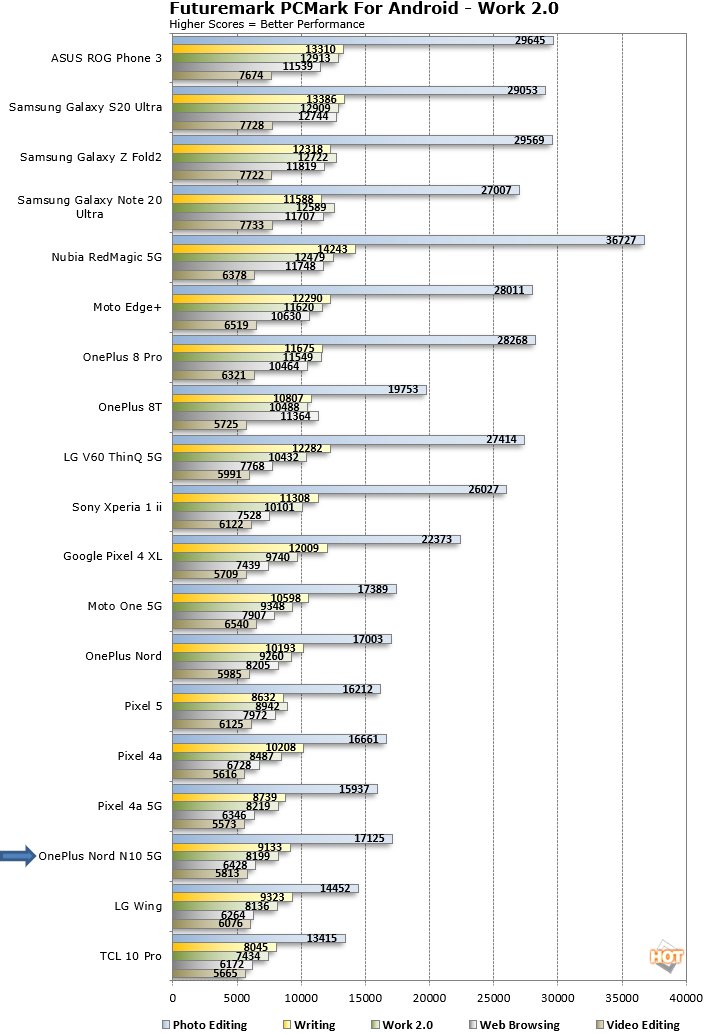 In PCMark, the Nord N10 5G also slots between the
Snapdragon 730G
-equipped
Pixel 4a
and Snapdragon 765G-equipped LG Velvet. While the Snapdragon 690 powering the Nord N10 5G clearly doesn't match the performance of current flagships for the workloads used in PCMark for Android, these results are still respectable.
AnTuTu 8

Platform Benchmarks
AnTuTu's latest benchmark returns a number of metrics ranked with somewhat nebulous scores, rather than frame rates or time to complete. Here we're running the latest version of AnTuTu across an multiple Android devices. AnTuTu returns four top level performance results which are all included here: CPU, RAM, 3D, UX (or User Experience), along with a total score...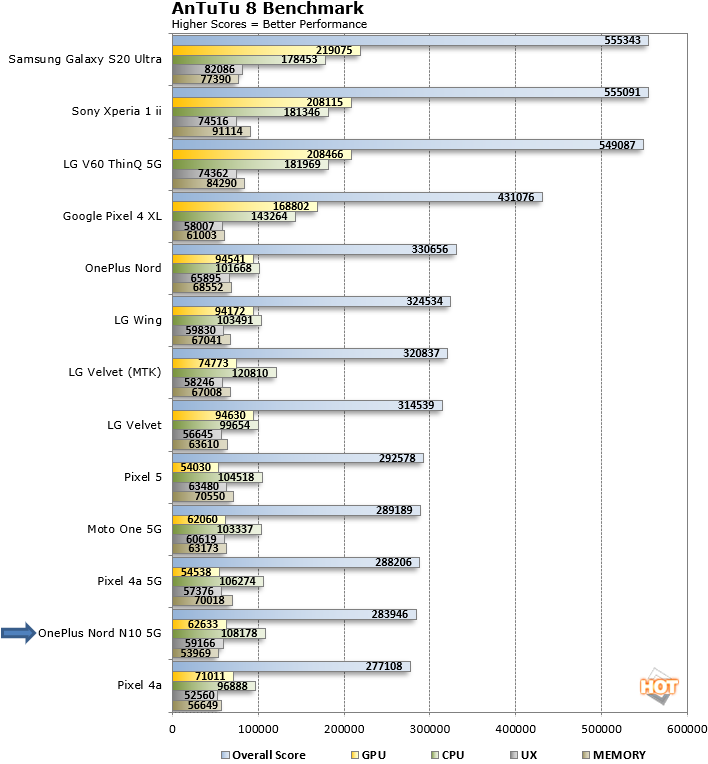 We saw more of the same in the AnTuTu benchmark. Here, the Nord N10 5G comes in right between the Snapdragon 730G-equipped Pixel 4a and the Snapdragon 765G-equipped LG Velvet.


3D Graphics Benchmarks: 3DMark And GFX Bench

Pushing The Pixels

Next we're checking how the Nord N10 5G compares in GFXBench, which has been one of the standard mobile graphics/gaming performance benchmarks for years. To ensure that display refresh (v-sync) and resolution aren't limiting factors, we're comparing off-screen test results here. GFXBench tests OpenGL ES graphics workloads and we're specifically testing OpenGL ES 3.0 and 2.0.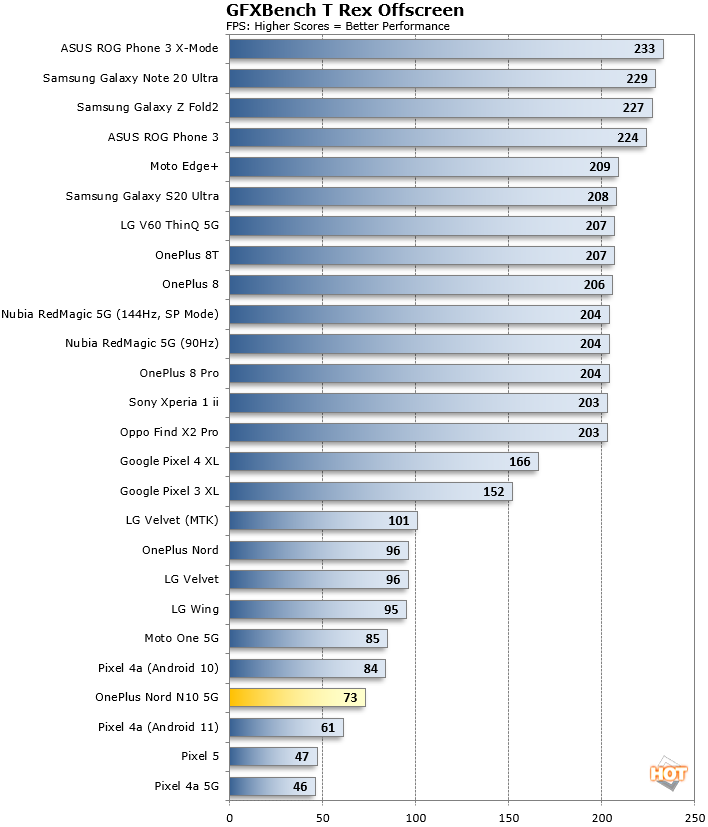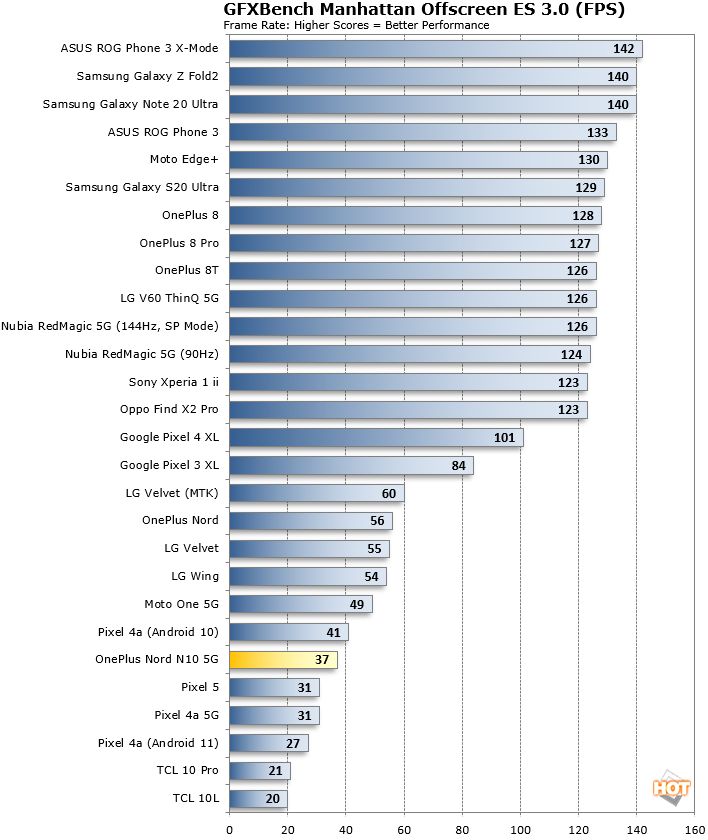 Graphics performance clearly isn't the Snapdragon 690's strongest suit. Here, the Nord N10 5G's scores are consistently about one third that of current Snapdragon 865-equipped flagships. Still, these result almost match the Snapdragon 730G-equipped Pixel 4a's.
Futuremark's 3DMark Sling Shot is a newer benchmark module that's been added to the
3DMark
mobile suite. Unlike previous gen 3DMark mobile tests, Sling Shot is a much more advanced OpenGL ES 3.1 and Metal API-based benchmark that employs more advanced rendering techniques, like volumetric lighting, particle illumination, multiple render targets, instanced rendering, uniform buffers and transform feedback.
Futuremark 3DMark Sling Shot Extreme Benchmark

We're running this test in off-screen mode once again to remove display resolution differences from the equation. This lets us compare cross-platform results more reliably...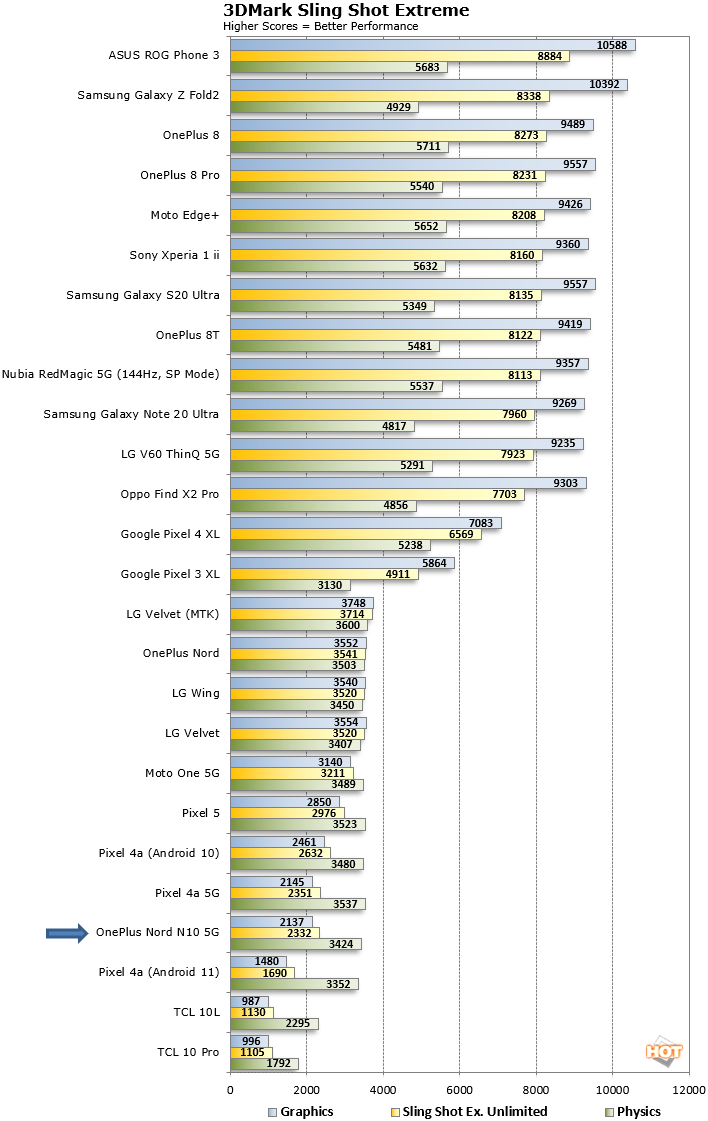 The Nord N10 5G also performed worse than current flagships in these 3DMark tests. It scored about slightly less than half what the Snapdragon 845-equipped
Pixel 3 XL
scored, but still matching the Snapdragon 730G-equipped Pixel 4a.
OnePlus Nord N10 5G Other Features And Battery Life
The rest of the N10 5G's specs are pretty standard, and include CAT 18 LTE, WiFi 5 (802.11ac), Bluetooth 5.1 (LE), NFC, and dual-band A-GPS / GLONASS / Galileo / Beidou, plus the normal sensor suite (accelerometer, compass, gyroscope, ambient light, proximity, and barometer). While the capacitive fingerprint scanner is quick and reliable, the vibration motor is a step down from previous OnePlus handsets.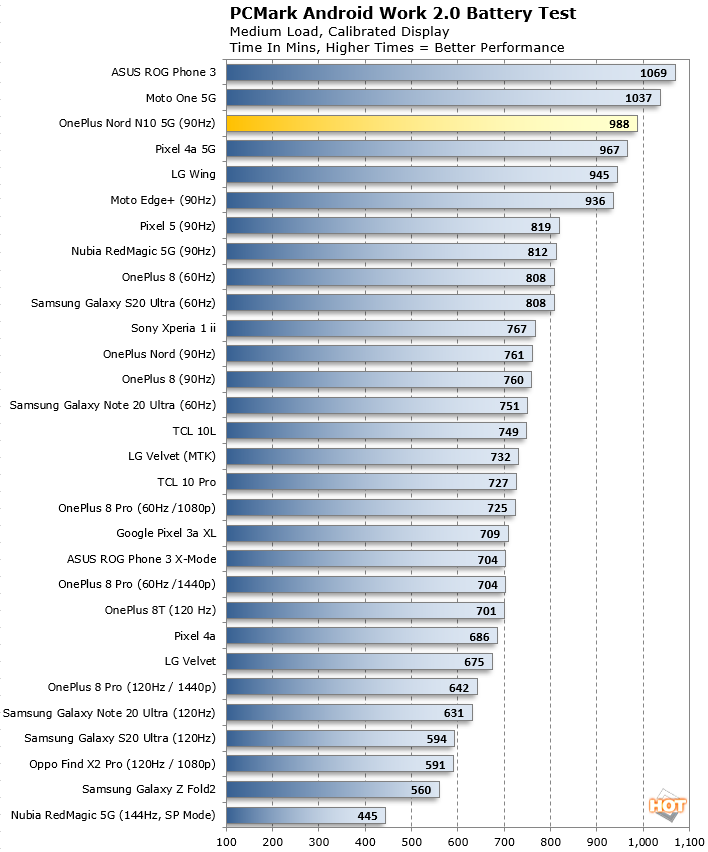 In terms of battery life, the N10 5G really surprised us. Our PCMark test ran for a whopping 16 hours and 28 minutes. That's just phenomenal, especially for a 4300mAh cell. We're basically looking at two days' use on a charge. Clearly, the Snapdragon 690 sips power. Topping off is a breeze thanks to 30W fast charging (Warp Charge 30T) -- with a charger supplied in the box. Obviously, there's no wireless charging.
Next up: the software, pricing and our review verdict...

Related content
Comments