OnePlus Nord N200 5G Review: A Budget 5G Phone That Delivers
OnePlus Nord N200 5G: Greater Than The Sum Of Its Parts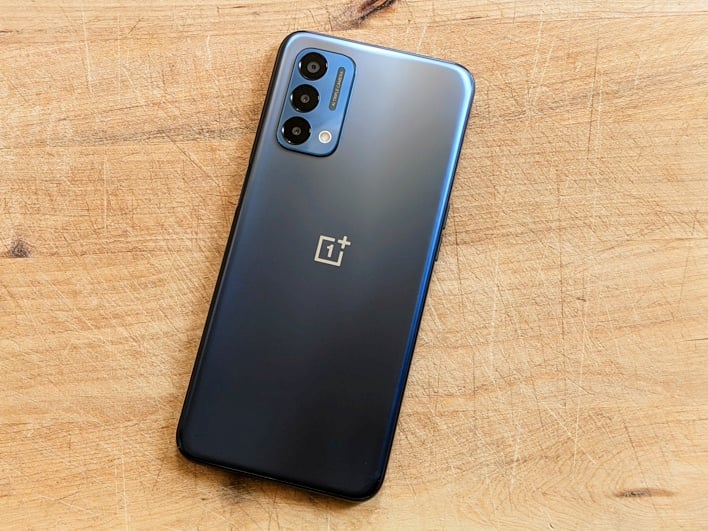 Last summer we reviewed the eponymous
OnePlus Nord
, and came away impressed. It never made it to North America, but its successor -- the
$300 OnePlus Nord N10 5G
-- did, and while the price was on point, we found that it simply cut too many corners to really hit the sweet spot. Most importantly, it seemed to lack that signature combination of OnePlus design and performance magic and the company's special attention to detail. We were somewhat disappointed, but it still flew off the shelves.
Enter the $240 OnePlus Nord N200 5G, an attractive looking
Snapdragon 480
-equipped 5G phone which brings OnePlus even closer to budget territory. We just spent a few days testing it, and while the lower price goes hand-in-hand with its lesser specs, the outcome isn't what you'd expect. Read on for our full review.
OnePlus Nord N200 5G Hardware And Design
Design matters, and -- more importantly -- the way that hardware and software mesh is what makes or breaks a great user experience, and differentiates an impressive handset from a disappointing one. Unlike the OnePlus Nord N10 5G, the OnePlus Nord N200 5G doesn't look or feel cheap. Yes, it's still made of plastic and its display chin is still large, but somehow the N200 5G's design is significantly more appealing.
OnePlus is in the process of merging with Oppo, and both companies have shared designs on and off for years, so it comes as no surprise that the OnePlus Nord N200 5G is basically a rebadged
Oppo A54 5G
with revised rear shooters. This also means that, like the
OnePlus 9 and 9 Pro
, the N200 5G benefits from some of Oppo's superior design chops -- borrowing elements from the Reno series, like the camera pod.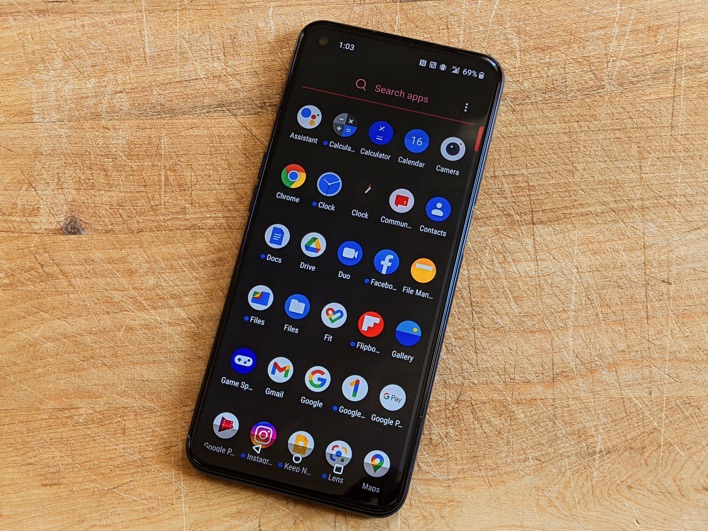 What we get here then, is a striking matte blue gradient in back, a matching shiny blue gradient along the sides, and a metallic blue camera bump. OnePlus calls this colorway Blue Quantum, and it looks really nice. At 163.1 x 74.9 x 8.3mm and 189g the N200 5G is almost identical in size and weight to the N10 5G. Yet, thanks to a flatter rear panel and a side-mounted capacitive fingerprint sensor, it feels much better in hand.

The N200 5G inherits the N10 5G's 6.49-inch display and 16MP selfie camera, complete with the same top left corner punch hole, small bezels, and big chin. Around the back, the camera pod exudes sophistication, with each of the three shooters (13MP main, 2MP macro, and 2MP monochrome) peeking behind large, slightly recessed circular lenses with beveled edges. An LED flash and the OnePlus logo complete the package.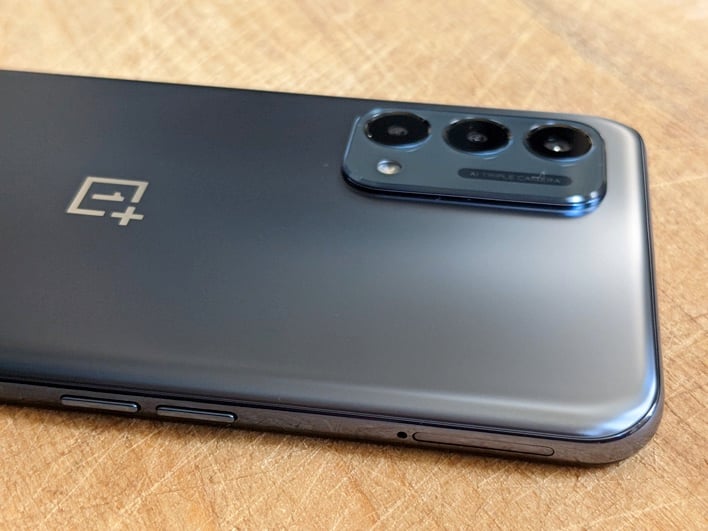 On the right side, you'll find the capacitive fingerprint sensor, which doubles as a power/lock button. The bottom edge is home to the mono speaker, USB Type-C port, primary mic, and headphone jack. A volume rocker and combination SIM/microSD tray are located on the left side, and there's a secondary mic on top. The N200 5G isn't dust or water resistant, but then again, what do you expect for $240?
Here's our unboxing video before we continue with the specs...
OnePlus Nord N200 5G


Specifications & Features
| | |
| --- | --- |
| Processing and 5G Platform | Qualcomm Snapdragon 480 |
| Display | 6.49" FHD+ IPS, 2400x1080 resolution, 90Hz |
| Memory | 4GB |
| Storage | 64GB UFS 2.1 + microSD |
| Rear-Facing Cameras | 13MP f/2.2 Main PDAF - 2MP f/2.4 Macro - 2MP f/2.4 Monochrome |
| Front-Facing Cameras | 16MP f/2.1 |
| Video Recording | Up to 1080p @ 30fps, 720p slow-mo |
| Battery | 5000 mAh, 18W wired charging, No wireless charging |
| OS | Android 11 With OxygenOS 11 |
| Dimensions | 163.1 x 74.9 x 8.3mm |
| Weight | 189 grams |
| Connectivity | 802.11ac Wi-Fi, Bluetooth 5.1+LE, NFC, USB-C, LTE, sub-6GHz 5G |
| Colors | Blue Quantum |
| Pricing | Find the OnePlus Nord N200 5G @ Amazon, Starting at $240 |
OnePlus Nord N200 5G Display Quality
The OnePlus Nord N200 5G packs a 6.49-inch FHD+ IPS screen (2400 x 1080 pixels, 406ppi) with a 20:9 aspect ratio and a 90Hz refresh rate. It's lifted directly from the N10 5G, and provides the same vibrant colors, high contrast, decent viewing angles, and adequate brightness in direct sunlight -- even the punch hole and bezels are identical. This is a beautiful display, and other than the obvious chin, we have no complaints.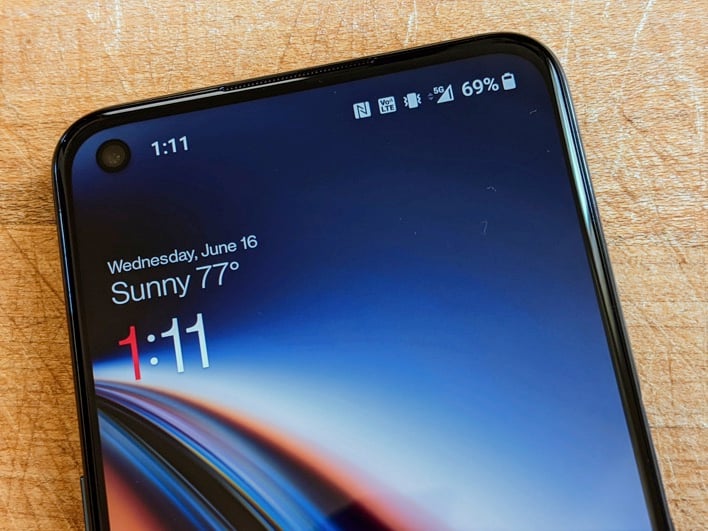 OnePlus Nord N200 5G Camera Performance And Image Quality
Imaging is where the OnePlus Nord N200 5G reflects its lower price tag, at least in terms of specs. It's a hybrid between last year's squarely budget-minded (and 4G only)
$180 OnePlus Nord N100
and the $300 OnePlus Nord N10 5G, combining the former's rear triple camera setup (13MP f/2.2 PDAF main shooter, 2MP f/2.4 macro lens, and 2MP f/2.4 monochrome sensor) with the latter's 16MP f/2.1 selfie camera.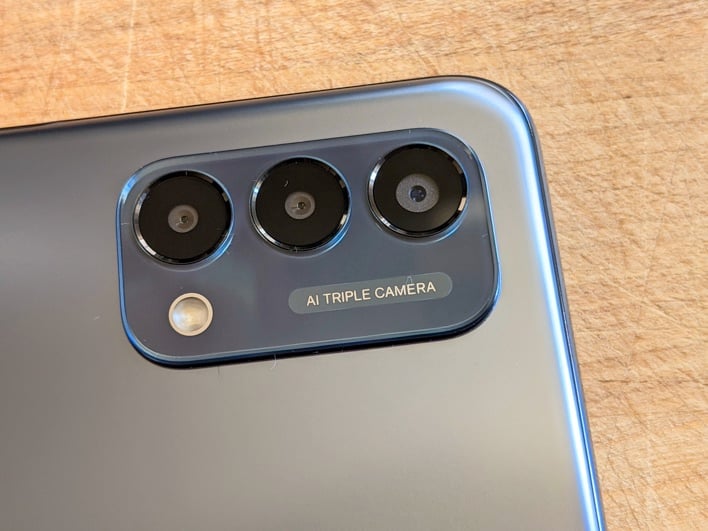 We adjusted our expectations accordingly, and while this camera system is pretty basic, it delivers surprisingly impressive results. The camera app is standard OnePlus fare, and photo modes include portrait and panorama (main/selfie), plus night, pro, macro, and Extra HD (main only). Video modes include normal (1080/720p 30fps), slow motion (720p 120fps), and time lapse (1080p 30fps).



Strangely, while the main shooter records stabilized video with stereo audio, the selfie camera only captures unstabilized video with mono sound. The macro is pretty useless without autofocus, but you can achieve similar (higher quality) closeups with the main shooter's 2x zoom. Extra HD is interesting, as it creates 108MP stills by stacking multiple 13MP images and using subpixel interpolation.

Overall, pictures taken with the N200 5G match and often best photos shot with the N10 5G, with accurate exposure and colors, and sufficient level of detail. Zooming in is fine up to 2-3 times, and low light performance is also quite solid considering the slower lens, smaller pixels, and missing OIS. Night mode helps -- the N200 5G clearly leans heavily on the Snapdragon 480's excellent ISP here, but it works.
OnePlus Nord N200 5G Audio, Data, And Call Reception
We used the OnePlus Nord N200 5G primarily on T-Mobile's sub-6GHz
5G
network in San Francisco, CA and Portland, OR and didn't have any troubles with call quality or data speeds. 336Mbps down and 21Mbps up isn't too shabby, right? Unfortunately, this phone lacks 5G support for AT&T and Verizon, and OnePlus has no plans to change this. Keep this in mind if you plan to purchase the N200 5G unlocked.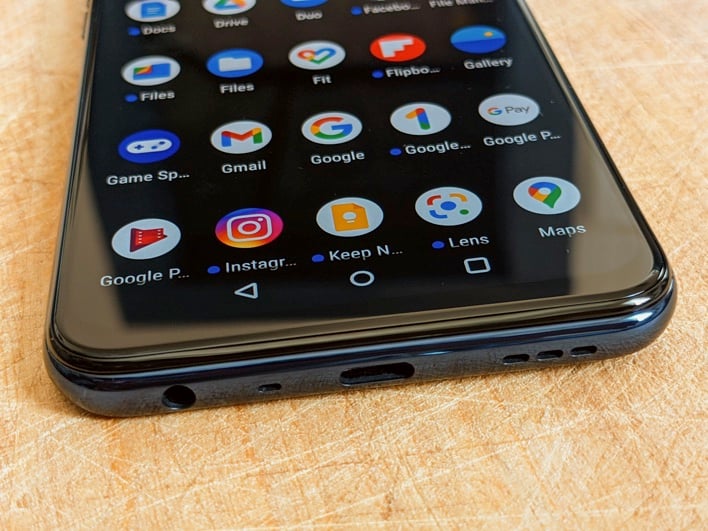 On the audio front, the N200 5G's mono speaker is a step down from the N10 5G's stereo pair. Then again, the original Nord's speaker was only mono as well, so this isn't a deal-breaker. At least it sounds loud and clear, and features Dirac audio enhancement. If you prefer listening with headphones or earbuds, there's a 3.5mm headphone jack, plus aptX HD and LDAC support for lossless audio over Bluetooth.

OnePlus Nord N200 5G Performance And Battery Life
The OnePlus Nord N200 5G is built around Qualcomm's most affordable 5G SoC, the Snapdragon 480. Don't let the 400-series nomenclature fool you, however. This chip is closer to a mid-level 600-series processor in terms of performance, and is more efficient to boot -- thanks to an 8nm process. It's paired here with only 4GB of RAM and just 64GB of UFS 2.1 storage (plus microSD expansion up to 256GB).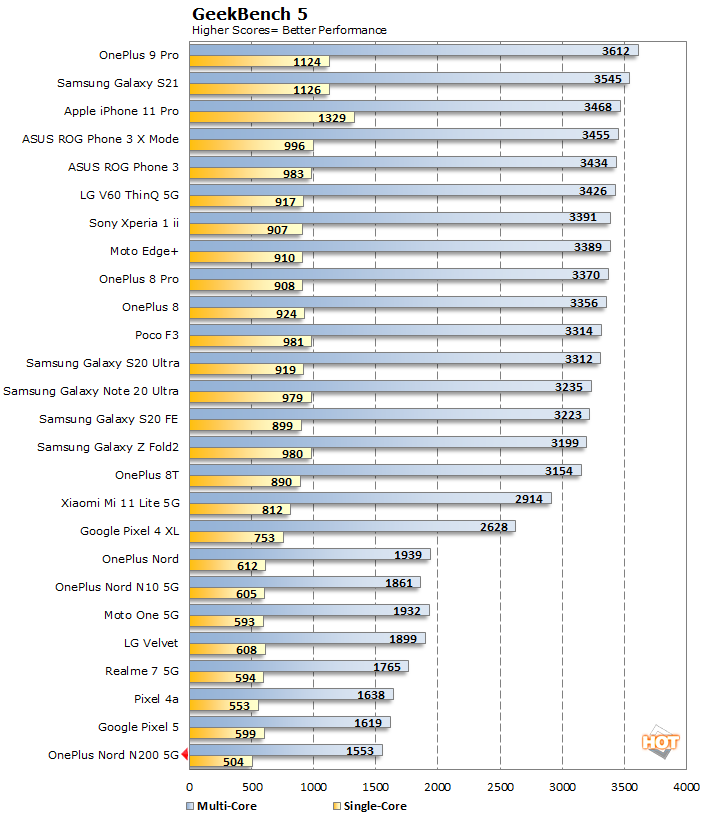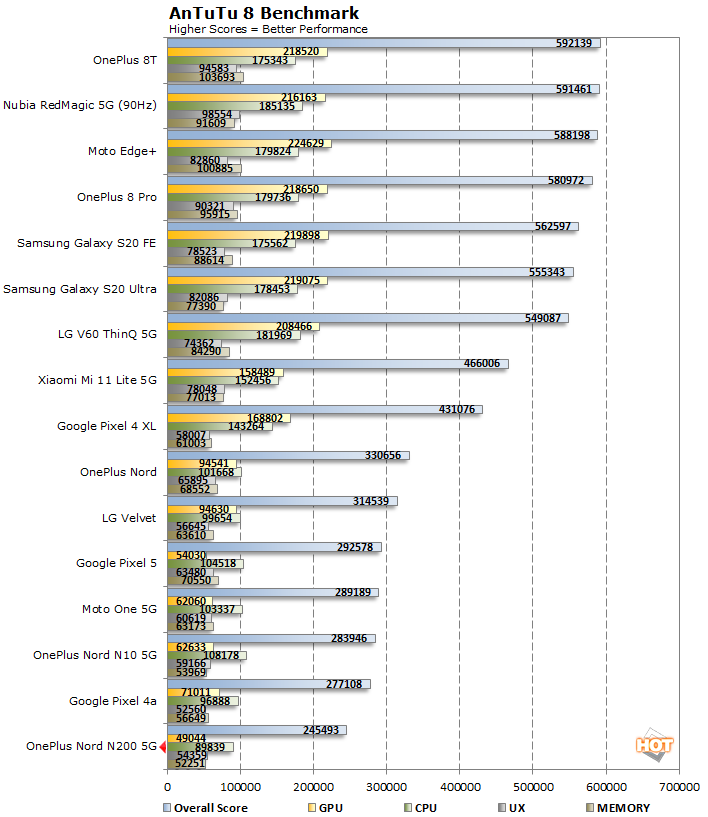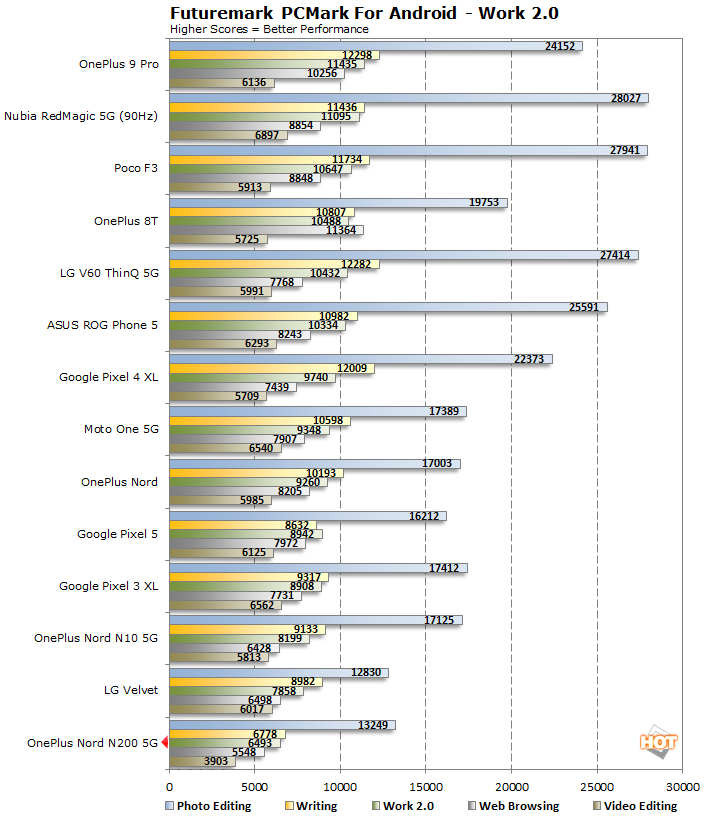 We ran a few benchmarks, and the Snapdragon 480 obviously slots below the
Snapdragon 690
used in the N10 5G. Yet while there was a noticeable drop in performance between the
Snapdragon 765G
-equipped original Nord and the N10 5G, the perceived difference in speed between the N10 5G and the N200 5G is far more subtle. Both are competently fast enough, thanks in-part to Oxygen OS and that 90Hz screen.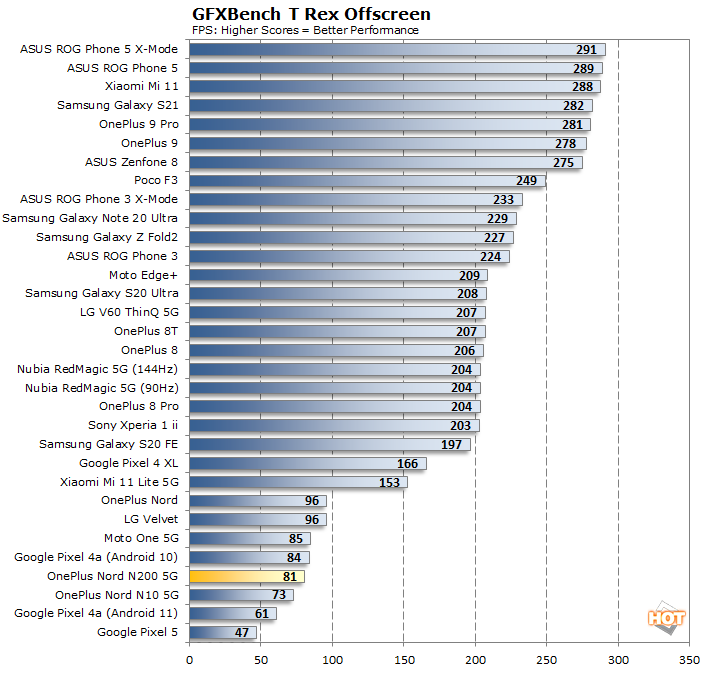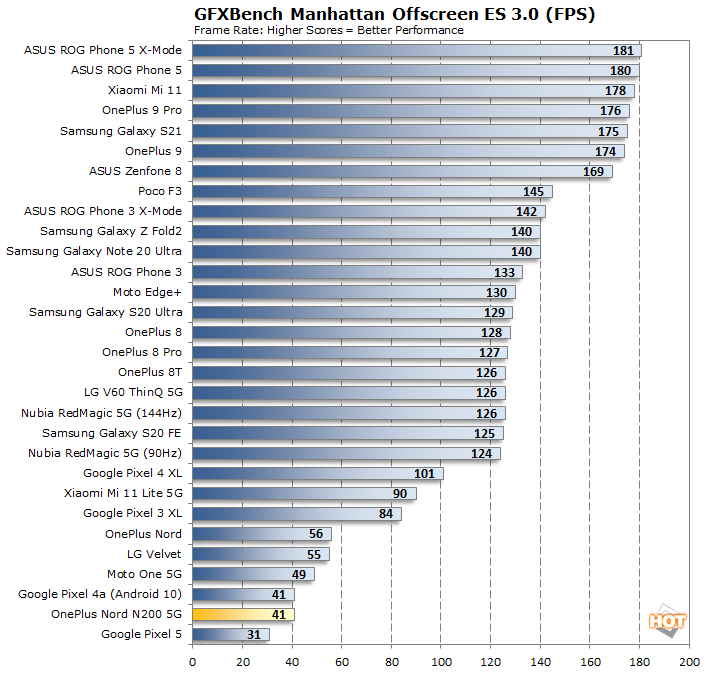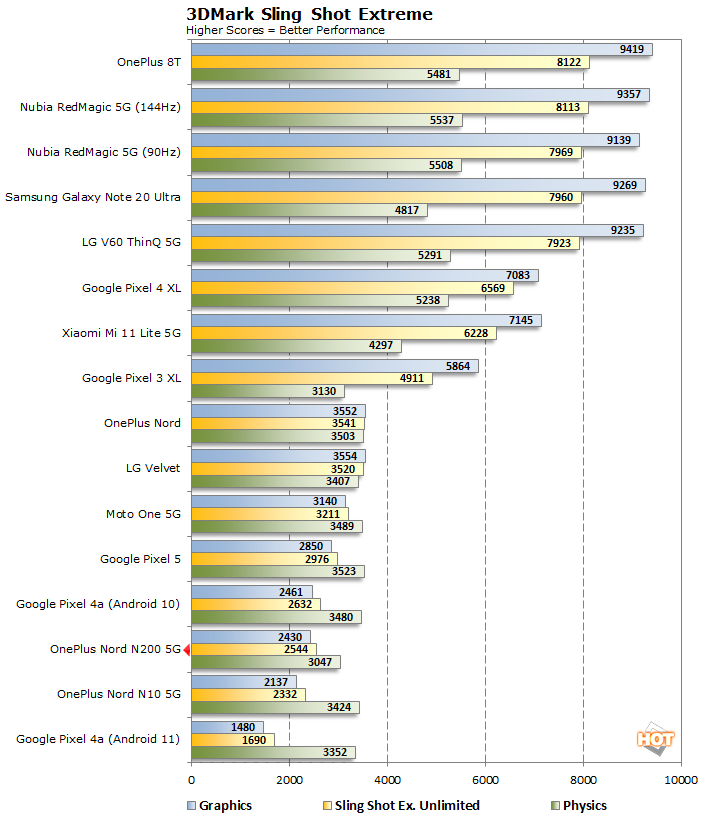 Day-to-day, the N200 5G's performance is likely more constrained by the limited amount of RAM than by the Snapdragon 480 -- 4GB isn't much these days. Regardless, it never felt sluggish, and we didn't experience any lag running our standard roster of productivity apps. If anything, the N200 5G is slightly more responsive than the other Snapdragon 480-equipped phone we're currently using -- the
Moto G Stylus 5G
.

Battery life is spectacular (2 days). While the N10 5G is already no slouch in terms of stamina, the N200 5G cranks things up a notch -- thanks primarily to a larger 5000mAh cell (vs. 4300mAh). But overall, the Snapdragon 480 doesn't appear to be significantly more efficient than the Snapdragon 690. And when it's time for a refill, the N200 5G supports 18W fast charging and comes with a charger in the box.

As for the remaining specs, the N200 5G includes sub-6GHz 5G, CAT 15 LTE, WiFi 5 (802.11ac), Bluetooth 5.1 (LE), NFC for Google Pay, and dual-band A-GPS / GLONASS / Galileo, plus the usual array of sensors. The side-mounted capacitive fingerprint sensor is quick and reliable, and so is face unlock. Haptics are dependable but forgettable -- we've experienced worse on pricier handsets.

OnePlus Nord N200 5G Software And User Experience
OnePlus always delights when it comes to software, and the OnePlus Nord N200 5G is no exception. It runs Oxygen OS 11 on top of Android 11 -- an improvement over the OnePlus Nord N10 5G, which is still running Oxygen 10.5 / Android 10. As usual, you're getting an almost stock build of Android that's smooth, clean, and refined, with a few helpful customizations thrown in for good measure.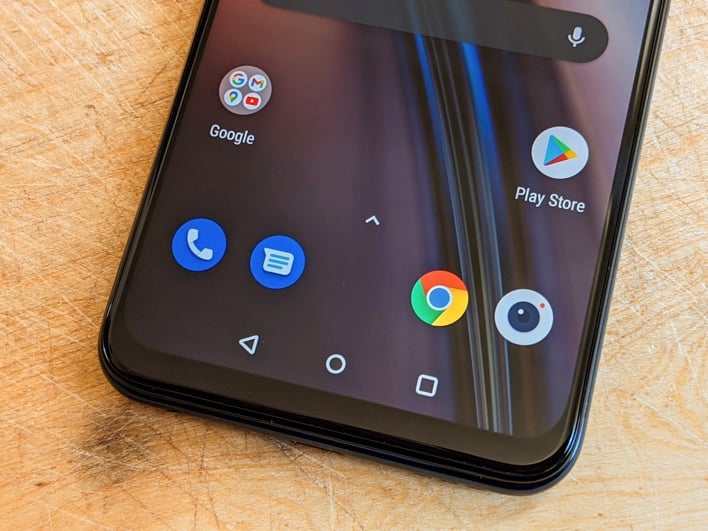 We're not going to dive into the details here. Instead, we suggest you read our
OnePlus 8T review
-- go ahead, we'll wait. Basically, Oxygen OS really sets OnePlus phones apart from the competition. Unlike the N10 5G, which relies on Oxygen OS to liven up generic hardware, the N200 5G combines Oxygen OS with a nice design for a great user experience.
OnePlus Nord N200 5G Final Verdict
The OnePlus Nord 200 5G is a bit of a paradox. Objectively, this handset is cheaper and simpler than the OnePlus Nord N10 5G -- just check out the specs. But subjectively, the N200 5G simply delivers a better user experience than the N10 5G currently. By meshing tasteful hardware and delightful software, this device is greater than the sum of its parts. And that's important, because it proves that affordable phones don't have to suck.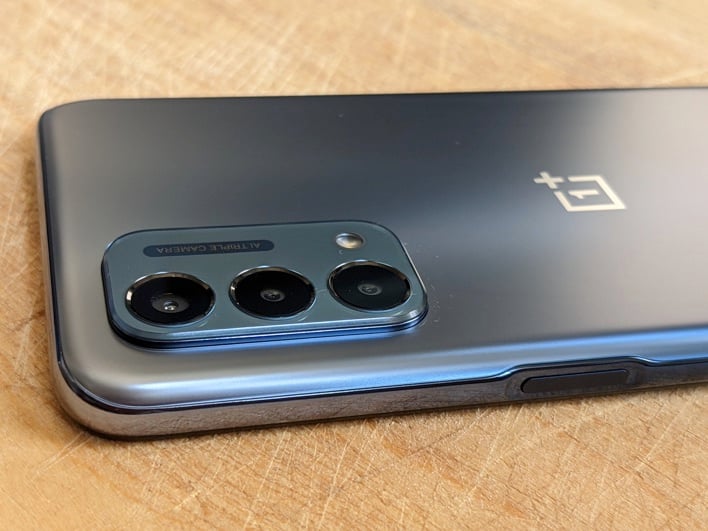 We like the N200 5G's inspired design, lovely display, fantastic battery life, and great user experience. Even this phone's cameras perform better than its specs imply. The only major drawback is the limited amount of RAM and storage. If that's something you can live with, the N200 5G will be available unlocked for $240 from OnePlus starting June 25. It's also coming to T-Mobile for $216 -- or $9 per month for 24 months.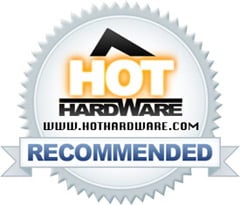 Affordable 5G

Inspired design

Lovely 90Hz display

Headphone Jack

Fantastic battery life

Excellent user experience

Almost stock Android


No alert slider

Mono speaker

Basic cameras

Limited 5G support


Limited RAM/storage

Just OK performance


Related content