Mac mini 2020 Review: Apple M1 Silicon Performance Deep Dive
Apple M1 Mac mini: Gaming, Content Creation And Review Conclusions
We're still not done testing the Mac mini's performance. We're back with some gaming scores here, and then we'll do something decidedly Mac-like with Final Cut Pro X and Logic Pro X.
GRID Autosport

Mac Game Performance Part 1
GRID Autosport
is a staple in our ultraportable laptop reviews since it's the one triple-A title that approaches playable on legacy integrated graphics engines at reasonably good image quality settings. In recent months, ultraportable systems with both Intel and AMD integrated graphics have pushed that bar higher, up to very smooth frame rates.
Meanwhile, on the Mac,
GRID Autosport
is a Feral Interactive title, which means it uses CodeWeavers Crossover, which is a self-contained WINE layer, to run the Windows version of the game
a la
WINE in Linux. Unless a game is made by Blizzard or uses the Unity 3D engine, most
Mac
games are PC games in wrappers. EA does this with
The Sims
, and all of Feral's titles share this runtime environment. That's just how it is: the Mac is not a widely-used gaming platform like it was in the 80s and early 90s, so developers don't dedicate the resources to native ports very often.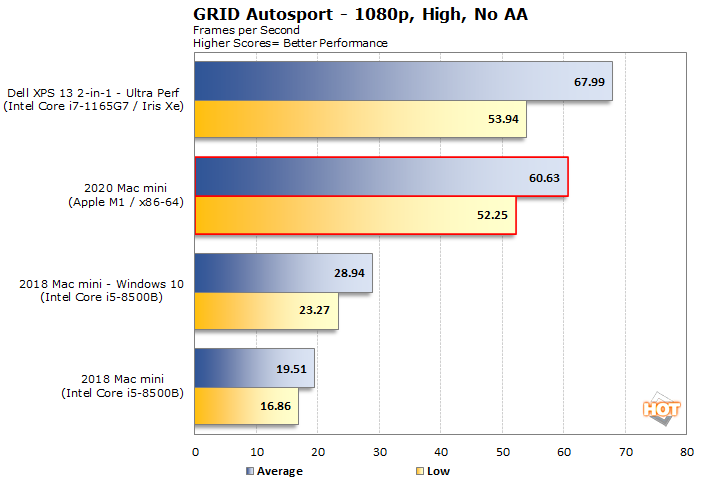 Crossover or not, the M1 Mac mini performed pretty well. Not only was it running the Windows-native version of
GRID Autosport
on macOS, it was doing so with x86-64 emulation. That's some serious
Inception
-style nested software going on here. Still, it averaged 60 fps and only dropped down into the low 50s at its worst, meaning the game is extremely playable. However, that performance was not enough to catch the
Core i7-1165G7
's Iris Xe graphics. This one was a big win for the Intel system, as it's the first time in our testing that Iris Xe integrated graphics could best Apple's built-in GPU. The 2018 Mac mini once again brings up the rear; this Mac port runs at less than 1/3 the frame rate on that system.
Shadow of the Tomb Raider

Mac Game Performance Part 2
Shadow of the Tomb Raider
is a genuinely challenging game to run on any integrated graphics solution, especially at 1080p. We used the Low preset, which is not the very bottom of the ladder but only a step above the bare minimum. We stuck to that full HD 1920 x 1080 resolution and used no anti-aliasing or resolution scaling. The built-in benchmark runs a variety of scenes and presents an average and minimum framerate. This is another Feral Interactive title, which means more Crossover compatibility.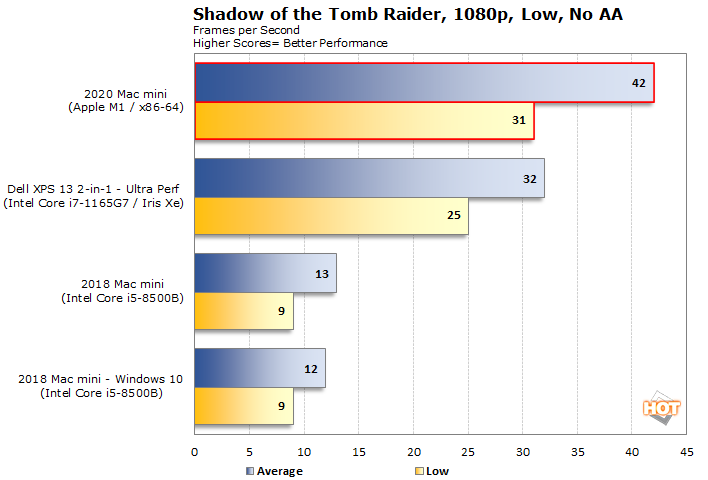 We had some concerns about whether
Tomb Raider
would run smoothly on our Mac mini, since it only has 8 GB of memory that's provisioned for both graphics and all system tasks. However, performance was pretty solid and didn't stutter with loading issues. Overall, the M1's performance was around 30% faster than the Intel Iris Xe for its average frame rate, and only around 17% faster on the low end. Meanwhile, it seems kind of unfair to try to play
Tomb Raider
on the 2018 Mac mini since that system could barely muster double digits on average and dropped below that at the low end. We had to look away while it ran; it was just too sad.
As good as the Mac mini's performance is in this game, it's not even close to what a discrete GPU can pull off. When we looked at the more powerful
Dell XPS 15 9500
this summer, that system could run this game at both a higher frame rate and a higher quality level simultaneously. While its GeForce GTX 1650 Ti brought up the rear among beefier laptops with discrete GPUs in that review, it would have won this showdown handily. It seems that Apple's integrated graphics solution isn't up to discrete graphics performance levels yet just yet.
However, if rumors pan out to be true, we might see
16" MacBook Pros
with a heftier M1X CPU that has more cores and hopefully some beefier graphics options. The current generation of this MacBook Pro model comes with AMD's Radeon Pro 5300 and 5500 series of Navi-based GPUs. Apple will have to include some serious graphics horsepower to best AMD in the graphics department. Regardless, as small as the Mac mini is, its gaming grunt is surprisingly good. We'll just have to see how much Apple dedicates itself to making its more expensive machines stand apart.
Further Exploring The Mac mini Gaming Experience
Before we leave 3D performance behind in this review, we wanted to touch on a couple games that don't use Crossover on the Windows port. Games that run natively on the platform just don't seem to have build-in benchmarks, and there's nothing like OCAT or CapFrameX to collect frame time statistics on the Mac that we could find. Because it's early days for the M1, there's not much in the way of Apple Silicon-native games except for
World of WarCraft
.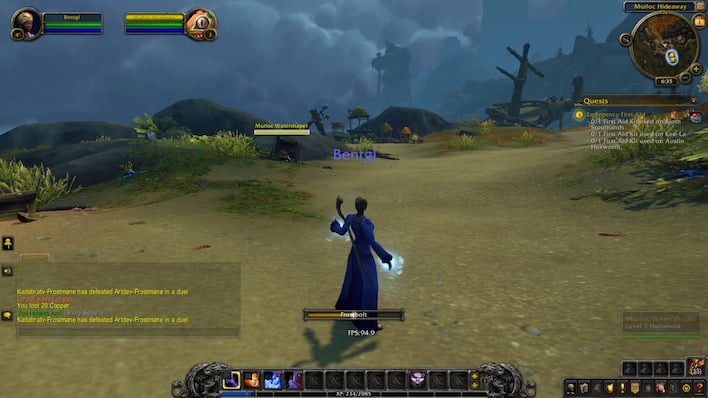 We got a peek at
WoW: Shadowlands performance on integrated graphics
pretty recently, but that was a manual benchmark. For that reason, and because we can't capture frame times on macOS, we can't directly compare performance with a pretty chart. However, we can talk about the experience of playing World of Warcraft: Shadowlands on the M1 Mac mini. To make sure our experience was at least the same, we went to the same Exile's Reach area with the same characters that we used for our integrated graphics shootout, and selected the same settings.
The in-game frame rate meter showed us hitting 90 to 95 fps most of the time, with very occasional tips into the 80s when using spells. In fact, it seems that disabling vsync doesn't work, because even at 2048 x 1152, the frame rate never went past the 95 Hz of our Pixio monitor. If the M1 represents the bare minimum to play a game on an Arm-based Mac, performance is going to be very good. We're excited to see what Apple's encore might be for a discrete GPU in a theoretical 16" MacBook Pro or iMac. It's just a matter of whether Mac gamers buy whatever gets ported to the platform in large enough quantities to draw more developers.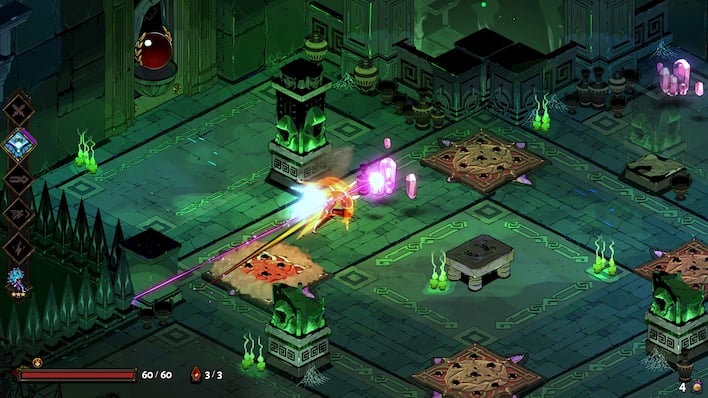 Unfortunately, we also need to talk about incompatibility. Two of my personal favorites just flat-out refused to run on the M1 Mac mini, at least initially. That's
StarCraft Remastered
and Supergiant Games'
Hades
. Both games would start to run and then crashed to the desktop. A little hunting around Reddit and YouTube turned up examples of other M1 Mac owners that had similar issues. We reported the
StarCraft Remastered
issue to Blizzard and the company's tech support closed the ticket the next day blaming my use of an external SSD to hold the game. Moving it to the internal storage did not fix the issue, though, so this one is back in Blizzard's court. As with any brand new technology, there are bound to be teething issues. Meanwhile,
Hades
got fixed almost immediately as part of its first post-launch patch. The game runs great at 4K on the Mac mini, and it's just a load of fun.
Final Cut Pro X

Video Editor Performance
It's time to use this Mac mini like a Mac, as Apple intended. The company's Final Cut Pro X is one of the more intuitive non-linear video editors around and can quickly churn out some great results, even if it seems that professionals have flocked to competing software from Adobe and Avid. To test FCPX performance, we're using the popular
BruceX benchmark
from Alex Gollner. This renders a short video entirely from FCPX's special effects at a whopping 5120 x 2700 resolution. While this benchmark is a little older, it's still pretty intensive and does a nice job of scaling between different Mac models to tease out differences in performance. We rendered the video to Apple's ProRes 422 HQ codec, which results in some very high-quality video at large file sizes.

FCPX does rely on the Mac's GPU to perform a good chunk of the rendering work, and Apple optimized the app with a new Metal-based engine that makes use of the entire Mac. The 2018 Mac mini is hobbled pretty badly by its UHD 630 graphics, and as a result it takes more than twice as long to render the BruceX video as the new M1 model. This benchmark doesn't seem to be tripped up by the new Mac mini's lesser 8 GB of memory either.
Logic Pro X

Virtual Instrument Audio Production
Logic Pro X is, believe it or not, one of the best values in Digital Audio Workstation (DAW) software around, considering all the royalty-free content, virtual instruments and other editing tools it includes for $199. Apple's multi-track editor has tons of modern features built right in for lining up audio to a grid, fixing pitch, automatic drum tracks and tons of software instruments, from FM synths to samplers. The Mac platform's Core Audio APIs make low-latency audio a completely driver-free experience, which draws loads of aspiring producers and studio pros alike to the Mac platform.
To see how much strain the new Mac mini could take we loaded up the
music-prod Logic Pro X
test projects. These load many instances of three different virtual instruments: Sculpture, Alchemy, and u-he's Diva. We ran these tests through our Presonus AudioBox iTwo USB interface with a buffer of 1,024 samples. That results in a 50 millisecond round trip, which is not something you'd want to use for live performance, but it's enough of a buffer that mixing tasks should go as light as possible on the CPU. The numbers below are expressed in the number of simultaneous tracks playing at the same time. If we heard any crackling in the audio, we started muting tracks. The track had to play perfectly to be considered a valid test.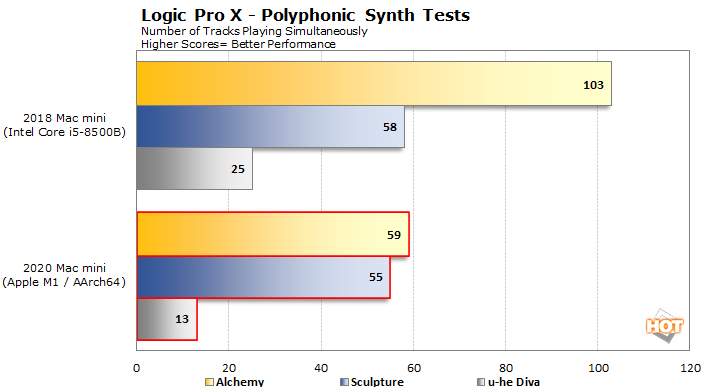 As it turns out, Alchemy and Diva run much better on the older six-core Mac mini from 2018. In the case of Diva, u-he has not yet released a version of the plugin for Apple's M1 processor. Sculpture and Alchemy are both M1 native, though. We think Alchemy might actually be a memory space issue, as the Alchemy project caused Logic Pro X to try to allocate more than 14 GB of memory. This was pushing the limits of our 2018 Mac mini's 16 GB of RAM, but is quite a bit more than our 2020 M1
Mac mini
has in it. This issue could just be caused by a memory pool limitation.
2020 Mac mini: M1 Conclusions
When Apple announced its
M1 Mac lineup, we were skeptical
. It seemed implausible that Apple, a relative newcomer to desktop and laptop CPU design, could just waltz in and match -- let alone exceed -- what Intel and AMD had been doing for decades. As it turns out, all the leading indicators to what we've witnessed here today were there. Going back to the A12 and A13, some cross-platform benchmarks showed iPhones and iPads could be as fast as some Intel's latest mobile processors. It's easy to dismiss mobile benchmarks as somehow less stringent, less valuable, and less stressful on hardware. However, Apple proved its doubters wrong with the launch of these
Apple Silicon
-powered devices.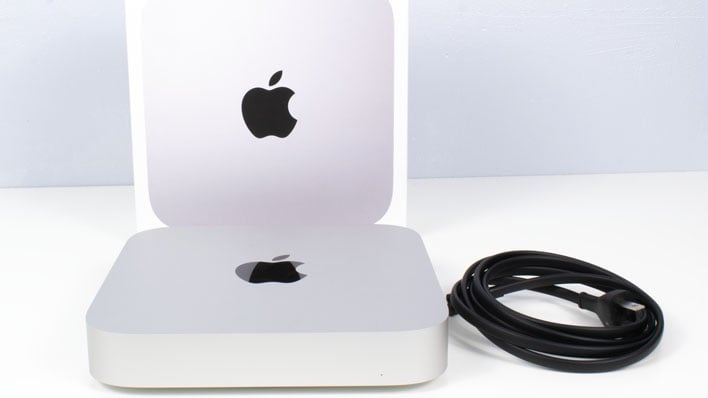 In reality, the 2020 Mac mini is a potent little machine. Under a strenuous workload, Cinebench R23's multi-threaded test, it only pulled 25 Watts from the wall. At the same time, it was frequently the fastest system we tested. Its low power consumption and impressive performance combine for fantastic performance-per-watt metrics. As we demonstrated, task energy for a hypothetical Mac render farm was low enough that we could fit three of them in the 2018 model's power budget, and each of them would render the scene faster than the Coffee Lake processor.
If there's one blemish that we can point to, it's that these are early days for Apple's Silicon. Not every application has been ported to run natively on the M1, and x86 compatibility is just not as revolutionary. However, the overall picture in this regard isn't that bad. Again, using Cinebench and Geekbench as quick sanity checks, x86-64 emulation is about as fast as the six-core Mac mini. That means
at worst
the 2020 Mac mini is only about as fast as its predecessor. However, its performance in native applications is so strong that it more than makes up for it. The Mac mini's IO port array is not as wide as we'd like in a desktop, but the pair of Thunderbolt 4 ports and pair of USB 3.2 Gen 2 Type-A ports do offer excellent bandwidth.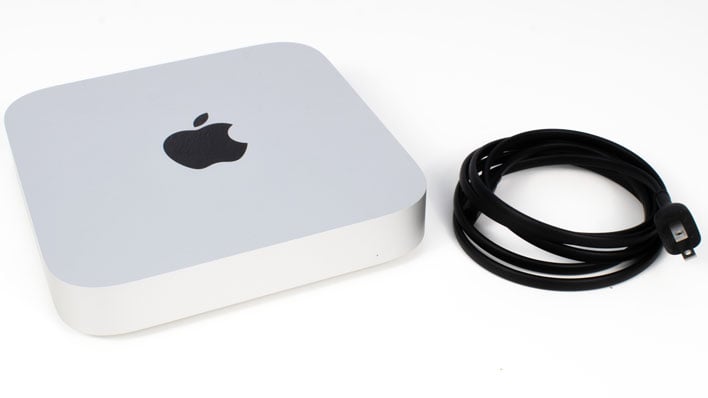 All of this performance is usually reserved for high-end machines, and it's pretty common to think of the Mac as a premium-priced platform. However, the
Mac mini starts at just $699
. That gets you the full-fat M1 processor with four performance cores, four energy-efficient cores, the 16-core ML processor, and the eight-core GPU. There's also 8 GB of LPDDR4X memory and 256 GB of solid state storage. The upcharge for 16 GB of RAM or 512 GB of storage is $200 a pop, which is fairly steep. Our ideal Mac mini with both of those upgrades would cost $1099, which is the same prices as the Core i5 Intel Mac mini with 8 GB of memory and 512 GB of SSD space, so it's still not a bad deal per se. By comparison, Microsoft wants $200 just go to from 128 GB to 256 GB of SSD space
in the Surface Laptop Go
, a similarly-priced laptop solution.
Overall, we have to say that Apple seems to have lived up to its claims. The new Mac mini is much faster than the old one while consuming just a fraction of the power to do its work. From that standpoint, Cupertino has instantly established itself as a heavy hitter in the low-power processor space right alongside Intel and AMD. It's a shame that all this efficient horsepower is only available running Apple's software, and from that standpoint it really does seem to
validate Qualcomm's Windows on Arm
technologies and strategy. We can't wait to see what these major chip players come up with next. For now, however, the M1 Mac mini is
HotHardware
recommended for those who want to stay in Apple's ecosystem. It's Apple's plan for the future, and performance and compatibility are already very strong.





M1 performance is Impressive

Very low power consumption

Graphics performance is strong

Very cool and quiet

Rosetta 2 offers good compatibility

x86 performance is solid

RAM and storage upgrades are pricey
Soldered RAM and storage
Windows virtualization is still new
macOS isn't for everyone
Related content
Comments