LG V60 ThinQ 5G Review: Dual Display, Almost Flagship
LG V60 ThinQ 5G Audio, Performance, Battery Life
LG V60 ThinQ Audio, Data And Call Reception
We tested the V60 on AT&T's sub-6GHz 5G network in San Francisco and didn't experience any problems with reception or call quality. Then again, staying at home during this Coronavirus pandemic wasn't conducive to field testing. Our review unit is an AT&T-branded model that only supports AT&T's low band 5G (850MHz, n5), and we're seeing 3-4 bars of signal and normal speeds in our Potrero Hill neighborhood -- 50-75Mbps down and 6-8Mbps up.
The stereo speakers (earpiece on top, side firing driver at the bottom) are loud and clear for both calls and music. LG always delivers when it comes to audio performance, so that's to be expected at this point. And then there's the headphone jack, which not only bucks the trend, but sounds absolutely sublime thanks to ESS's signature headphone amp and 32-bit HiFi Quad DAC. It's an audiophile's dream, and it costs hundreds less than a standalone setup.

LG V60 ThinQ Performance And Battery Life
We don't have to tell you that Qualcomm's latest and greatest SoC -- the Snapdragon 865 -- is a screamer. That's pretty much a given. In fact I'd argue that unless you're playing the latest hard core games, you'd still be just fine with a Snapdragon 845 for most day-to-day tasks. So obviously, the V60 is snappy no matter what your throw at it -- from voguing on TikTok to fragging in Call of Duty. Check out the benchmarks below and see for yourself.


Basemark Web 3.0

JavaScript and Browser Testing
For our firsts set of tests, we're running
Basemark's Web Test 3.0 for a comprehensive, mixed-media web performance analysis that includes
HTML5
rendering. Here we're primarily trying to determine how the V60
handles this specific workload with the Android Chrome web browser...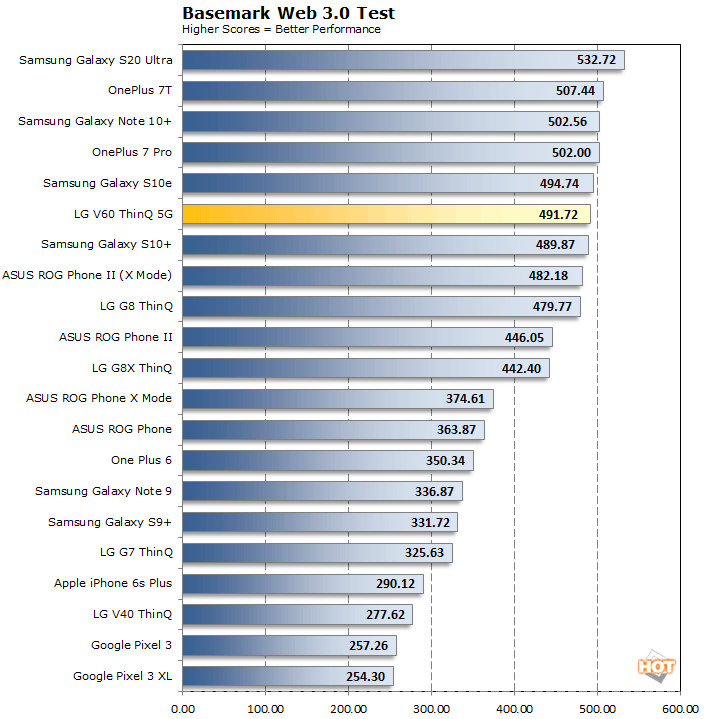 The V60 can't quite catch Samsung's flagship devices or even some 855-based devices, but it is grouped with the top-tier devices at the top of the stack.


GeekBench

Synthetic CPU Benchmark
In this GeekBench CPU test, we're only stressing the Snapdragon 865's CPU cores (not its GPU), with both single and multi-threaded workloads. The test is comprised of encryption processing, image compression, HTML5 parsing, physics calculations, and other general purpose compute processing. we're also throwing an iPhone 11 Pro with its A13 Bionic processor into the mix, for comparison...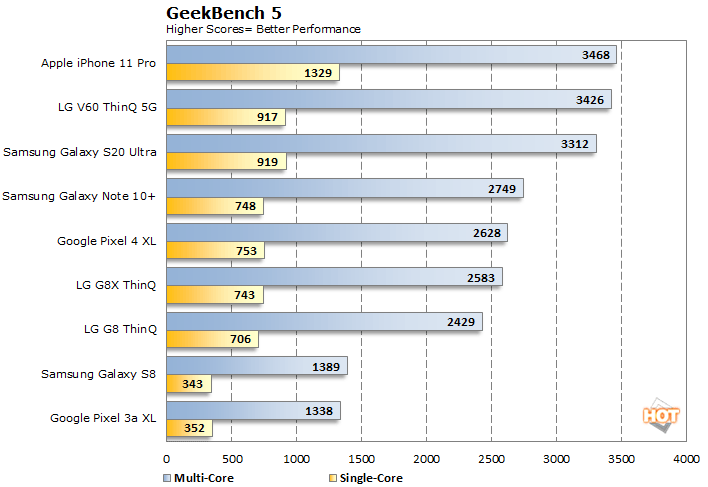 The V60 competes well in the Geekbench 5 tests, outpacing Samsung's Galaxy S20 Ultra in the multi-threaded test and hanging right alongside it in the single-threaded test.


Futuremark PCMark For Android

General Purpose Pocket Computing Performance Metrics
Futuremark's PCMark for Android is an excellent suite of tests if you want to benchmark a wide range of tasks on any handset -- things like image and video editing, as well as lighter-duty, everyday workloads such as email and web browsing. When you see the test running live, it's clear the scripted application tests are carefully selected and tuned to make use of the each mobile platform in a very controlled way...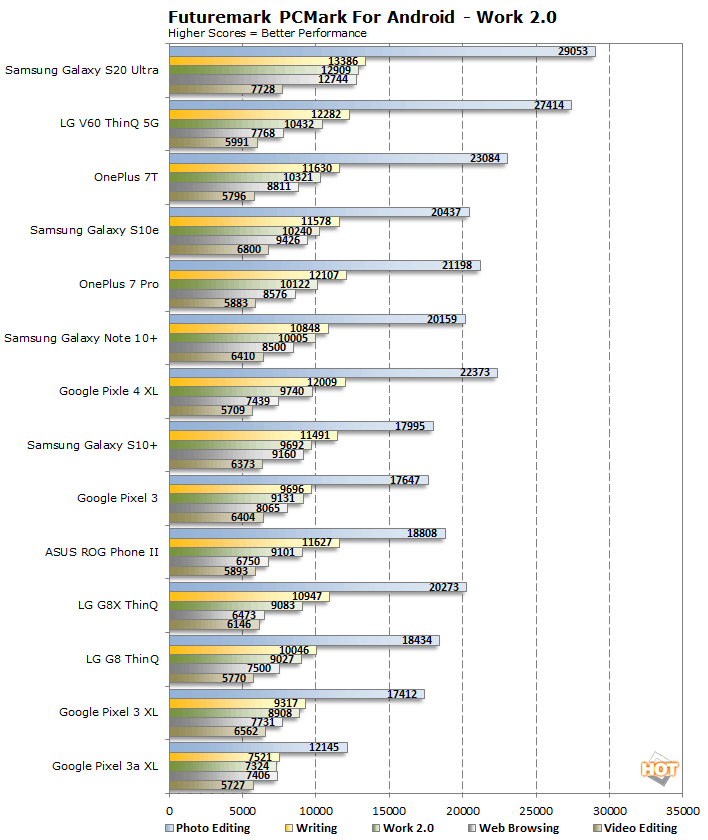 The V60 scores a second-place finish behind the Samsung Galaxy S20 Ultra. The Snapdragon 865 powering the device clearly offers strong all-around performance for the workloads used in PCMark for Android.
AnTuTu 8 And AITuTu

Platform Benchmarks
AnTuTu's latest benchmark returns a number of metrics ranked with somewhat nebulous scores, rather than frame rates or time to complete. Here we're running the latest version of AnTuTu across an multiple Android devices. AnTuTu returns four top level performance results which are all included here: CPU, RAM, 3D, UX (or User Experience), along with a total score...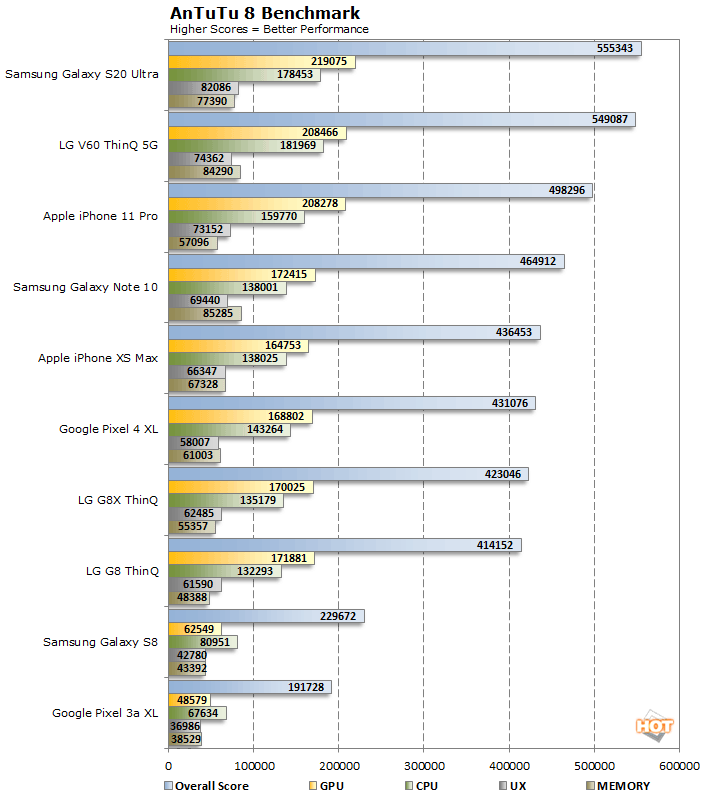 We saw more of the same in the AnTuTu benchmark. Here, the V60 hangs with Samsung's flagship perched at the top of the charts.
AITuTu evaluates the AI performance of a device by leveraging two mainstream neural network models for machine learning and
AI
--
Inception v3
for Image Classification and
MobileNet-SSD
for Object Detection. The benchmark determines the device's accuracy and speed when inferring data from each workload...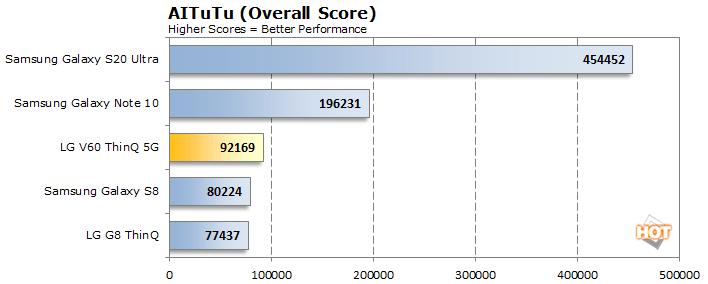 Although it is based on the same platform, LG clearly has some work to do to optimize AI workloads. In AiTuTu, the V60 behind the Galaxy Note 10 and gets hammered by Samsung's Galaxy S20 Ultra.
3D Graphics Benchmarks: 3DMark And GFX Bench

Pushing The Pixels
Next we're checking how the V60 compares in GFXBench, which has been one of the standard mobile graphics/gaming performance benchmarks for years. To ensure that display refresh (v-sync) and resolution aren't limiting factors, we're comparing off-screen test results here. GFXBench tests OpenGL ES graphics workloads and we're specifically testing OpenGL ES 2...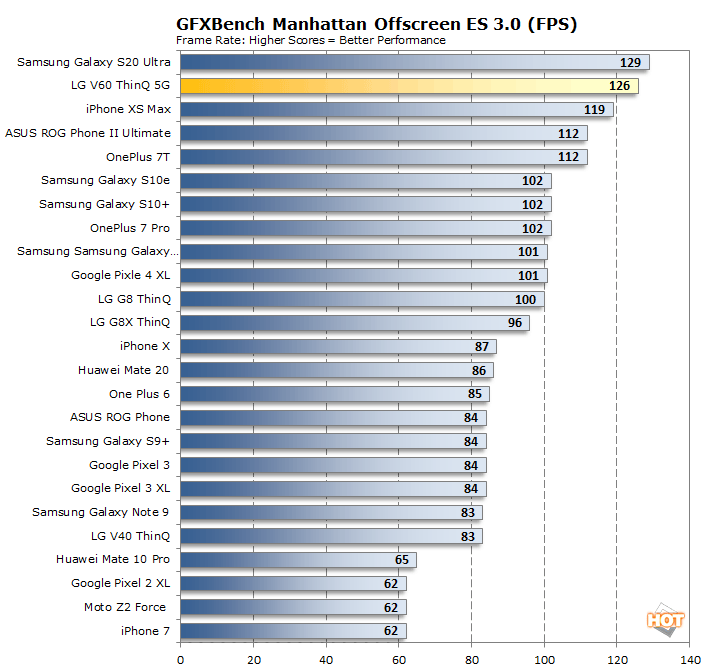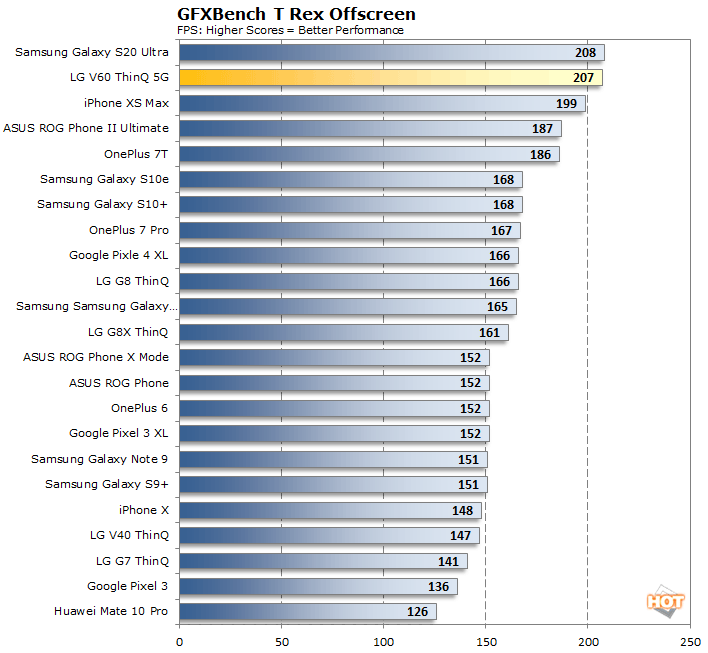 Graphics performance is a clear strong suit for the Snapdragon 865 mobile platform. Here, the V60 just misses the mark set by Samsung's Galaxy S20 Ultra, but still finishes strong.
Futuremark's 3DMark Sling Shot is a newer benchmark module that's been added to the
3DMark
mobile suite. Unlike previous gen 3DMark mobile tests, Sling Shot is a much more advanced OpenGL ES 3.1 and Metal API-based benchmark that employs more advanced rendering techniques, like volumetric lighting, particle illumination, multiple render targets, instanced rendering, uniform buffers and transform feedback.
Futuremark 3DMark Sling Shot Extreme Benchmark

We're running this test in off-screen mode once again to remove display resolution differences from the equation. This lets us compare cross-platform results more reliably...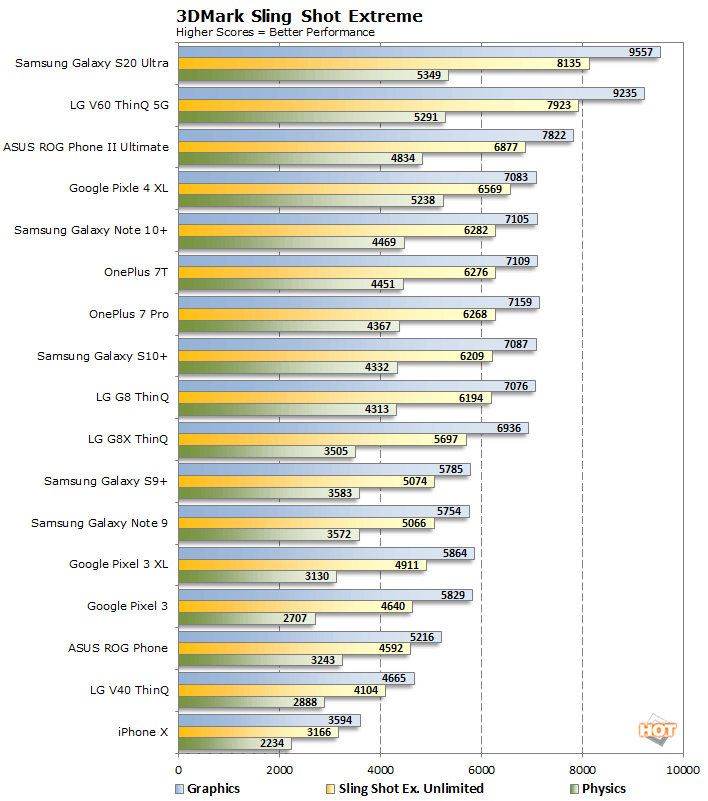 The V60 also performed well in these 3DMark tests. Samsung's Galaxy S20 Ultra finishes at the top of the heap, but the V60 wasn't too far behind.
LG V60 ThinQ Other Features And Battery Life
Beyond the mighty Snapdragon 865, the V60 packs a Snapdragon X55 5G modem for sub-6GHz connectivity (although Verizon's version of the phone also includes mmWave support), 8GB RAM, and 128GB of storage (UFS 2.1) -- plus microSD support for cards up to 2TB. It also features WiFi 6 (802.11ax), Bluetooth 5.1 (with aptX HD), NFC, A-GPS / GLONASS / BDS, and the standard assortment of proximity, light, and motion sensors.
LG continues to nail haptics as well, thanks to a high-quality linear vibration motor. The optical in-display fingerprint sensor is fast and reliable, but for some strange reason, the V60 lacks any kind of face unlock functionality, which is a bummer. It would be nice for this handset to unlock automatically when opening the dual screen case. And did we mention that US models include an FM radio? It's not every day you see this feature on a flagship, but there you go.
Now let's talk about battery life, because this one's a doozy. After spending over a week with the V60, We're ready to declare this phone the undisputed endurance champ among flagships, and that includes Huawei's past winners. We're consistently getting two days of battery life under normal use without the dual screen case. Strangely, PCMark's battery test crashed on us, but after running for 9h43 (screen-on time), we were still left with 57% battery.
Battery life with the dual screen case is just as impressive. It appears to rob about 20% battery life in our tests, assuming you're actively using both displays and multitasking. As such, LG was smart to include a 5000mAh battery. When it's time to top off, the V60 supports wired charging up to 25W (Quick Charge 4.0+ and USB PD 2.0), plus Qi-compatible wireless charging. As a bonus, there's a 25W charger supplied in the box.
Next up: software, pricing, and verdict...

Related content
Comments