Intel Core i9-10900K & i5-10600K Review: Comet Lake-S Benchmarks
Intel Core i9-10900K And i5-10600K Review: Comet Lake-S Arrives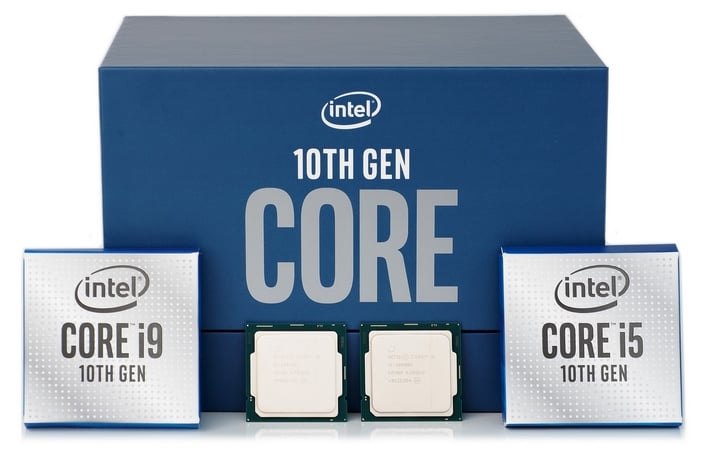 A few weeks back, Intel officially announced its
10th Generation Core series
processors based on the
Comet Lake-S
architecture, and its companion Z490 chipset. 10th Gen Core series processors are not all-new, HEDT (High-End Desktop) products that target extreme enthusiasts, but rather tweaked, tuned, and enhanced mainstream parts, meant to supplants 9th Gen Socket 1151-based processors at the heart of Intel's mainstream CPU line-up.
Intel's 10th Gen Core series desktop processors are still based on the same architecture and leverage the same 14nm++ manufacturing process as their 9th Gen predecessors, but Intel has made numerous changes in an attempt to inject even more performance, efficiency, and value. These new chips have more cores (or threads) up and down the stack, higher peak clocks, and some new features – like thinner slabs of silicon and thicker integrated heat spreaders with more copper to aid cooling. There's also a new socket bolted to the Z490 chipset to enhance power delivery and a few new features associated with
the Z490 chipset
as well.
We've detailed all of the new stuff coming to this platform in our initial coverage of the announced last month, and also
showed off the ASUS Maximum XII Hero WiFi
motherboard. If you missed that article, by all means check it out before continuing. What we'll be showing you here today are a couple of the stand-outs in Intel's initial 10th Gen Core series line-up – the flagship Core i9-10900K and mid-range Core i5-10600K, to be more specific – along with one of Gigabyte's enthusiast-class motherboards, the
Z490 Aorus Master.
First up, let's get some specs out of the way and then we'll dig in and see how Intel's latest mainstream desktop processor platform holds up against the competition...
Intel 10th Gen Core Series Desktop Processors

Specifications & Features
---
Intel
Core series processors look much like the previous-gen, though there are some fundamental differences. And despite the new socket and motherboards, they'll work with all of the same coolers. From the top, there's not much to see that's all that different from the previous-gen (save for the specific branding), but that integrated heat spreader is actually somewhat thicker than the 9th Gen's (to account for the thinner die underneath). And although it resembles the 9th Gen, the underside on the 10th Gen is obviously different and is comprised of 1200 pads (versus 1151), along with some surface-mounted components.
Core i9-10900K
has base and boost clocks of 3.7GHz and 5.1GHz, respectively, a Turbo Boost 3.0 clock of 5.2GHz, and a max Thermal Velocity Boost of up to 5.3GHz. The Core i5-10600K as a higher base clock of 4.1GHz and a boost clock of 4.8GHz – it doesn't support Turbo Boost 3.0 or Thermal Velocity Boost, however. Cache sizes also differ depending on the core count. The Core i9-10900K is packing 20MB of Intel Smart L3 cache, whereas the Core i5-10600K has 12MB.
The Intel Core i9-10900K's and Core i5-10600K's CPU-Z details are outlined in the images above. Both processors are based on the same stepping / revision, but differ in terms of their clocks and core counts. There's 64K (32K + 32K) of L1 cache per core, 256K of L2 cache per core, and the larger L3 caches are 16-way set associative. Notice the Core i5 now has Hyper-Threaded enabled, so that 6-core processor can handle 12-threads simultaneously. That will result in a significant boost in multi-threaded performance for 10th Gen Core i5 processors. 10th Gen Core i3 and
Pentium
Gold processors have HT enabled as well, which wasn't always the case on previous-gen processors.
The Gigabyte Z490 Aorus Master Motherboard
Along with the processors, Intel also sent over a Gigabyte Z490 Aorus Master motherboard.
Gigabyte has a ton
of Z490-based motherboards coming down the pipeline, with the Aorus Master sitting near the top of the stack, a notch or two below the jam-packed Z490 Aorus Xtreme.
As has been in the case for the last few generations of "Master" motherboards from Gigabyte, this one is stacked with goodies including ALC1220VB-based audio with a 125dB SNR, a headphone amp, configurable RBG lighting, server-class digital power circuitry, heatsinks and heat-plates top-and-bottom, metal-reinforced slots, multiple M.2 slots (also with heatsinks), intelligent fan headers, and all the features offered by the Z490 itself.
The Z490 Aorus Master is heavy and sturdy. The board is stiff and rigid and has a premium look and feel all-around. Power on this board is handled by a newly-designed, 14 Phase Digital VRM solution with 90A Smart Power Stages and Tantalum Polymer cap array. The VRM is also outfitted with a very dense array of heatsinks fins and direct-contact heat-pipes to help keep temperatures in check. There's a metal base-plate on the backside of the PCB as well,to further help dissipate heat, and the power connectors feature solid-pins, which are sturdier and more reliable than the hollow press-fit pins found on many cheaper motherboards.
Like the previous-gen Z390 Aorus Master, this new Z490 Aorus Master is also equipped with hybrid fan pin headers.
Gigabyte's
hybrid fan pin headers can auto-sense what type of fan or device is plugged into the header and can tune settings accordingly. For example, the headers can differentiate between a water pump and high-speed, PWM fan, and the headers support up to 3 AMPs each with built-in over-current protection. In addition, eight fan headers are accompanied by headers for additional thermal sensors as well, which can be placed strategically around a system to monitor various temperatures and tune fan speeds accordingly.
The Z490 Aorus Master also features fully-customizable
RGB
lighting across a few segments of the PCB (for example, in the shielding over the VRM and on the chipset cooler and audio shielding). The lighting can be configured via Gigabyte's "RBG Fusion" app for different modes (pulsing, color cycling, etc. -- 9 modes in total) and there are a couple of additional headers on the board for adding more LED light strips throughout a chassis as well.
The Gigabyte Z490 Aorus Master's audio comes by way of a Realtek ALC1220-VB codec, paired to an ESS Sabre ES9118 DAC, and high-end WIMA caps and isolation circuitry designed to optimize sound quality. The board is also packing an Intel Multi-Gigabit (2.5G) network controller, Intel 802.11ax Wi-Fi, support for SLI and CrossFire, a POST Code error reporter, XMP status LED, and external power and clear-CMOS switches, among numerous other things.
That's enough with the particulars, though – let's get these puppies fired up and see what they can do...
Related content