Intel Core i9-10980XE Review: 18-Core Cascade Lake-X Battles AMD [Updated]
Intel Core i9-10980XE - Physics, Gaming, And Graphics Tests
For our next series of tests, we moved on to some game-related metrics with 3DMark, specifically the physics benchmark that's part of the Fire Strike test, along with a couple of actual games. For the 3DMark Physics test, we simply create a custom 3DMark run consisting solely of the physics test, which is CPU dependent, and report the results...
Gaming: 3DMark Physics
Taking the GPU out of the Equation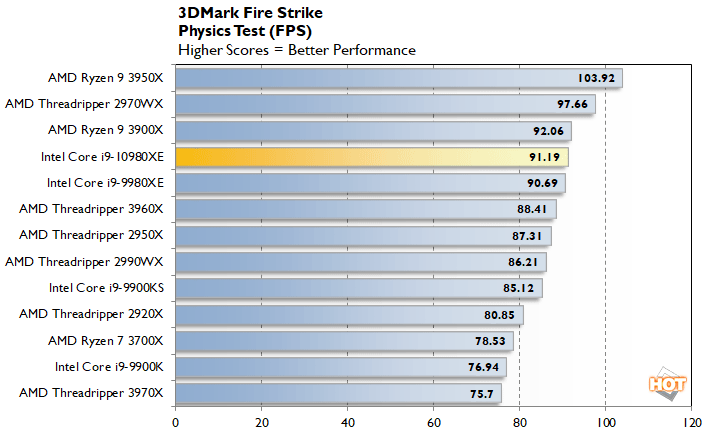 The Core i9-10980XE just barely squeaks past the Core i9-9980XE in 3DMark Fire Strike's CPU Physics benchmark, but it can't quite catch the latest Ryzen 3000 series processors or the 24-core
Threadripper
. This benchmark, however, doesn't always behave well with HEDT processors beyond 12-16 cores.
High Resolution Gaming And Graphics Tests
1080P and 4K Gaming With GeForce GTX 2080Ti
We also ran some high-resolution game and graphics tests on our test rigs 3DMark, Middle Earth: Shadow Of War and Shadow Of The
Tomb Raider
. We used 3DMark's Fire Strike Extreme preset, and both of the games were run in two different configurations -- either 1080p with Medium details, or 4K with High/Very High details. The lower resolution tests are more CPU bound, while the higher resolution tests are more GPU bound.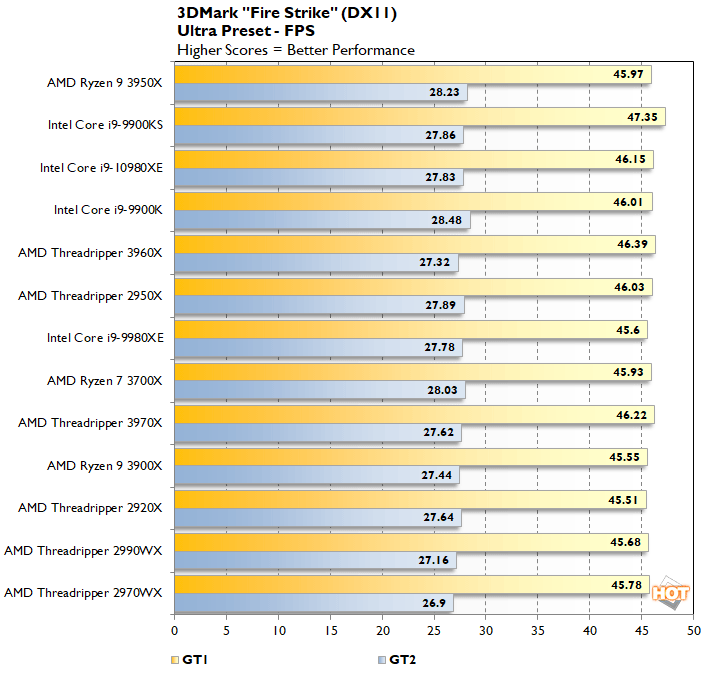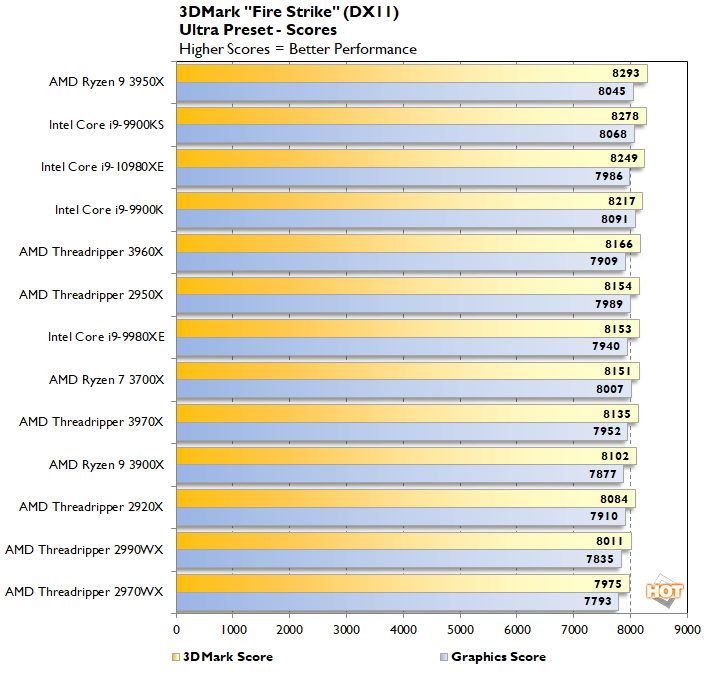 Although we're using a powerful
GeForce RTX 2080 Ti
in our test bed, it remains the most significant bottleneck in this test, hence the relatively tight grouping. The Core i9-10980XE technically eeks out a win versus its Intel-made predecessors, but we're talking about some tiny deltas here.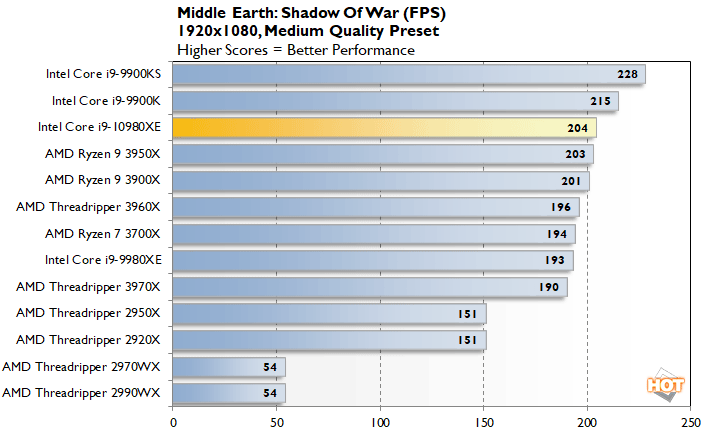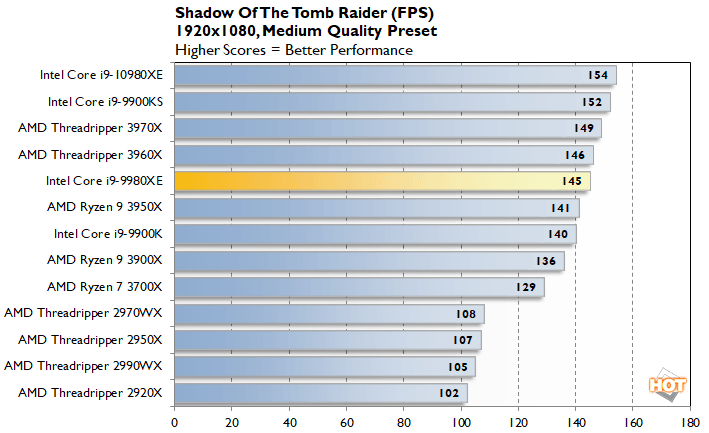 The medium-quality, high-framerate 1080p in-game tests show the Core i9-10980XE offering solid performance versus the Core i9-9980XE, though it can't quite catch
the Core i9-9900KS
in Shadow Of War.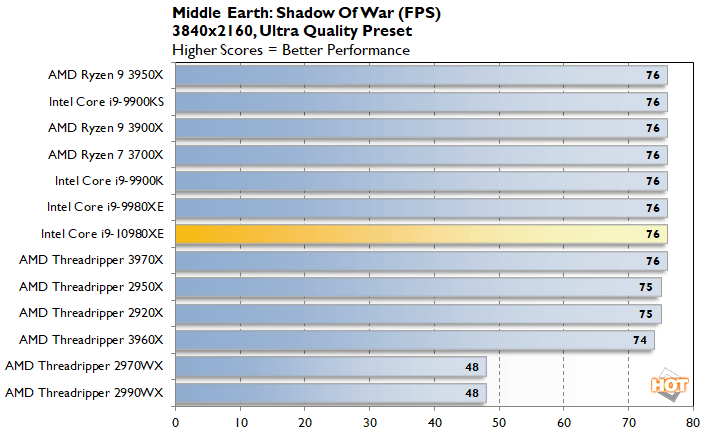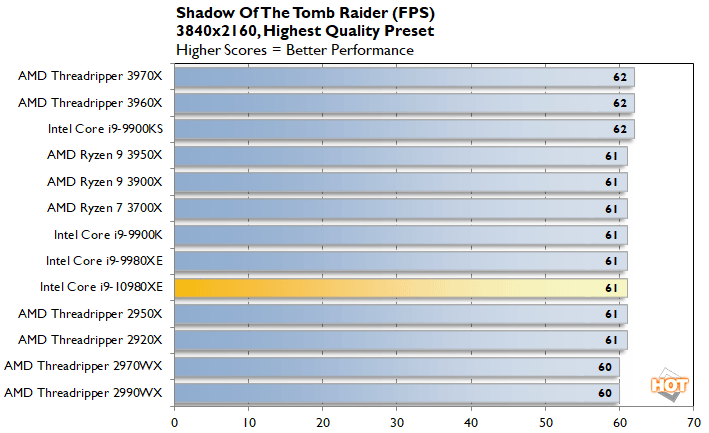 When you crank up the resolution and in-game image quality, and shift the performance bottleneck more onto the GPU and away from the CPU, all of these systems perform similarly and there's nothing to really separate them, save for the many-core Threadripper WX-series processors which fell down in Shadow Of War. With the latest Windows Updates and drivers, Shadow Of War wouldn't run properly regardless of what we tried.
Related content