Intel Core i9-10980XE Review: 18-Core Cascade Lake-X Battles AMD [Updated]
Intel Core i9-10980XE - Speedometer, LAME MT, x265, Y-Cruncher
Next up, we have some numbers from the Speedometer 2.0 test available at browserbench.org. The Speedometer Benchmark Suite uses a wide array of latency and throughput benchmarks to evaluate web application performance, and all of the results are tabulated into a final score. The benchmark measures performance of an array of browser-based technologies used on modern, rich web applications. Scores in this benchmark are an indicator of the performance users would see when browsing and running advanced web apps.


Speedometer 2.0

Web App Performance Testing
All of the systems were tested using the latest version of Microsoft's
Edge
browser, with default browser settings, on a clean install of Windows 10 Professional x64.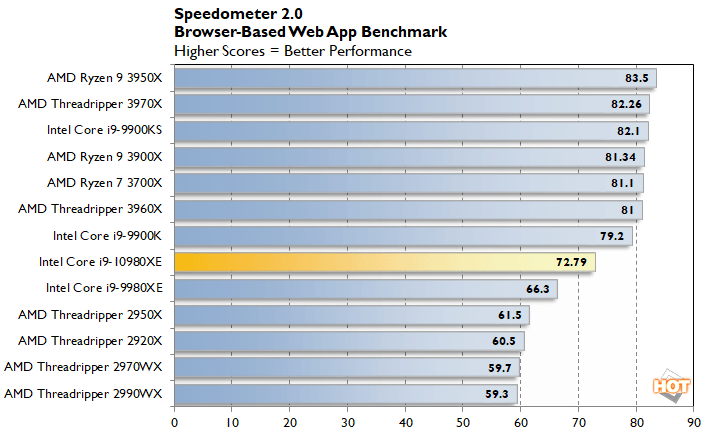 Once again we see the Core i9-10980XE offering a nice boost in performance versus the Core i9-9980XE, but it can't quite catch the latest
Ryzen 3000
series processors or the higher-clocked Coffee Lake-based Core i9-9900K/S here.
LAME MT

Audio Conversion and Encoding
In our custom LAME MT MP3 encoding test, we convert a large WAV file to the MP3 format, which is a popular, day-to-day use case for many end users, to provide portability and storage of their digital audio content. LAME is an open-source mid to high bit-rate and VBR (variable bit rate)
MP3
audio encoder that is used widely around the world in a multitude of third party applications.
In this test, we created our own 223MB WAV file and converted it to the MP3 format using the multi-thread capable LAME MT application in single and multi-thread modes. Processing times are recorded below, listed in seconds. Shorter times equate to better performance.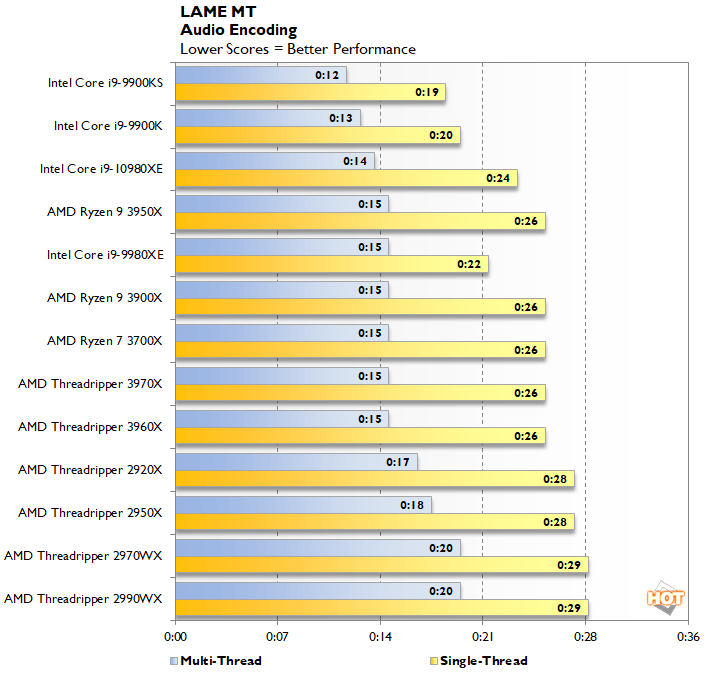 The highest-clocked Intel processors -- the Core i9-9900K and special edition
Core i9-9900KS
-- take top honors in our audio encoding tests, but the Core i9-10980XE finishes right behind them. The new Turbo Boost behavior that allows two cores to achieve maximum boost gives the chip a significant edge here versus the Core i9-9980XE in the MT test (which will only leverages two threads), but for some reason the chip didn't boost quite as high in the single-thread test, hence its somewhat lower score.
X265 Benchmark

Video Encoding Test
The multi-threaded HWBOT x265 Benchmark is based on the open source x265 encoder that leverages modern CPU instructions to speed video encoding. We tested the CPUs represented here with the 64-bit encoder using the default 1080p workload.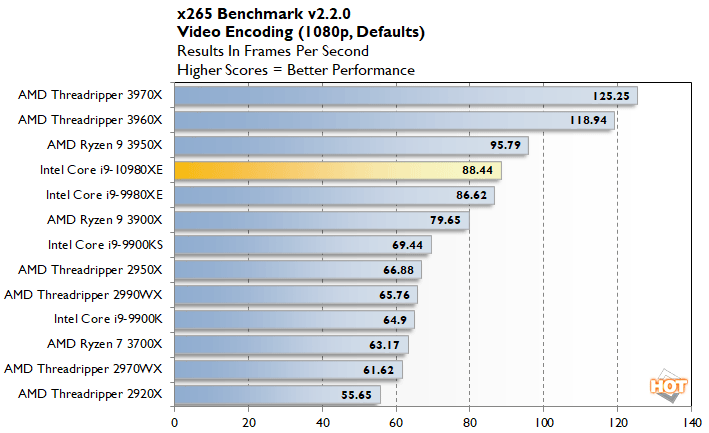 AMD's recently-released Ryzen 9 3950X finishes out in front of the Core i9-10980XE in this video encoding test. Intel's latest flagship HEDT processor, however, does manage to outrun its predecessor, though the delta separating the two processors is relatively small.
Y-Cruncher

MT Pi Calculator
Y-Cruncher is a multi-core-capable tool that calculates the value of pi to a specified number of digits. In this case, we ran the tool on all threads and had the application calculate the value of pi to 1 billion digits. The values below are the time required to perform the calculation expressed in seconds. As a result, lower values indicate better performance.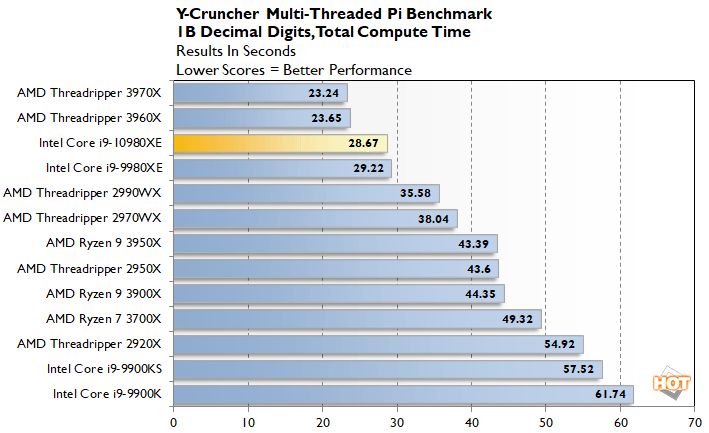 The Core i9-10980XE's higher memory and core clocks once again allow it to beat the Core i9-9980XE and propel it ahead of all of the other Intel-made processors we tested.
Related content