Google Pixel 6 And Pixel 6 Pro Review: A Bold Return To Android Flagships
Google Pixel 6 And Pixel 6 Pro: Benchmarks And Performance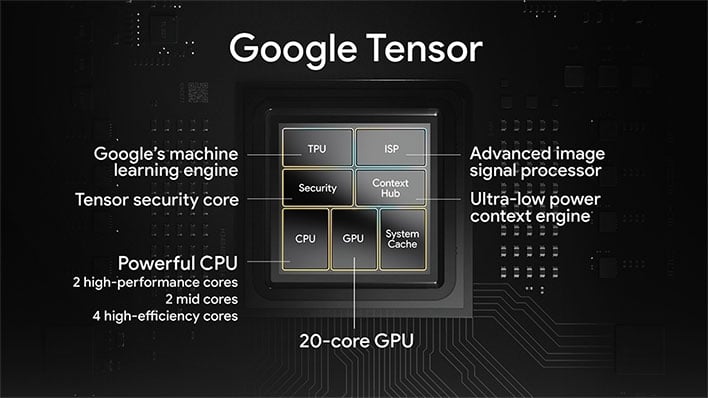 When Google announced its custom Tensor SoC (System-On-Chip), everybody heard the claims of its machine learning AI prowess, graphics horsepower and 5G connectivity, but we all know the proof is in the pudding, so here we go. From productivity, to gaming graphics and 5G data cellular data throughput, we've got you covered here.
Google Pixel 6 / 6 Pro: Audio, Data And Call Reception
We're actually still kicking the tires as it relates to cellular connectivity, as 5G coverage in our local area is mostly relegated to lower speed Sub-6 networks, though we are testing on
Google Fi
, which does allow for a bit of carrier hopping, depending on the region.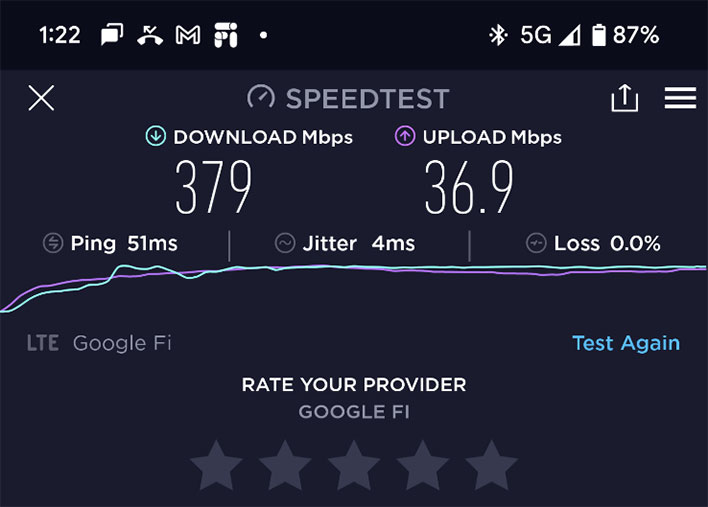 This test result from the Pixel 6 Pro should be fairly indicative of performance for the Pixel 6 as well (at least in this specific location) since the phones share the same Samsung 5G modem. Here we were located in an indoor setting with full bars of Sub-6 5G connectivity. Though it wasn't crowded, we probably had about 50 of our closest friends nearby and hundreds more in the shopping plaza area where we were located, so throughput was likely being challenged somewhat on the network side. Regardless, performance here is just OK, with a fair degree of ping latency and lack-luster upload speeds. We'll be circling back here with an update after we check another local
5G
hot spot without as many users tapping on the same network node. Unfortunately in our area, to test high speed mmWave means traveling to a major sports ballpark, so we'll have to circle back on that testing as well.
Update, 10/25/21 - 1:52PM:
We've just retested the Pixel 6 Pro in a less populated area with 4 - 5 bars of Sub-6 5G signal, and have posted our results above. This is actually some of the strongest Sub-6 performance on the download side that we've seen in this area, though ping latency is still about 2X what we've seen on competitive Snapdragon-powered handsets. Either way, it does appear the Samsun 5G modem that Google ran with for these new Pixel devices delivers competent performance.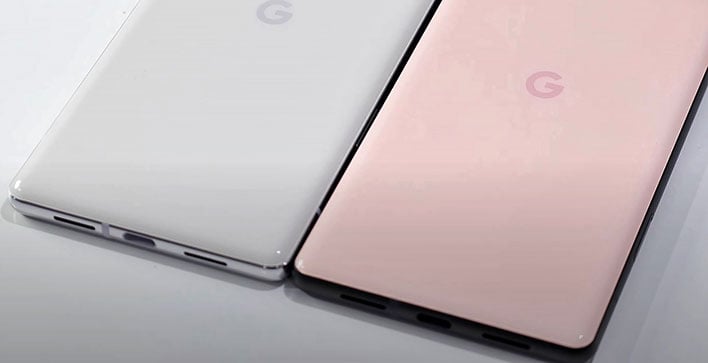 We also forgot a quick mention of our impressions of Pixel 6 and 6 Pro call quality and audio fidelity from its on-board sound system. In short, call quality was met with zero issues and the speaker output of the Pixel 6 Pro is surprisingly full, for a smartphone sound system, actually. Both phones have stereo top and bottom located stereo speakers in the earpiece and at the bottom of the device. The Pixel 6 definitely lacks the volume and bass response of the 6 Pro, however, though it's serviceable enough as well.
Google Pixel 6 And Pixel 6 Pro Performance
We've reviewed dozens of handsets with Qualcomm's Snapdragon Mobile platform on board, but semi-custom silicon like Google's
Tensor
processor is a different kind of beast. Regardless, with 8 - 12GB of RAM, fast UFS 3.1 storage, and bone stock Android 12, however, we were expecting good things from these new Pixels.
UL PCMark For Android Work 3.0
PCMark for Android is an excellent suite of tests if you want to benchmark a wide range of tasks on any handset -- things like image and video editing, as well as lighter-duty, everyday workloads such as email and web browsing. When you see the test running live, it's clear the scripted application tests are carefully selected and tuned to make use of the each mobile platform in a very controlled way...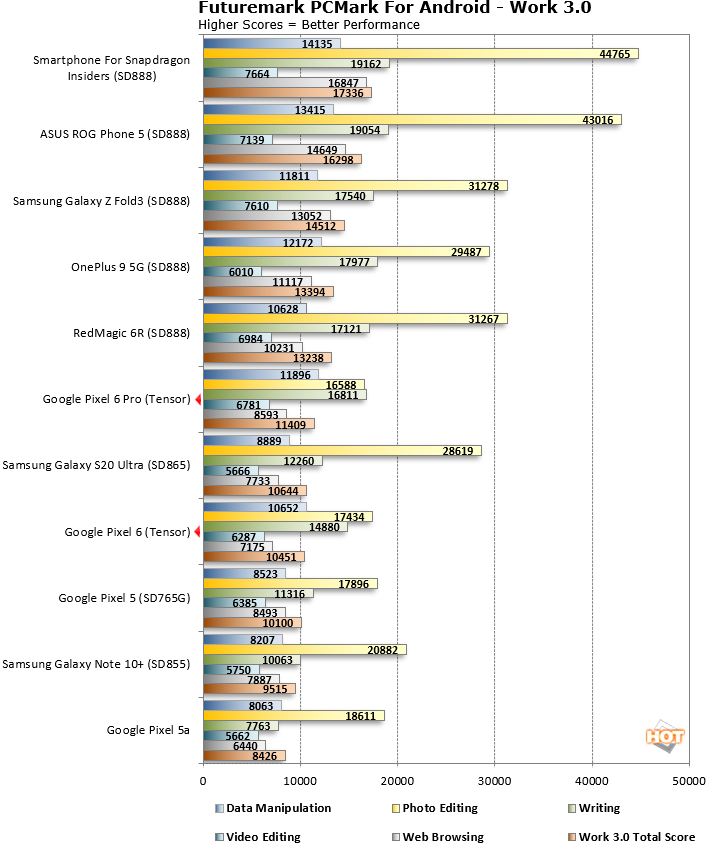 The new Google Pixel 6 and Pixel 6 Pro deliver middle of the pack performance here, not quite on par with Qualcomm's most recent
Snapdragon 888
processor, but very respectable results nonetheless. Note, the Pixel 6 Pro delivers a bit more performance here, likely due to its additional 4GB of LPDDR5 RAM.
Geekbench 5 Benchmarks
Geekbench is a cross-platform benchmark that simulates real world processing workloads in image processing and particle physics calculation scenarios. We tested all of the smartphones featured here with Geekbench's single and multi-core workloads.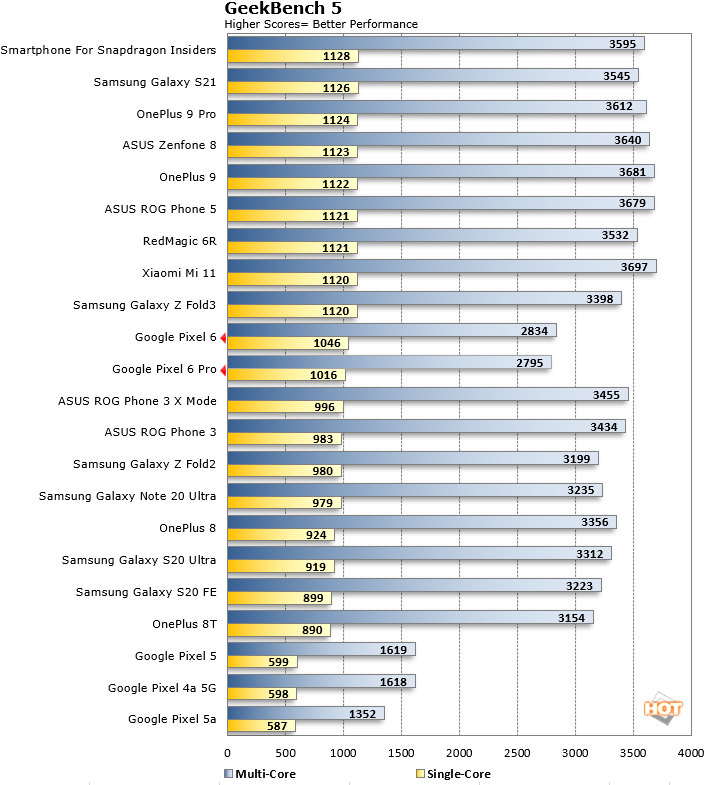 GeekBench isn't our favorite benchmark with its synthetic workloads, but it's another relative metric that shows the Pixel 6 and Pixel 6 Pro once again in the middle of the pack and short of top-end Snapdragon 888 performance. It's a respectable showing, though in multithreaded workloads Tensor trails Snapdragon 888 by as much as 27 percent or so.

AnTuTu and AITuTu Benchmarks
AnTuTu's latest benchmark returns a number of metrics ranked with somewhat nebulous scores, rather than frame rates or time to complete. Here we're running the latest version of AnTuTu across multiple Android devices. AnTuTu returns four top level performance results which are all included here: CPU, RAM, 3D, UX (or User Experience), along with a total score...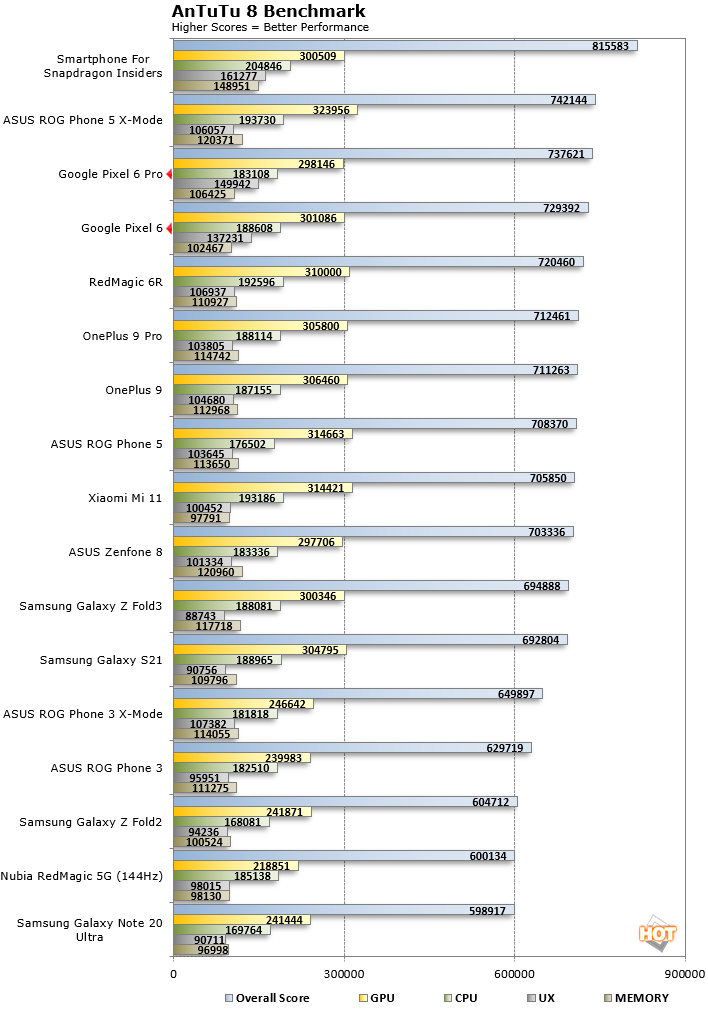 Here the tables turn dramatically and we see the Pixel 6 and 6 Pro nearly jump to the top of the stack, besting some of the top Snapdragon 888 powered phones, like the OnePlus 9 Pro and ASUS ROG Phone 5, but trailing the Smartphone For Snapdragon Insiders. Note, the UX score is especially strong for Google's new Pixels, which is likely a hat tip to
Android 12
.
AITuTu evaluates the AI performance of a device by leveraging two mainstream neural network models for machine learning and
AI
-- Inception v3 for Image Classification and MobileNet-SSD for Object Detection. The benchmark determines the device's accuracy and speed when inferring data from each workload.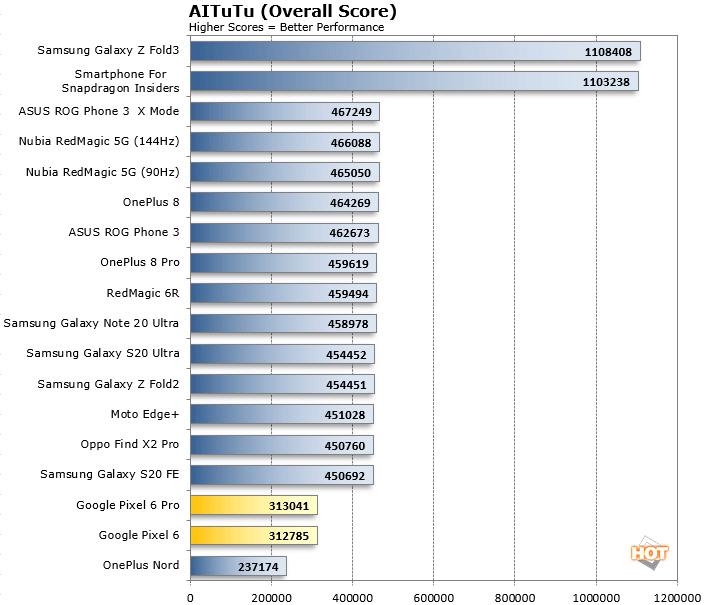 We're still digging into machine learning and AI workload testing, and we're hoping to have some
MLPerf
numbers to share as soon as we get a more stable version of the app for testing. However, AITuTu shows the Pixel 6 and Pixel 6 Pro way behind even the previous-gen Snapdragon 865 platform-based devices here. This is just one test, however, and we'd temper any skepticism because preliminary results with what we've seen in MLPerf suggests these new Pixel are significantly stronger than what we're seeing here in AITuTu. Again, we hope to update this section again, maybe as soon as later today, with more test data.
Gaming And Graphics Benchmarks
Next we're going to see how the Pixel 6 and Pixel 6 Pro compare to some other devices in GFXBench, which has been one of the standard mobile graphics/gaming performance benchmarks for years. To ensure that display refresh (v-sync) and resolution aren't limiting factors, we're comparing off-screen test results here. GFXBench tests OpenGL ES graphics workloads...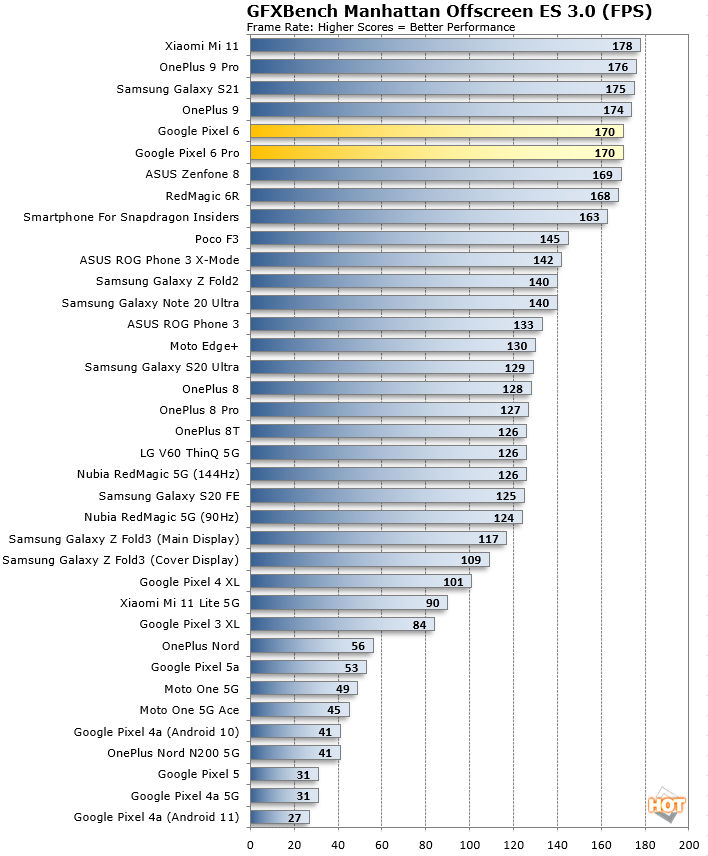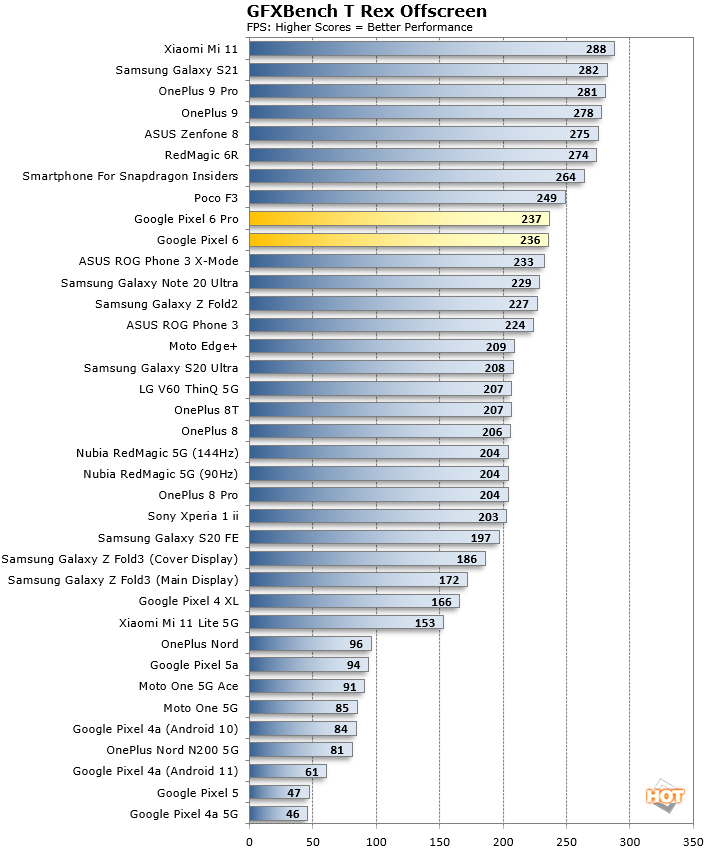 The Arm Mali-G78 GPU on board Google's Tensor SoC puts up respectable graphics test scores here in GFXBench, placing it within Snapdragon 888 class performance in the heavier-duty, more modern Manhattan OpenGL ES 3.0 test.

3DMark Sling Shot is a newer benchmark module that's been added to the 3DMark mobile suite. Unlike previous gen 3DMark mobile tests, Sling Shot is a more advanced OpenGL ES 3.1 and Metal API-based benchmark that employs more advanced rendering techniques, like volumetric lighting, particle illumination, multiple render targets, instanced rendering, uniform buffers and transform feedback. We're running this test in off-screen mode once again to remove display resolution differences from the equation. This lets us compare cross-platform results more reliably...


3DMark Sling Shot Extreme Benchmark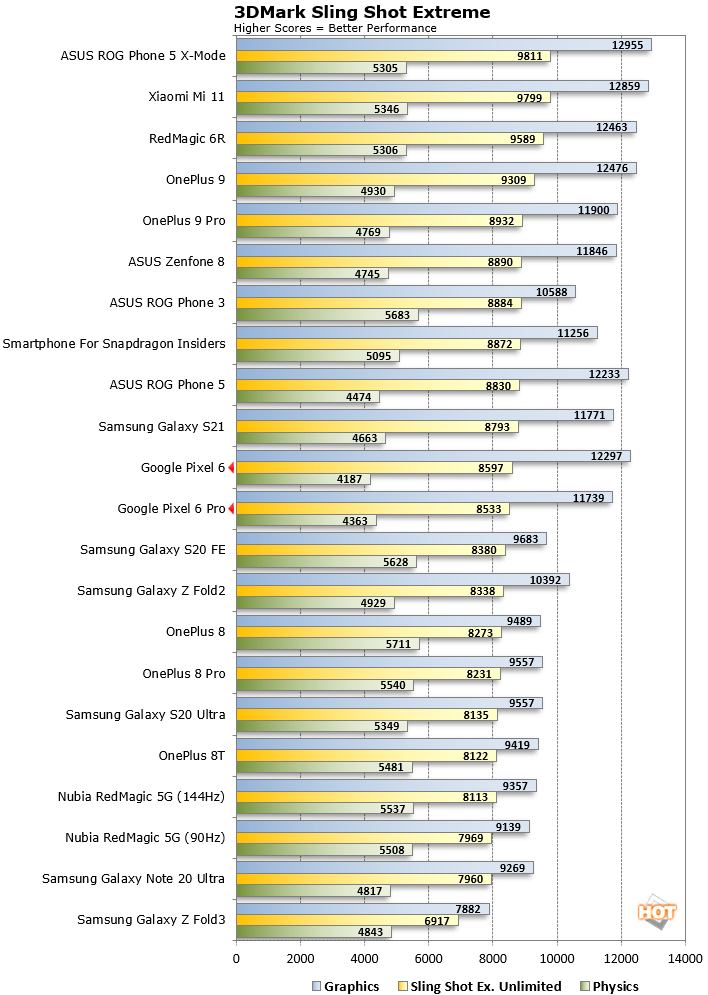 3DMark Sling Shot drops the new Pixel 6 and Pixel 6 Pro back down in the middle of the pack, though the benchmark is definitely getting long in the tooth, even though it's based on an OpenGL 3.1 and Metal rendering engine. Let's fire up the latest 3DMark Wildlife graphics test for a bit more gaming and graphics workload exploration.
3DMark Wild Life is the latest cross-platform graphics test from UL. UL explains that WildLife is primarily tasked with measuring GPU performance across platforms, and two distinct tests are available. The standard WildLife test is designed to give feedback on how a game performs over a short period of time. With mobile games, people typically play in brief spurts when they find some free time; be it on the bus, on the subway, or a quick battle royale session on your lunch break. The 3DMark WildLife Stress Test, on the other hand, shows how a device performs over a longer stretch of time, and takes note of performance degradation that can crop up due to increased heat levels and throttling (which we'll get to a bit later).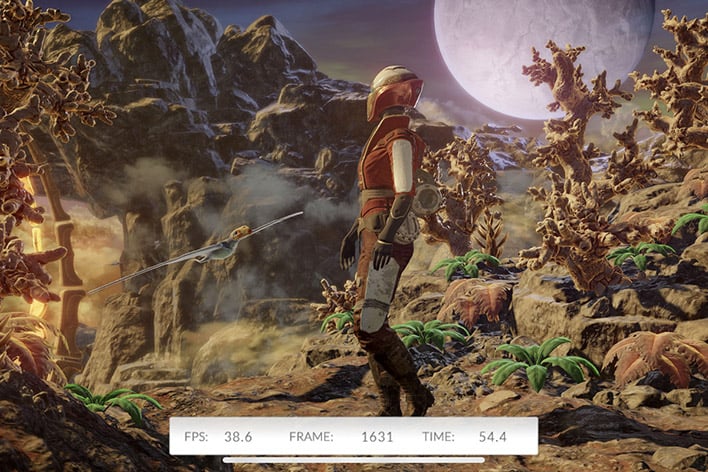 3DMark Wild Life Extreme Benchmark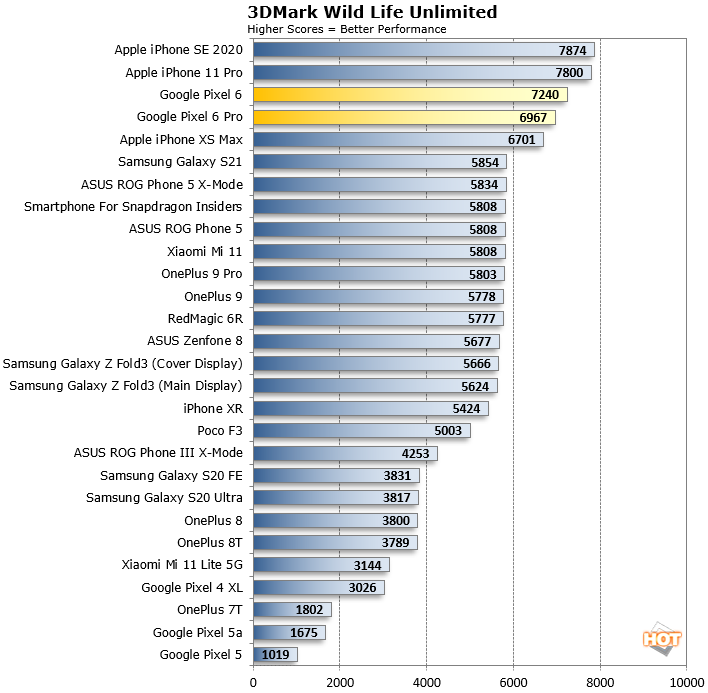 Here we were surprised to see Google's new Tensor-power Pixel 6 and Pixel 6 Pro rocket to the top of the pack, only slightly bested by a couple of iPhones, which have historically dominated in this benchmark. In fact 3DMark Wild Life ranks these new Pixels up to about 24 percent faster than Snapdragon 888 powered phones during an initial run. But let's check for thermal throttling shall we?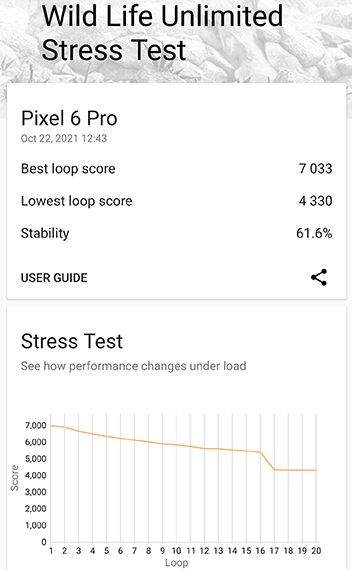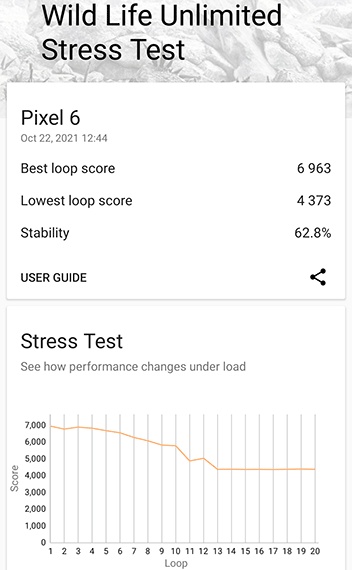 While both the Pixel 6 and Pixel 6 Pro bleed off about 38% of their performance over thermal saturation during the Wild Life Stress Test's 20 minute looped run, we'd say the trail off here is
graceful
at least. The Pixel 6 Pro begins a more prominent decline at around the 15 minute mark, while the Pixel 6 starts dropping off harder at the 10 minute mark. We've seen
similar thermal bleed
from Snapdragon 888 devices, though some like the
ASUS ROG Phone 5
and
Nubia Red Magic 6R
can maintain up to 99 percent of their performance under the same extended workload. Regardless, even with a bit of thermal bleed, the new Pixel 6 and Pixel 6 Pro maintain competitive performance versus Snapdragon 888 handsets.
Let's check battery life and then button this review up for you, next...
Related content
Comments