ASUS ROG Phone 6 Hands-On Performance Review: Gaming Beast
ASUS, First Out Of The Gate With Snapdragon 8+ Gen 1 And ROG Phone 6 Cranks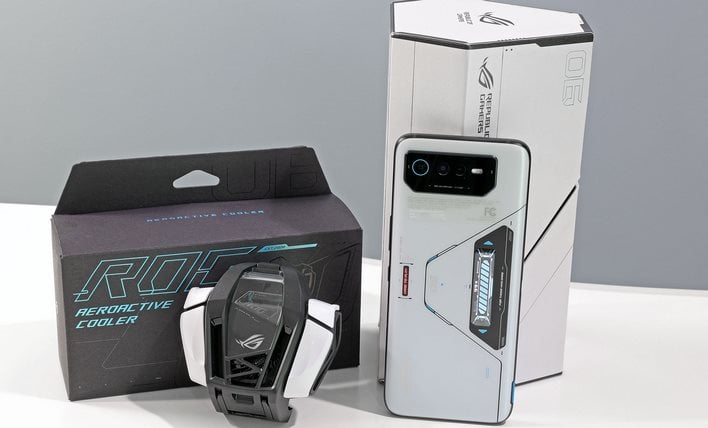 ASUS
figured out several years ago that it could cater to mobile gamers by packing fast, optimized hardware with intelligent features into its gaming phones, and then surround them with an ecosystem of complementary software and peripherals. Thus the ROG Phone was born. Now in its fifth iteration (ASUS ultimately skipped an ROG Phone 4 SKU), the
ROG Phone 6
is the first to employ Qualcomm's supercharged Snapdragon 8+ Gen 1 processor. Thankfully we managed to get our hands on one with short notice, and we were able to run a bunch of benchmarks and some other testing on this new ASUS gaming flagship.
We've actually also
previewed the Snadpragon 8+ Gen 1
in May, and as we noted at the time, it's faster at everything with better efficiency to boot. From a technical standpoint, Qualcomm's flagship silicon retains the same 1+3+4 Kryo CPU complex as the non-Plus variant, with a single Prime Cortex-X2 core, three Cortex-A71 performance cores, and four Cortex-A51 Efficiency cores.
What's different is that
Qualcomm
goosed the peaked clock on the Cortex-X2 to 3.2GHz, a 200MHz increase over the standard Snapdragon 8 Gen 1. Qualcomm also bumped the Peformance cores to 2.75GHz (up from 2.5GHz) and the Efficiency cores to 2GHz (up from 1.8GHz). So it's faster from top to bottom. And on the GPU side, the Adreno 730 GPU is 10 percent faster on the Snapdragon 8+ Gen 1. All of this performance lift is also met with better performance-per-watt metrics as well, courtesy of a fab process migration Qualcomm made from Samsung to TSMC. And thankfully, the new ASUS ROG Phone 6 gives us a chance to finally test out this new mobile platform in a retail ready device.
ASUS ROG Phone 6 Pro Design And Features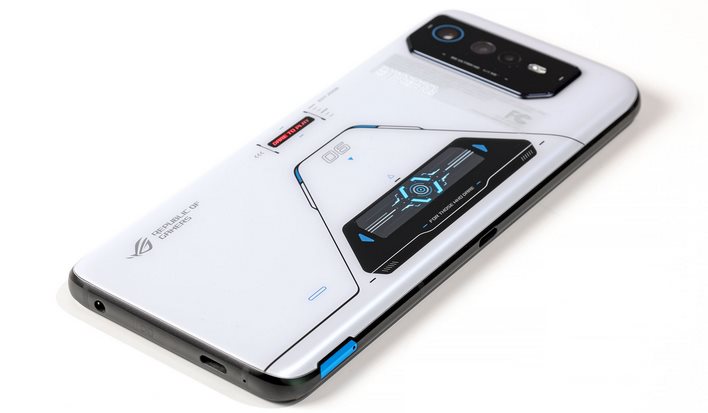 ASUS ROG Phone 6 Benchmarks - Snapdragon 8+ Gen 1 Takes Flight In A Retail Phone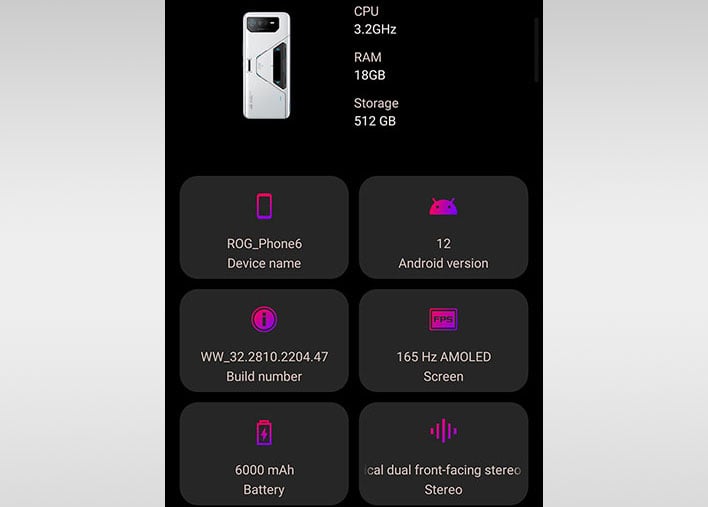 ASUS sent us the highest end configuration ROG Phone 6 Pro, which is equipped with 18GB of LPDDR5 RAM and 512GB of UFS 3.1 storage. Here's how it performed...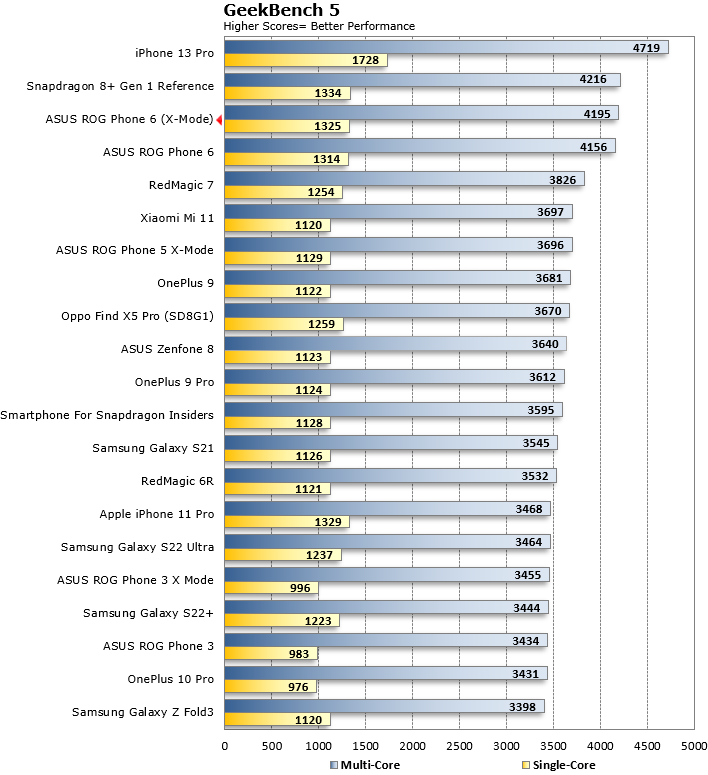 Starting off with Geekbench 5, the ROG Phone 6 Pro performed almost identically to the Snapdragon 8+ Gen 1 test vehicle we previewed a couple of months ago. Turning on X-Mode provided a small performance boost. Compared to last year's model, the ROG Phone 6 Pro scored a little over 17 percent higher in the single-core test, and 13.5 percent higher in the multi-core test.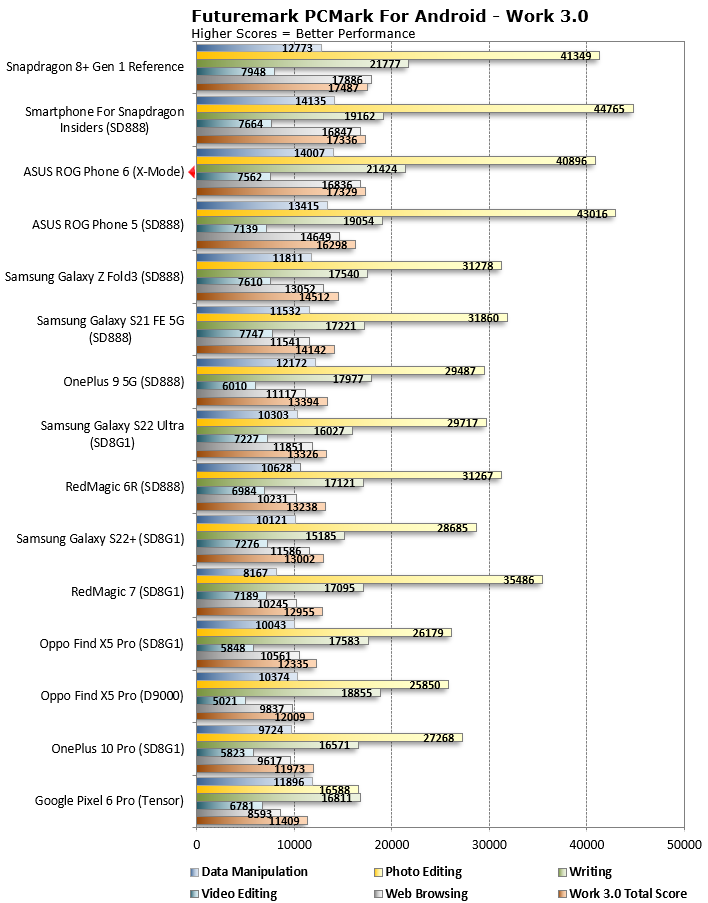 In PCMark for Android, there's a less than 1 percent difference between the Snapdragon 8+ Gen 1 reference phone and the ROG Phone 6 Pro in X-Mode. Most of the individual tests are close, though the reference phone generally comes out just slightly ahead.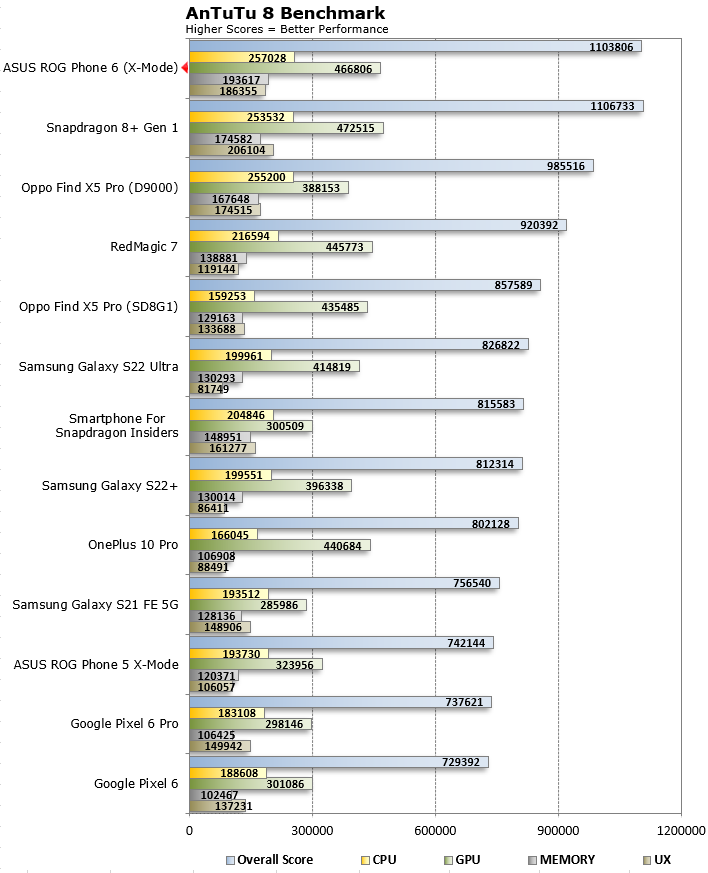 The ROG Phone 6 Pro took the top spot in the AnTuTu benchmark in a few of the individual tests, notably the CPU and memory. Across the board, however, it was another virtual tie with reference platform, both of which come out ahead of all other Android phones we've tested.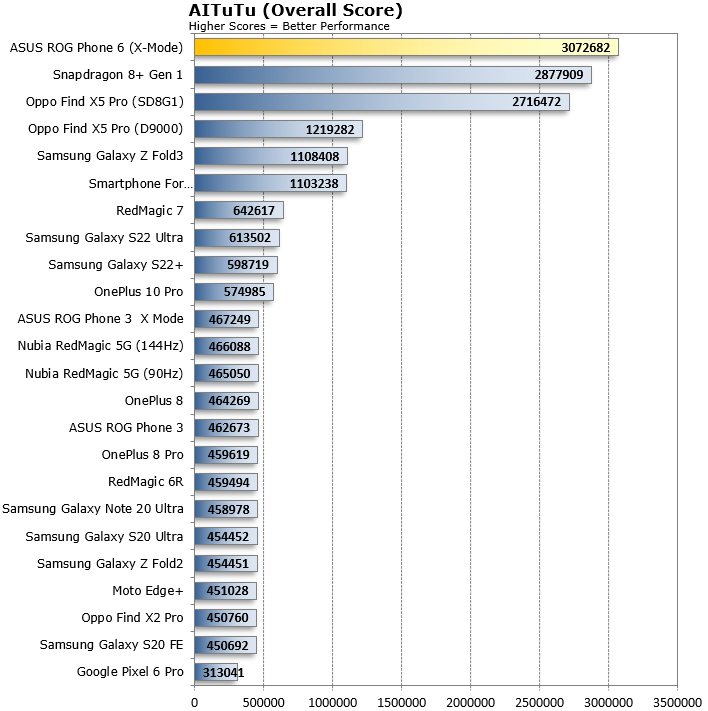 Here we see the ROG Phone 6 Pro separate itself a bit from the reference Snapdragon 8+ Gen 1 handset.
AI
performance is one of the highlights of Qualcomm's flagship mobile chip, and that's on full display here. While not necessarily a big deal for gaming just yet, AI has become an important part of modern smartphone use cases, facilitating better real-time language translation, better looking photos, and more.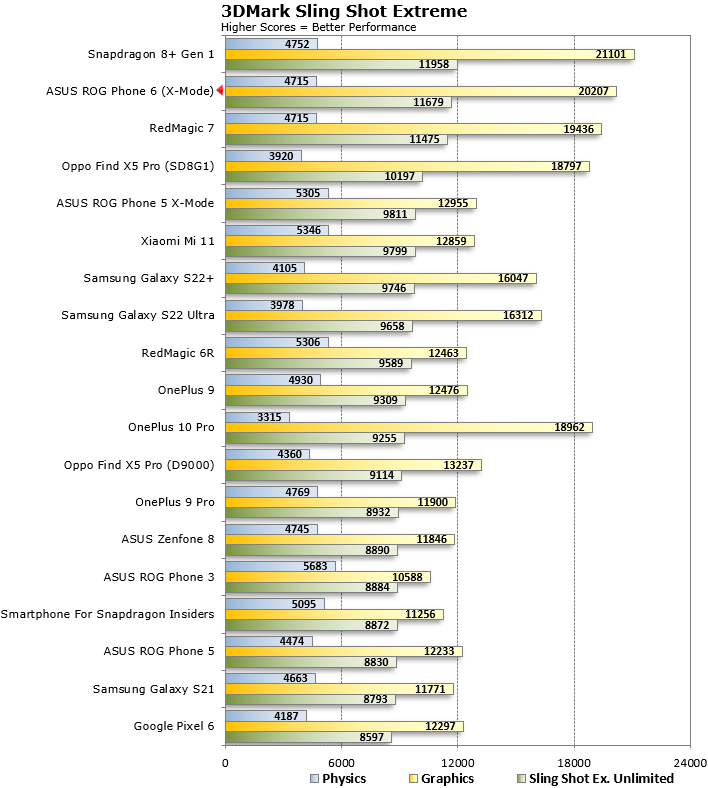 Turing our attention to 3D graphics and gaming, the upgrade from last year's model to this year's iteration is a significant one in terms of performance. The ROG Phone 6 Pro scored nearly 22 percent higher than the ROG Phone 5 in the 3DMark Sling Shot Extreme benchmark. It also beat out the Galaxy S22+ by a slightly wider margin, though again it didn't quite catch the reference Snapdragon 8+ Gen 1 handset we previously tested.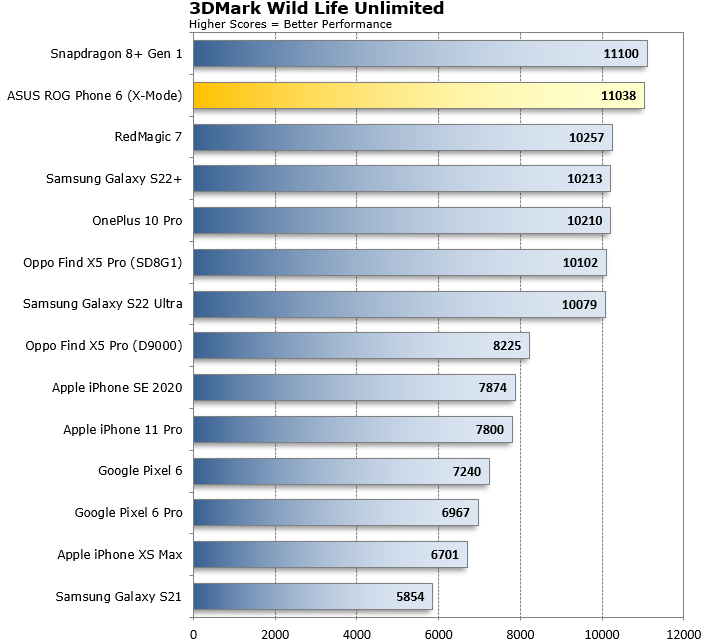 A different 3DMark test with the same overall results—it's nearly a dead heat between the ROG Phone 6 Pro and reference phone, both of which leave other Android handsets in the rear view mirror.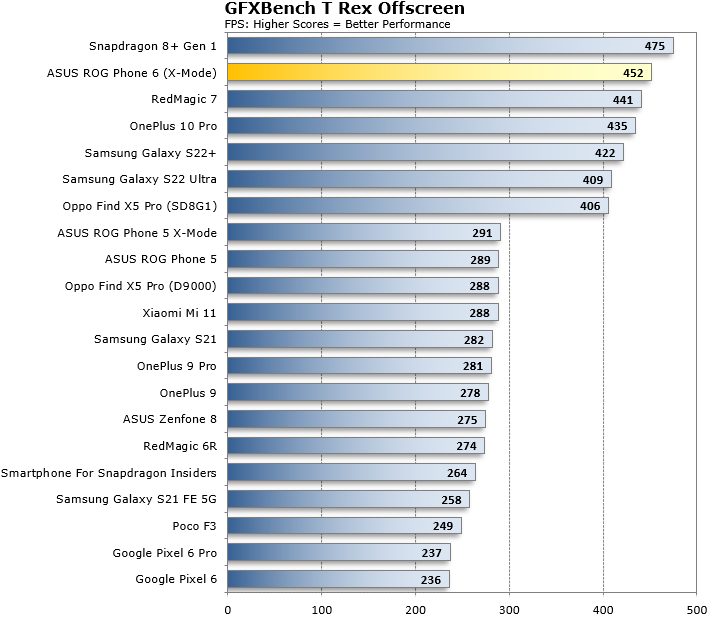 The same trend carries over to the GFXBench tests we ran. Here we see the ROG Phone 6 Pro climb to the No. 2 spot, edging out the RedMagic 7 by a few percentage points and scoring a whopping 55.3 percent higher than last year's ROG Phone 5.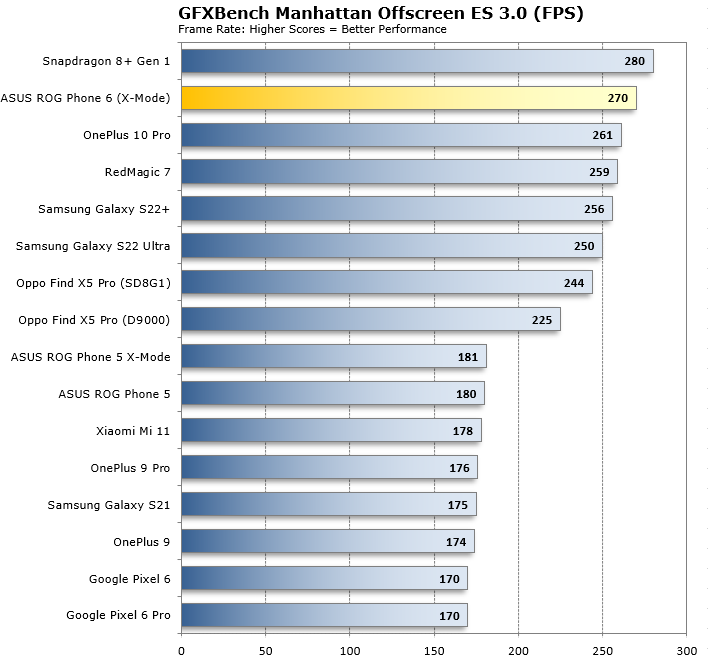 We saw a similarly huge generational leap in performance in the Manhattan test, with the ROG Phone 6 Pro pushing 49 percent faster frames per second than its predecessor.


For our final benchmark, we look at Vulkan performance as represented by GFXBench's Aztec Ruins test. We don't have a score here for last year's model and not very many handsets to compare against yet. However, for the ones we do have scores for, the ROG Phone 6 Pro flexes once again, with a score that's about on par with Qualcomm's reference Snapdragon 8+ Gen 1 reference phone that isn't actually a retail product.

ASUS ROG Phone 6 Pro: Closing Thoughts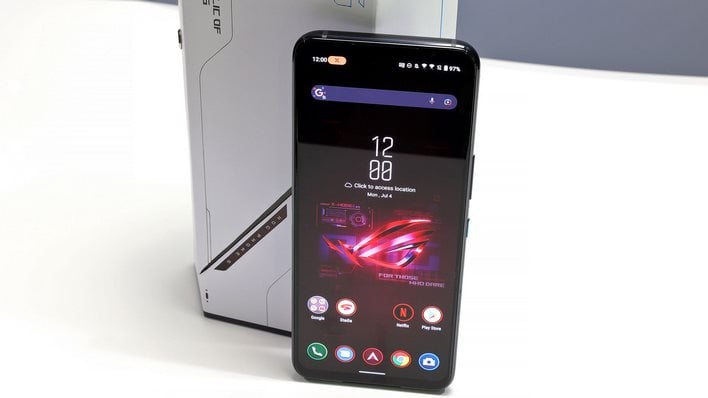 Overall we're fairly impressed with the ASUS ROG Phone 6 Pro. This redesign is eye catching and functional, and we really like the Storm White aesthetic with integrated display accents. This definitely feels like a more polished smartphone than last year's model, which we also liked. Our only real gripe is that it's such a large device, which also kind of comes with the territory in true gaming phone.
Looking at the overall performance picture, the
ASUS ROG Phone 6
Pro is about on par with the Snapdragon 8+ Gen 1 reference phone we looked at in May. It would have been nice to see the ROG Phone 6 Pro leapfrog ahead, especially in X-Mode, but then again you can't actually buy the reference model and the performance disparity is negligible anyway. Looking at the broader picture, the ROG Phone 6 Pro is the overall fastest Android phone we've tested to date. And again, we're going to poke around with X-Mode+, just for giggles, when we get a minute to breathe.
While performance is great, the other allure of the ROG Phone 6 Pro is the focus on gaming from a usability standpoint. The AirTrigger 6 and ultrasonic button implementation help make this a legitimate handset for playing games, with some new features added to this year's model. And there's an ecosystem of add-ons like the newly redesigned AeroActive Cooler 6. This is all to say, there's a lot more here than just a 'gaming' label attached to a high-end handset.
On the software side, ASUS Armoury Crate is still excellent as it applies to gaming and system-side tweaks. However, the ROG software setup may not be for everyone, though—some may prefer the classic Zen UI model over the ROG UI. But it's also yet another distinguishing aspect and one that's geared towards the phone's target market of gamers.
What this all translates into, in our opinion, is that the ASUS ROG Phone 6 once again solidifies itself as the one of, if not the best gaming phones on the market right now. ASUS tells us pricing will start at $999.99, which while not cheap, is in line with most flagship smartphones wielding similar specs. We're also working on finalizing our battery life tests, so stay tuned here for that as well.

Related content