Google Pixel 6 And Pixel 6 Pro Review: A Bold Return To Android Flagships
Google Pixel 6 And Pixel 6 Pro: Battery Life And Our Conclusion
PCMark
for Android Work 3.0 Battery test takes workloads from the benchmark itself (image and video editing, email and web browsing) and scripts them in a loop that runs until battery levels drop below 20 percent.
Google Pixel 6 And Pixel 6 Pro Battery Life
This test is more real-world in terms of its setup, because we calibrate display brightness on all devices to 200 Lux
with our meters
, and the test then locks that display brightness in for the duration. In these tests, Bluetooth connectivity and Location services are disabled, though Wi-Fi and mobile data are left enabled as part of a traditional use case workload.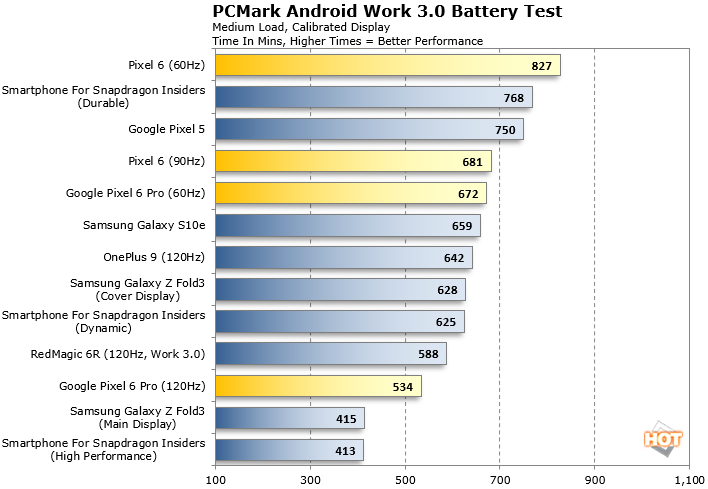 Since this is a relatively new version of the benchmark, with results that aren't comparable to the older Work 2.0 test, we don't have an extensive array of comparison data. We did, however, run the test on a range of devices we had readily available to give you all some frame of reference. Here the Pixel 6 puts up strong numbers even with its 90Hz display setting, with its lower resolution 1080p display lasting over 11 hours of constant always-on use. The 1440p LTPO display of the Pixel 6 Pro at its 120Hz adaptive setting doesn't fair nearly as well, almost eking out 9 hours of up-time, but putting up over 11 hours at its 60Hz setting. We wish Google enabled a 1080p resolution mode for the Pixel 6 Pro, but it's currently not in the settings menu. Couple that with a 90Hz mode for the Pixel 6 Pro (also not an option currently) and we might be looking at nice happy medium of resolution, responsiveness and up-time. Also note the Pixel 6 in the top dog slot, using its 60Hz mode, offering nearly 14 hours of constant use. Not too shabby at all.
Google Pixel 6 And Pixel 6 Pro: Our Verdict And Conclusion
There's a lot to digest in our evaluation of the new Google
Pixel 6
and
Pixel 6 Pro
, which stands to reason due to their new Tensor silicon engines, new camera features, significantly update industrial design and new
Android 12
OS. At the outset of this review we posed the question as to whether or not these new Pixels add up to more than just the sum of their new electronics, software and features. To answer that, we'd offer than indeed Google has delivered something both compelling and unique with both of these flagships, especially at their respective price points, starting at
$599 for the Pixel 6
and
$899 for the Pixel 6 Pro
. There's just a lot of good value on offer here, with great camera performance and features, large beautiful high-speed displays, wireless charging, IP68 water and dust resistance, a healthy complement of LPDDR5 RAM and yes, competent Google Tensor application performance in a myriad of workloads.
In fact, in terms of value, there are very few Android phones on the market currently that compete at these price points and with the kind of complete feature set offered by the Pixel 6 and Pixel 6 Pro. The Pixel 6 itself may just be
the
best $600 Android phone on the market currently, with all it has to offer and with its great camera chops. When you consider the OnePlus 9 currently
on sale for $649
, for example, though it does have a gorgeous 120Hz display, its camera performance really doesn't match-up with no OIS (Optical Image Stabilization). Samsung's older
Galaxy S20 FE
might be an interesting comparison instead, but it still currently costs $100 more than the Pixel 6 will retail at.
And when you look at the field of $900+ phones, like Samsung's Galaxy S21+ and others, to get a similar feature set to the Google Pixel 6 Pro, you really are looking at more like a $1K MSRP, and the Pixel 6 Pro will arguably deliver better camera performance in most cases.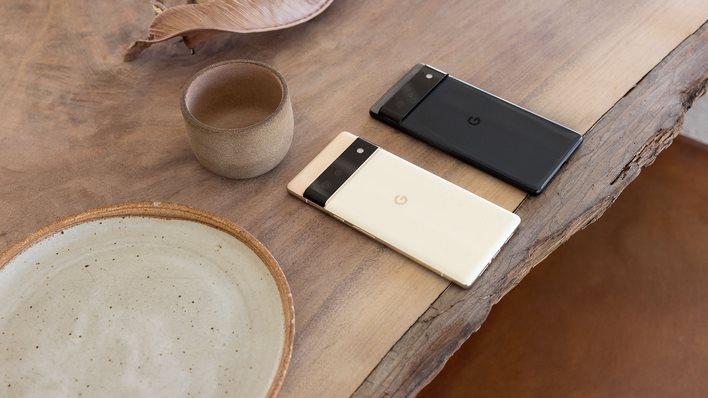 The only thing that gives us a little pause with the new Pixel 6 and Pixel 6 Pro, would be their somewhat dated
Samsung 5G modems
, that may or may not deliver the same kind of data throughput you can pull from current-gen Snapdragon 888 phones or perhaps the new iPhone 13. Again, we're still testing 5G performance but our initial results were fairly good with the exception of a bit of ping latency, though we still would like more experience traveling around with the device for extended testing in maintaining signal integrity, etc.
Regardless, we wouldn't call this a showstopper and for what the Pixel 6 and Pixel 6 Pro deliver in terms of overall device and experience quality, we have to applaud these new made by Google devices. It's been a while since we've had a truly
flagship
Google Pixel release, but the new Pixel 6 and Pixel 6 Pro are very much in this class of devices, with features and performance that may cost hundreds more with competitive offerings. For all they deliver at their respective price points, these new Pixels have earned HotHardware's Editor's Choice.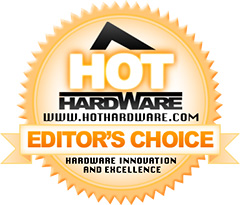 Great Premium Design And Build Quality
Quality High Refresh Displays
Feature-Packed
Innovative Camera Features
Killer Camera Performance
Solid Battery Life
Solid General And Graphics Performance

Sometimes Sluggish Fingerprint Sensors

Middling Sub-6 5G Performance
No 90Hz / 1080p Option For Pixel 6 Pro Display

Related content
Comments