Dell XPS 13 (2020) Review: Laptop Excellence Refined
Dell XPS 13 (2020) Thermals, Acoustics, and The Verdict
To test battery life with the Dell XPS 13 9300, we calibrate all notebook displays to as close to 115 lux as possible
with light meters
. Our custom video playback test runs a video for several minutes, and then pauses for 60 seconds before looping through the video again. All notebooks are tested at their native resolutions, and we just let it run until the battery dies. Let's see how the new Dell
XPS 13
held up...
In short, battery life in the 1200p model is phenomenal—that machine ran for over nine hours on a single charge. The XPS 13 has a 52 watt-hour battery, which is basically the same as all all of our other ultraportable entrants like the Lenovo
ThinkPad X1 Carbon
, HP
Elite Dragonfly
, and other XPS 13s. It's also only about two-thirds the size of the only laptop with better battery life, the
ASUS ROG Zephyrus G14
and its new Ryzen processor. That extra-large battery is part of why the G14 weighs more than the XPS 13, so keep portability and performance in mind together. In short, the XPS 13's battery life is unsurpassed by any of its direct competition.
On the other hand, battery life wasn't exactly outstanding on the review unit with the 3840x2400 panel. There are a lot of possibilities here that could explain it, but we think we're going to chalk it up to the fact that the panel's native resolution is the highest of any machine on our chart thanks to its 16:10 aspect ratio. Still, it's right smack in the middle of the pack of
4K
laptops in our charts. It's respectable battery life regardless of the comparison to its direct sibling.
Dell Power Manager
Before we get too much into thermals and acoustics, we need to talk about
Dell Power Manager
. This little software utility has useful information about battery health, but more importantly it can make adjustments to the fan profile and processor power. On the Thermal Management tab, we see four total settings: Optimized, Cool, Quiet, and Ultra Performance. Optimized is the default setting, and we captured all results on the previous page and the battery life results above used that mode.
Optimized mode does a pretty good job of balancing battery life with performance. The XPS 13 is fast when it needs to be, but can still last all day on its normal-sized juice pack. On the other hand, Ultra Performance should give just a little extra kick without too much regard for temperatures, so long as they don't extend above what's dangerous for the hardware. To test that theory, we ran
Cinebench R20
repeatedly on both Optimized and Ultra Performance. The first run on each wasn't that far apart, but the Optimized power plan trailed 1770 to Ultra Performance's 1850. That's because towards the end of the run on Optimized, the CPU clock speed started to dip down, and ended around 2.6 GHz. Meanwhile, Ultra Performance stayed at a steady 3.0 to 3.1 GHz across the board.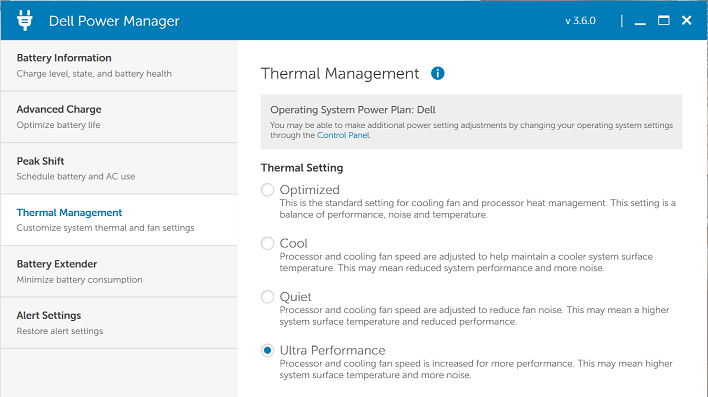 It was the second run where differences really started to show. The Optimized plan does consider internal temperatures that affect the aluminum body, and throttled back to 2.2 GHz for the duration of the run, which brought the score down to 1430. That performance persisted across a couple of runs, and then after giving the
XPS 13
a cooldown break of around a minute, we again saw the score leap back up over 1700. When we tested the Ultra Performance plan, performance never wavered. The Cinebench score was in the 1850 to 1860 range across five runs total, and we saw no point in going any further. Barring a change in environment temperatures, the performance of the XPS 13 wasn't going to throttle down significantly.
It might go without saying, but that's not a normal workload for a laptop. More often than not demands are pretty burst-heavy, but for those instances where sustained performance is necessary, it's available. We don't know what kind of long-term effects that might have, so we wouldn't recommend it all the time. The system felt pretty toasty on the outside, as well, so it might get uncomfortable to use with prolonged Ultra Performance usage.
Power, Thermals, and Acoustics
With all that out of the way, it's time to talk about the XPS 13's cooling system. As we saw in the teardown portion, there's a single blower-style fan and fin array in the chassis, and it does a pretty good job of keeping the system cool. Because we tested a couple of different power settings, we can talk about the performance characteristics of each. With the default Optimized setting, we saw performance drop off after a solid first run in Cinebench R20.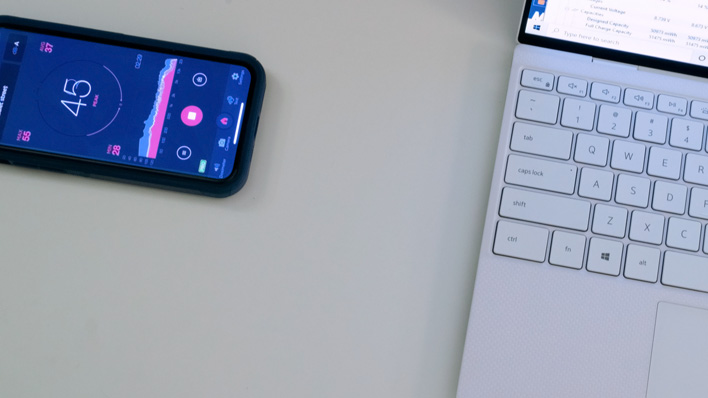 In that first run, the CPU got up over 90 degrees Celsius before the fans kicked in, and Dell was ultra-conservative about noise. Throughout most of the run, the processor was pegged at 3 GHz, but towards the end of the run it dipped down to 2.6 to 2.7 GHz. The CPU had to stay at that temperature for around 30 seconds before we even heard the fan spin up, and once it got going, it ran until the end of the test. Our meter was calibrated to measure our pindrop-silent room at 30 dBA, and the XPS 13's fans at max hit 41 to 42 dBA a mere six inches from the side of the machine. That's loud enough to hear, but it was just a whisper. The fan wasn't annoying or rattling, either—just a white noise whoosh of air.
Immediately after starting the second Cinebench test, the processor speed dropped off to 2.2 GHz as we noted above, and the temperature came down with it and it ran consistently in the 72 to 76 degrees Celsius range. The fan also spun down low enough that the meter barely registered it at 33 to 34 dBA. That noise character and performance held for several more runs. That's awfully quiet for somewhat slower, but still pretty solid, performance over time. Then after a cool-down of 30 seconds, the XPS 13 got a second wind and performed basically like the first run, including the higher temps and louder fan.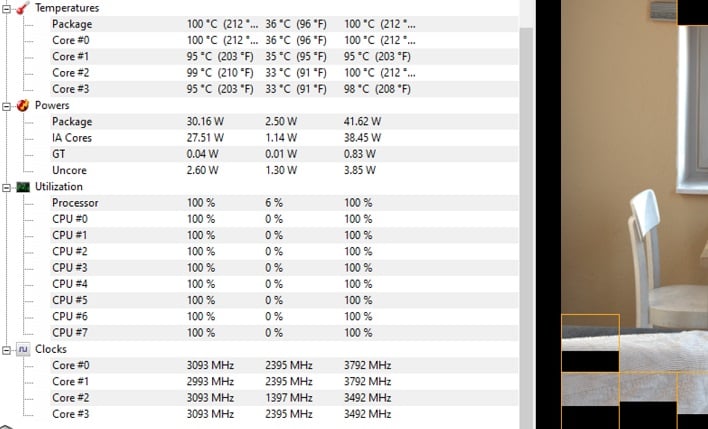 This is the fourth run on Ultra Performance mode. The only rest the CPU got was a moment between runs
After changing to the Ultra Performance setting, performance was much more stable. The temperatures were also a little higher, as eventually the CPU hit its maximum rated temperature of 100 degrees Celsius. The fan found a little extra performance, too, as our meter measured the fan at 45 to 47 dBA. It seems that
Dell
still finely tuned performance here to get as much out of the system as possible while the fan was cranked. The extra fan speed's bump in noise was rewarded, though, as the CPU refused to budge from 3.0 GHz for the entirety of the run, and as a result Cinebench performance was around 80 points higher than the Optimized setting. More importantly, it didn't budge. Each time we ran the test, the result was about the same, so the cool-down was just a formality to make the test uniform.
Dell XPS 13 (2020): The Verdict
Dell accomplished exactly what we hoped for with the latest XPS 13. To start off with, the 16:10 aspect ratio of the new
laptop
's display panels give welcome additional vertical space compared to most 13" laptops with 1920x1080 displays. It only has 10% more lines of pixels, but those pixels are always dedicated to content, since title bars and app interfaces are omnipresent. In that regard, it might be more like 15% or 20% additional usable real estate, and we're glad that it didn't require Dell to give the system a larger footprint to fit it.
The industrial design and finish are exactly what we've come to expect from the XPS 13: premium materials and great, understated looks. The all-aluminum top and bottom panels protect the system from scratches and scrapes. Meanwhile, the black carbon fiber or white spun glass fiber palm rests stand up to our meaty paws without a lot of flex, and look great doing it.
Inside those palm rests, the new keyboard with its somewhat larger key caps makes typing easy, even if you're accustomed to larger standard-sized keyboard. The touch-enabled display isn't as useful on a clamshell as it is a 2-in-1, but in a lot of ways (multi-select in Windows Explorer, for instance) a touch interface can be easier to navigate than using a touch pad. The touch pad itself is pretty nice as far as those things go, so if users don't have a
mouse
handy, we're confident they'll get by.
Maybe it's just the threat of
COVID-19
, but these days we place a lot more importance on teleconferencing. The built-in 720p webcam looks pretty good on teleconferences, and the microphone array does a good job of making sure everyone can talk clearly. The fact that the webcam has facial recognition via infrared sensors is helpful too, as is the power button's integrated fingerprint reader. Both are good for Windows Hello authentication. Those teleconferences should also have a stable network connection thanks to Killer's AX1650 802.11ax module built on Intel's own Wi-Fi 6 chipset.
On the inside, the XPS 13 is as powerful as its exterior is pretty.
Intel
's Ice Lake family of 10th generation processors do a nice job of supplying plenty of performance while preserving battery life. The four-core Core i7-1065G7 is currently the top of Intel's lineup. The question is more about how long Intel's lead will last. AMD's Ryzen 4000 processors are here in their higher-power 35 watt TDPs, but it won't be long before
AMD
gets the 15-watt Ryzen 4000U family out the door. At that point, the processor performance paradigm could shift, but that's a problem for a later day. Today, Ice Lake reigns supreme in this thin and light form factor.
The base configuration's 8 GB of memory could be a little constraining, and can't be upgraded later, so buyers should be sure to buy as much RAM as they can when ordering. On the other hand, the user-replaceable M.2
SSD
had great performance, and folks who need more storage later on can easily add it themselves. There's not enough graphical horsepower to play the latest games at max settings, but folks who want to escape the doldrums of life for a little while can do so while turning down the settings a bit.

Find The XPS 13 (2020) @ Dell.com
Battery life was outstanding on the FHD+ unit. A full nine hours is nothing to sneeze at, and nearly topped our charts with the 1200p model. Battery life wasn't as amazing on the 4K model, but it was still pretty respectable at 5.5 hours. Flying should not be a problem with either unit, and in some cases you could see a full day of usage out of just the battery alone.
Pricing on the XPS 13 starts at $1,199 on Dell.com. That price gets you a
Core i5
-1035G1 processor, 8 GB of LPDDR4x-3733 memory, a 256 GB SSD and the same 1920x1200 touch-enabled display as our white test unit. That white XPS 13 had a Core i7-1065G7, 16 GB of LPDDR4x-3733 RAM, and a larger 512 GB solid state drive for $1,749. The most expensive model trades out the 1920x1200 display for a crisp 3840x2400 panel, has 32 GB of memory, and a 1 TB SSD for $2,149. There are a whole host of other configurations available,
so hit up Dell's website
to see where your ideal configuration falls.
Overall, we love the design, look, and balance of performance to battery life of the newest XPS 13. Folks shopping for a high-end, thin and light notebook will find lots of performance, battery life, and great looks to keep them happy and sated for a long while. Anybody who needs to order a new laptop today should definitely have this system at the top of their short list. For that reason, we're bestowing upon it our Editor's Choice award.





10th Generation Core i7 performance

Sleek industrial design with premium materials

Light 2.67 pound weight and slim form factor

16:10 display with great color accuracy and brightness

Very quiet default settings, even under a load

Extended performance boost from Ultra Performance settings

Unrivaled battery life in it size class at 1920x1200

Base configuration's non-upgradeable RAM might be limiting
AMD's Ryzen 4000U family is on the horizon
No USB Type-A ports
4K battery life was so-so
Related content
Comments