Apple MacBook Pro 14 With M2 Pro Review: Fast And Efficient
Apple MacBook Pro 14 Inch 2023: Competition, System Benchmarks And Gaming
Testing the 14" MacBook Pro should probably include a similarly-priced premium Windows notebook, and the most likely candidate appears to be the most recent version of Dell's XPS 15. We really liked the previous version of the
XPS 15 (9520) and 17 (9720)
, and Dell provided the latest version for us to check out. There will be a full review coming soon, but suffice it to say we think Windows users will want to check it out. For now, we'll hit the important specs and briefly touch on why this is a good point of comparison.
First up, the XPS 15 has always been Dell's thinner, high-performance model, and this one is no different. There's a 13th-gen Intel Core i7-13700H 14-core CPU with six performance cores and eight efficiency cores. From a raw count perspective, Dell has an edge that's only enhanced by the presence of Hyper Threading on the P cores, but the Mac actually has a couple extra performance CPU cores with half the E-cores. There's also 32 GB of DDR5-4800 memory, a 1 TB SSD, and
GeForce RTX 4070
graphics processor with a 40-Watt power limit and 8 GB of GDDR6 memory. In short, it's quite a portable beast, and at least in the GPU department we expect it will trounce the MacBook.
Secondly, the Dell machine has a really great touch-enabled OLED display. Compared to the M2 Pro MacBook's display, colors seem to pop a bit more, but its maximum brightness of 500 nits is lower than the Mac. Also, the Mac has that 120 Hz Pro Motion refresh rate where the Dell is limited to 60 Hz, which is a shame. The Mac's display also has a resolution of 3,024 x 1,964, where the Dell rings in at 3,456 x 2,160. Because of the ridiculous notch on the MacBook Pro, both effectively have uninterrupted 16:10 displays with a similar DPI count. The Mac's display is around 254 pixels per inch vs 260 for the Dell. These screens are pretty evenly matched, wach with its own pros and cons. It comes down to whether you'd prefer a touch OLED at 60 Hz vs a brighter 120 Hz mini-LED panel.
Even from a price perspective, it's pretty close. The Dell XPS 15 as configured rings up at around $2,800, while our MacBook Pro is $2,500. If we were to theoretically and magically bump the Mac's RAM to 32 GB, it'd actually cost $100 more. Bumping the XPS 15 to 16 GB of RAM would have saved $100. Play games with configurators all you want, but these are pretty equivalent from a price standpoint with only a bit more than 10% separating them as configured.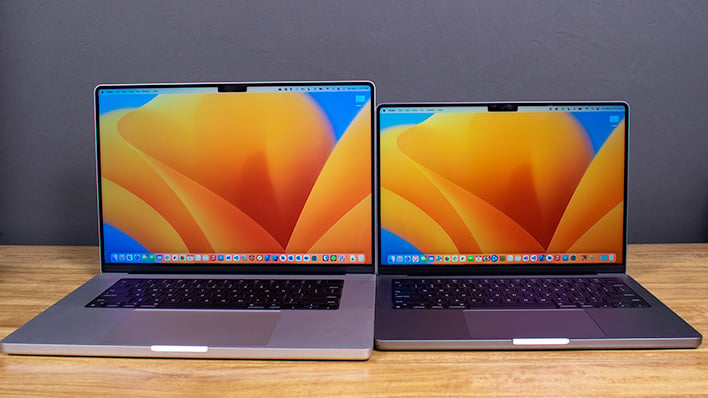 Also, because the previous 14" MacBook Pro we reviewed came with a cut-down version of the M1 Pro, while this model is a step-up version with a full M2 Pro, we wanted a full-sized M1 Pro to compare against. Fortunately I was able to borrow a 16" M1 Pro model, which should perform identically to any other full M1 Pro. This machine is identical to the new 16" model from an aesthetic and industrial design perspective, so it also lets us see how gargantuan the larger MacBook is. It's a fair bit bigger than the XPS 15.
Now that the players are assembled, let's move on to the benchmarks.
Apple MacBook Pro 14" (2023) Benchmarks
It's time to kick thing off with our quick-and-dirty disk benchmark from ATTO. Remember that Macs have some very aggressive caching and full file snapshot support thanks to Apple's APFS volume format, so we can't just run the stock benchmark. We've got to turn randomness up to 11 and write a pretty big 32 GB file in order to break out of the cache-and-diff hard disk writing strategy.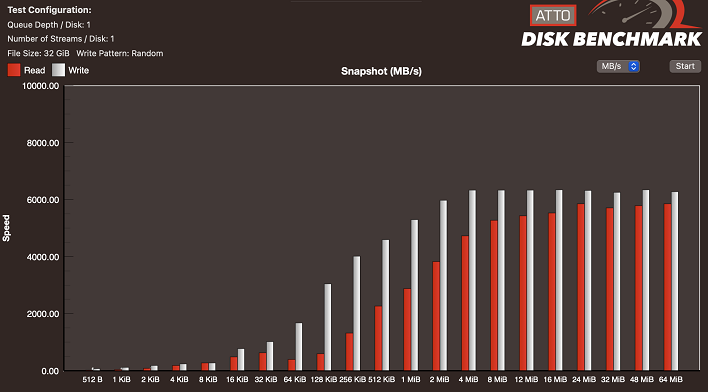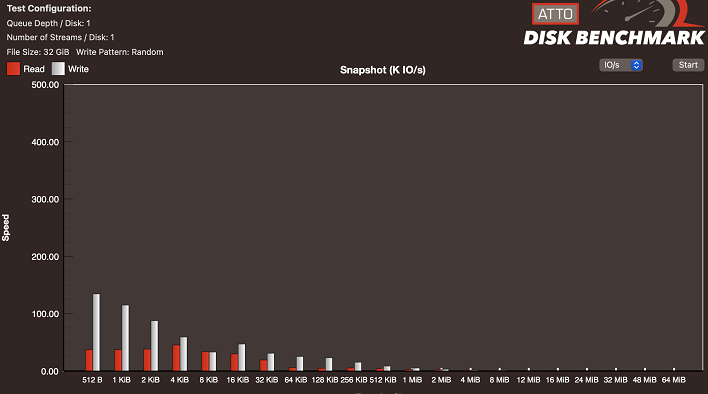 The last Apple machine we looked at, the
Mac Studio with an M1 Max
and an oddball semi-replaceable storage configuration, had fairly ho-hum SSD performance that barely kept up with entry-level PCIe 4.0 drives in this benchmark. Storage performance in that machine didn't really knock our socks off. This time, the MacBook Pro brings with it a faster storage configuration that comes close to 6 GB per second in reads and actually goes a bit north of that in writes. IO performance is solid across the board. It's nice to see Apple give its storage hardware a boost this time, but that might have more to do with capacity and additional NAND dice than anything.
The first several performance tests here are all Arm64-native applications on macOS. GeekBench has been ready for Apple Silicon since the WWDC announcement 18 months ago. We're also using the OpenCL, Metal, and CUDA tests available on each platform to get a feel for compute performance. Google Chrome, which we're using for web testing, has been ready for Arm64 for nearly two years (sorry Windows Snapdragon 8cx users, we know you're
still waiting
). Cinebench and GFXBench are also both Apple Silicon native. In fact, in this particular suite, it's just the games that lack Apple Silicon binaries. Rosetta 2 is fast, but the M2 Pro's 19-core GPU isn't likely to keep up with the GeForce RTX 4070 in our competing Windows notebook anyway.
The first test, our synthetic Geekbench 5 showdown, actually goes in Apple's favor. The MacBook Pro is about 45% faster than the
previous-generation 14"
notebook in the multithreading test, but part of that is due to the cut-down nature of our M1 Pro. A better comparison is actually the Mac Studio and the 16" MacBook Pro 2021 where the new M2 Pro model has around 6% faster in the single-threaded test and 16% in multi-threading. Remember that the extra cores on the MacBook Pro are efficiency cores, so all told, that's a decent jump. While the XPS 15 ties in the single-threaded CPU test, its extra threads didn't really help, as the 2023 MacBook Pro has a sizable 17% lead.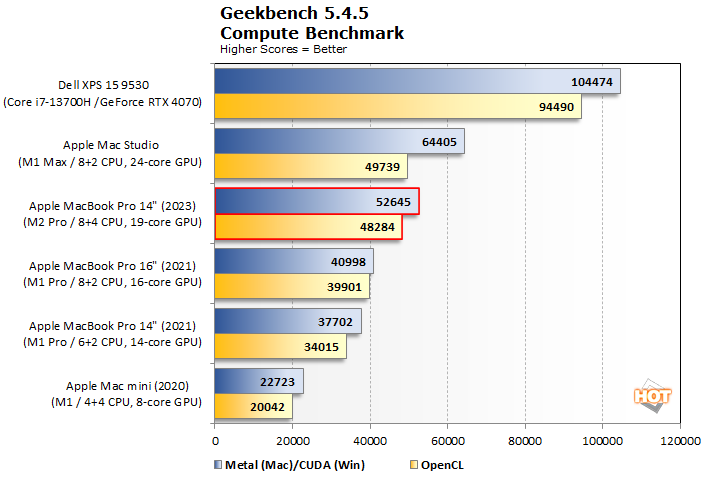 The GPU compute tests in Geekbench very heavily favor the NVIDIA GeForce RTX 4070 notebook GPU, which as far as we can tell is competing with one hand tied behind its back due to the 40-Watt power limit. All the same, the proprietary CUDA API test on the GeForce vs. proprietary Metal API on the M2 Pro is no contest, and OpenCL on both platforms displays a similarly wide gap. The XPS 15 wins both by a landslide.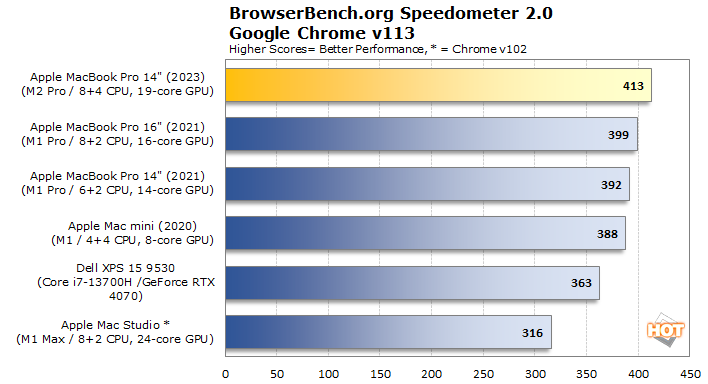 BrowserBench's Speedometer and Jetstream tests are focused on browser performance, and to keep it even, we used Chrome across all our test subjects. After all, who doesn't browse the web on any computer that has networking support? We've never seen a mobile system break the 400 runs per minute barrier on Speedometer, but the MacBook Pro did just that with Google's browser. It also does this with Safari but the overall score is just a tick lower. That's not to say that the XPS 15's result of 363 is slow or anything. No matter what you choose, browsing the web on these notebooks is not a challenging task.
Incidentally, Chrome has made some huge strides in the last year; the Mac Studio was no longer available for testing so we couldn't re-run our browser tests, and it's actually the slowest result in the list by a significant margin. Kudos to Chrome, and also kudos to us for showcasing those improvements.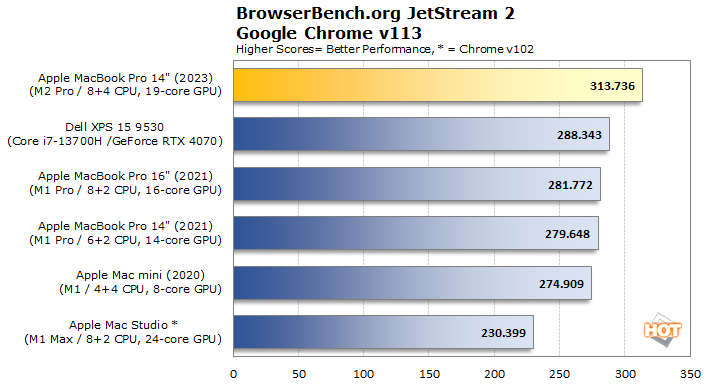 The story is similar in JetStream. The 2023 MacBook Pro leads the way, but this time the XPS 15 takes the silver medal with a delta of around seven percentage points. All the different M1-based Macs trail by a slight margin, and once again the Mac Studio brings up the rear thanks to its now-outdated browser.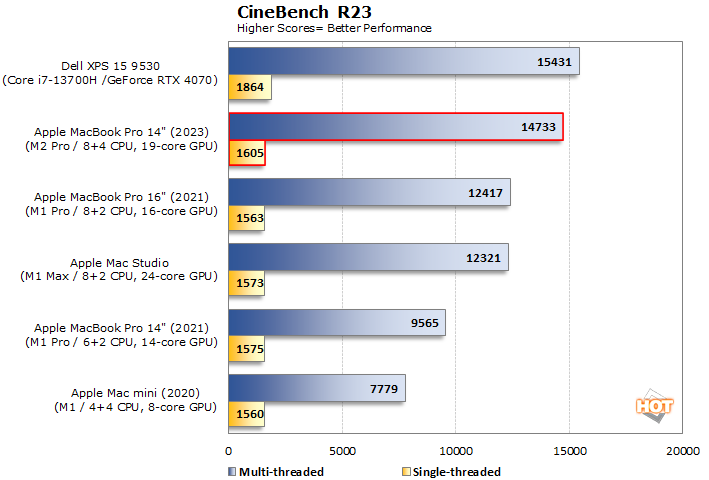 Cinebench is a win for the Dell XPS 15. There's a 15% advantage in the single-threaded benchmark on that machine's Core i7-13700H over the M2 Pro, and in a laptop, that's the number that really counts. The Dell gets a clean win as it takes the gold in the multi-threaded test, too. The XPS 15, as we'll cover in our forthcoming review, is part of the NVIDIA Studio program, so this is the sort of app that's right up its alley, although it does rely on the CPU.
Where Cinebench is a big win for Apple is against its previous hardware. This is a pure CPU benchmark, so the 8+4 configuration in the MacBook Pro is 20% faster than the 8+2 setup in the M1 Max. Single-threaded performance is a much slimmer margin of victory, as there's only about a 2% difference between the M1 Pro and M2 Pro MacBooks. That big multi-threaded boost has to come from somewhere, and it makes sense to eye the efficiency cores as the reason, although the 33% larger L2 cache might help, too.
Macs can't run PCMark or our usual 3DMark tests so 3DMark Wild Life Extreme and GFXBench are going to have to be good enough for now.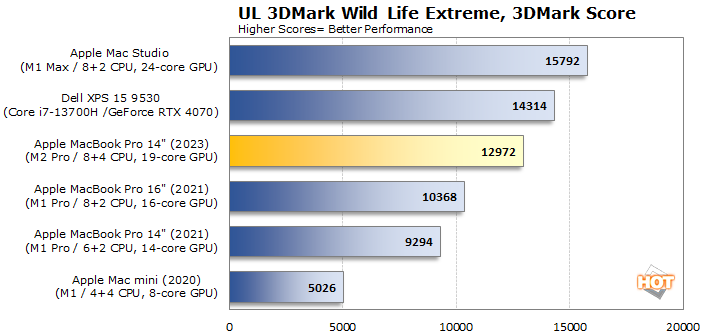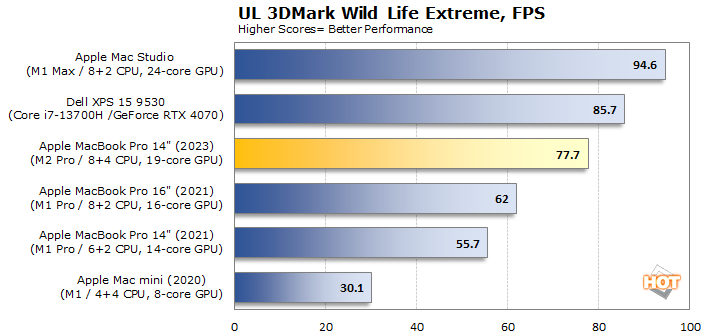 3DMark Wild Life is a mobile benchmark first and foremost, although it does run on Windows as well. At any rate, the MacBook Pro slots nicely into the huge gap between the trimmed down MacBook Pro 14" M1 Pro and base M1 Max with its 24 GPU cores and gobs of memory bandwidth in the Mac Studio. It's certainly not a bandwidth-constrained test and the scores scale linearly with the number of GPU cores, not affected by anything else, apparently. Apple didn't claim to do anything beyond adding additional GPU cores in the M2 Pro, so this is not surprising.
Considering the power of the GeForce RTX 4070, even in a 40-Watt incarnation, it's a little surprising to see the Mac score within 10% of the Dell XPS 15. We don't think that real gaming applications would make for similar scores, but that's just a theory since such a thing does not really exist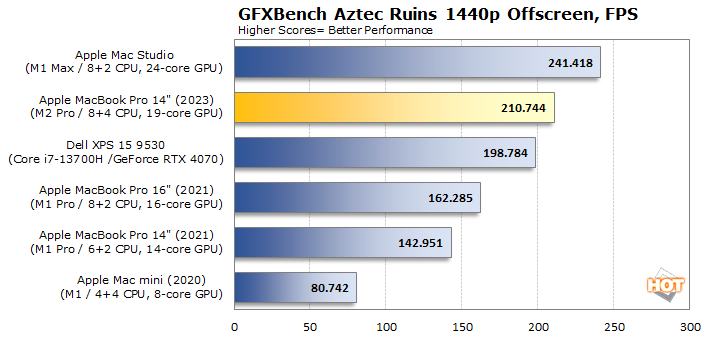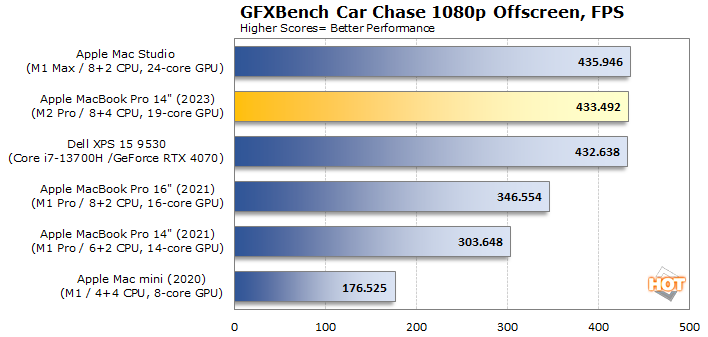 GFXBench is not a very intensive test, and we're not at all sure what's going on with Car Chase. The M1 Max and M2 Pro have almost no difference between the two, and the XPS 15 is right up there, too. We've likely hit some other kind of limit with this test, or maybe the M1 Max and M2 Pro have similar fill rates on their GPUs. Whatever it is, that's an interesting tie. Aztec Ruins is (comparatively, at least) the more demanding test, and here the 2023 Mac is about 5% ahead of the Dell.
Let's look at real games for a moment. Obviously, and as we've said in the past, the Mac is not a gaming platform. Apple would love for you to believe that it is and also fork over $5 a month for Apple Arcade, but let's be real. The Mac has some incredibly capable hardware and developers just aren't making games for it. We've been beating this drum for nearly 30 months, since the
original Mac mini review
, and obviously developers are not interested.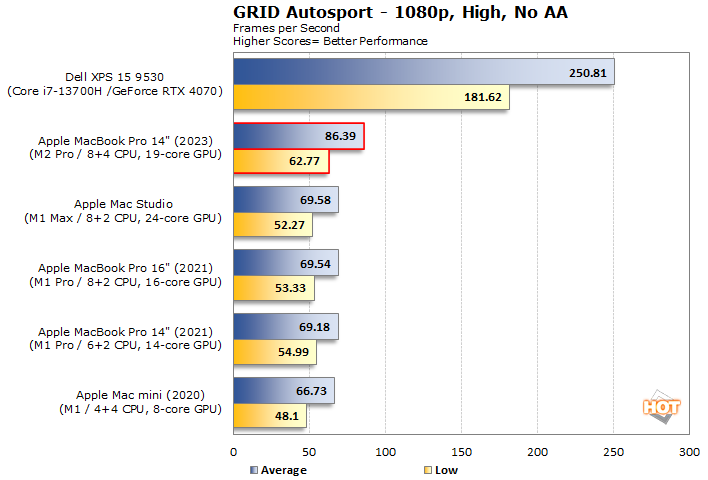 GRID: Autosport is a pretty old title at this point, but it's been a morbid curiosity for me: how has it run identically on the lowly Mac mini and the mighty Mac Studio at basically identical frame rates? Well, it's an x86-native title that uses Rosetta 2 compatibility layer to run on Apple Silicon. And finally, we have proof that it's the CPU that's been holding things back, as the game runs an impressive 20% faster on the M2 Pro MacBook Pro. It's, uh, still nearly 70% slower than the Dell XPS 15, though. Yikes.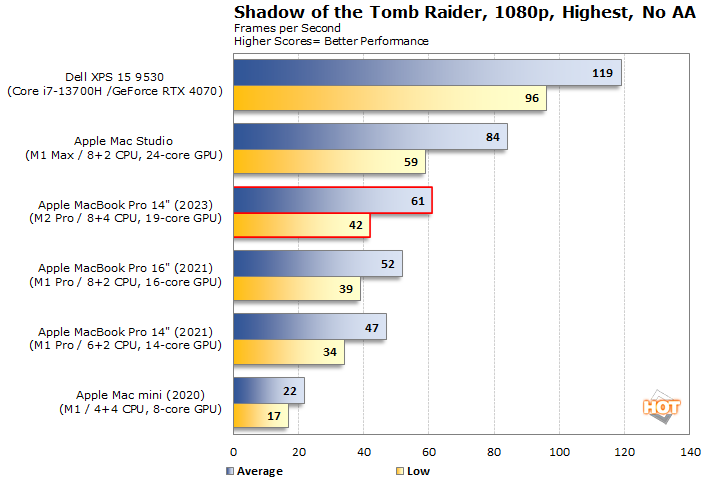 Shadow of the Tomb Raider is a much more modern title, but again it relies on Rosetta 2 to get the job done. On the Highest settings preset, the game is fairly playable at 1080p, but it's still only half as fast as the GeForce RTX 4070-equipped XPS 15.
The Mac Is Still Not a Gaming Platform
One thing developers do find interesting, though, is money. Apple collaborated with Capcom to bring
Resident Evil Village
to the Mac, and secured exclusive rights to distribute the Mac version via the App Store. That means even if you own the game on Steam, you'd still have to fork over another $40 to get the Mac version. This works out great for both Apple and Capcom, as Capcom can theoretically sell the game to some players twice while Apple skims its cut off the top. That's not great for gamers, though, but somehow it's no worse than buying
RE Village
on the PlayStation 5.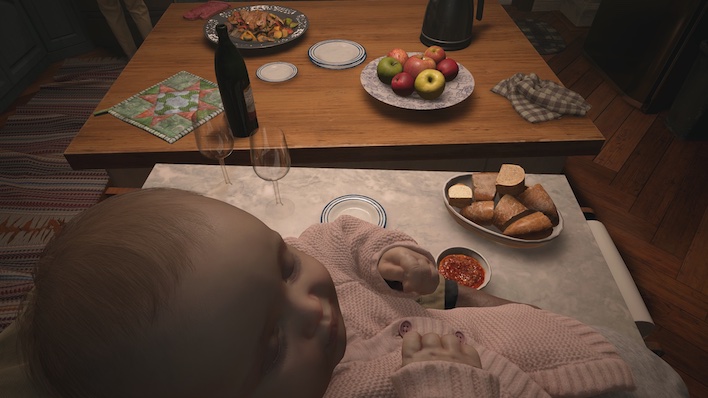 At any rate, this is a showcase title for Apple, sporting nifty graphics and making full use of things like MetalFX's upscaling, which is Apple's native competitor to AMD FidelityFX Super Resolution or NVIDIA's DLSS. Apple's upscaling renderer has more in common with FSR 2.0, as there's no machine learning being used. MetalFX does use either spatial and temporal data, but not both at the same time, for both upscaling and anti-aliasing according to
Apple's developer documentation
. Let's take a look at the game at native resolution first:
We're playing on a 28" Gigabyte M28U, which is a nice and fairly affordable 4K, 144 Hz IPS display, with the game set to the native 3840x2160 resolution. Natively, the game runs at around 30fps in this scene, and dips down into the mid-20s once you actually get into the game. That's not really playable, but honestly we really didn't expect it to be, either. Most likely, the M2 Max and its extra GPU cores with twice the bandwidth would make 4K a much more attainable target for this game.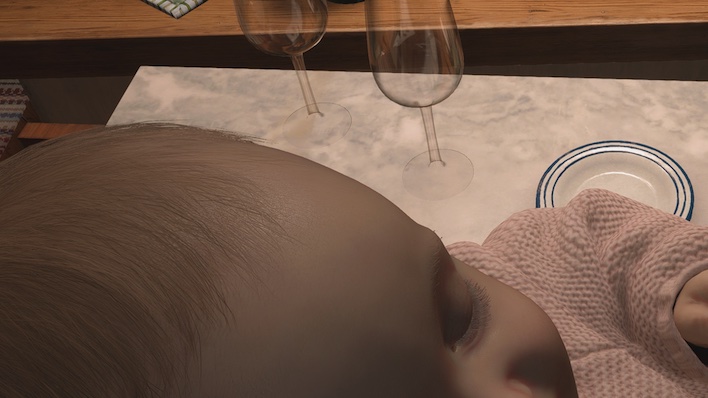 By the way, tools like CapFrameX don't exist for the Mac, but fortunately Apple does implement a reasonable amount of monitoring. Just drop into a Terminal window and type
/bin/launchctl setenv MTL_HUD_ENABLED 1
and press the Return key. It's not quite the same amount of data that Perfmon makes available to our favorite third-party tools on Windows, but it's enough to get a feel for how something is running. Then start any game that uses the Metal API, and you can see real-time frame time and FPS data in the upper-right corner of the screen.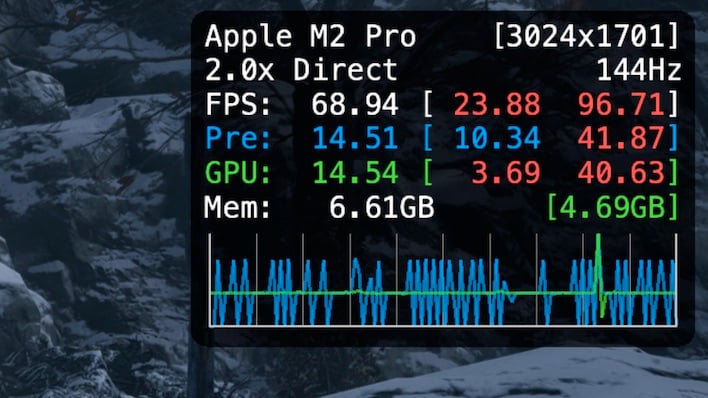 16:9 on the MacBook Pro's 3,024-wide display with Quality MetalFX Upscaling in the Metal Stats HUD
Bump the resolution down to 1440p and we get closer to 50 fps, and 1080p is a very smooth 70+ fps with minimal dips as we make our way around the game world. If you're using an external display with a lower resolution, or don't mind dropping down below the native 3K resolution of our MacBook Pro, the game goes from rough to playable pretty quickly. Forget sub-native resolutions, though, let's take a look at the Quality setting of MetalFX Upscaling.
Just looking around Ethan's kitchen in the opening moments of the game, we can see some decent scenes to look at MetalFX Upscaling. The backsplash is tiled with high-contrast textures, and the basket contrasts nicely against the countertop. And compared to the native resolution, it actually looks quite good. The game's performance is a lot better, too; we gain somewhere between 50 and 60% in frames per second, bringing the game from borderline-to-unplayable to relatively smooth with a minimal amount of quality loss.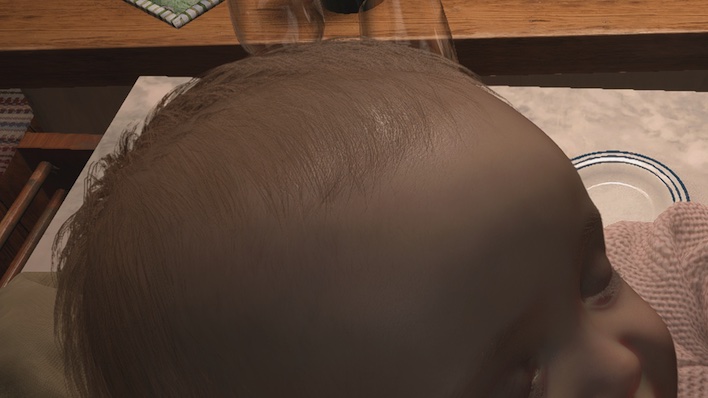 When it comes to Performance mode, MetalFX Upscaling introduces some extra horror into Resident Evil. The jagged edges apparent on the white-topped cart next to the table are just but one example of scene after scene with extremely rough aliasing. Fortunately, it wasn't necessary to use Performance mode to play the game on the MacBook Pro at 3,840 x 2,160. We'd personally take native 1080p with traditional anti-aliasing over this if we had to. Still, this lets the game be playable on everything all the way down to the lowly $600 Mac mini, so it's still a win in our eyes.
What's unfortunate and frustrating for fans of the Mac platform is that this game was released in October and so far no other titles have bothered to implement MetalFX whatsoever. It's too bad, because this is what's going to make gaming on even more inexpensive Macs a possibility. It's still early times, and it took a while for devs to pick up DLSS and FSR early on, too. Time to be patient and see what comes down the pipe.
Next up it's time to dig into the real reason people buy a Mac: Apple's pro-focused applications for video and audio production, as well as a trip down Xcode Developer Lane...
Related content