Dell XPS 15 9530 Review: A Beautiful, Power-Efficient Laptop
Dell XPS 15 (9530): RTX 4000 in a Portable Package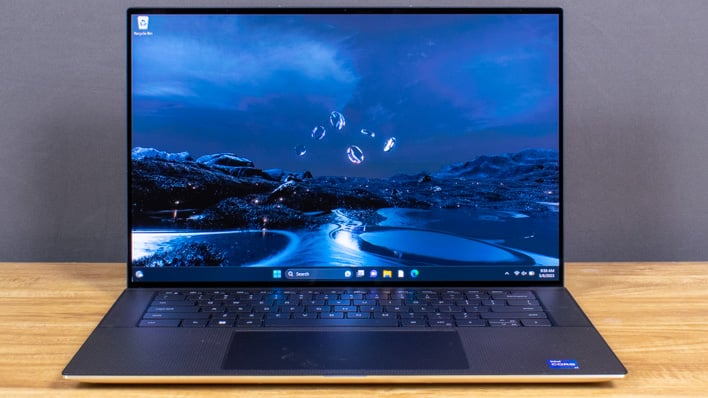 Dell XPS 15 (9530) - Starting at $1,299


Dell's newest XPS laptop is an evolutionary upgrade, but its power-efficient, high-performance components and very good battery life should put this notebook on the short list for content creators everywhere.









Bright and colorful OLED display
Very good battery life
Premium, thin, and lightweight design
User upgradeable RAM and storage
Solid performance, especially on the CPU
Good keyboard with biometric authentication

Gaming performance lags bigger laptops
No high-refresh display options
Minimal external connectivity

720p webcam is disappointing






---
There's something about premium notebooks that makes them feel good to use, look good on a desk, and for the chic geeks in us, take out in public. These machines just need to be seen by somebody -- anybody -- and that's especially true when we work remotely. For the Dell XPS 15, the beautiful carbon fiber sandwiched between an all aluminum lid and base shows and feels as deluxe as ever. Dell's previous gen was quite the looker, and the new generation doesn't change that recipe.
Of course, good looks and premium build quality won't make up for a sluggish machine. In that regard, XPS 15 (9530), as Dell calls it, received a big boost internally that will hopefully power an already great laptop (the
XPS 15 9520
that we reviewed when it launched) to an even higher level. Those of you who read our
2023 14-inch MacBook Pro
review will probably recognize this beast, as it was our primary point of comparison. The XPS 15 a mix of premium materials and a powerful x86 platform that makes this machine a true response to Apple's best laptop offering. So, with that laid out, let's meet the new 2023 Dell XPS 15.
2023 Dell XPS 15 (9530) Specifications
Under the hood, the XPS 15 has been refreshed with all the latest hardware from Intel and NVIDIA. First up is a 13th-gen Intel Core i7-13700H. This Raptor Lake processor (see our full
desktop CPU review
) has six performance cores and eight efficiency cores, for a total of 14 in all. Those performance cores can scale up to 5 GHz and have symmetric multi-threading via Intel Hyper Threading, so this CPU has 20 total hardware threads available. An upgrade to the Core i9-13900H is an option, too, but that model really just adds a few hundred megahertz to the clock speed and we're not sure it's worth the premium. Regardless, this system as it's configured should prove pretty snappy.
For graphics, Dell included a GeForce RTX 4070 mobile GPU with 8 GB of GDDR6 memory. NVIDIA provides this GPU with a handful of different thermal and power configurations, and Dell opted for the 40 Watt configuration. That's a pretty low power limit, so its cooling solution should be able to do the job without tons of added weight. This is also the top graphics option available for the XPS 15. Other available GPU configurations include the GeForce RTX 4050 and 4060, also in 40-Watt versions, and Intel's Arc A370M. All models of the XPS 15 come with some sort of discrete graphics to power the visuals.
Memory in the XPS 15 is refreshingly replaceable. Our review unit has a pair of 16 GB DDR5 SO-DIMs at 4,800 MHz in dual-channel mode. The base model comes with a pair of 8 GB SO-DIMMs at the same speed, which makes that configuration a prime target to add more RAM down the road. The standard sized M.2 2280 NVMe solid state drive is also user replaceable, and there's actually a pair of M.2 slots, so adding additional storage doesn't even mean migrating a Windows installation. Our review unit came with a single 1 TB PCIe 4.0 SSD installed.
Network connectivity is fully wireless, with a Killer Wi-Fi 6 1675 module based on the Intel AX211 with a 2x2 MIMO antenna setup. That wireless controller also supports Bluetooth 5.2. There's no Gigabit Ethernet here, but it'd be tough to fit and RJ45 jack into this machine's thin frame, and USB options are cheap and plentiful, should you truly need them.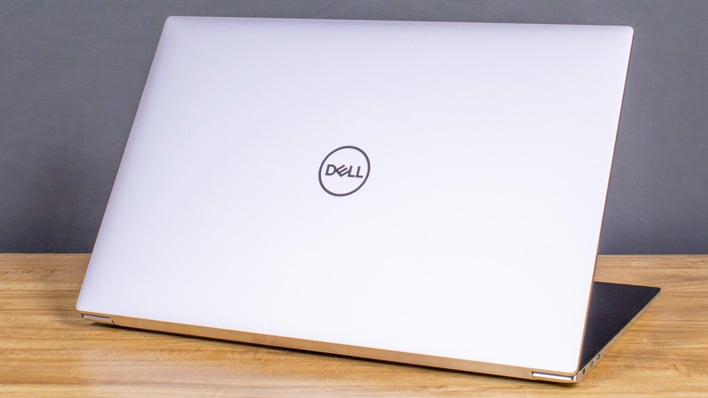 Dell XPS 15 (9530) Design And Features
The new for 2023
Dell XPS 15
sticks to its aluminum and carbon fiber construction. The lid and base are each milled from single pieces of aluminum in a natural silver finish. This has always looked great, and this notebook is no exception. The aluminum does a good job of rejecting fingerprints, so we think over time it will continue to look great as well. In between all that metal is sandwiched the black carbon fiber composite palm rest, which has barely a hint of flex to it. This is a solid notebook with a rigid construction all around.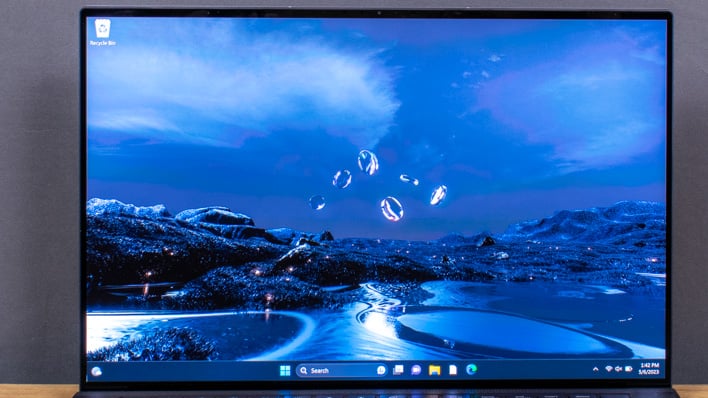 Dell offers a pair of 16:10 display options on the XPS 15 with the company's InfinityEdge extra-thin bezels. We received the high-end 3.5k OLED panel, but there's also a 1200p FHD+ IPS version. Dell's OLED display has a native resolution of 3,456 x 2,100 so it's not quite UHD, but 4K video looks great on this machine. The OLED option also has 10-point touch capabilities, too. Because of its OLED technology, this panel has black levels akin to staring into the abyss, so high-contrast images and video really pop. Dell lists a 400-nit typical brightness with DisplayHDR 500 and Dolby Vision certification. Colors are accurate and punchy on this display, and Dell says it covers 100% of the DCI-P3 color space. There's a thin sheet of Corning Gorilla Glass covering this touch panel as well.
Embedded in the top bezel is not one but two camera sensors. One is an infrared sensor for Windows Hello facial recognition, and the other is a 720p webcam for video chats. On a high-end notebook like the XPS 15, this is a disappointing choice that feels decidedly old school. The recently reviewed
14-inch MacBook Pro
has a 1080p webcam, though that's accomplished through the unappetizing girth of the notch. Honestly we're not sure if we'd rather have Apple's 1080p camera and notch or Dell's ultra-thin bezels and a subpar webcam. Either way, there's no way to upgrade the compromise, so we think the best option would have been a slightly thicker top bezel to make room. Ultimately, image quality isn't the best with this camera, but it's probably adequate for video chats and Zoom meetings. There's also a pair of noise-canceling microphones which do a good job of honing in on voice and discarding various sources of background noise.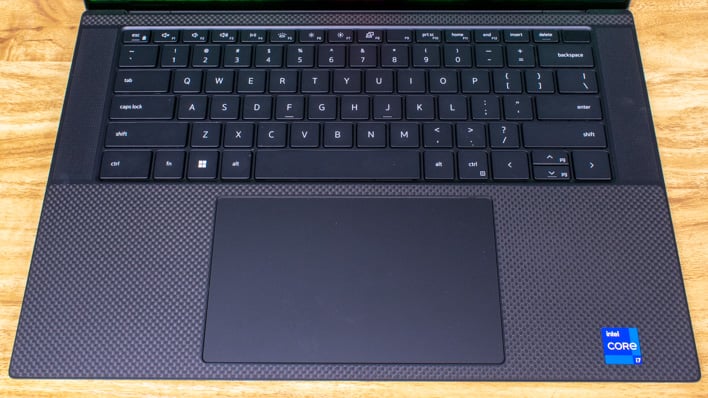 Once we pry our eyes away from this stunning display, gazing down on the XPS 15's keyboard also provides a visually appealing experience. This full-sized chiclet-style board features keys with 1.3 millimeters of travel and a nice tactile response. There's also full white backlighting to make working in dimly lit environments easier. We found the keyboard to be comfortable to work on, and just like always this review was written entirely on the XPS 15. There's a fingerprint sensor for Windows Hello in the upper right above the backspace key, and that sensor also doubles as the power button. Below that is a truly large trackpad with multi-touch and gesture support. The buttons are integrated into the bottom, and there's a satisfying tactile click when pressing down.
Flanking the keyboard on either side is a four-speaker array with a pair of 2.5 Watt woofers and two 1.5 Watt tweeters tuned with Waves MaxxAudio Pro. As much as we raved about the MacBook Pro's speakers being a cut above the rest of the laptop world, the XPS 15's sound system might actually be better. There's still a distinct lack of bass, but the low-mids up through the highs feel even with a pleasant response curve. We'll take a rumbling subwoofer any day, but in a hotel room on or the road, we think you'd get by with these speakers just fine.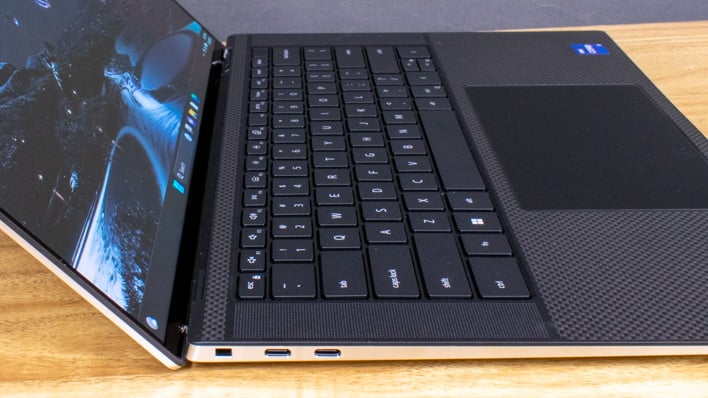 External connectivity is relatively sparse, but on a notebook this thin it's somewhat expected. On the left side, there's a pair of Thunderbolt 4 ports with USB-C connectors. One of these will be occupied by the 130 Watt charger that Dell includes with the XPS 15, so if you need power, you're down to just one port. Dell has included USB-C to USB-A converters with XPS machines in the past, but our review unit did not come with one.
On the right, there's a third Thunderbolt 4 connector, a full-sized SD card reader, and a combination headset jack for 3.5-millimeter four pole analog devices. The SD reader is pretty speedy, and it can max out the 140 MB/sec maximum of our
SanDisk Ultra SD card
. It's once again refreshing to have both a headphone jack and an SD card reader in a laptop these days, as both options are quickly vanishing from existence in competitive machines it seems.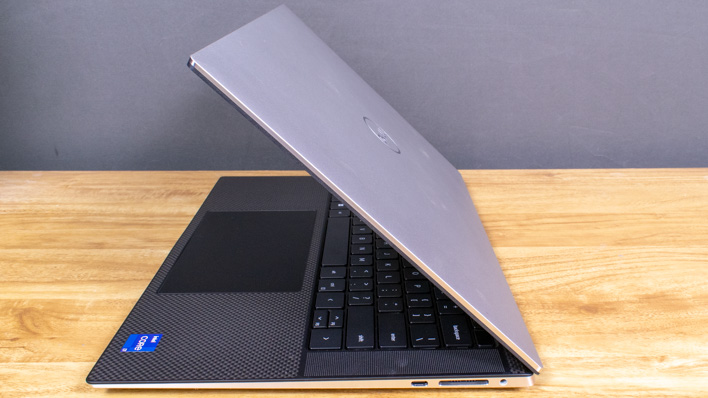 With a total of just two ports available while charging, a dock may be a necessity for some. Unfortunately, neither the
WD_Black D50 Game Dock
nor our
Sonnet Thunderbolt 4
dock can supply 130 Watts, and Windows notifies us that the XPS 15 may be charging slowly when connected to it without the adapter. Limited connectivity and higher power requirements unfortunately make a single-cable dock solution difficult to achieve. Dell has docks that can do this, but we just didn't happen to have any on hand.
Dell XPS 15 (9530) Software Experience
Our XPS 15 shipped with Windows 11 Home with the 22H2 update installed. Outside of Windows, drivers, and Dell maintenance utilities there was very little else installed. Dell includes the My Dell system utility, Dell Update to grab the latest drivers and firmware from the manufacturer, and the Dell Digital Delivery app that installs software that's bundled with the machine. That bundled software does include a 12-month subscription to McAfee LiveSafe for those who want more protection than what Windows Defender offers, but it's not actually installed out of the box. And of course, Microsoft always pushes the free tier of OneDrive and a Microsoft 365 trial with Windows, but that's not unique to Dell, of course.
What's interesting to us, however, is that there was no other software installed. We didn't even get the Dell Mobile Connect app pre-installed on this notebook. We're pretty big fans of systems that aren't bogged down with superfluous software. Outside of the Microsoft Surface experience, this lightweight loadout has taken it to a whole new level, and that's a very good thing. We don't think that most buyers are making their choices based on added software features. in fact, our feeling is that most buyers are turned off by bloat. If this is part of a larger move by Dell away from additional software, we're on board.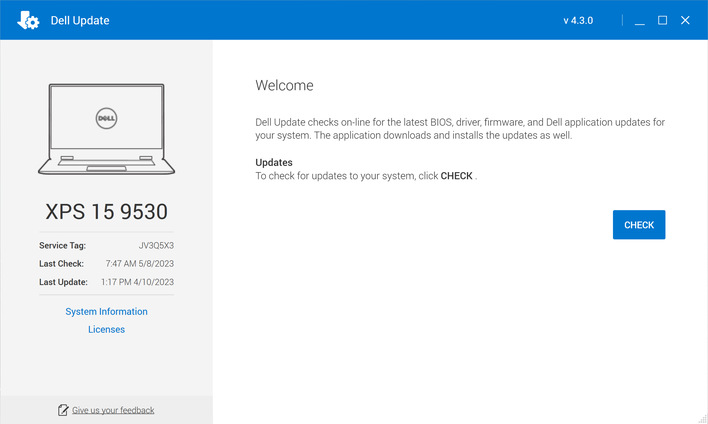 One additional point we need to make about software is that the XPS 15 is part of NVIDIA's Studio program, and as such it ships with the Studio-certified NVIDIA drivers out of the box. When it comes to performance testing, we always update our systems with the latest drivers available at the time, and that means
NVIDIA's Game Ready drivers
. Buyers who are looking at the XPS 15 as a content creation machine might want to stick to the Studio drivers, but we don't think that it makes much difference most of the time.
With all of that covered, it's time to move on to performance. Some of these results were collected for the MacBook Pro review, as we mentioned earlier, but we still need to see how this system stacks up against the PC competition.
Related content