Motorola Razr+ And Razr (2023) Hands-On: Flipping the Folding Phone Script
Moto's Razr+ And Razr (2023) Deliver More Features And Better Value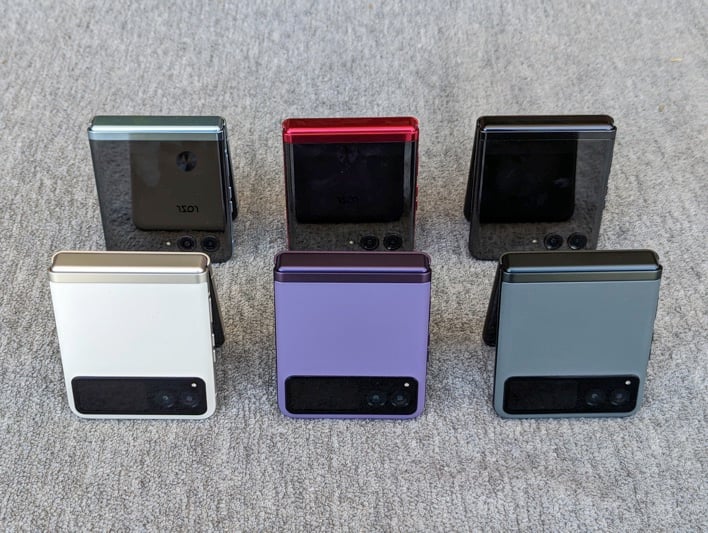 Today in New York City, Motorola unveiled a pair of exciting new folding flip phones – the Moto Razr+ (2023) and Moto Razr (2023). Both share the same overall design, have similar tech specs, and aim to one-up
Samsung's Galaxy Z Flip4
on features and value, respectively. The Razr+ cost $999.99, and will be available June 23 (pre-orders June 16), while the more affordable Razr (2023)'s pricing and availability are still TBD.
Before we dive in, check out our hands-on video:


With the Razr+, Motorola is offering the largest cover display on any folding flip handset to date, a vast 3.6-inch OLED screen that spans the entire lid and incorporates punch holes for both the 12MP main and 13MP ultrawide cameras. Like with previous Razr folding phones, this cover display features a home screen and app tray, and can run most Android apps directly, so you can be productive even with the handset closed.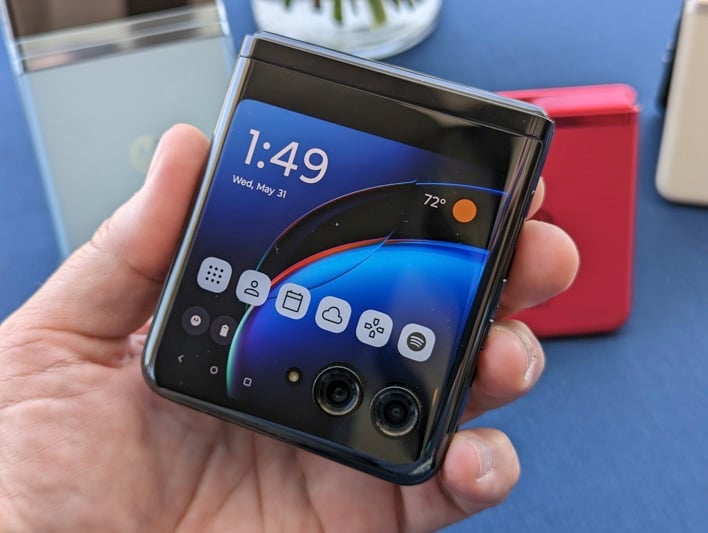 Meanwhile, the Razr (2023) comes with a smaller 1.5-inch OLED cover screen, in a layout that's similar to the Samsung Galaxy Z Flip4's. It's behind a ribbon of glass that spans the bottom third of the lid, next to 64MP and 13MP twin shooters. This display is more limited in functionality than the Razr+'s. It shows notifications, status (date, time, battery, signal), and lets you cycle through a handful of widgets, like weather and music.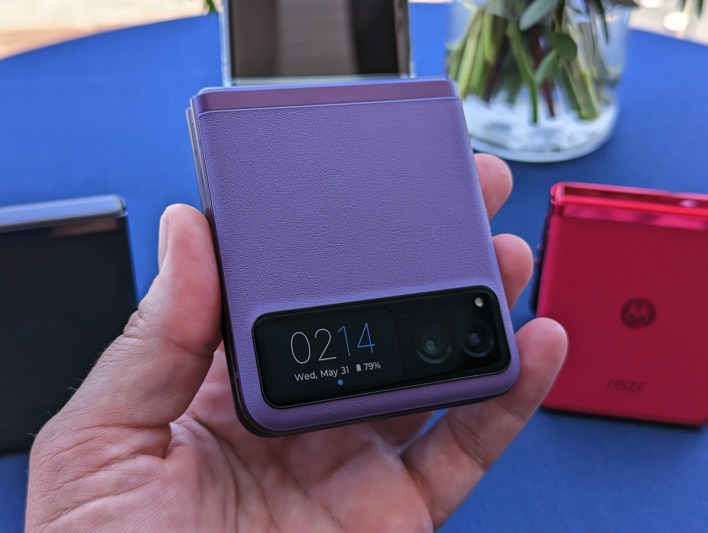 Design-wise, the new Razr is slightly thinner than the Galaxy Z Flip4 at 15.1mm folded, and the edges are rounded instead of flat, making it easier to open. Following in the footsteps of previous Razr folding phones, the 6.9-inch FHD+ LTPO OLED main screen folds into a teardrop shape, reducing the crease's visibility. As such – and unlike Samsung's Z Flip handsets – the new Razr folds without a gap between the top and bottom half.
There's also no "chin" here anymore, an iconic design element that Motorola dropped with the Moto Razr (2022), a phone that didn't officially make it to North America. Depending on the specific model and colorway, the new Razr is made of a combination of 7000 series aluminum, Gorilla Glass Victus, and vegan leather. Build quality is outstanding, and both phones look fantastic and feel great in hand.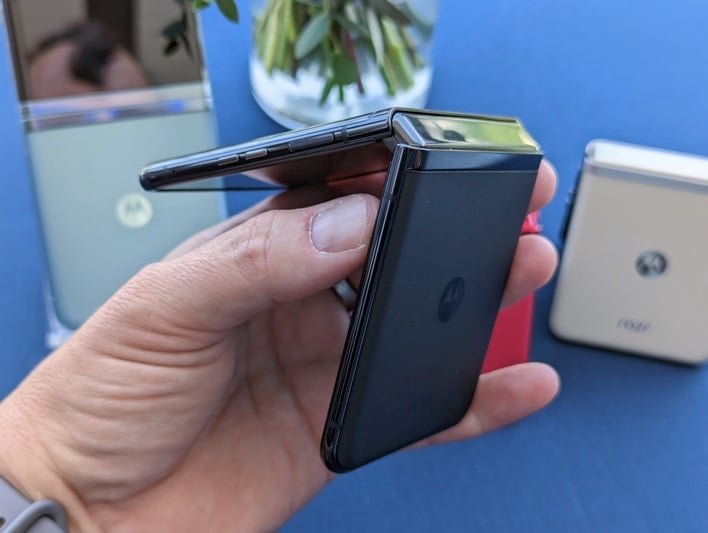 When open, the right side of the new Razr is home to the volume rocker, the power / lock key (which doubles a capacitive fingerprint sensor), and a third mic. Along the bottom, you'll find a speaker, the USB Type-C port, and the primary mic. The nano SIM tray is located on the left edge and there's a secondary mic on top.
The new Razr's main display is the star of the show. It's a gorgeous 6.9-inch FHD+ LTPO OLED panel (22:9, 2640 x 1080 pixels, HDR10+) that's super bright (1400 nits peak) and features even bezels all around, plus a center punch hole for the 32MP selfie camera. Refresh rates are impressive, too, at 165Hz for the Razr+ and 144Hz for the Razr (2023).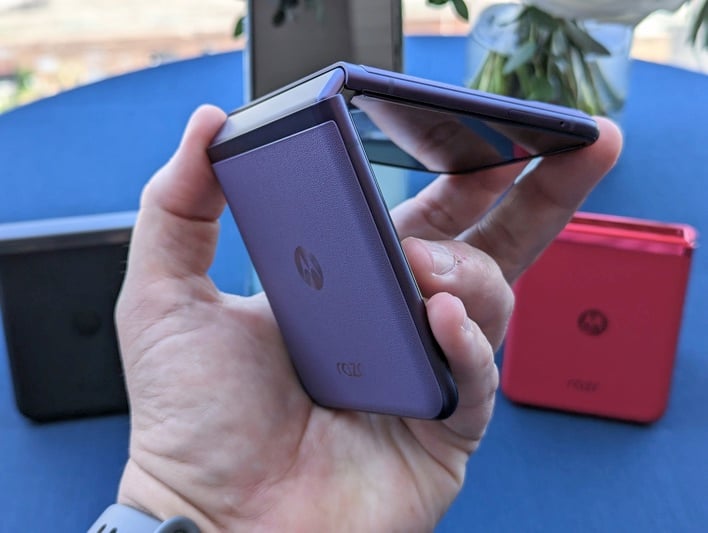 On the Razr+, the 3.6-inch OLED cover screen (1:1, 1066x1056 pixels, HDR10+) boasts a 144Hz refresh rate and 1100 nits peak brightness, while the Razr (2023)'s 1.5-inch OLED cover display (368 x 194 pixels) is more pedestrian at just 60Hz and 1000 nits.
The Razr+ packs a 12MP f/1.5 1.4-micron main shooter with dual-pixel PDAF and OIS, while the Razr (2023) comes with a 64MP f/1.7 0.7-micron main shooter with laser AF and OIS that bins pixel 4-to-1 for 16MP pics. Both phones also feature a 13MP f/2.2 1.12-micron 109-degree ultrawide / macro with AF, and a 32MP f/2.4 0.7-micron selfie camera that outputs 8MP after combining pixels 4-to-1, and supports 4k 60fps video capture.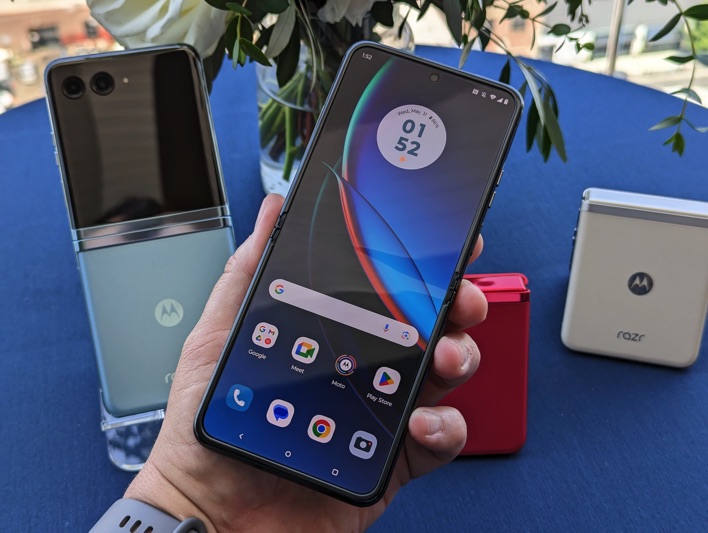 Obviously, you can use the main shooter and ultrawide to take selfies with the cover screen as a viewfinder, fold the phone between 45 and 130-degrees and put it down (Flex View), or open it 90-degrees to hold it as a camcorder. The new Razr also includes the same impressive Horizon Lock video mode as the
Moto Edge+ (2023)
we recently reviewed, and a fun new Photo Booth feature that snaps four shots in a row, after a 3-second timer.
As you'd expect, the new Razr features sub-6GHz 5G and 4G LTE bands for all North American carriers, plus dual-SIM support (one physical SIM and one eSIM). In addition to the speaker on the bottom edge, the earpiece doubles as a second speaker for stereo audio. This setup supports Dolby Atmos, and Moto will be partnering with Bose going forward, for an even better listening experience.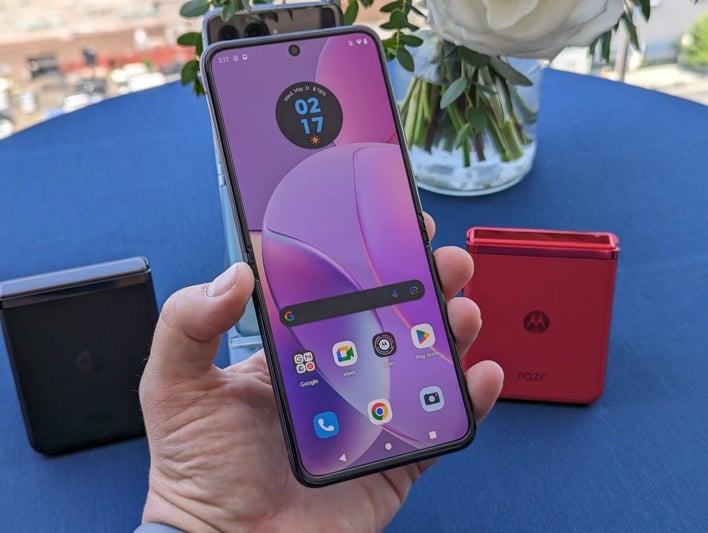 Under the hood, the Razr+ is powered by
Qualcomm's Snapdragon 8+ Gen 1
paired with 8GB of LPDDR5 RAM and 256GB of UFS 3.1 storage, while the Razr (2023) uses a Snapdragon 7 Gen 1 with 8GB of LPDDR4x RAM and 128GB of UFS 2.2 storage. Neither phone supports microSD. The difference in processors is the reason why the Razr (2023)'s refresh rate is capped to "just" 144Hz.
Other specs include WiFi 6e and NFC. While the Razr+ packs a 3800mAh battery, the Razr (2023) uses a larger 4200mAh battery. That's because the Razr (2023) has more space under the front lid. Both handsets offer 30W wired charging and 5W wireless charging, but no reverse wireless charging. Only the Razr+ ships with a charger in the box.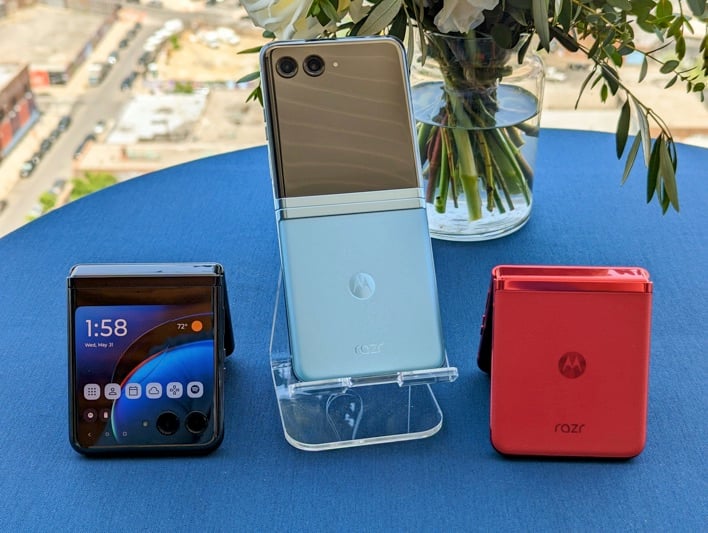 And if the hardware wasn't already attractive enough, the new Razr boasts Motorola's delightful Android 13-based software. It's light-weight, responsive, and very close to stock Android, but it also includes several customizations that make the user experience even better – from Moto's familiar double hand-chop motion that toggles the flashlight on and off to the double wrist-twist gesture that fires up the camera.
With the Razr+, the company has added clever touches that further improve cover display integration. For example, when running an app on the cover screen, you can press and hold the gesture pill to switch between full screen and a smaller view in case the camera punch holes get in the way. If you're using an app on the main display, and close the phone, a button appears on the cover screen asking if you want to continue running the app in front.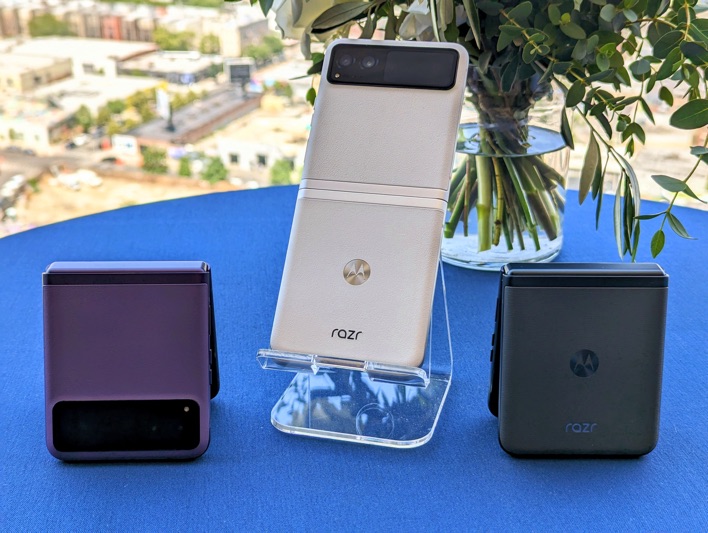 Moto is also including several fun games that are specifically designed for the cover screen on the Razr+ – like Marble Mahem, Astro Odyssey, and Tiger Run.
Ultimately, we came away extremely impressed with the new Razr. The Razr+ delivers a more compelling set of features than the Galaxy Z Flip4 for the same price, and the Razr (2023) offers a similar experience for less money. Of course, Samsung is not standing still, and we're expecting the Galaxy Z Flip5 to land sometime in July. But for now, it looks like Moto is the new folding flip phone king. As always, stay tuned for our full review.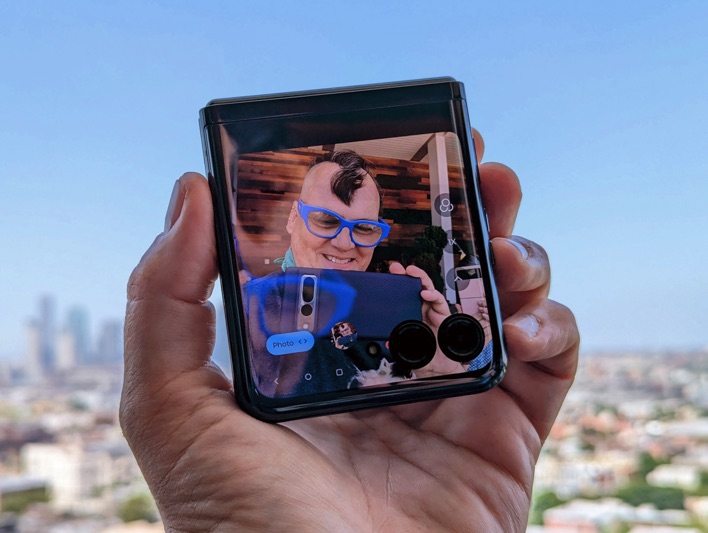 The Moto Razr+ (2023) will be available for $999.99 on June 23 (unlocked) from Motorola, Amazon, and Best Buy. AT&T and T-Mobile will also be selling this handset, but not Verizon. If you want to get a head start, pre-orders start on June 16. The Razr+ is available in Infinite Black and Glacier Blue with a matte glass back, and Viva Magenta with a vegan leather back exclusively from Motorola and T-Mobile.
Moto has not shared pricing and availability for the Razr (2023) yet, but it will be more affordable than the Razr+. It's coming in three colors – Sage Green, Vanilla Cream, and Summer Lilac – with a vegan leather front and back.
Related content