iPhone 13 Pro Review: Fast, Impressive But Unfinished
Apple iPhone 13 Pro: Camera, Repairability And Review Conclusions
iPhone 13 Pro Camera Quality
Apple's camera experience got some pretty significant updates with the iPhone 13 Pro. Some of that comes via the upgrade to
iOS
15, but most of it is due to hardware. First up, the rear has a total of three cameras, same as last year. Let's start with the camera sensors and lenses. The standard (wide angle, as Apple calls it) lens has the same 26-millimeter focal length as the iPhone 12 family. The ultra-wide angle lens zooms out to "0.5x" in the camera UI with a 13-mm focal length. And finally, the telephoto lens zooms in all the way to 77-mm. Only the telephoto lens has a different FoV over the iPhone 12 Pro, which had a 65-mm focal length. Let's take a look at photos from 0.5x, 1.0x, and 3.0x to see if we can spot the differences.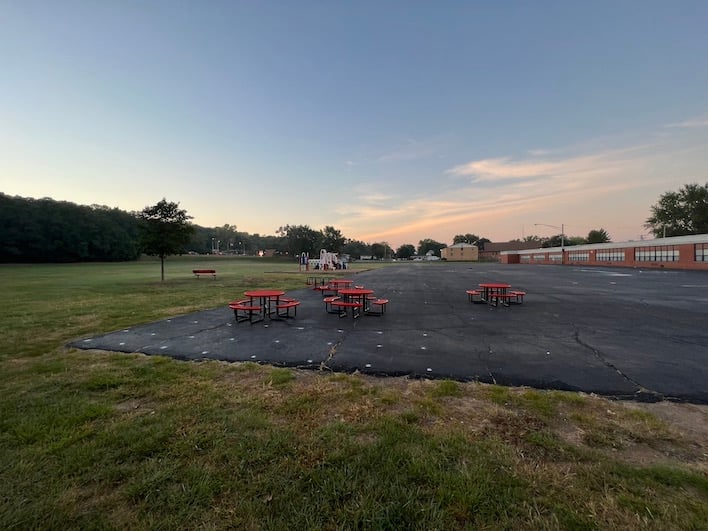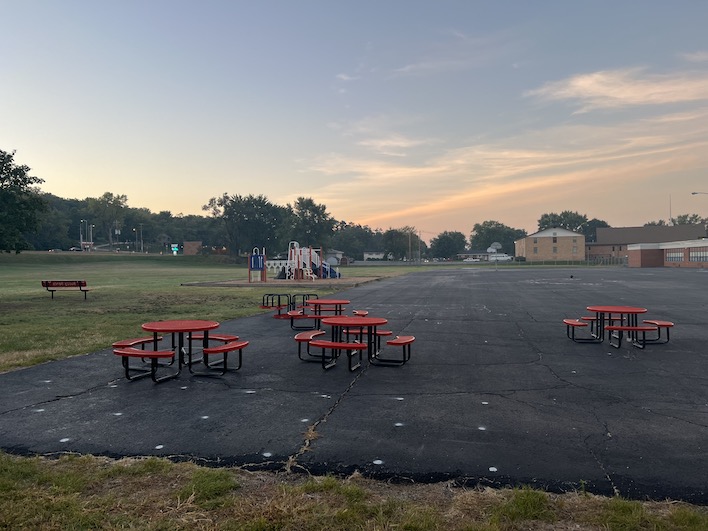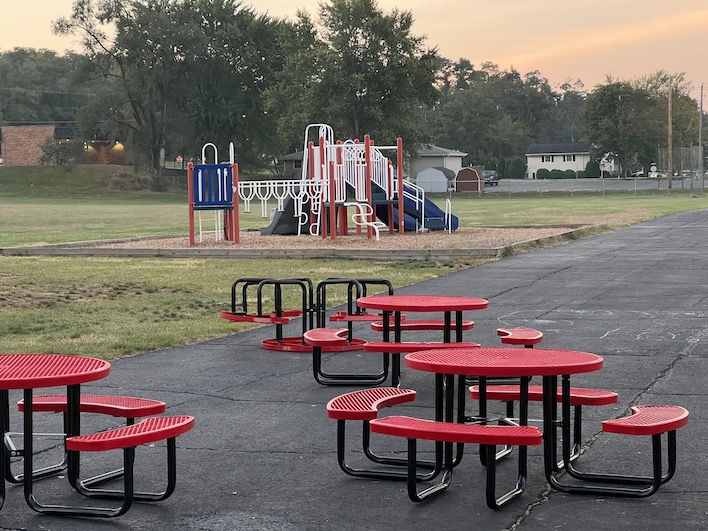 Overall, the rear-facing camera system in the iPhone 13 Pro is excellent. All three angles retain plenty of detail, and the 77 mm focal length on the telephoto camera lets us get much closer to the scene than, for example, the 52 mm focal length on the Samsung Galaxy Z Fold3. Click on each photo to see a larger version. These are all un-cropped and un-touched; the colors in the photos are exactly how the image was captured.
If we have one slight criticism it's that the photos are a bit darker than we'd like, but it was 7 AM in late September, and the sun hadn't fully come up yet. For comparison's sake, here's a photo taken a few hours later with the full sun in the sky using the wide angle (26 mm) camera, and we can see that the colors are much brighter.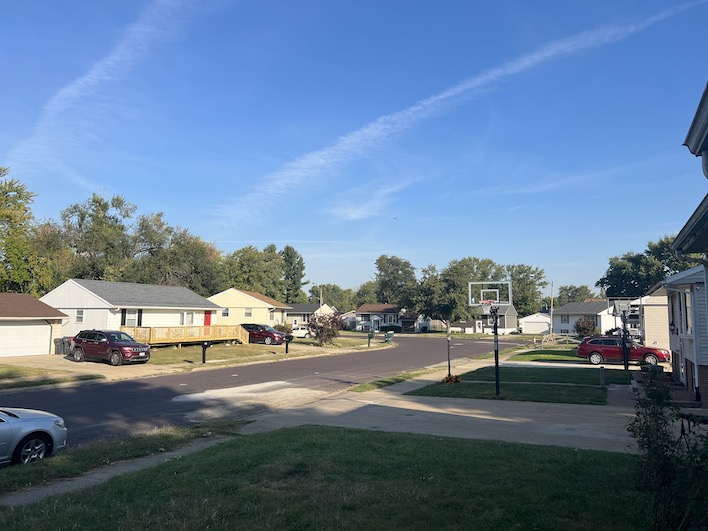 Shaky still photographs shouldn't be an issue with the
iPhone 13 Pro
, because this year all three rear cameras have optical image stabilization (OIS) aboard. Last year, the iPhone 12 Pro lacked that feature on the ultra-wide angle camera. The regular wide angle and telephoto lenses also have phase-detect autofocus (PDAF), which is a holdover from the 12 family. All of the sensors have been upgraded, too, but Apple has been pretty tight-lipped about it. We only know that the wide angle sensor has been upgraded to haver pixels that measure 1.9 microns in size, up from 1.7 microns on the 12 Pro. The rest are bigger, but without specifications it's hard to say how much.
Apple has also tinkered with the apertures, not uniformly increasing or decreasing the amount of light they let in. The wide and ultra-wide cameras have lower apertures, meaning more light, but the telephoto lens increases the aperture which lengthens the field of focus but decreases the amount of light it can collect at once. The ultra-wide camera's aperture change is particularly steep from f/2.4 to f/1.8, which is nearly a full stop improvement and allows it to gather about twice as much light.
All the changes, and presumably physical changes to the sensors that
Apple
hasn't seen fit to document, give the iPhone 13 Pro some new features. First up, the ultra-wide camera has a new macro mode, and it can focus on subjects less than a centimeter away. That's great news for me and old folks around the world who use their phones to take photos of small text and blow it up to readable sizes. This picture of a guitar pick is completely un-cropped; the ultra-wide camera can just get that close and focus clearly.
2020 Mac mini
, untouched. Because the editing tools for cinematic focus haven't made their way to macOS 11 Big Sur's Photos app, I made changes on the device and let iCloud sync again. Those changes appeared in Photos and now the focus is on her face as she turns to look at the camera. It's a nice touch-up.
Then we accidentally pulled back the curtain entirely. The Revert to Original button in Big Sur stripped out all the selective focus, and we can see that the original video is sharp as a tack with no depth of focus anywhere. All of the bokeh and selective focus is done programmatically to the video and committed at the time of exporting. The rest is just the phone's on-device intelligence applying a DoF effect very similar to the way that Portrait mode has worked for a long time, only now in motion.
The last feature, much like SharePlay as we documented earlier, isn't ready for prime time. The
iPhone
13 Pro will support Apple's ProRes video codec at some point soon. ProRes is natively supported by Final Cut Pro X, DaVinci Resolve, Adobe Premier, and other high-end video editing packages to capture video with minimal compression and processing. The trade-off with minimal compression is with file sizes, which can be enormous. For that reason, the 128 GB iPhone 13 will be limited to 1080p 30 fps ProRes captures while 256 GB on up will get the codec at 4K 30 fps.
Night Mode is available on all three rear-facing cameras this year, but honestly we've not been super-impressed with it. The photo here is comparable to the low-light photo test we performed on the
Samsung Galaxy Z Fold3
, taking a photo in a nearly-dark room early in the morning. The Samsung photo of my sweet PRS CE 24 Semi-hollow retained a lot of detail in the flamed maple top. Let's see how the iPhone does.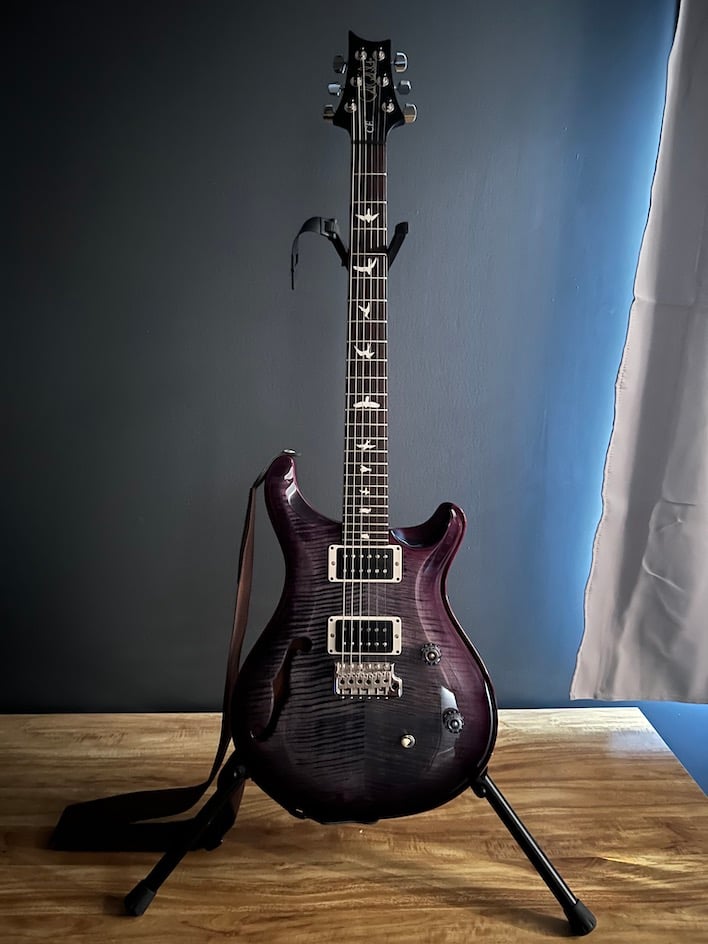 Night Mode is kind of muddy compared to the Samsung Galaxy Z Fold3
Here we can plainly see that the iPhone 13 Pro's version of this picture is darker and much muddier. In extreme low light, it just doesn't seem to do a very good job, at least not in comparison to the Samsung. Other photos with better light came out pretty clear, but Apple has some work to do on its dark processing.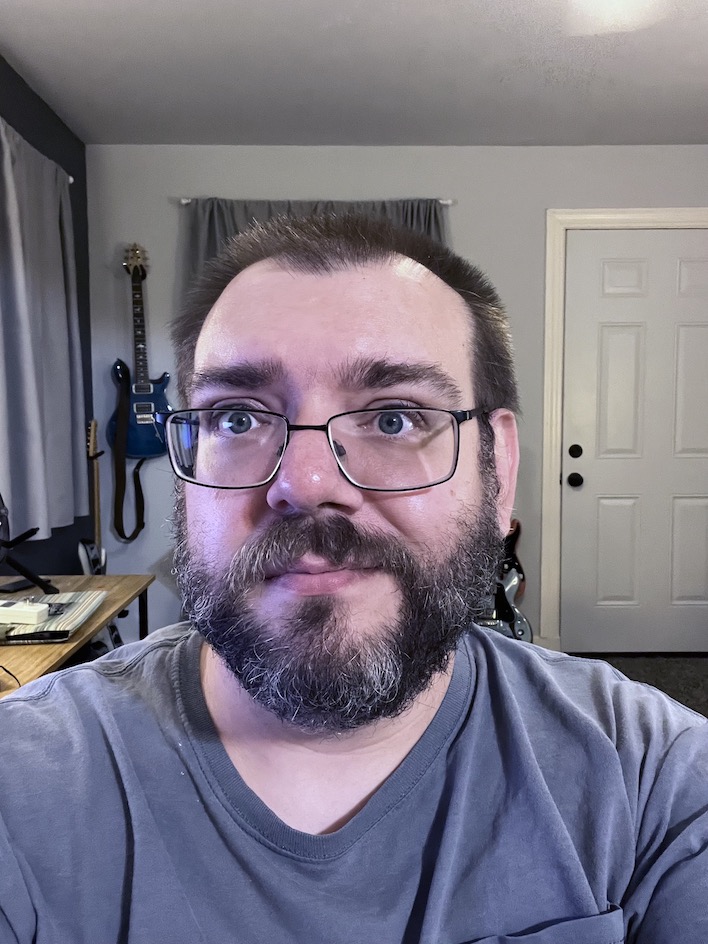 Front-facing camera, iPhone 13 Pro. The cool color temperature is because of the bulbs, not the phone
Last up, the front-facing True Depth camera supports Face ID and has an f/2.2 lens with a 12-megapixel sensor. Like the other cameras, the selfie cam also supports 4K video recording with HDR. The quality of the stills it takes is also quite good. The camera also seems to not have much issue with backlighting or typical room lighting, though it's not great in the dark.
The iPhone 13 Repairability Factor
Normally we don't have to talk about whether a phone is repairable because it just is. Parts are generally readily available and a host of third-party repair centers are more than willing to do the job. This issue only comes up on the iPhone 13 family because those same service centers are
just not able
to do the work without killing off certain features.
We're technology enthusiasts, so we're advocates of giving end users the ability to repair their own devices. However, it's important even for those who aren't as into tech as we are, because a repairable device means that folks with broken screens or dead batteries can take their device to a wide variety of places for servicing. Parts are readily available and repairs can be done quickly by plenty of trained technicians. The real low point of the iPhone 13 Pro, then, is in how repairable it
isn't
.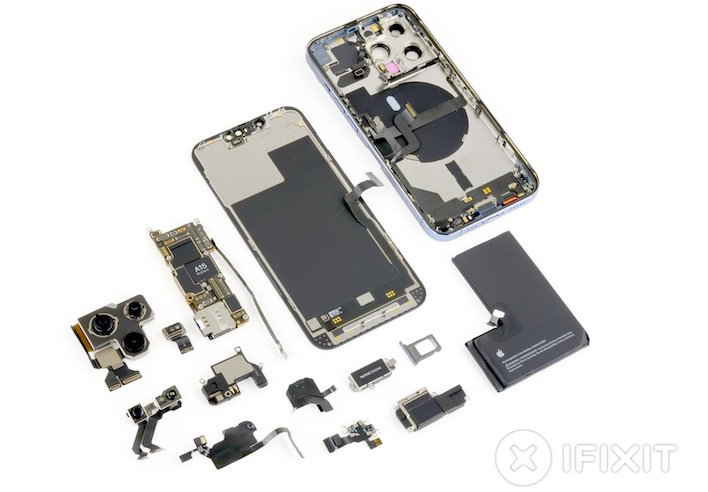 For years, Apple has detected whether the battery installed in an iPhone is "genuine", and the narrow definition of genuine seems to be whether it's the specific battery that shipped with the phone. And so ever since the iOS 12.1 update that famously gimped performance once a battery was worn down to below 80% capacity, battery replacers have gotten warnings about non-genuine batteries. That practice hasn't really changed with the iPhone 13, but Apple seems to be extending its reach with each generation.
At the present time, iPhone 13 front-facing camera replacements not performed by Apple will
disable Face ID
. It seems the camera and display are mated for life, much like replacing the home button in a phone with Touch ID. The difference is that while the Touch ID sensors are paired to the phone's motherboard, the displays are also linked and Face ID is rendered inoperable. That means on each boot, users will get a warning about being unable to identify if the phone's display is genuine and the only way to unlock an iPhone is with the passcode. That's going to make third-party repair a real problem. Apple needs to fix this or make the pairing process available to its licensed repair providers pronto.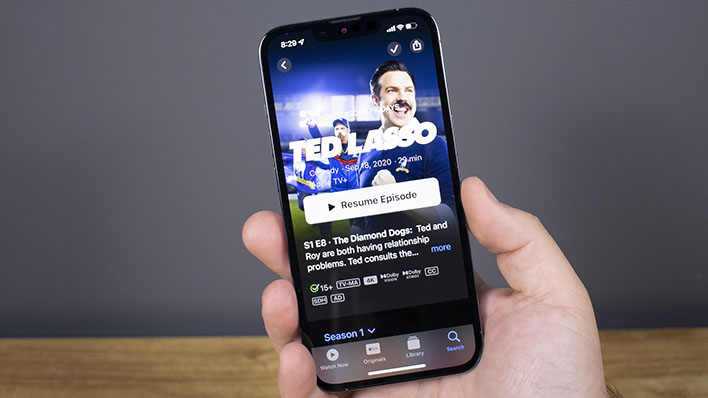 Apple iPhone 13 Pro Conclusions
The iPhone 13 Pro is an interesting phone. On one hand, it's a monster performer with a gorgeous
OLED
display and an elegant industrial design. On the other,
Apple
has taken great pains to block third parties from repairing that hardware should that vibrant screen get cracked or the battery give out. It's got a polished UI, tons of features, and loads of integration within the company's ecosystem. However, some of the most-hyped features are missing and some of that integration -- most notably unlocking the device with an
Apple Watch
-- has been broken. The camera experience is excellent right up until the point that it falls apart in low light situations. More specific issues even stand out: the display supports 120Hz but not all the time, depending on the APIs being used. And just about every app needs an update using keys that Apple didn't see fit to document until the device was released. When we pair that with
accusations of ignoring bugs
, it seems Apple's iOS team is struggling at the moment.
It's this kind of uncharacteristic divide that disappoints us the most. Ever since 2007, Apple has for the most part executed extremely well on smartphone release after smartphone release. Maybe it's not a coincidence that this happened after a year and a half of COVID-19 ravaging the company's design cycle. Apple has been very vocal about getting people back onto its campus in Cupertino, and the theme of its
launch stream
seemed to be "we're in California, and we think it's pretty great." Maybe the stream was more a pitch for employees to come back to the office than it was launching the phone. Whatever it is, unlucky iPhone number 13 seems to have had a rough start, and we hope -- I especially hope since I bought the dang thing and want to get a few years out of it -- that the company can right the ship quickly.
Apple as a company and iOS as a platform are polarizing, so it doesn't make as much sense to ask the question of whether you should get an iPhone 13 Pro. Either you're a dedicated iOS user, and the answer is yes, or you're entrenched in the Android ecosystem and you're looking forward to the Pixel 6 launch early in October or whatever's next from OnePlus and Samsung. The more narrow question is, should a devoted iOS user
buy an iPhone 13 Pro?
The answer is a tentative "not yet." Apple needs to work out some software issues and unleash two of the most-hyped features in ProRes video recording and SharePlay. The good news is that the hardware itself presents a solid foundation, so this iPhone owner remains hopeful.





Best smartphone performance around
Bright 120Hz OLED display looks great
Excellent camera system
Innovative camera features
Deep integration with other Apple hardware
iOS is intuitive and fast
Subjectively great battery life

Initial software's bugs and missing features
Tight integration with Apple Watch currently broken
Low-light camera performance disappoints
Big Face ID and battery repairability issues
Still no USB-C connector
Related content
Comments