AMD Threadripper 3990X Review: A 64-Core Multithreaded Beast Unleashed
AMD Ryzen Threadripper 3990X - Wrapping It All Up
Performance Summary: The new AMD Ryzen Threadripper 3990X is an absolute beast under the right conditions. In all of the multi-threaded tests that scale properly to leverage all of the core resources available in this 64-core / 128-thread processor, the Threadripper 3990X stands head and shoulders above every other desktop processor we have ever tested, occasionally besting competing many-core solutions by more than 2X. However, because Threadripper 3990X also has relatively high clocks for such a high core count, it offers relatively strong performance for day-to-day use cases, as evidenced by it's competitive PCMark 10, some lightly threaded, and gaming scores. That said, we must reiterate that the Threadripper 3990X is designed specifically for creative and other workstation professionals, with use cases that will leverage all of the resources available in a unique processor like this.

AMD
is in a completely different position today than it was just a few years ago. Pre-Ryzen, AMD's top-end processor cost a few hundred dollars and was soundly trounced by competing Intel processors, that used much less power and were paired to more modern, updated platforms. It is a different world today though and AMD can easily justify the $3,990 price tag of the Threadripper 3990X. Yes, that is big coin for a processor, but there is nothing else that exists in a single socket that offers as much horsepower as the Threadripper 3990X.
Intel's Xeon W-3175X
28-core processor is currently selling for about $3,200 and offers less than the half the cores and the only enthusiast class motherboard available for it are astronomically expensive.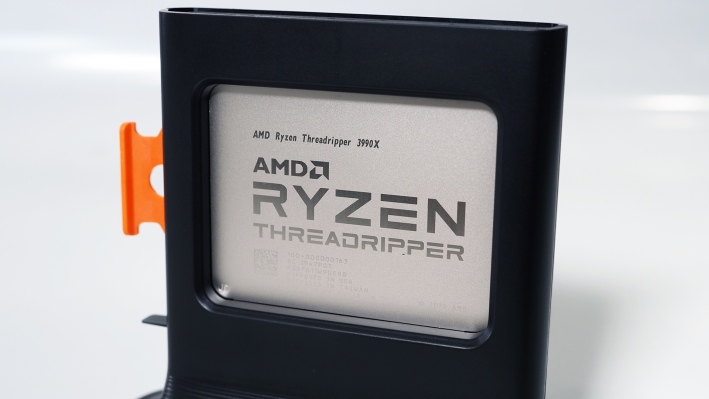 Of course, with a price tag that beefy and the specialized use cases required to leverage the immense resources in a processor like the Threadripper 3990X, it is obviously not meant for everyone. But for those that can leverage all of the CPU cores in a system, and that need or just crave ever more horsepower, AMD didn't just raise the bar, it obliterated it.
The
AMD Ryzen Threadripper
3990X isn't perfect and it's meant to appease a specific sub-set of users, obviously. Even still, we must commend AMD for continually and aggressively pushing the envelope since the introduction of its first-gen Ryzen architecture. AMD's efforts that last few years have re-shaped the enthusiast computing landscape and injected some real excitement. If AMD continues on this trajectory with
Zen 3
and beyond, we can't wait to see what the company has in store for us all next year.
Monstrous Multi-Threaded Performance
More Predicable Perf Than 2nd Gen CPUs
Single-Thread Improvements Over 2nd Gen
PCI Express 4.0 Support
Stock Power Not Much Higher Than 3970X

Ultra Premium Pricing
Skyrocketing Power When Overclocking
Requires New Motherboards / Chipset
Related content
Comments