AMD Threadripper 3990X Review: A 64-Core Multithreaded Beast Unleashed
AMD Ryzen Threadripper 3990X - ASUS ROG Zenith II Extreme Alpha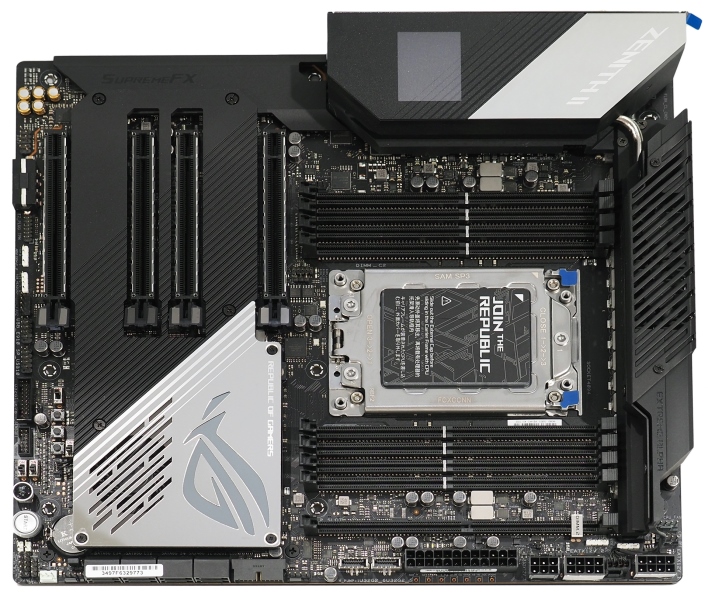 The
ASUS
ROG Zenith II Extreme Alpha is a follow-up to the ROG Zenith II Extreme that launched alongside the first wave of 3rg Gen Threadripper processors. The Alpha's outward appearance is almost identical to the original, but ASUS made some tweaks to optimize power delivery to the CPU and memory, and during the review process, AMD recommended checking the board out for optimal overclocked memory performance with
Threadripper
3990X. We're poking and prodding the board "as we speak" and will be posting an update ASAP.
As we've come to expect from ASUS' high-end motherboards, the ROG Zenith II Extreme Alpha is absolutely jam-packed with features. It is outfitted with elaborate cooling, a color OLED display, and a ton of additional capabilities, over and above what's offered by the AMD
TRX40
chipset for 3rd Gen Threadrippers. The board features 16 Infineon TDA21490 power stages, each rated for 90 Amps, though it shifts to high-current Dr.MOS stages when overclocking the CPU and memory, which is where it differs from the original. The power-related upgrades allow the ROG Zenith II Extreme Alpha to provide additional headroom to handle Threadripper 3990X's 64-cores and the latest high-density memory kits.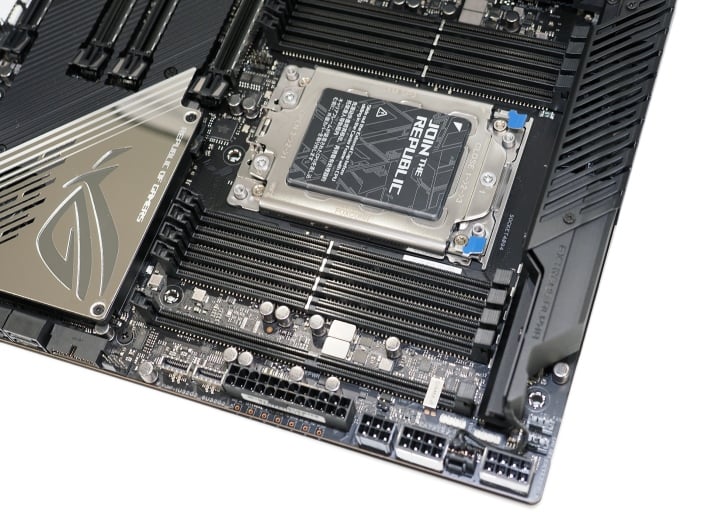 The
ASUS ROG Zenith II Extreme Alpha
has built-in AURA SYNC LED lighting, which can be extended with additional lighting strips should a user want to add more throughout their system. The board also has metal reinforcements on its expansion slots, and heavy-duty metal heat spreaders on the chipset and VRM. Additional shielding covers the board area between the PCIe slots, the back panel I/O, and the real-estate around the chipset as well. The lower portion of the chipset heatsink is removable, and provides cooling for and solid-state drives installed into the M.2 slots beneath.
The ASUS ROG Zenith II Extreme Alpha features high-end capacitors and chokes throughout its design, to improve long-term reliability and overall efficiency. And it features a mouse-friendly BIOS /
UEFI
that's easy to navigate and offers an extensive array of overclocking and performance-related options. The BIOS on this board is outfitted with everything from high resolution fonts to the latest version of ASUS's hardware monitoring and fan control functionality.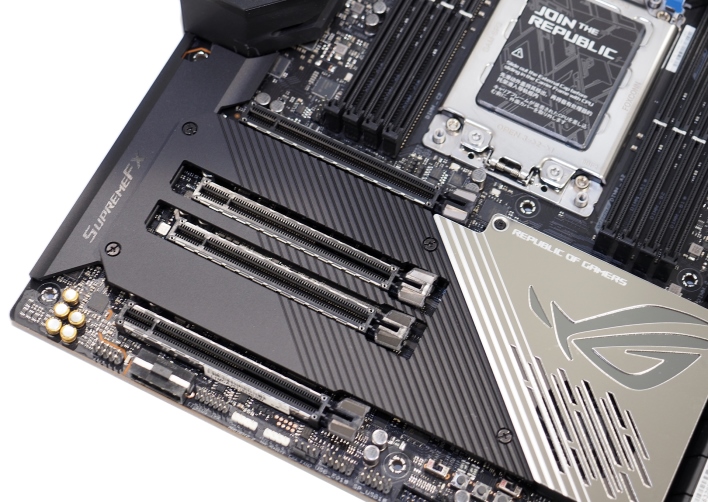 As is the case with all
TRX40
-based boards, the ASUS ROG Zenith II Extreme Alpha is compatible with AMD's
Ryzen Master
performance tuning utility for tweaking performance from within Windows, but the UEFI is outfitted with all of the overclocker-friendly tools we've come to expect from ASUS for manual tweaking as well. The fan controls on the board are robust and ASUS has put in additional effort to ease configuration, by offering an array of auto-tuning options and presets that can be saved to individual profiles for easy recovery should a user want to revert back to a known, good configuration.
Other features of the ASUS ROG Zenith II Extreme Alpha include USB 3.1 Gen 2 type-C and type-A ports for quick-charging and straightforward connectivity of the latest mobile devices,
Aquantia
10-Gigabit Ethernet, 802.11ax Wi-Fi, on-board power and reset switches, CrossFire / SLI support, and triple M.2 slots – one of which uses a DIMM.2 slot / add-in card with heatsink assembly.
We should also point out that the ASUS ROG Zenith II Extreme Alpha offers 8-channel audio with a Realtek S1220A codec and ES9018Q2C DAC, and it incorporates audio shielding, discrete power delivery, and high-end Japanese capacitors for cleaner sound (120dB SNR) than most motherboards. It also has lighted audio jacks too, so you can see what's going on behind your system, even in the dark. There's also a very cool color
OLED
display on the board, above the back-panel IO (adjacent the CPU socket) that can display things like CPU temperature, fan speeds, or error messages on an easy-to-read display.
Over and above what's actually built into the board or available through the chipset, ASUS throws in a wide array of accessories and integrated peripherals including a boatload of decals, documentation, cables, multi-GPU bridges, etc., along with an optional fan expansion card to adding a bunch of additional cooling to a system.
We found the layout of the ASUS ROG Zenith II Extreme Alpha to be very good and also really like the overall aesthetic. Your tastes may vary, of course, but we think this is an extremely attractive motherboard, not only in terms of the overall aesthetic, but its feature set as well - though, like Threadripper 3990X itself, it doesn't come cheap.
Alright then, on with the benchmarking...
Related content