TCL 10 Pro And 10L Review: Sleek, Budget-Friendly Androids
TCL 10L And TCL 10 Pro Audio Quality, Benchmarks, Battery Life
TCL 10L and 10 Pro Audio, Data And Call Reception
We tested the 10L and 10 Pro primarily on AT&T's LTE network in Portland (OR), but also used the 10L on Verizon's LTE network in San Francisco and didn't experience any issues. Call quality and network speeds were in line with other unlocked phones on these carriers in these locations. The 10L and 10 Pro both lack LTE band 71 (600MHz) for T-Mobile, and don't support Verizon's legacy CDMA network, making them less ideal in some T-Mobile markets, and in the few (mostly rural) areas where Verizon still doesn't have LTE.

TCL 10L and 10 Pro Performance
Under the hood, the 10L and 10 Pro have very similar specs. The 10L is powered by Qualcomm's mid-range Snapdragon 665 SoC paired with 6GB of RAM and 64GB of storage, with a 128GB model available in some markets (but not in the US). Meanwhile, the 10 Pro uses Qualcomm's Snapdragon 675 alongside 6GB of RAM and 128GB of storage. Both handsets support additional storage via microSD card (up to 256GB). We're clearly dealing with mid-range devices here, so how do they fare in terms of performance?
After reviewing several
$700+
Snapdragon 865-equipped
flagships
end-to-end, we were a little concerned we'd find the 10L and 10 Pro sluggish. That hasn't been the case in real-world use. If anything, both phones feel surprisingly quick with day-to-day tasks -- from browsing social media, to fielding emails, playing music, and watching videos. Sure, you'll probably want to skip graphic-intensive games like Warhammer, but everything else should run without skipping a beat. And honestly, that's good news. Take a look at our benchmarks below.
Futuremark PCMark For Android

General Purpose Pocket Computing Performance Metrics
Futuremark's PCMark for Android is an excellent suite of tests if you want to benchmark a wide range of tasks on any handset -- things like image and video editing, as well as lighter-duty, everyday workloads such as email and web browsing. When you see the test running live, it's clear the scripted application tests are carefully selected and tuned to make use of the each mobile platform in a very controlled way...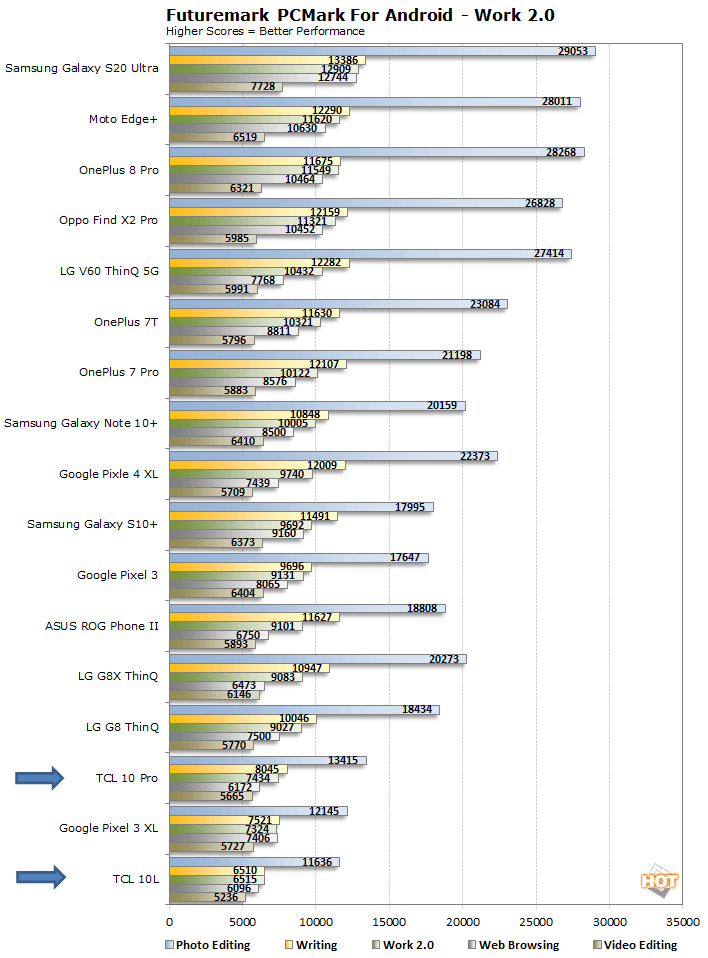 The 10L and 10 Pro scores are in line with the Snapdragon 670-equipped Pixel 3a XL. The Snapdragon 665 and 675 powering these device clearly don't match current flagship performance for the workloads used in PCMark for Android.
3D Graphics Benchmarks: 3DMark And GFX Bench

Pushing The Pixels
Next we're checking how the 10L and 10 Pro compare in GFXBench, which has been one of the standard mobile graphics/gaming performance benchmarks for years. To ensure that display refresh (v-sync) and resolution aren't limiting factors, we're comparing off-screen test results here. GFXBench tests OpenGL ES graphics workloads and we're specifically testing OpenGL ES 3.0...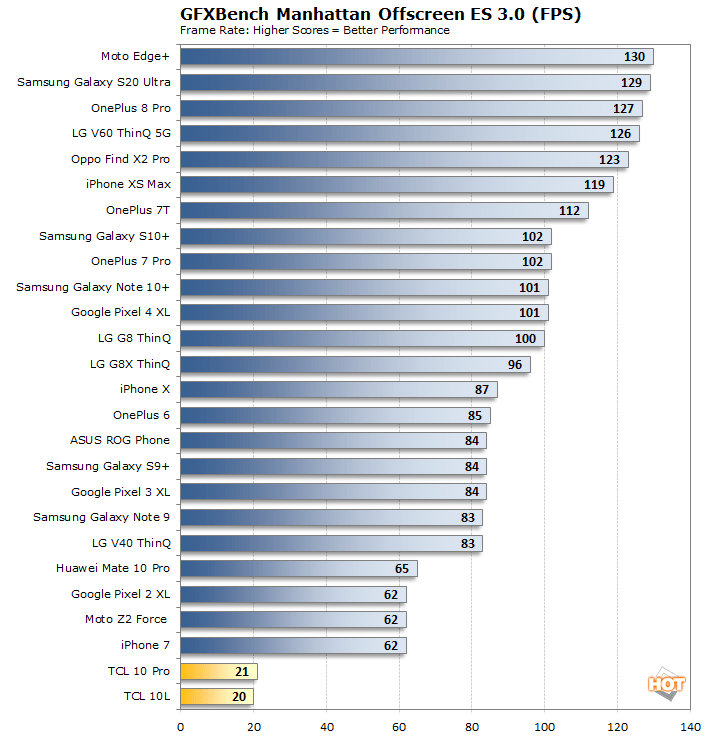 Graphics performance is not the Snapdragon 665 and 675 mobile platform's strong suit. Here, the 10L and 10 Pro land behind every flagship.
Futuremark's 3DMark Sling Shot is a newer benchmark module that's been added to the
3DMark
mobile suite. Unlike previous gen 3DMark mobile tests, Sling Shot is a much more advanced OpenGL ES 3.1 and Metal API-based benchmark that employs more advanced rendering techniques, like volumetric lighting, particle illumination, multiple render targets, instanced rendering, uniform buffers and transform feedback.
Futuremark 3DMark Sling Shot Extreme Benchmark

We're running this test in off-screen mode once again to remove display resolution differences from the equation. This lets us compare cross-platform results more reliably...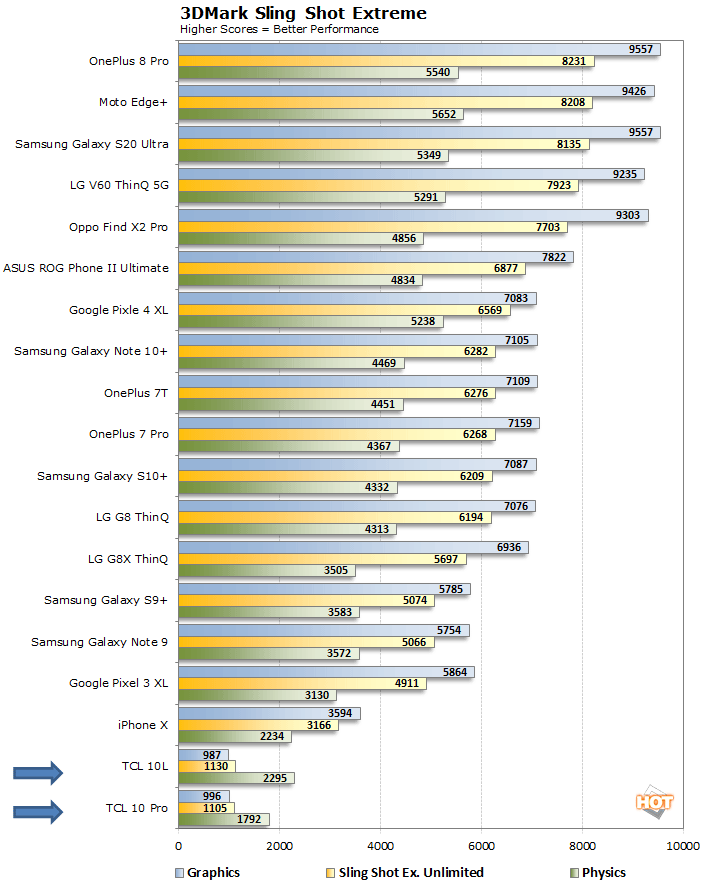 The 10L and 10 Pro also performed worse than every flagship in these 3DMark tests. The OnePlus 8 and 8 Pro finish at the top of the heap, and TCL wasn't even close.
TCL 10L and 10 Pro Other Features And Battery Life
The 10L features a standard capacitive fingerprint sensor in back, which is fast and reliable. For the 10 Pro, TCL chose an optical in-display fingerprint sensor, which is pretty slow. It works fine, but side-by-side with the 10L, the speed difference is noticeable. Then again, the 10 Pro's haptics are significantly better than the 10L's. Both handsets support Cat 6 LTE, WiFi 802.11ac, Bluetooth 5.0 (with aptX HD), NFC, and A-GPS/ GLONASS / Galileo / BDS positioning. There's even an FM radio, along with the usual complement of sensors.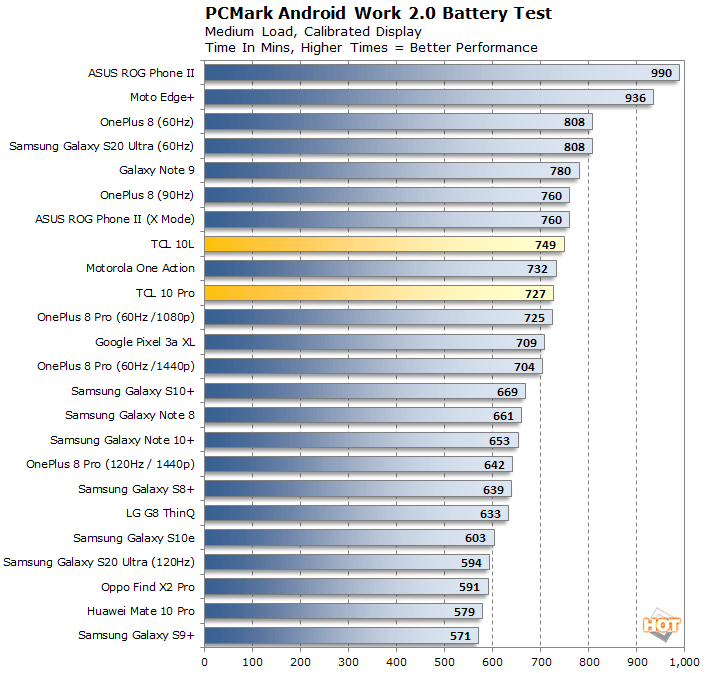 Battery life is very good on both devices. The 10L lasted 12 hours 29 mins in our PC Mark battery test, and the 10 Pro 12 hours 7 mins. We managed to squeeze two days of light use between charges from these phones. Most people should have no problems getting through a busy day on a single charge. Despite the 10 Pro's larger 4500mAh battery (vs. 4000mAh on the 10L), both handsets discharged at about the same rate. The 10 Pro supports QuickCharge 3.0 and comes with an 18W charger, but the 10L is limited to 10W charging.
Next up: software, pricing, and the verdict...

Related content
Comments