Samsung Galaxy Z Flip3 Review: The Folding Flagship Refined
Samsung Galaxy Z Flip3 Review: Audio Quality, Performance, And Battery Life
Samsung Galaxy Z Flip3 Audio, Data, and Call Quality
While we usually acquire the devices we test directly from the manufacturer, Samsung wasn't able to accommodate our request for this piece. Fortunately, AT&T was kind enough to lend us a Galaxy Z Flip3 review unit along with a working SIM. Since this handset isn't unlocked, we only used it on AT&T's sub-6GHz
5G
and 4G LTE networks in and around San Francisco. That being said, we didn't run into any problems with calls or data speeds.
The Z Flip3 (unlocked) works on all US carriers and even supports mmWave 5G. We didn't get a chance to test AT&T's mmWave 5G network since the only place it's available near us is inside Oracle Park. Regardless, we saw data speeds of 155Mbps down and 31Mbps up on AT&T's sub-6GHz 5G network near the Salesforce Tower in downtown San Francisco. That's in line with other phones we've tested on AT&T.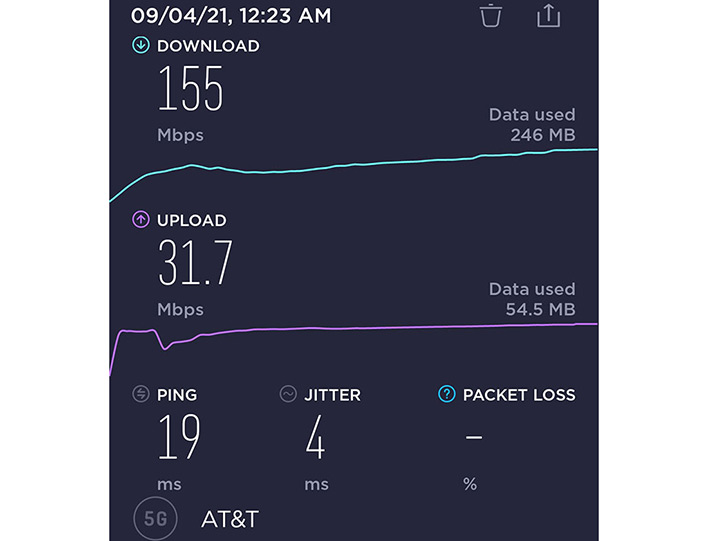 On the audio front, the Z Flip3 features stereo speakers (with Dolby Atmos) that sound surprisingly loud and clear -- an improvement over the mono speaker on last year's
Z Flip
and
Z Flip 5G
. While this handset lacks a headphone jack, it supports digital audio devices over USB Type-C. As you'd expect, the Z Flip3 also supports LDAC and aptX HD for high-quality wireless audio over Bluetooth.
Samsung Galaxy Z Flip3 Performance
The Galaxy Z Flip3 pairs Qualcomm's flagship
Snapdragon 888
SoC with 8GB of RAM and either 128 or 256GB of UFS 3.1 storage (there's no microSD support). As you'd expect, this phone feels pleasantly fast and responsive no matter what you're doing. It ran our usual suite of social media and productivity apps without breaking a sweat, and the 120Hz refresh rate kept everything buttery smooth.
Our benchmarks mostly confirmed the Z Flip3's speedy performance, with results generally matching the other Snapdragon 888-equipped handsets we've reviewed. But there's one area of concern -- especially for gamers -- and that's with heavy sustained workloads. Like the Galaxy S21, the Z Flip3 experiences thermal throttling, dropping to 56% of its initial score during 3DMark's Wild Life stress test.

Clearly, this isn't going to be much of an issue day-to-day; after all, the Z Flip3 isn't marketed to hard-core gamers. Still, it's something to keep in mind if you're serious about performance.

Geekbench 5

Synthetic CPU Benchmark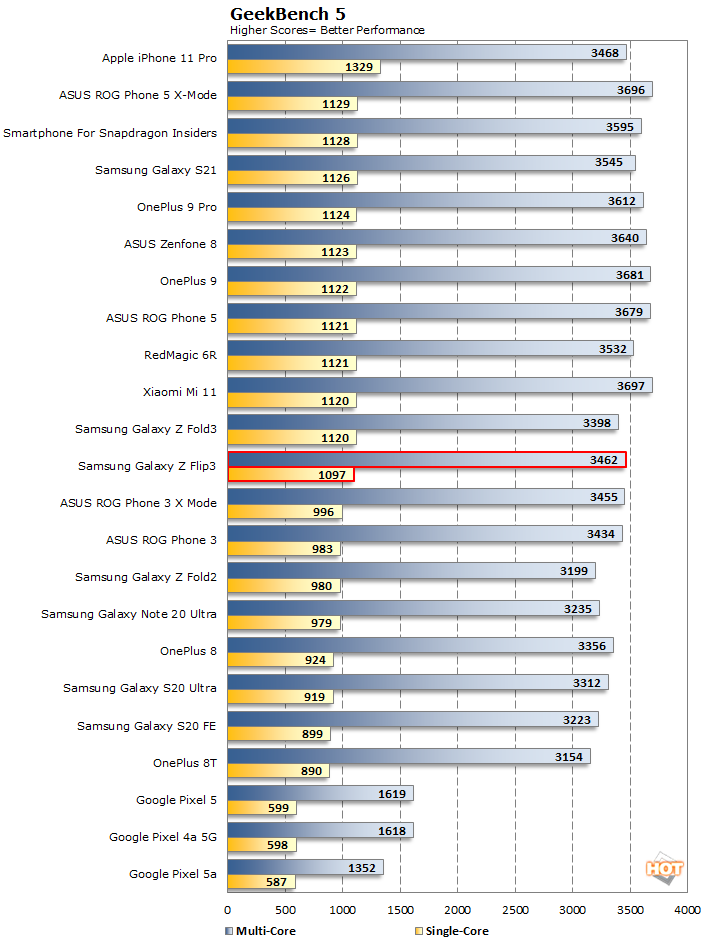 GeekBench has the Z Flip3 finishing about in the middle of the pack, but with scores mostly in-line with the other Snapdragon 888-based devices.
Futuremark PCMark For Android

General Purpose Pocket Computing Performance Metrics
Futuremark's PCMark for Android is an excellent suite of tests if you want to benchmark a wide range of tasks on any handset -- things like image and video editing, as well as lighter-duty, everyday workloads such as email and web browsing. When you see the test running live, it's clear the scripted application tests are carefully selected and tuned to make use of the each mobile platform in a very controlled way...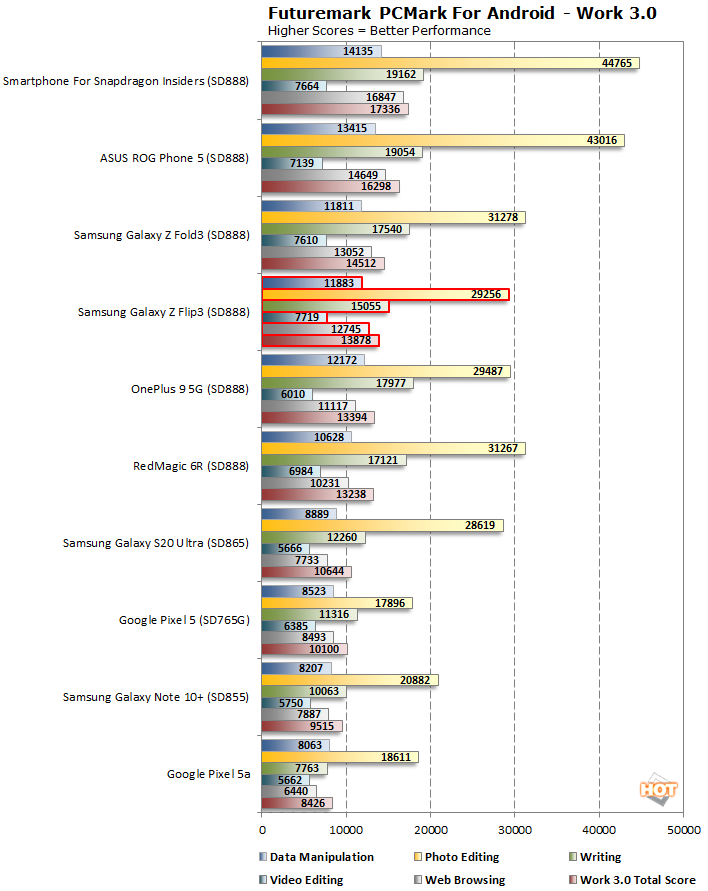 AnTuTu 8

Platform Benchmarks
AnTuTu's latest benchmark returns a number of metrics ranked with somewhat nebulous scores, rather than frame rates or time to complete. Here we're running the latest version of AnTuTu across multiple Android devices. AnTuTu returns four top level performance results which are all included here: CPU, RAM, 3D, UX (or User Experience), along with a total score...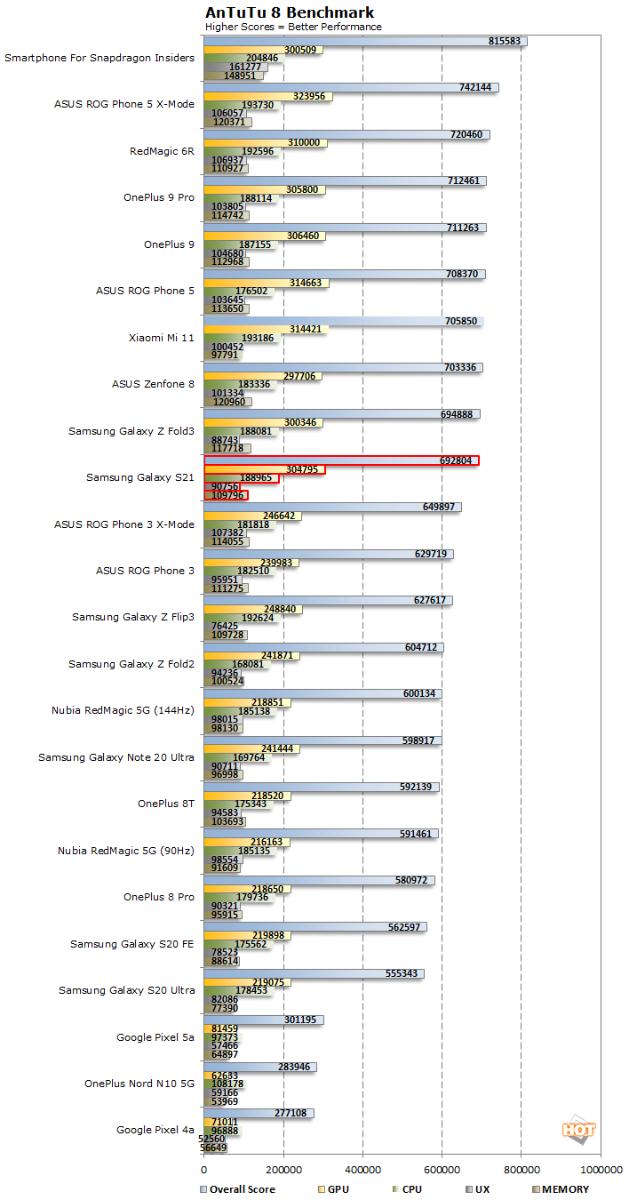 We saw more of the same in the AnTuTu benchmark. The Z Flip3 finishes about in the middle of the pack again here, but with scores mostly in-line with higher-end Snapdragon 888-based devices.
3D Graphics Benchmarks: GFXBench and 3DMark Sling Shot


Pushing The Pixels
Next we're running GFXBench, which has been one of the standard mobile graphics/gaming performance benchmarks for years. To ensure that display refresh (v-sync) and resolution aren't limiting factors, we're comparing off-screen test results here. GFXBench tests OpenGL ES graphics workloads and we're specifically testing OpenGL ES 2...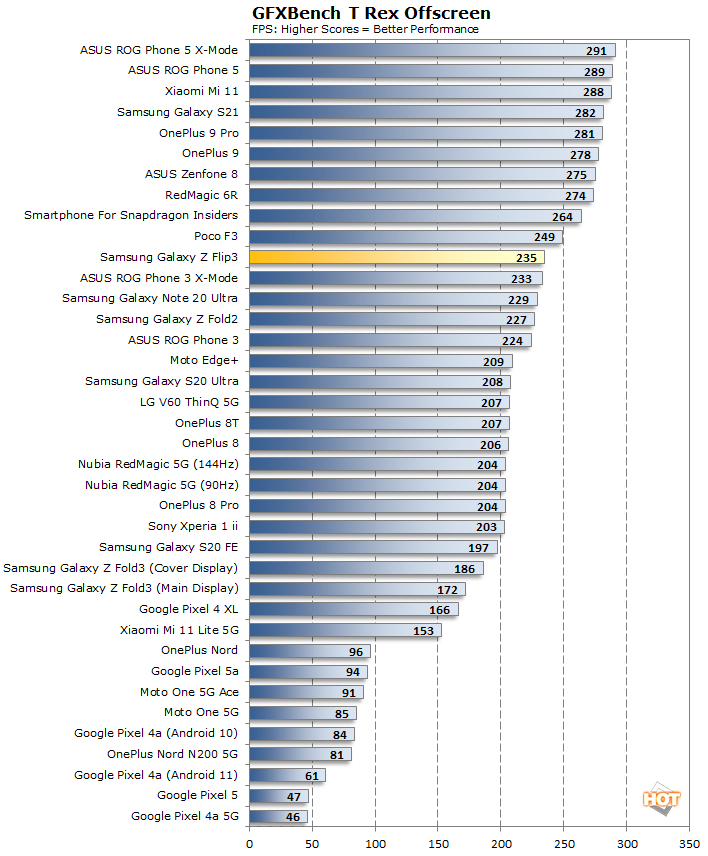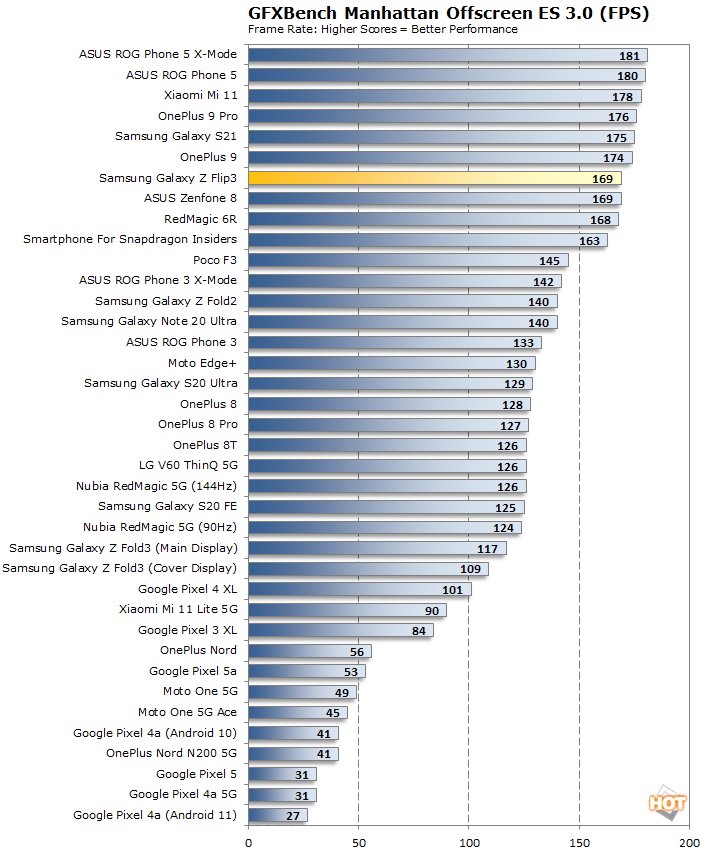 The Z Flip3 performs relatively well here, but finishes behind most of the other top-end devices by a few percentage points.
Futuremark's 3DMark Sling Shot is a newer benchmark module that's been added to the 3DMark mobile suite. Unlike previous gen 3DMark mobile tests, Sling Shot is a much more advanced OpenGL ES 3.1 and Metal API-based benchmark that employs more advanced rendering techniques, like volumetric lighting, particle illumination, multiple render targets, instanced rendering, uniform buffers and transform feedback.
3DMark Sling Shot Extreme Benchmark

We're running this test in off-screen mode once again to remove display resolution differences from the equation. This lets us compare cross-platform results more reliably.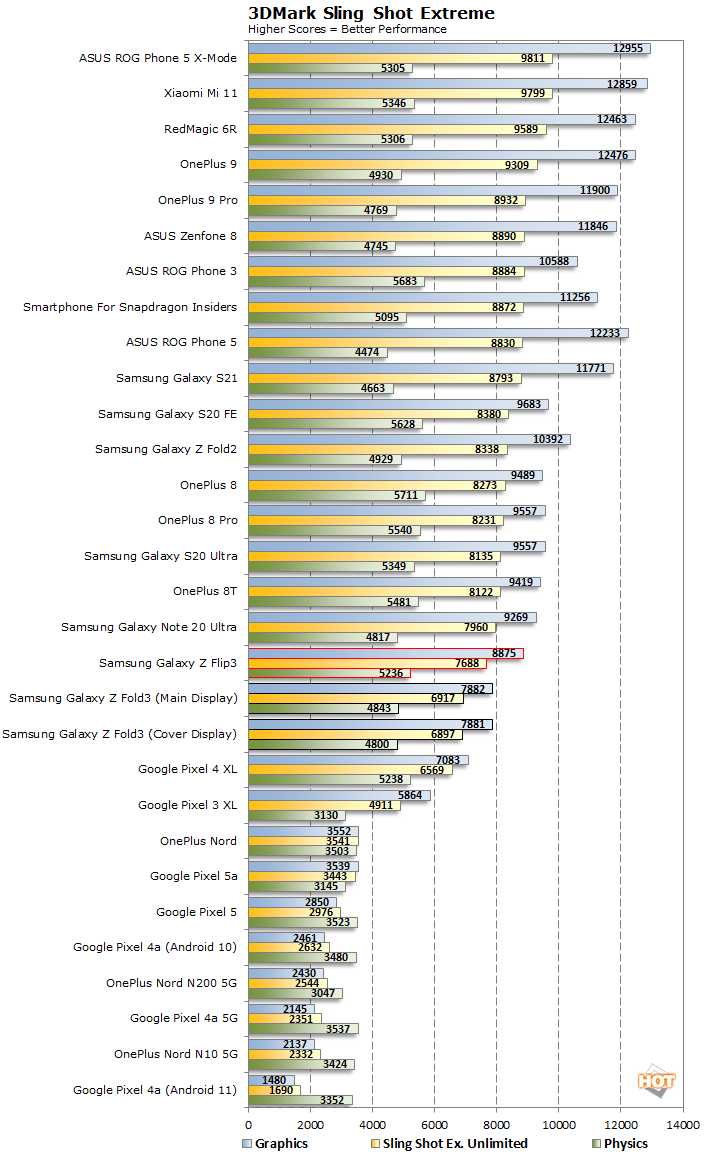 Strangely, the Z Flip3 performs below average here, with scores mostly in-line with higher-end
Snapdragon 865
-based devices.
3D Graphics Benchmarks: 3DMark Wild Life Stress Test

Keeping It Cool

3DMark Wild Life is the latest cross-platform test from UL. UL explains that WildLife is primarily tasked with measuring GPU performance across platforms, and two distinct tests are available. The standard WildLife test is designed to give feedback on how a game performs over a short period of time. With mobile games, people typically play in brief spurts when they find some free time; be it on the bus, on the subway, or a quick battle royale session on your lunch break. The 3DMark WildLife Stress Test, on the other hand, shows how a device performs over a longer stretch of time, and takes note of performance degradation that can crop up due to increased heat levels and throttling (which we'll get to a bit later).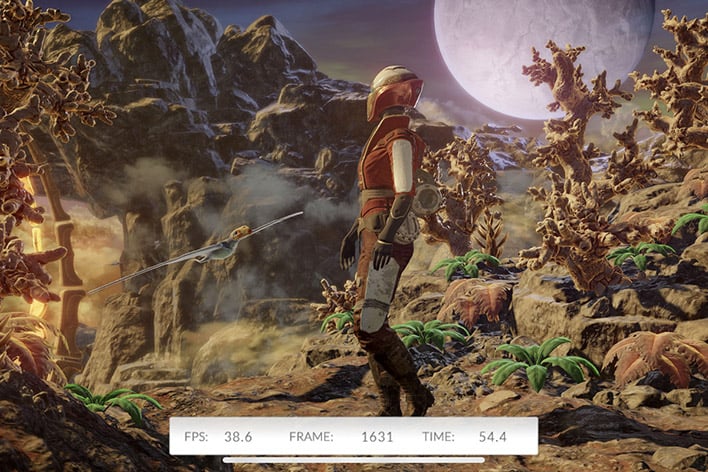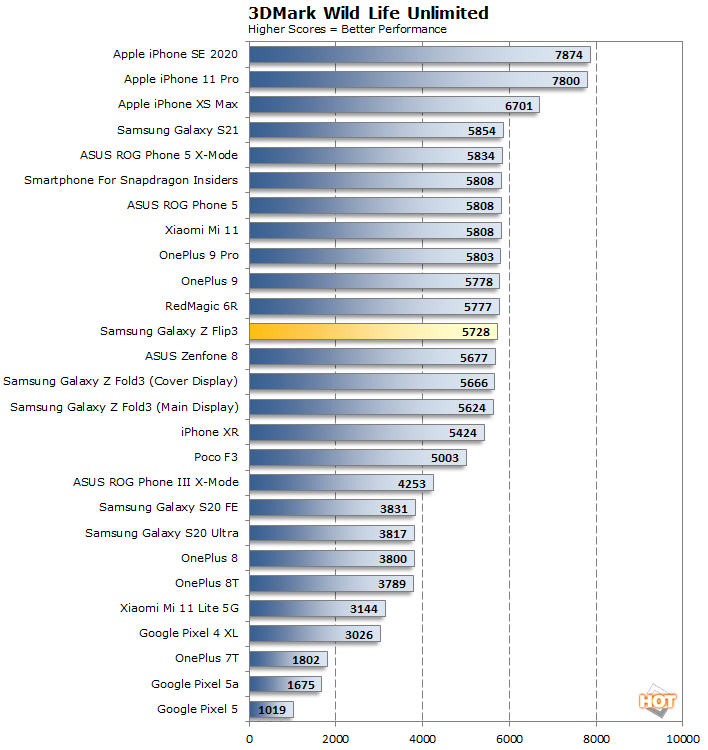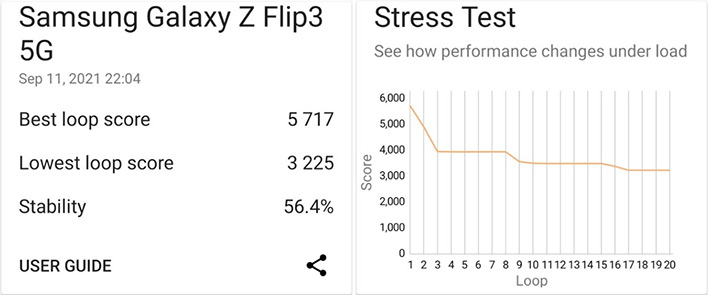 3DMark Wild Life is a significantly more taxing graphics benchmark that employs cutting-edge mobile game engine technologies to deliver impressive visuals -- as you can see in the screen shot above. Unfortunately, the Z Flip3 exhibits the same excessive throttling we experienced with the Galaxy S21, with a stability score of just 56.4%. As such, it's not an ideal smartphone for hard-core gamers.

Samsung Galaxy Z Flip3 Other Features and Battery Life
The rest of the Samsung Galaxy Z Flip3's specs are quite familiar, and include sub-6GHz and mmWave 5G (SA / NSA), CAT 20 LTE, dual-band WiFi 6 (802.11ax), Bluetooth 5.1 (LE), NFC, and dual-band A-GPS / GLONASS / GALILEO / BeiDou positioning. In addition, the Z Flip3 comes with the usual assortment of sensors, a quality vibration motor for superior haptics, and a side-mounted capacitive fingerprint sensor that's quick and reliable. Ditto for face unlock.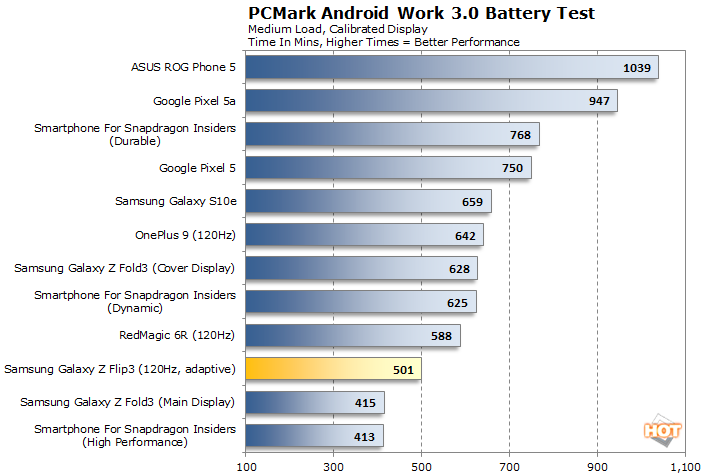 With twin cells split between the two halves of the phone, the Z Flip3's total battery capacity is only 3300mAh. That's rather low by today's flagship standards. But despite the specs, battery life held up reasonably well both in practice and in our PCMark battery test, which lasted 8 hours and 21 minutes at 120Hz (adaptive). As such, we're pretty confident this phone will last an entire day of regular use for most people.

On the charging front, the Z Flip3 maxes out at 15W (wired), which is abysmal for a flagship these days. Worse yet, there's no charger in the box. At least this handset supports 10W Qi-compatible wireless charging (with 4.5W reverse wireless charging).


Next up: the software, pricing, and the verdict...

Related content
Comments