OnePlus 8T Review: A Great 5G Phone In Search Of A Discount
OnePlus 8T: Audio Quality, Performance, And Battery Life
OnePlus 8T Audio, Data, And Call Reception
We tested the OnePlus 8T primarily on AT&T and T-Mobile's networks in San Francisco, and didn't experience any problems. Calls were loud and clear, and data speeds matched other devices on these networks. Despite the specs listing sub-6GHz
5G
bands n5 (850MHz) for AT&T, plus n71 (600MHz) and n41 (2.5GHz) for T-Mobile, the 8T only supports 5G on T-Mobile. AT&T and Verizon compatibility is limited to 4G LTE.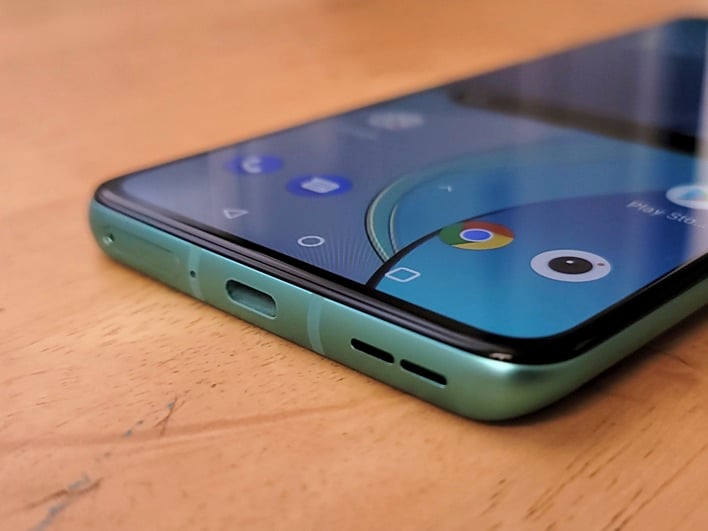 Obviously, there's no provision for mmWave 5G. Audio performance is excellent, thanks to stereo speakers (earpiece and bottom edge driver) that sound rich and full. We've heard better, but we're satisfied with this setup, and we think you will be too. Sadly, this phone lacks a headphone jack, but it works with both analog and digital USB Type-C devices and supports aptX HD and LDAC lossless audio over Bluetooth.

OnePlus 8T Performance
As you'd expect, the OnePlus 8T is a performance beast. But unlike last year's
OnePlus 7T
, which received the faster (at the time)
Snapdragon 855+
, the 8T didn't get a spec bump to the
Snapdragon 865+
. While this is slightly unexpected, it's not a deal breaker. This means the 8T packs the same
Snapdragon 865
as the
OnePlus 8
, along with Qualcomm's X55 5G modem, 12GB of LPDDR4X RAM, and 256GB of UFS 3.1 storage.
OnePlus also offers an 8/128GB version outside the US, but there's no microSD support, regardless of model. Between the flagship SoC, smooth 120Hz display, gobs of RAM, fast storage, and slick new build of Android 11 (OxygenOS 11), the 8T feels delightfully quick no matter what you're doing. It handled everything we threw at it without skipping a beat. Our benchmarks confirm this,
despite Android 11's notable performance drop
.
Geekbench 5

Synthetic CPU Benchmark
The latest version of Geekbench for Android has aligned its scores with the desktop version of Geekbench 5. Let's see how the OnePlus 8T fares versus some of its competitors...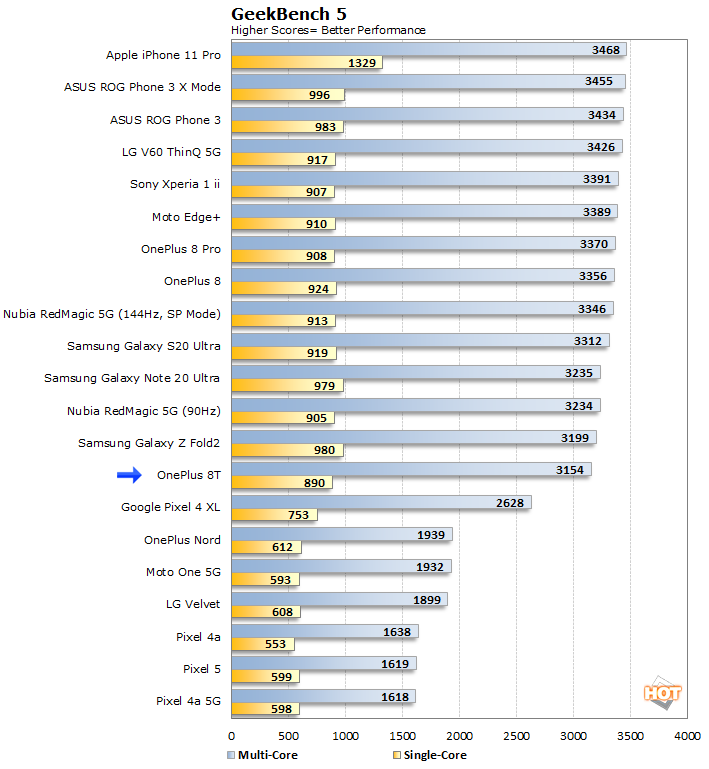 In these Geekbench 5 tests, the OnePlus 8T finishes in the middle of the pack. The
iPhone 11 Pro
still has the strongest single-core performance overall, but the 8T lags behind other Snapdragon 865-equipped Android 10 devices. You can get a good feel for the Android 11 performance drop by comparing the 8T results with the OnePlus 8 scores.
Futuremark PCMark For Android

General Purpose Pocket Computing Performance Metrics
Futuremark's PCMark for Android is an excellent suite of tests if you want to benchmark a wide range of tasks on any handset -- things like image and video editing, as well as lighter-duty, everyday workloads such as email and web browsing. When you see the test running live, it's clear the scripted application tests are carefully selected and tuned to make use of the each mobile platform in a very controlled way...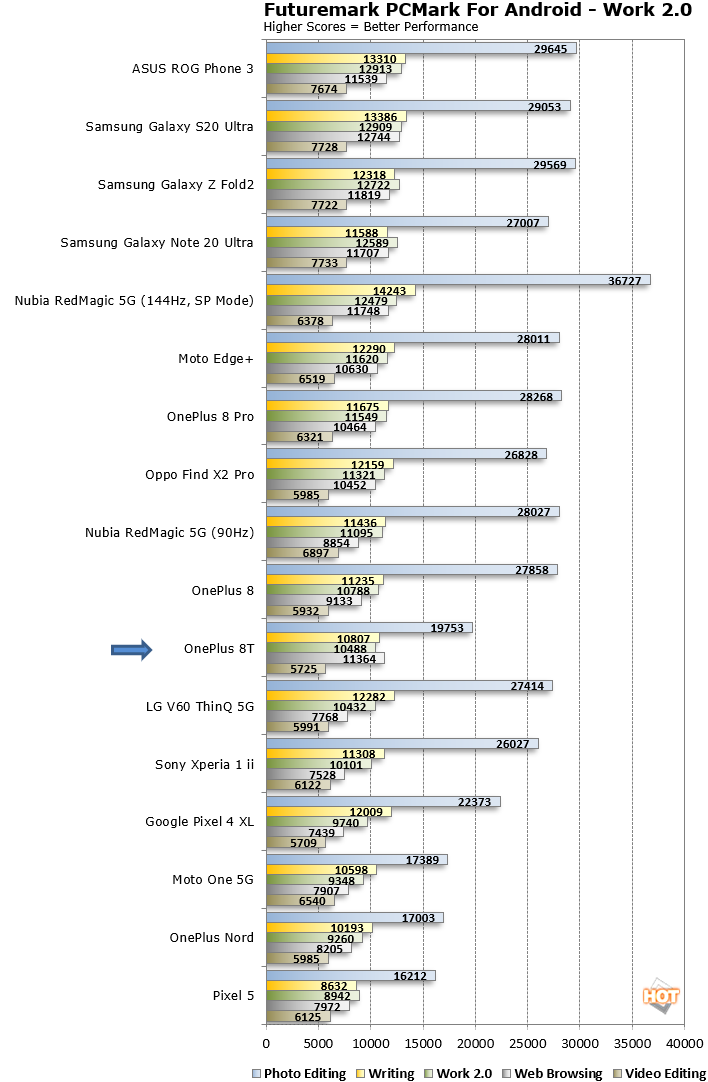 The OnePlus 8T scores between the
LG V60 ThinQ 5G
and the OnePlus 8. While the Snapdragon 865 powering this device offers strong all-around performance for the workloads used in PCMark for Android, there's room for improvement. The Photo Editing score in particular illustrates the
Android 11 performance drop
.
AnTuTu 8 And AITuTu

Platform Benchmarks
AnTuTu's latest benchmark returns a number of metrics ranked with somewhat nebulous scores, rather than frame rates or time to complete. Here we're running the latest version of AnTuTu across an multiple Android devices. AnTuTu returns four top level performance results which are all included here: CPU, RAM, 3D, UX (or User Experience), along with a total score...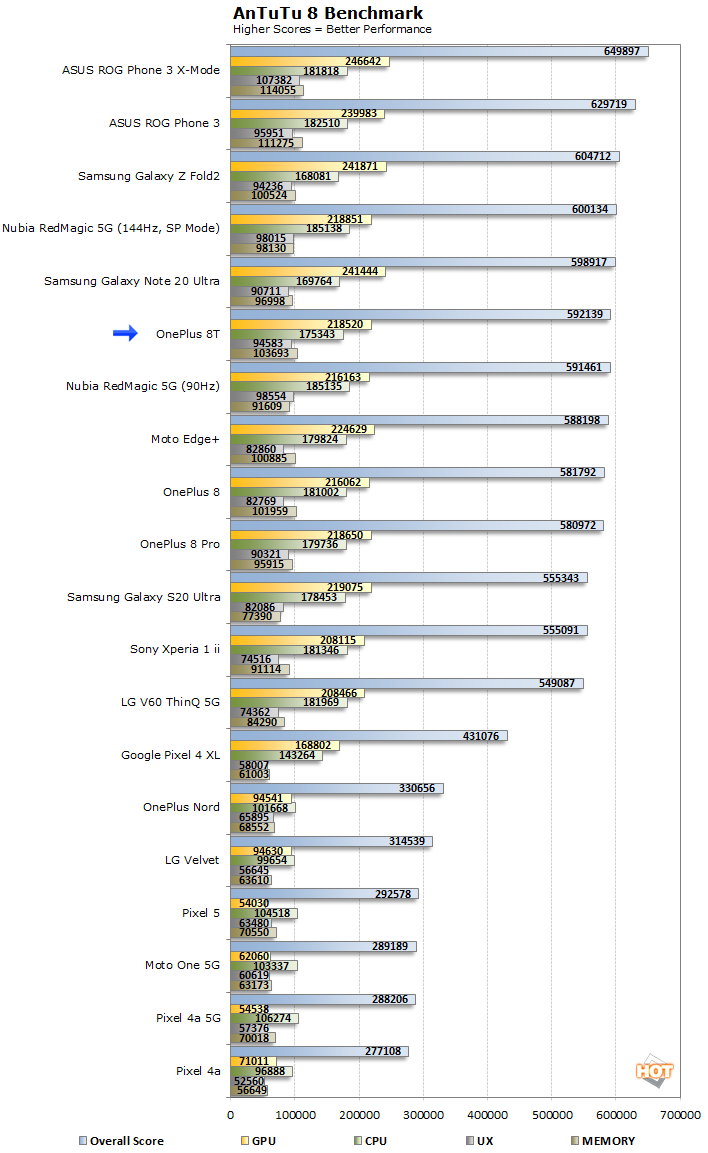 The effects of the Android 11 performance drop is less noticeable in the AnTuTu benchmark. Here, the OnePlus 8T comes in second after
Samsung's Galaxy Note 20 Ultra
and climbs near the top of the charts -- leaving the OnePlus 8 behind.
Normally we have an AiTuTu result here.
AITuTu evaluates the AI performance of a device by leveraging two mainstream neural network models for machine learning and
AI
--
Inception v3
for Image Classification and
MobileNet-SSD
for Object Detection. The benchmark determines the device's accuracy and speed when inferring data from each workload...
Unfortunately, while we were able to start AITuTu on the OnePlus 8T, it just kept hanging while loading just before starting the image classification test. The 8T remained responsive, but AITuTu never completed. We tried both the latest APK from AnTuTu and an older known working APK without luck.
3D Graphics Benchmarks: 3DMark And GFX Bench

Pushing The Pixels
Next we're checking how the OnePlus 8T compares in GFXBench, which has been one of the standard mobile graphics/gaming performance benchmarks for years. To ensure that display refresh (v-sync) and resolution aren't limiting factors, we're comparing off-screen test results here. GFXBench tests OpenGL ES graphics workloads and we're specifically testing OpenGL ES 3.0 and 2.0...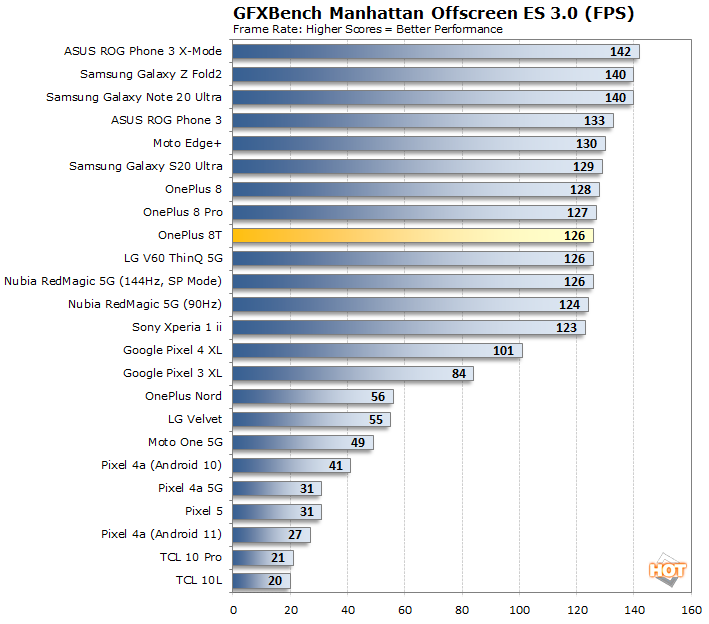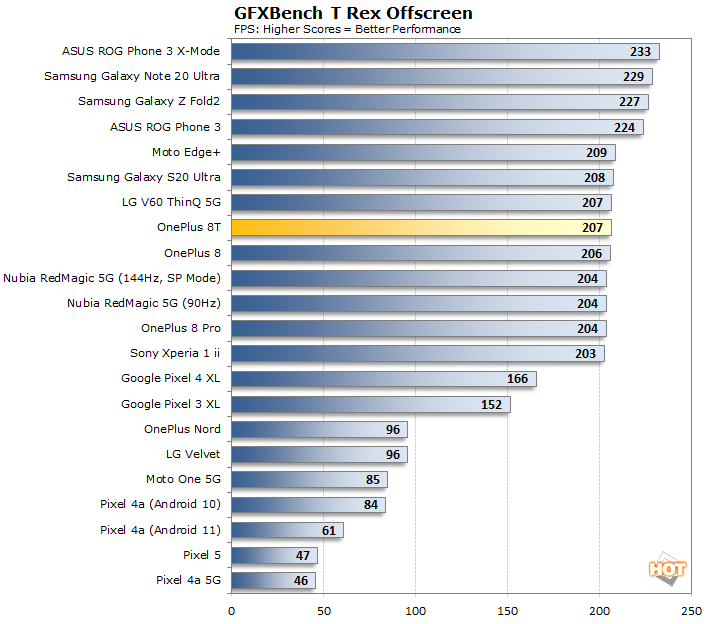 Graphics performance is a clear strong suit for the Snapdragon 865 mobile platform. Here, the OnePlus 8T lands just below
Samsung's Galaxy S20 Ultra
, and very close to the OnePlus 8. The Android 11 performance drop isn't as obvious here.
Futuremark's 3DMark Sling Shot is a newer benchmark module that's been added to the
3DMark
mobile suite. Unlike previous gen 3DMark mobile tests, Sling Shot is a much more advanced OpenGL ES 3.1 and Metal API-based benchmark that employs more advanced rendering techniques, like volumetric lighting, particle illumination, multiple render targets, instanced rendering, uniform buffers and transform feedback.
Futuremark 3DMark Sling Shot Extreme Benchmark

We're running this test in off-screen mode once again to remove display resolution differences from the equation. This lets us compare cross-platform results more reliably...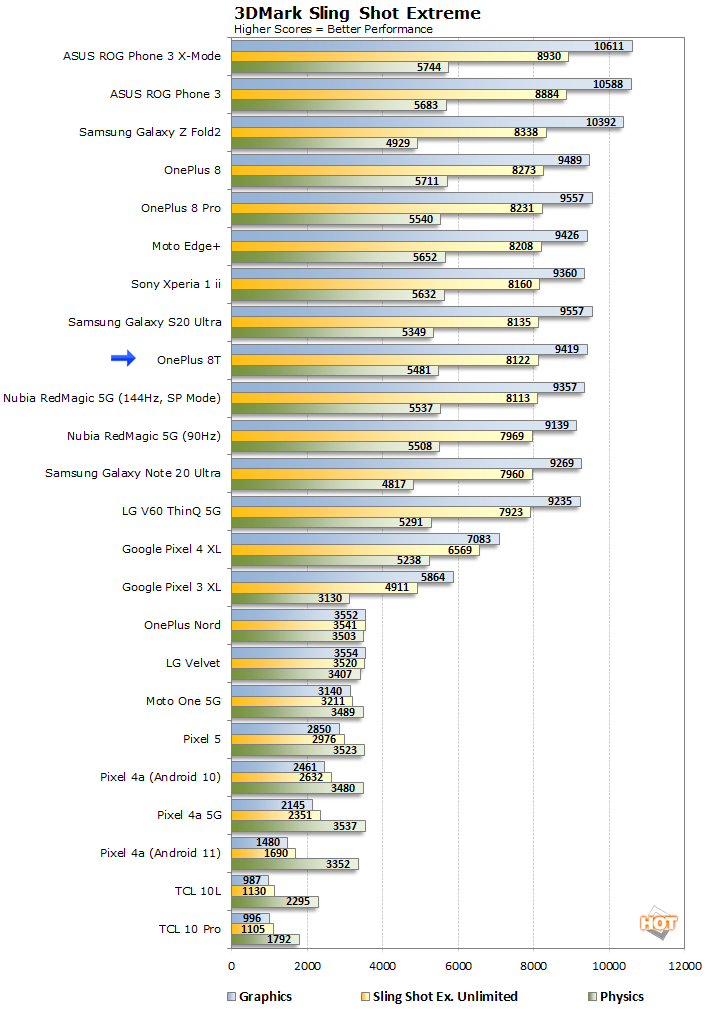 The OnePlust 8T also performed well in these 3DMark tests. There's still a small gap between the 8T and the OnePlus 8 -- likely a result of the Android 11 performance drop.

OnePlus 8T Other Features And Battery Life
In terms of specs, the OnePlus 8T matches the
OnePlus 8
. This includes WiFi 6 (802.11ax), Bluetooth 5.1 (with LE), NFC, and A-GPS / GLONASS / Galileo / Beidou positioning, plus the standard assortment of sensors (accelerometer, compass, gyroscope, ambient light, proximity, and barometer). Haptics are great, thanks to a high-quality linear motor, and the optical in-display fingerprint sensor is one of the quickest and most reliable we've used.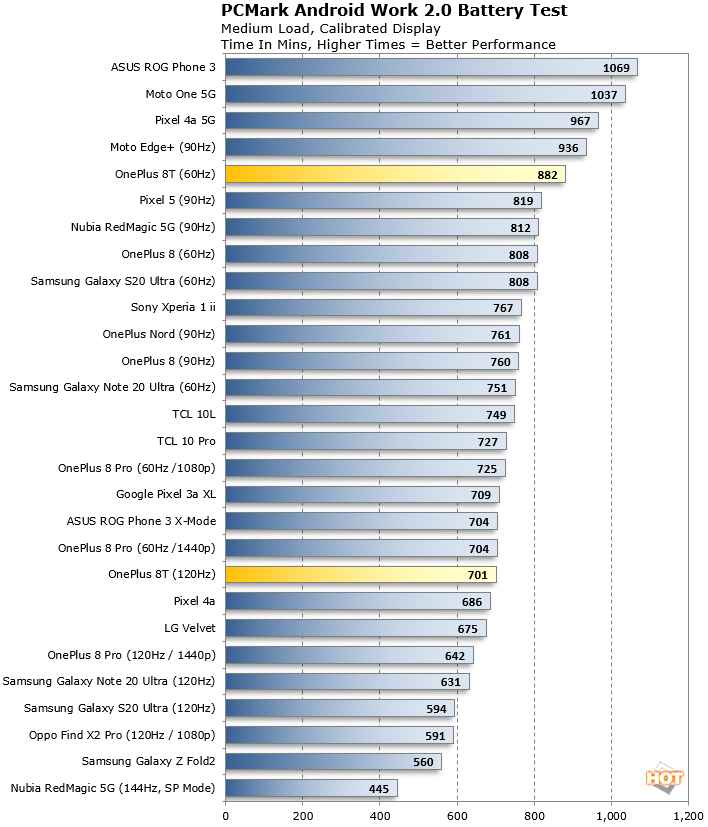 Battery life is pretty solid. In our PCMark test, the 4500mAh battery lasted 11 hours and 41 minutes at 120Hz, so we're confident most people won't have any issues using this handset for a full day. Also, dropping refresh rate down will deliver major gains in battery life as well (as you can see in the graph above). The OnePlus 8T supports 65W fast charging (and 27W via USB PD). It achieves this by charging two identical 2250mAh cells in parallel at 10V and 6.5A. As a bonus, the supplied charger also fast charges USB PD devices (up to 45W).
Next up: the software, pricing, and our review verdict...

Related content
Comments