Moto One 5G Review: Killer Battery Life, Lackluster Cameras
Moto One 5G: Software, Pricing, And Final Verdict
Moto One 5G Software And User Experience
Like the company's other recent phones, the Moto One 5G runs an almost stock build of
Android 10
with a few helpful features layered on top. There's no annoying skin or useless clutter here -- just a clean and responsive user experience. Everything is how it's meant to be, from the launcher to the recent apps to the settings. Frankly, it's a breath of fresh air. Other handset manufacturers take note.
Moto's simple clock/weather/fitness widget is still one of our favorite tweaks. Then there's Moto Actions, a set of gestures that let you control the One 5G. You can toggle the flashlight on and off with a double hand chop, launch the camera with a double wrist twist, silence the One 5G by flipping it over, or take a screenshot with a three-finger swipe. There's even a fancy screenshot editor that supports auto-scrolling.

Next, you'll find Moto Display, a series of features which streamline how you interact with the One 5G. There are settings to keep the screen on while you're looking at it, and to show the date, time, weather, and notifications when you tap on the screen. Since the One 5G has an LTPS panel, there's no always on display, so this helps. Most of these notifications are even actionable, right there on the lock screen.

Finally, there's Power touch, which lets you double tap the side-mounted fingerprint sensor to bring up a set of app or contact icons of your choice (up to 6) -- similar to the Edge Panel on the Samsung Galaxy handsets. Moto Gametime is present here as well. It's basically a feature rich game mode which lets you block notifications or calls while playing a game, and even lock the display brightness.

The only thing spoiling this great user experience is the mountain of bloatware that Moto allowed AT&T to pre-install on the One 5G. We stopped counting after uninstalling or disabling a couple dozen apps -- from AT&T's useless cloud services, to travel and shopping apps, to video and music services, to questionable games. It's just egregious, and we're going to keep calling manufacturers and carriers out on this: just stop.

Moto One 5G Pricing And Competition
You can buy the Moto One 5G (4GB / 128GB) from Motorola or AT&T in Oxford Blue for $445 -- locked to AT&T, obviously. We don't have any pricing and availability for Verizon's model, but we'll keep you posted. A slightly detuned version of the One 5G is available from T-Mobile as the
REVVL 5G ($400)
. It features a smaller 6.53-inch 60Hz display and smaller 4500mAh battery, lacks the ultrawide selfie camera and ring light, but packs 6GB of RAM.
There's no doubt that $445 for the One 5G is a fantastic value. But here's the thing: Moto just dropped the price of the Edge from $700 to $500. For $55 more, you get a premium metal and glass design, a nicer 90Hz OLED screen, a slightly quicker Snapdragon 765G, more RAM (6GB), and marginally better shooters. And while the Edge lacks the ultrawide selfie camera, and uses a smaller 4500mAh battery, it's unlocked.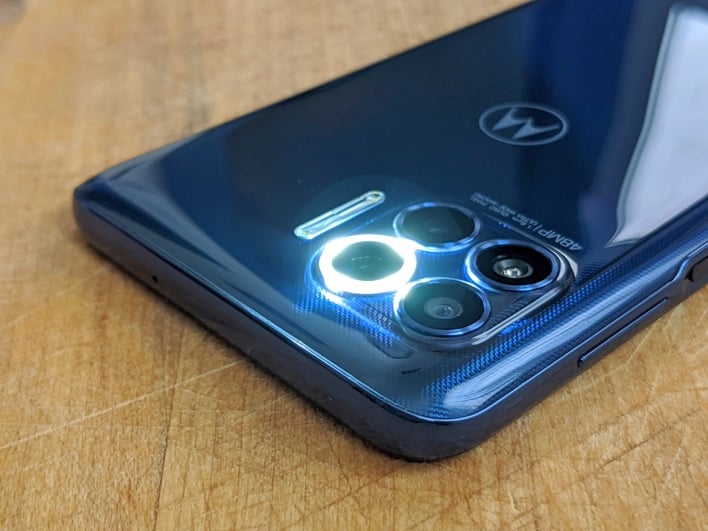 In Europe, you can purchase the Moto G 5G Plus, which is identical to the One 5G except that it lacks the ring light, and comes in 4GB / 64GB (£300) or 6GB / 128GB (€380) versions. But honestly, if you're abroad, consider the
OnePlus Nord
(€399) instead -- it's a much better phone. Not to mention, Google's Pixel 4a 5G is right around the corner and is expected to offer similar specs to the One 5G with significantly better shooters for about $500.
Here in the US, Samsung's just lowered the price of the Exynos 980-powered Galaxy A51 5G from $500 to just $325, and it's available unlocked and from most carriers. And if you can live without 5G, but want a superior camera system, there's always the wonderful
Pixel 4a ($349)
. Finally, don't forget to consider last year's excellent
OnePlus 7 Pro ($500)
, which lacks 5G but beats the Moto One 5G in every other possible way.
Moto One 5G Final Verdict
For just $445, the Moto One 5G is a good phone with solid specs. Between the 90Hz 21:9 screen, Snapdragon 765, fantastic battery life, headphone jack, and polished user experience, it cranks the value dial up to eleven. The One 5G doesn't exist in a vacuum, though. There are other sub-$500 handsets with 5G out there, and more on the way.
We'd praise Moto and AT&T for making 5G accessible if the One 5G didn't cut so many corners. The plastic build can be forgiven, but 4GB of RAM just isn't enough for a mid-ranger in 2020. And while including six cameras looks good on paper, we'd much prefer three competent shooters and a pair of stereo speakers. Plus, it's really hard to recommend a phone that isn't available unlocked and comes with a mountain of bloatware. Of course, it's quite possible we'll see the One 5G on sale down the line, but that's just speculation at this point.
Regardless, the solution is simple. Moto needs to make the One 5G available unlocked for less, and tweak those disappointing cameras in a future software update. Until then, save your money, check out the more premium Moto Edge (currently $500), consider Samsung's Galaxy A51 5G (only $325 currently), wait for Google's
Pixel 4a 5G
, or grab the
OnePlus Nord
when it finally comes to the US -- hopefully unchanged.
90Hz 21:9 display


Headphone jack


Great user experience

Plastic build


Just 4GB RAM


Mono speaker

All the bloatware


Carrier locked
Related content