LG Wing Review: A Solid 5G Phone With A Wild Twist
LG Wing: Software User Experience, Pricing And Review Summary
At the risk of sounding like a broken record, LG's software needs a major redesign. The LG Wing runs the company's UX 9.0 skin on top of
Android 10
, and while it's generally functional and reasonably quick, it looks and feels pretty dated at this point. Then again, we're big fans of stock or thinly-skinned Android, so perhaps we're more picky. What we really wanted to focus on here, however, is the swivel action and the Wing's various T-shaped modalities.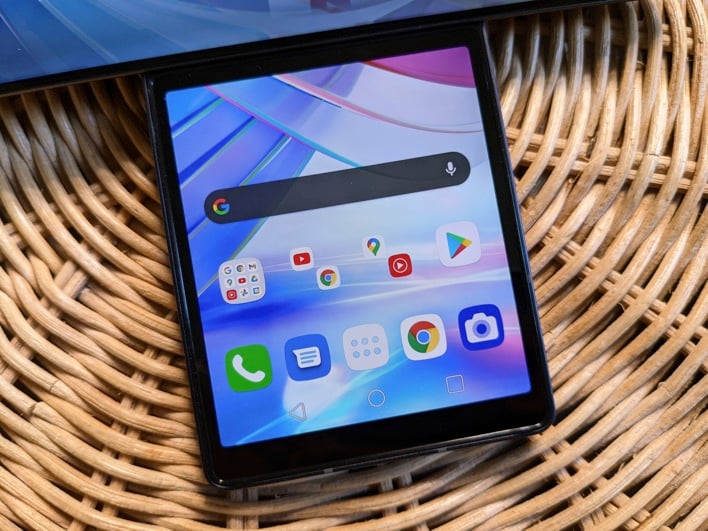 Basically, the Wing can be used in two ways: normal mode, where it behaves just like any other handset, and swivel mode, where it transforms into a T-shaped device after deploying the main screen. In swivel mode, there are three further modalities: basic T, inverted T, and sideways T. For example, the aforementioned gimbal mode uses the basic T configuration with the camera app split between both displays.
This also applies to browsing the photo gallery and playing back / editing video from within the camera app. At the time of publication here, only a few apps run on both displays at the same time -- namely Asphalt 9: Legends, Ficto, Naver Whale, Rave, and Tubi. These three T-shaped modalities also let you run two separate apps simultaneously, though apps have to be whitelisted to run on the secondary screen.

When you swing the Wing open, you get an app carousel on top (main screen) and the usual LG launcher below (half display). Each screen has its own notification shade / quick settings and app drawer (accessed by swiping down and up, respectively) and supports navigation gestures or navigation buttons. Responding to a notification or launching an app always happens on the matching display.
LG makes it easy to launch apps in pairs with Multi App Shortcuts. For example, you can launch YouTube on top and Messages below (secondary screen) in a basic T configuration, or Maps on the left (primary display in portrait mode) and Spotify on the right in a sideways T. Asphalt 9: Legends supports an inverted T layout with the track map on top (half screen) and the game itself below. The possibilities are endless, actually.

Another inverted T scenario is with Messages -- or any app requiring text input -- on top (secondary display), and the LG keyboard below in landscape mode. Finally, in the basic T modality, you can run any landscape app on top (main screen), and either use the second display as a virtual trackpad, or lock it out completely (turning it into a grip). It's all very clever and fun -- if rather gimmicky.
Like with other Verizon phones, the Wing is hampered by a mountain of bloatware out of the box. Beyond LG and Google's usual apps, you'll find seven Verizon apps, four Yahoo! apps, six games (including Asphalt 9: Legends), Amazon Shopping, Apple Music, Disney+, Netflix, News Break, Pluto TV, Uber Eats, and WeatherBug. Most of these apps can't be uninstalled, and some can't even be disabled. It's bad, however, you do get some quality software in the mix, like Asphalt 9: Legends.
LG Wing Pricing And Competition
The
LG Wing
(256GB) is available in Aurora Gray for $999 on Verizon and $1049 on AT&T. You can also get it (also 256GB) in Aurora Gray or Illusion Sky for $999 on T-Mobile. While that's a lot of money for a premium handset with mid-range specs that's carrier locked, you're really paying for the wow factor here. And with Black Friday just in our rear view, chances are you'll be able to find a great deal.
Ultimately though, the Wing doesn't have any competition. The
$2000 Samsung Galaxy Z Fold 2
and -- when optioned with the dual-screen case -- the
$600+ LG Velvet
or
$700+ LG V60 ThinQ 5G
are the only phones available today that offer similar display real estate, albeit with a completely different user experience, and without the awesome gimbal mode. So yes, the LG Wing is indeed a very unique proposition.
LG Wing Review Summary And Final Thoughts
It's clear most consumers don't
need
the LG Wing in their lives -- and some folks probably shouldn't buy it -- but man, you're really going
want
it. And that's alright. If you change phones often enough, then by all means, indulge yourself and purchase the Wing. It's super cool and innovative. One month in, and we still can't put it down. If you're more pragmatic and on more of a budget, spend your money on a
Pixel 4a 5G
or
OnePlus 8T
.
In the end, beyond the swivel design and matching $1000 price tag, this is a solid handset. You're getting lovely displays, nice cameras, worthy performance, and excellent battery life. Sure, LG's software skin could use updating, and the mono speaker is disappointing, but these aren't deal breakers. What's important here is that LG took a chance and made a truly special device. And we can't wait to see what the
Explorer Project
delivers next.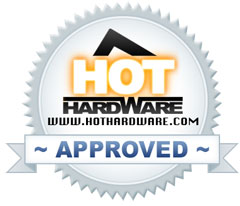 Incredible wow factor

Beautiful screens

Decent cameras

Awesome gimbal mode


Excellent battery life

Wireless charging


All the bloatware


Related content
Comments