LG Wing Review: A Solid 5G Phone With A Wild Twist
LG Wing: Audio Quality, 5G, Performance Benchmarks And Battery Life
We tested the LG Wing on Verizon's 4G LTE and mmWave
5G
networks in and around San Francisco, and didn't experience any issues. Calls sounded loud and clear, and 4G LTE data speeds matched other phones on the same network. Despite Verizon's claims (
see online map
), we didn't see any sub-6GHz 5G (band n5, 850MHz) in our area (Potrero Hill), but we did find mmWave 5G close by (Mission Bay).


And yeah, it's crazy fast -- as long as you're standing outdoors within line-of-sight (about 750 feet) of a cell site, that is. While the Wing checks every box when it comes to 5G networking, it lacks stereo speakers or a headphone jack. The mono speaker sounds decent enough, but doesn't really stand out. At least there's support for digital audio devices via USB Type-C, plus aptX HD lossless audio over Bluetooth.

LG Wing Performance
When it comes to performance, the LG Wing closely matches the
LG Velvet
, and you can see this in our benchmarks. This makes sense, since both devices use Qualcomm's
Snapdragon 765G
SoC. Here, it's paired with 8GB RAM and 256GB of UFS 2.1 storage (128GB in some markets), plus microSD support up to 2TB. Basically, it's as quick as other Snapdragon 765G phones we've reviewed, with the exception of the
OnePlus Nord
.
The Wing handled our usual suite of productivity apps without breaking a sweat. But while it's responsive enough, there's room for improvement -- the 60Hz refresh rate certainly doesn't feel as smooth as the 90/120Hz competition. Some of LG's animations are slow, especially when deploying or stowing the main screen. Overall though, we have no complaints. This handset is speedy enough to satisfy most people.
Geekbench 5

Synthetic CPU Benchmark
The latest version of Geekbench for Android has aligned its scores with the desktop version of Geekbench 5. Let's see how the LG Wing fares versus some of its competitors...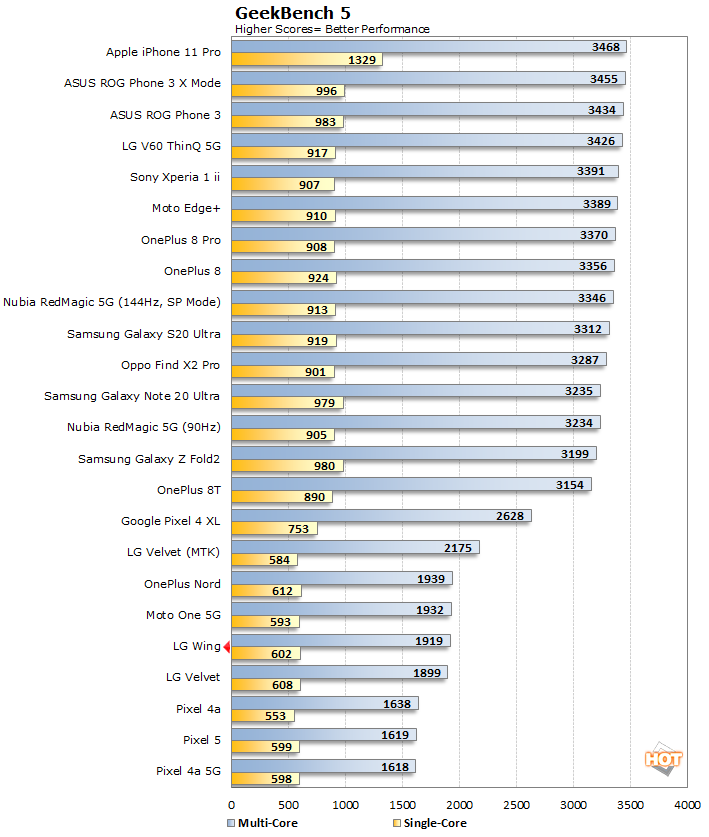 In these Geekbench 5 tests, the Wing finishes in the lower third.
The iPhone 11 Pro
still has the strongest single-core performance overall, but the Wing hangs with other Snapdragon 765G-equipped devices like the original OnePlus Nord and LG Velvet.
Futuremark PCMark For Android

General Purpose Pocket Computing Performance Metrics
Futuremark's PCMark for Android is an excellent suite of tests if you want to benchmark a wide range of tasks on any handset -- things like image and video editing, as well as lighter-duty, everyday workloads such as email and web browsing. When you see the test running live, it's clear the scripted application tests are carefully selected and tuned to make use of the each mobile platform in a very controlled way...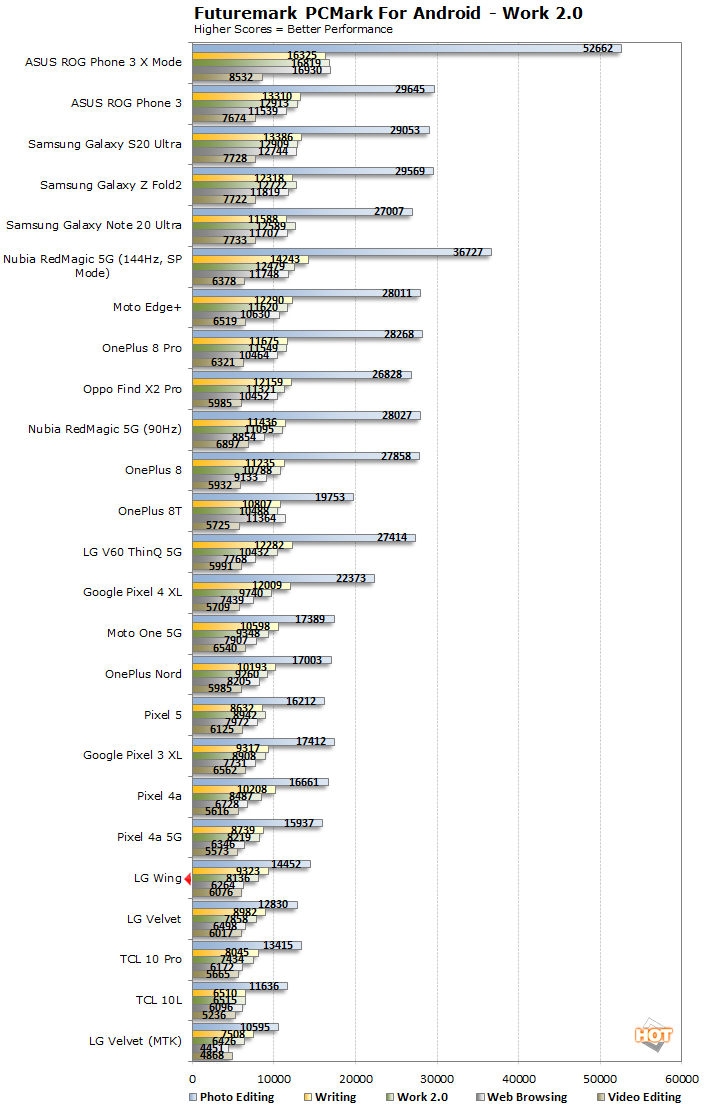 We were expecting the Wing to score close to the OnePlus Nord, but for some reason -- and like the Velvet -- it scores just below the Snapdragon 730G-equipped
Pixel 4a
. While the Snapdragon 765G powering the Wing clearly doesn't match the performance of current flagships for the workloads used in PCMark for Android, these results are still respectable.
AnTuTu 8 And AITuTu

Platform Benchmarks
AnTuTu's latest benchmark returns a number of metrics ranked with somewhat nebulous scores, rather than frame rates or time to complete. Here we're running the latest version of AnTuTu across an multiple Android devices. AnTuTu returns four top level performance results which are all included here: CPU, RAM, 3D, UX (or User Experience), along with a total score...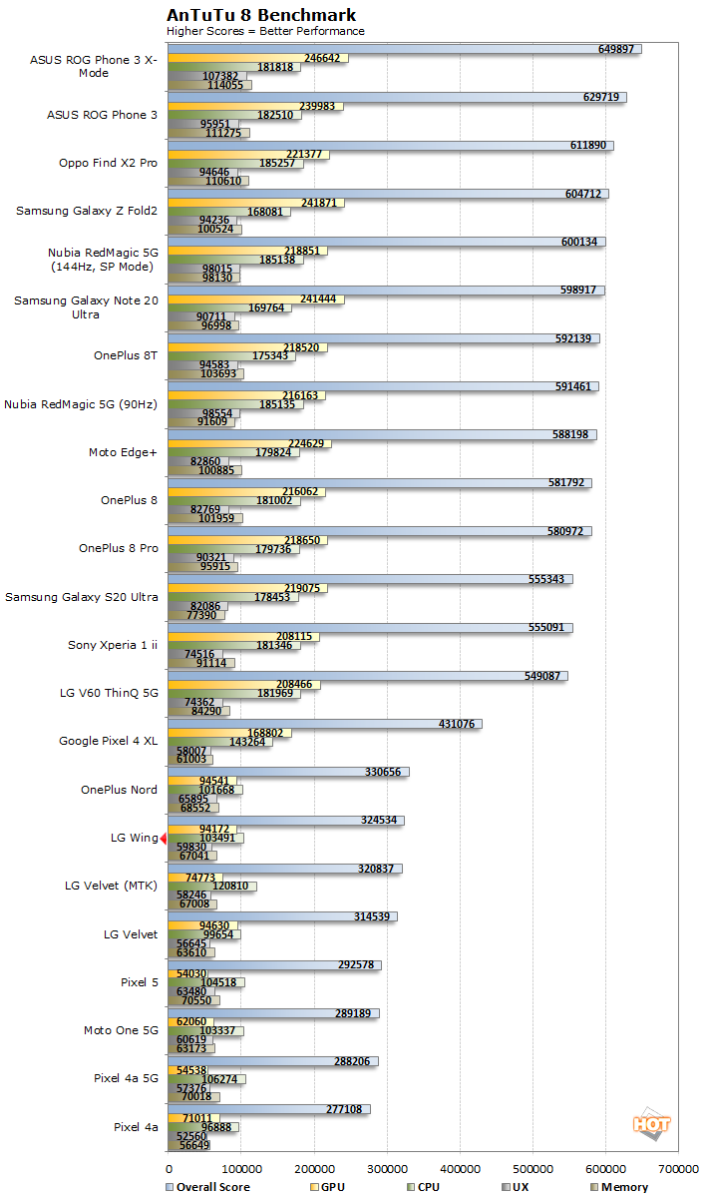 The Wing did better with the AnTuTu benchmark. Here, it slots right in-between the Pixel 5 and Velvet and the Snapdragon 765G-equipped OnePlus Nord.
AITuTu evaluates the AI performance of a device by leveraging two mainstream neural network models for machine learning and
AI
--
Inception v3
for Image Classification and
MobileNet-SSD
for Object Detection. The benchmark determines the device's accuracy and speed when inferring data from each workload...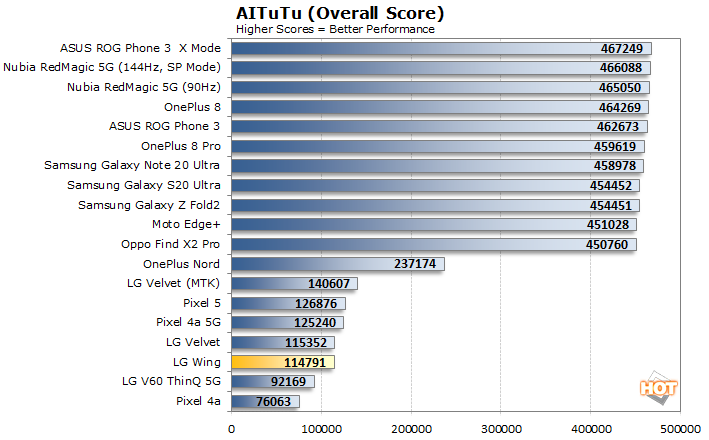 LG has clearly done a decent job optimizing AI workloads on the Snapdragon 765G. In AiTuTu, the Wing actually scores better than the Snapdragon 865-equipped
LG V60
. Strangely, that's less than half what the OnePlus Nord scores. LG likely hasn't implemented the necessary libraries to fully accelerate the workloads in AITuTu in dedicated hardware.
3D Graphics Benchmarks: 3DMark And GFX Bench

Pushing The Pixels
Next we're checking how the Wing compares in GFXBench, which has been one of the standard mobile graphics/gaming performance benchmarks for years. To ensure that display refresh (v-sync) and resolution aren't limiting factors, we're comparing off-screen test results here. GFXBench tests OpenGL ES graphics workloads and we're specifically testing OpenGL ES 3.0 and 2.0...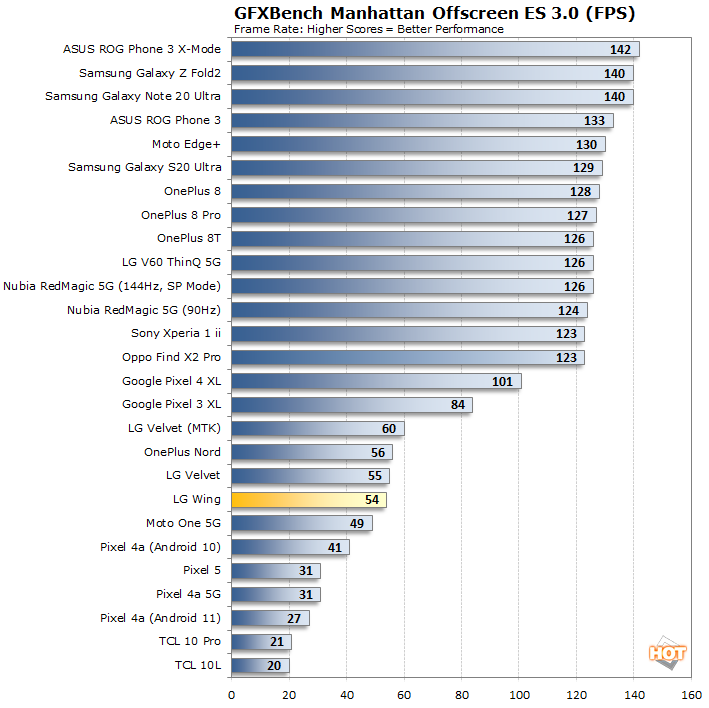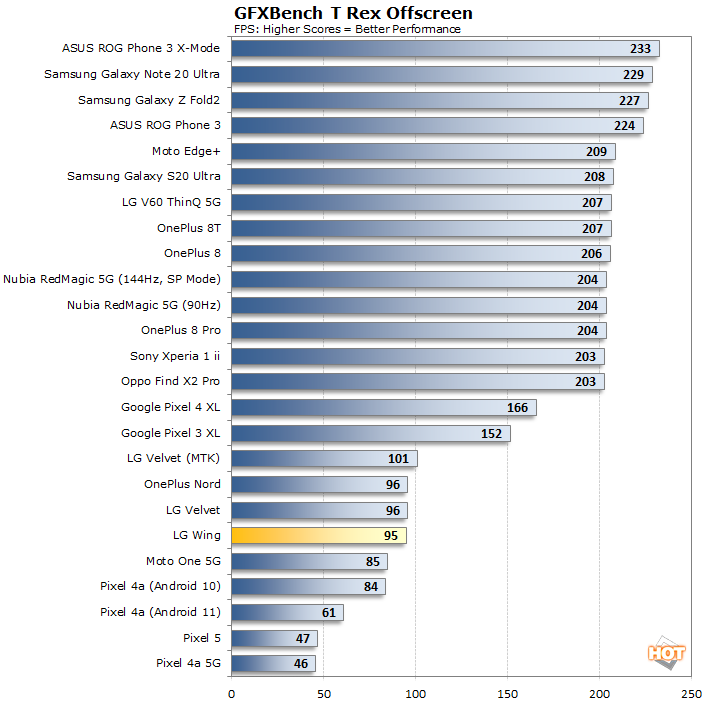 Graphics performance clearly isn't the Snapdragon 765G's strongest suit. Here, the Wing's scores are almost identical to the OnePlus Nord's and consistently slightly less than half the scores of current flagships.
Futuremark's 3DMark Sling Shot is a newer benchmark module that's been added to the
3DMark
mobile suite. Unlike previous gen 3DMark mobile tests, Sling Shot is a much more advanced OpenGL ES 3.1 and Metal API-based benchmark that employs more advanced rendering techniques, like volumetric lighting, particle illumination, multiple render targets, instanced rendering, uniform buffers and transform feedback.
Futuremark 3DMark Sling Shot Extreme Benchmark

We're running this test in off-screen mode once again to remove display resolution differences from the equation. This lets us compare cross-platform results more reliably...
Like the OnePlus Nord, the Wing also performed worse than current flagships in these 3DMark tests. It scored about half what the Snapdragon 855-equipped
Pixel 4 XL
scored, but still 1.3x better than the Snapdragon 730G-equipped Pixel 4a.
LG Wing Other Features And Battery Life
Other specs include CAT 18 LTE, WiFi 5 (802.11ac), Bluetooth 5.1 (LE), NFC, and dual-band A-GPS/ GLONASS / Galileo / BDS, plus the standard roster of sensors (proximity, ambient light, accelerometer, gyroscope, compass, and barometer). Haptics are pretty good, but we doubt LG is using a linear vibration motor here. The optical in-display fingerprint sensor is fast and reliable, but the Wing lacks face unlock.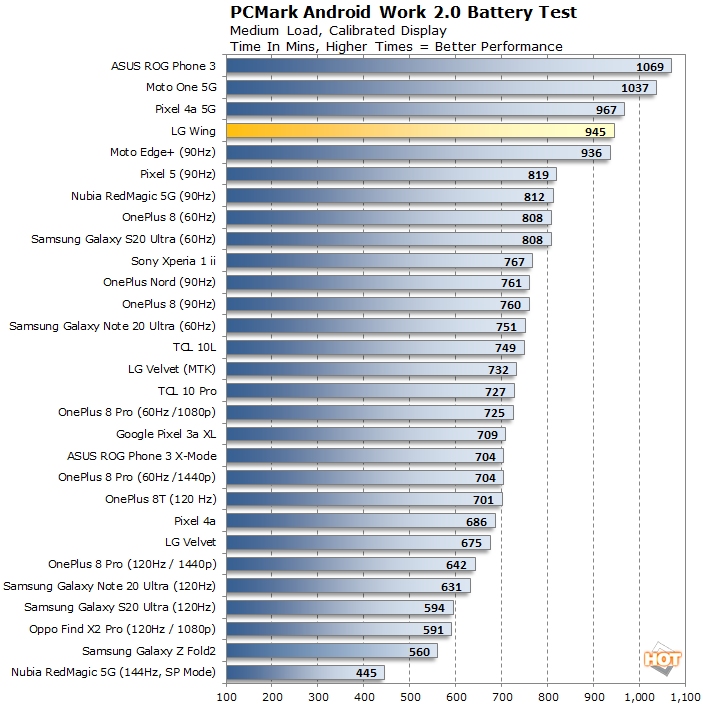 Battery life is fantastic. The Wing lasted 15 hours and 45 minutes in our PCMark battery test, which is truly impressive for a 4000mAh cell. Obviously the
Snapdragon 765G
is very efficient, and the 60Hz refresh rate also helps. When you're ready to fill up, the Wing supports fast charging up to 25W (Quick Charge 4.0+ and PD 2.0) and Qi-compatible wireless charging. It ships with a 25W charger in the box.
Next up: the software, pricing, and our review verdict...

Related content
Comments