Lenovo ThinkPad X1 Extreme Gen 2 Review: Powerful Portability
Lenovo ThinkPad X1 Extreme: Summary and Conclusion
Performance Summary:
From start to finish, the ThinkPad X1 Extreme is a solid laptop with more than enough grunt to get some serious work done. Once all that work is out of the way, there's even enough power to get in a bit of gaming, too. This system's
Core i7-9750H
landed right where it should on our benchmark charts, nestled half-way between the Core i7-8665U in the diminutive
ThinkPad X1 Carbon
and the eight-core behemoth in Dell's bigger and faster 2019 XPS 15. While the ThinkPad X1 Extreme didn't top our charts, perhaps it wasn't intended to either, with its lighter chassis and better overall portability.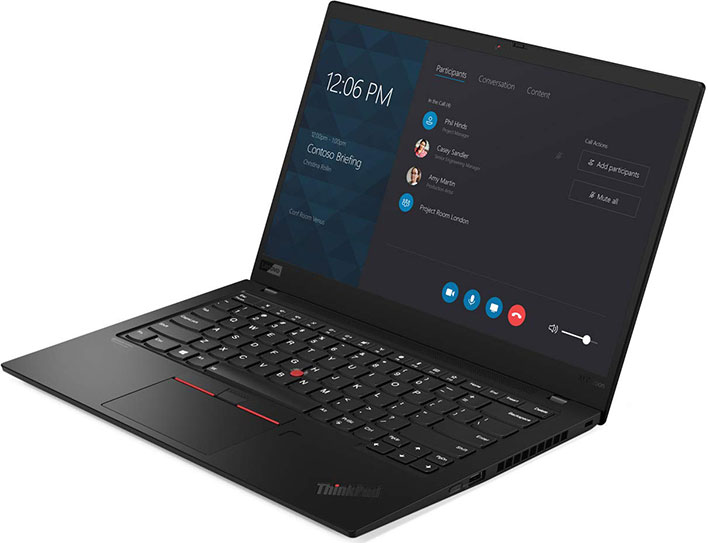 When it comes to graphics performance, the Extreme shines thanks to its
GeForce GTX 1650
Max-Q discrete graphics. The system consistently turned in some of the best scores in 3DMark and games. You're not going to play the latest titles with graphics settings cranked to the max, however. The GeForce GTX 1650 is definitely more of an entry-level GPU, but 1080p is very attainable. On the latest AAA titles, it might require dropping the settings a little bit, but we were not disappointed with this system at all in this area. This is still more of a professional machine, rather than a gaming notebook, so we set our expectations accordingly.
Lenovo's ThinkPad X1 series has always combined a conservative, buttoned-down look with excellent performance and tons of nifty features. Just like the
ThinkPad X1 Carbon
we reviewed in August, the ThinkPad X1 Extreme we have on hand here blends Intel's top-tier CPU performance for its given power budget, a gorgeous 4K display, and loads of niceties. Extras like an RF camera with a privacy shutter, a fast fingerprint reader, and a good amount of IO connectivity, highlight excellent value in a premium notebook.
Where the ThinkPad X1 Extreme goes above and beyond its X1 Carbon sibling is with its larger 15" enclosure, which makes plenty of room for a robust cooling system and powerful discrete graphics. The GeForce GTX 1650 Max-Q has enough horsepower to play recent games with good settings, although gaming at its native 4K display resolution isn't really an option. Its 4K display is where you'll find a lot more real estate and fidelity on the desktop for content creation and other work duties, however. Regardless, this system can keep both that
GPU
and its Intel Core i7-9750H cool under pressure and load. Add to that very well laid-out, expandable internals with user-serviceable SO-DIMM memory and two M.2 2280 slots, and you've got a winning combination.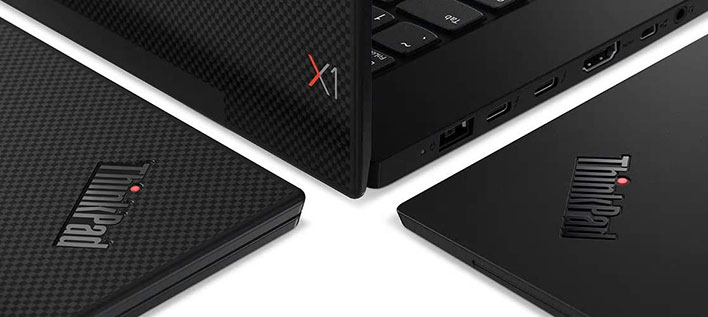 If we're going to pick any nits with this machine, it's battery life.
Lenovo
outfitted the X1 Extreme with an 80 Watt-hour battery, yet the system couldn't quite manage six hours of video playback in our battery life test. Perhaps we could get a bit more with some fine-tuning, but we didn't do any fine tuning to any of the other systems in our test, and several of them—most notably the eight-core XPS 15 with just a 52 Wh battery and its OLED display—lasted a little bit longer. That's a minor drawback in our opinion, though, because six hours is still solid for this class of machine.
The other problem for some prospective buyers may be pricing. The configuration we tested today with a Core i7-9750H, 4K IPS display, 32 GB of memory, and a 1 TB SSD rings in just north of $2,700 according to
preorder listings
, though you can find the
1080p display version on Amazon
right now for around $1850. That's certainly not chump change or an impulse buy. If you're looking for a high bang-for-the-buck performance machine without much thought given to industrial design and weight, this isn't it. The ThinkPad X1 Extreme is premium through-and-through and we feel you do get what you pay for. Lenovo also says a 4K
OLED
version is also in the works, so prospective buyers might want to hold out, though that probably won't come cheap.
Taking price options one step further, a ThinkPad X1 Extreme doesn't have to break the bank, since pricing starts at a much more affordable $1,352.25. That base system only has 8 GB of memory, a 256 GB SSD, a 1080p ISP display, and a
Core i5
-9300H processor. The base mode includes our test unit's GeForce GTX 1650 graphics solution, 80 Wh battery, and the same built-in fingerprint reader as well, but the IR camera is an add-on option. Since the memory and SSD can be upgraded after the fact, buyers can pick up a lower-end configuration and bump the specs up a bit later on, if necessary. We also can't help but wonder if battery life would be significantly increased by driving a lower-resolution display and a quad-core CPU as well.
Overall, the
ThinkPad X1 Extreme
is a premium product in every sense of the word. This machine boasts excellent build quality, great performance, and a beautiful high-resolution display making this an excellent 15" laptop option that's both highly portable and powerful. Despite some minor complaints, this latest
Lenovo
flagship ThinkPad X1 offering is an excellent machine overall and we highly recommend it.
Thin and light

Excellent performance for its size

Excellent 4K IPS display

Big 80 Wh battery

User-serviceable memory and SSD slots
Fast biometric authentication options

Minimal bloatware

Fairly expensive as configured

Battery life doesn't quite meet expectations

Related content