Lenovo ThinkPad X1 Extreme Gen 2 Review: Powerful Portability
Lenovo ThinkPad X1 Extreme: Battery, Thermals, and Acoustics
We run a custom 1080p HD video loop test developed in-house, to prove out battery life with our test group of machines. In all tests, Windows 10 Quiet Hours has been enabled and the displays are calibrated with
lux meters
on pure white screens to as close to 115 lux as possible. For the average laptop this is somewhere between a 40-60 percent brightness setting.
Since laptop displays significantly affect power consumption and battery life, it's important to ensure a level playing field with respect to brightness of the display for battery testing. However, since many laptop displays vary in brightness at each respective setting in Windows, this calibration with the meter is critical to ensure all displays are set to as near identical brightness as possible before testing.
Battery Life - How We Test
Our custom HotHardware video loop test takes a 1080p HD video with a 10 Mbps bit rate and loops it repeatedly, with 1-minute break intervals in between. A timer log file increments minutes of up-time every minute— along with the grand total—before system shutdown is stored in the log.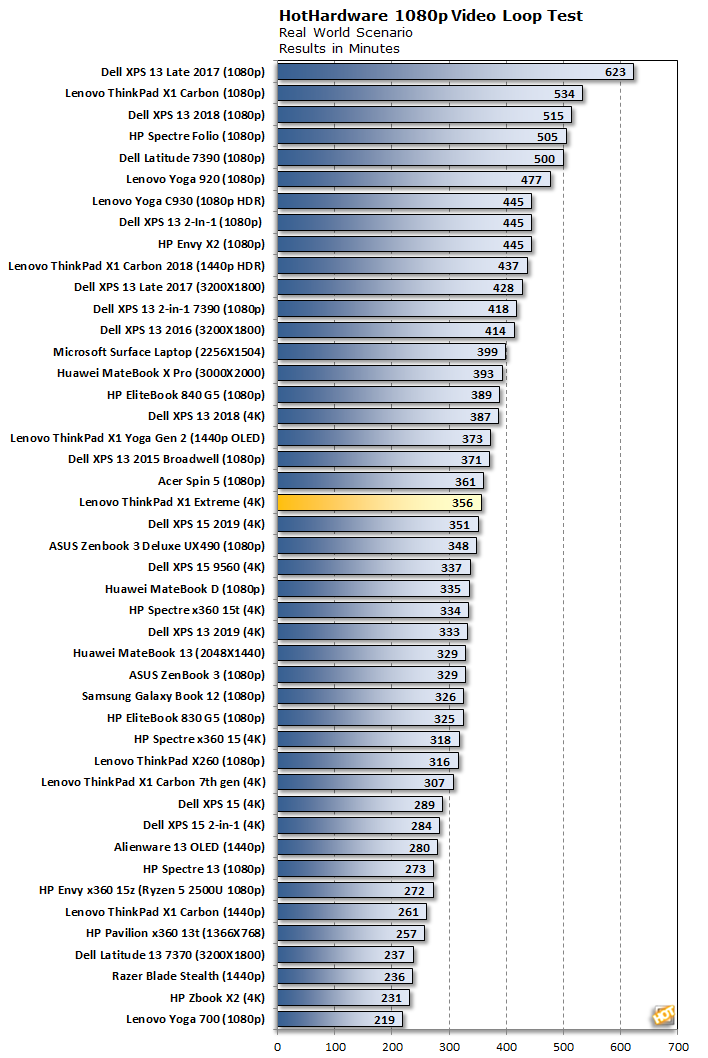 While the ThinkPad X1 Extreme has a larger than average 80 Watt-hour battery, our loaded
ThinkPad X1 Extreme
couldn't quite muster six hours of video playback on a single charge. By itself that figure is pretty strong, but it's only five minutes longer than the XPS 15, which has a 52 Wh battery. This system does have the big, bright
4K
display and discrete graphics, but we'd hoped for a bit more out of Lenovo's 15-inch ThinkPad notebook platform. While this sounds like we're a bit down on battery life here, the reality is that six hours of nonstop video playback is still plenty for most users. In addition, the ThinkPad X1 Extreme's 135 Watt AC adapter supports Rapid Charge and is able to top off the machine very quickly as well.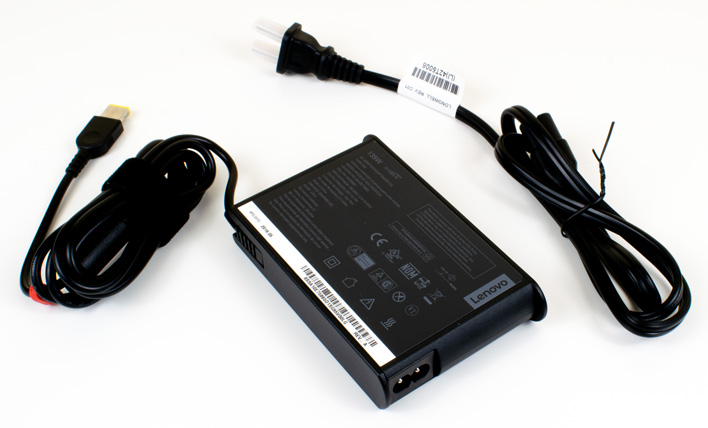 ThinkPad X1 Extreme Acoustics and Thermals
In the past,
Lenovo
has done a really good job at managing temps and noise with this line of machines, in our experience. The same is mostly true of the new ThinkPad X1 Extreme. Under a light load navigating in Windows Explorer or browsing lightweight responsive pages with Chrome, this laptop stays quiet and is cool enough to remain on your lap. When totally idle, the Extreme's fans shut down entirely and our 30 dB noise floor sits uninterrupted.
The default fan profile is fairly aggressive, however, and once the system starts to work harder, the fans spin up quickly. At heavier loads, you can hear the fans work to keep the CPU and discrete GPU cool. Fan noise is still not a major issue, though—when the fans kick on, the noise level (according to our noise meter) creeps up to around 45-47 dB, which is not bad at all.
At extreme CPU loads, however, the the underside of the laptop, up towards the display, can get uncomfortably hot to the touch. Most of the heat is concentrated in the vent and fin arrays, which sits right behind the keyboard and in front of the hinge mechanism. That means the top row of keys on the keyboard get toasty.
When stressing the CPU and GPU for an extended time using a real-world test of multiple back-to-back
Middle Earth: Shadow of War
benchmark runs, the fans get louder as they spin faster and work harder to keep temps in check. Our noise meter registered between 51-56 dB at a full load. While not obnoxiously loud, the fans definitely make their presence known.
Lenovo
's cooling system in the ThinkPad X1 Extreme does a great job keeping all of that hardware running cool enough to perform well, however. According to HWMonitor, the system never throttles under a heavy load, and the CPU temperature remains under its critical 100 degrees Celsius threshold. The
GPU
's temps never exceed 80 Celsius, either. With all six cores working hard, the system still maintains a 3.1 GHz turbo speed, which is pretty good, considering how light this system is with this kind of available thermal headroom.
Running the Core i7-9750H's six cores at 3.1 GHz is quite a bit of horsepower, and performance is solid throughout as we saw in our performance tests. It's nice to see that temperatures never get out of hand, although we can't recommend doing too much heavy lifting with the laptop resting on your lap, unless you specifically need an available heat source for comfort.
Next up let's recap what we've seen and put it all together for our final rating.
Related content