Intel NUC10i7FNH Review: Powerful, Palm-Sized 6-Core Mini PC
Intel NUC NUC10i7FNH: System Level Benchmarks
Test System Configuration Notes:
When configuring our test systems for this article, we first made sure all firmware was up to date, then we entered their respective system BIOSes /
UEFI
and set each board to its "Optimized" or "High performance" defaults. We then saved the settings, re-entered the BIOS and set the memory frequency to the maximum officially supported speed for the given platform (without overclocking). The
SSDs
were then formatted, and the latest build of Windows 10 Pro x64 was installed.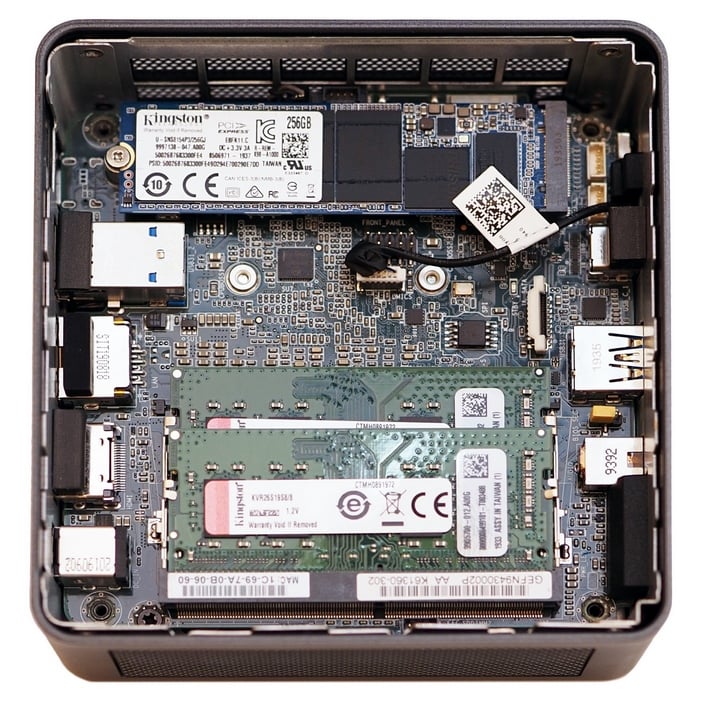 When the
Windows
10 installation was complete, we fully updated the OS, and installed all of the drivers necessary for our components. Auto-Updating and Windows Defender were then disabled, and we installed all of our benchmarking software, performed a disk clean-up, and cleared any temp and prefetch data. Finally, we enabled Windows Quiet Hours / Focus Assist and let the systems reach an idle state before invoking a test.
Since we don't have an array of NUCs and other small form factor systems perpetually on-hand, we've compared the performance of the Intel NUC10i7FNH to a couple of previous-gen NUCs, in addition to a handful of mobile and entry-to-midrange desktop processors to help you all understand where a system like this falls in the current landscape.
HotHardware's Test Systems

Intel and AMD - Head To Head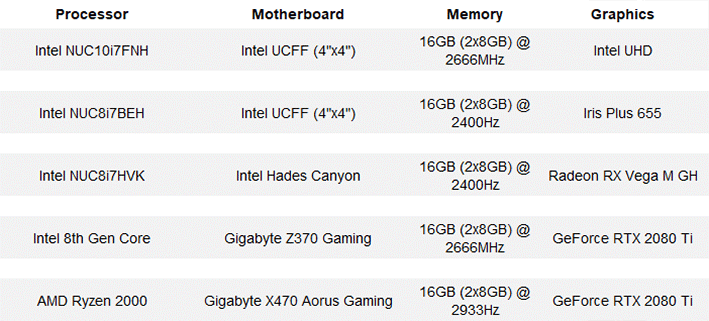 PCMark 10

System Level Benchmark
PCMark 10 is one of Futuremark's series of popular PC benchmarking tools. It is designed to test the performance of all types of systems, from tablets to desktops. It offers multiple separate benchmark tests to help consumers find devices that offers the perfect combination of efficiency and performance for their particular use case.

This version of the suite improves the Essentials, Productivity, and Digital Content Creation benchmarks with tests using popular open source applications for image processing, video editing, spreadsheets, and the like...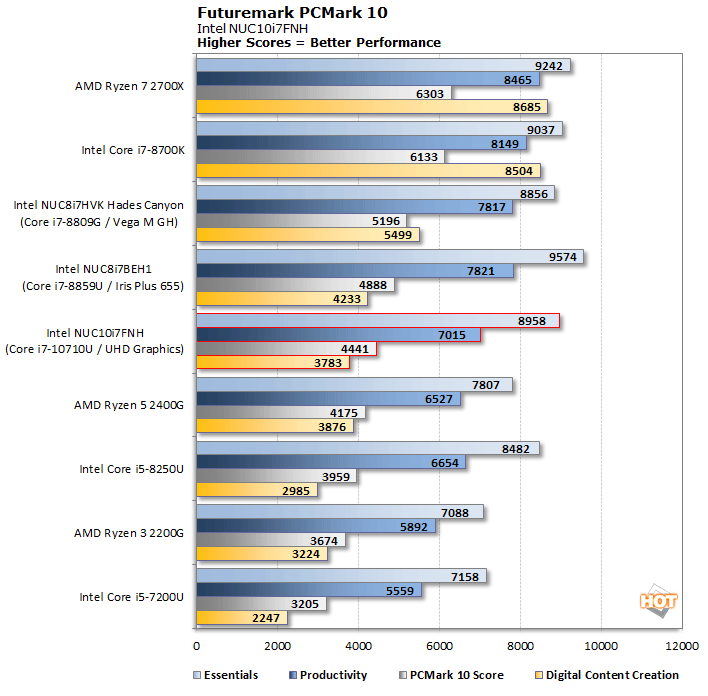 The Intel NUC10i7FNH lands squarely in the middle of the pack of our reference systems. The higher-end GPU in the 8th-Gen
Bean Canyon
NUC helps it to edge out the newer 10th Gen model, despite the latter's more powerful CPU. Overall, performance is well ahead of some previous-gen Core i5s and entry-level
Ryzen
processors, however.
Next up, we have some numbers from the JetStream Benchmark Suite developed by
WebKit
. The JetStream Benchmark Suite uses a wide array of latency and throughput benchmarks to evaluate JavaScript performance, and all of the results are tabulated with roughly equal weighting. The benchmark measures both metrics of traditional JavaScript programming styles used on websites, as well as new JavaScript-based technologies used on more modern, rich web applications. Scores in this benchmark are an indicator of the performance users would see when browsing and running advanced web applications.
JetStream JavaScript Benchmark

JavsScript Performance Testing
All of the systems were tested using the latest version of
Microsoft's Edge browser
, with default browser settings, on a clean install of Windows 10 Professional x64.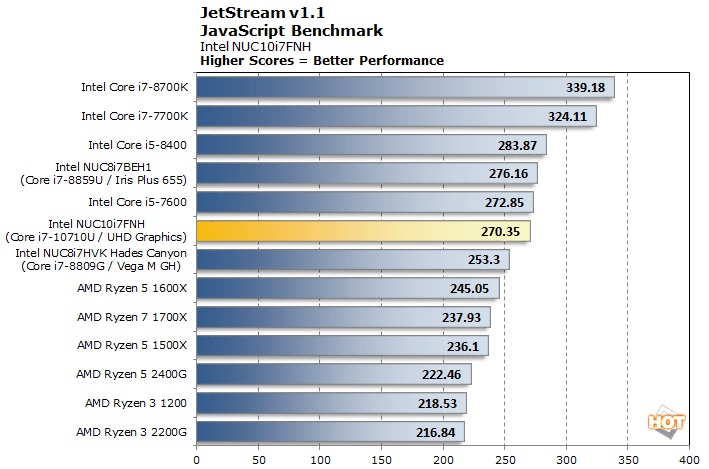 The Intel NUC10i7FNH once again lands about in the middle of our group of reference systems, tightly bunched with the other small form factor NUCs we have looked at previously.
LAME MT

Audio Conversion and Encoding
In our custom LAME MT MP3 encoding test, we convert a large WAV file to the MP3 format, which is a popular, day-to-day use case for many end users, to provide portability and storage of their digital audio content. LAME is an open-source mid to high bit-rate and VBR (variable bit rate)
MP3
audio encoder that is used widely around the world in a multitude of third party applications.
In this test, we created our own 223MB WAV file and converted it to the MP3 format using the multi-thread capable LAME MT application in single and multi-thread modes. Processing times are recorded below, listed in seconds. Shorter times equate to better performance.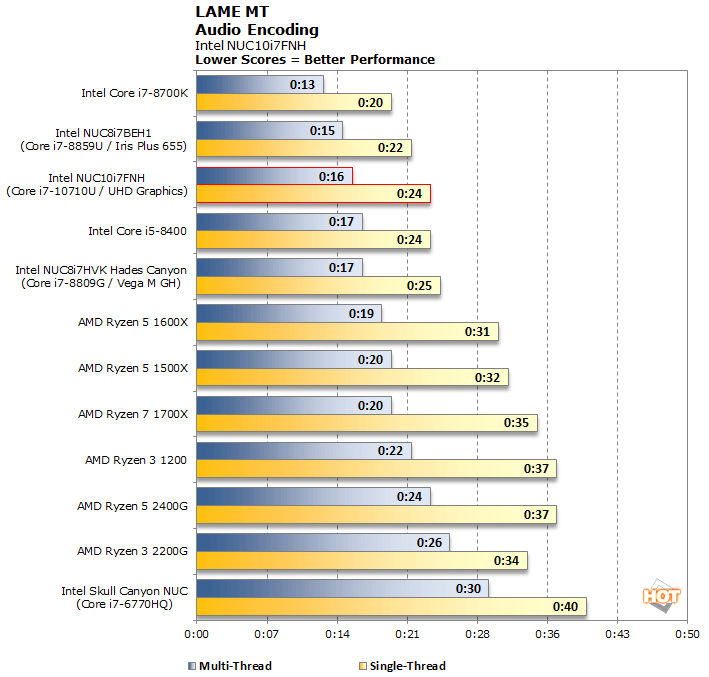 This benchmark uses only one or two threads and benefits from higher-clocks and additional cache. As such, the desktop Core i7 and previous-gen NUC with embedded memory take the lead, but the Intel NUC10i7FNH is right in the mix near the top of the stack. Short, lightly threaded workloads like this are exactly where an SFF system like the Intel NUC10i7FNH will shine.
Blender

3D Rendering Benchmark
Blender is a free and open source 3D creation suite that can handle everything from modeling, rigging, animation, simulation, rendering, compositing and motion tracking, even video editing and game creation. It has a built-in benchmarking tool that will track the time it takes to complete rendering a particular model. We used a CPU-focused BMW model for these tests here...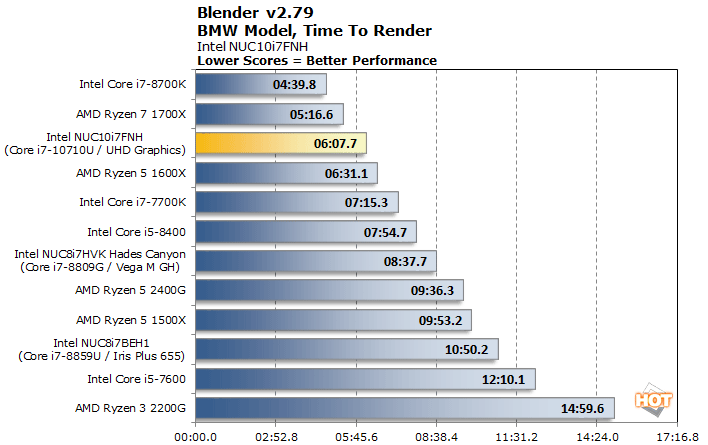 The Intel NUC10i7FNH's 6-core / 12-thread Core i7-10710U allow it to clearly outpace the previous-gen, quad-core NUCs. This mini-PC ultimately comes in just behind some 8-core previous-gen systems, even with a sustained workload like this one.
Cinebench R15 is a combination CPU and OpenGL 3D rendering performance test based on Cinema 4D from Maxon. Cinema 4D is a 3D rendering and animation tool suite used by animation houses and producers like Sony Animation and many others. It's very demanding of system processor resources and can utilize any number of threads, which make is an excellent gauge of computational throughput. This is a multi-threaded, multi-processor aware benchmark that renders and animates 3D scenes and tracks the length of the entire process. The rate at which each test system was able to render the entire scene is represented in the graph below.
Cinebench

3D Rendering Benchmark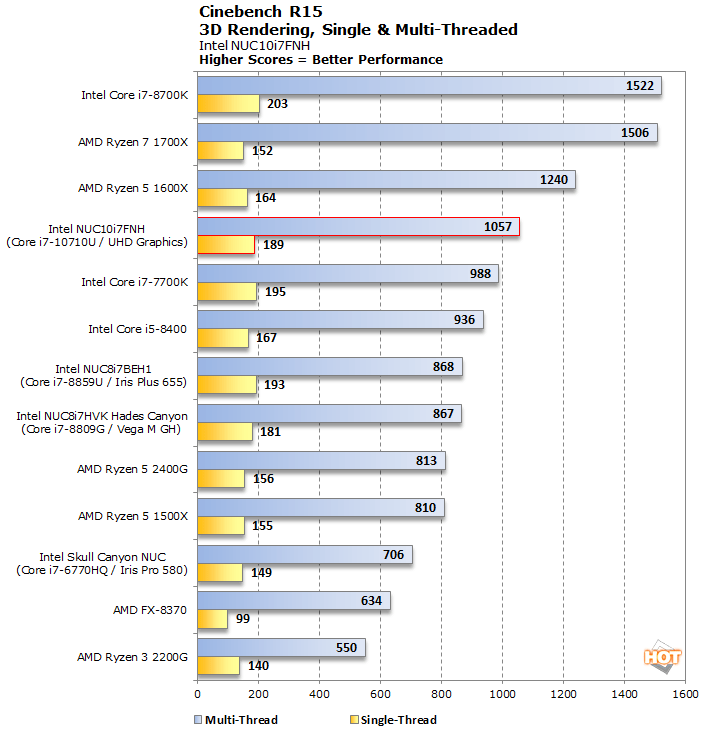 Once again we see the
Intel
NUC10i7FNH and its 6-core processor decimating the previous-gen NUCs and hanging with some relatively powerful, full-sized desktop class systems.
Related content
Comments