Maingear Turbo Review: A Jaw-Dropping Mini-ITX Gaming PC
Maingear Turbo: A Powerful, Head-Turning Small Form Factor Gaming PC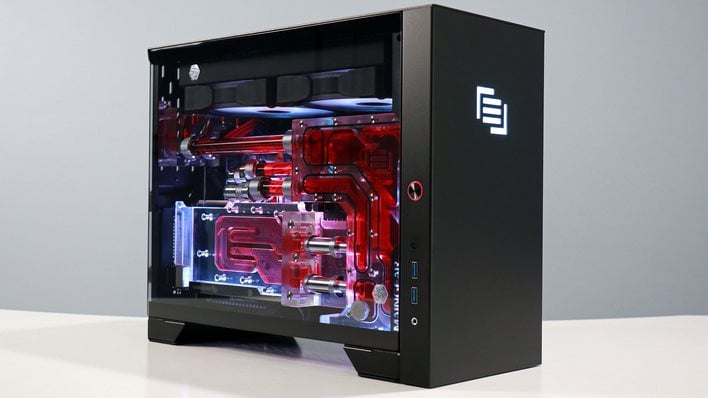 Full disclosure, I've never been much of a mini-ITX form factor kind of guy. I mean I get the allure of a space-efficient PC design that can more easily integrate in to an office or home environment, but there are almost always caveats. Typically the trade-offs are either sacrificing performance and features, or you end up having to tolerate the noise of a small and overwhelmed cooling solution. And so when I considered the
Maingear
Turbo for evaluation here, at first I wasn't all that enthused. However, it seems the folks at Maingear, a highly respected custom performance PC builder out of New Jersey, set out to address some of the inherent shortcomings of the traditional
SFF
(Small Form Factor) desktop PC. That is to say they apparently decided to defy the laws of physics and build something truly unique, powerful and yes, quiet.
Meet the
Maingear Turbo
, which may have just redefined the small form factor desktop PC for us, even those of us that were previously skeptical of the merits of a pint-sized gaming PC platform like this. Take our guided video tour here of this new
Ryzen 9 3900 XT
-powered beastie, and then we'll dig deep on what this mini-might can do...
Maingear Turbo - SFF Gaming PC

Specifications & Features
---
It was no coincidence that Maingear readied its tiny new Turbo gaming PC in time for the launch of AMD's
Ryzen 3000 XT
series processors. T for Turbo, and all that, which makes sense, since Maingear notes the platform CPU of choice is an all-AMD affair, from Ryzen 5 to Ryzen 7 and 9 variants, all of which are XT models. Although you can also configure up to a Ryzen 9 3950X on board a Turbo if you like, which seems like a herculean feat, with 16 cores and 32 threads under the hood of such a petite frame, but alas this is no ordinary desktop PC.
And if you want to course some green NVIDIA venom through your veins, to accentuate the
GeForce RTX 2080 Ti,
that's an option with the Turbo too, with ASUS Aura lighting controls driven from the ASUS ROG Strix X570-I Gaming motherboard.
Related content
Comments