Maingear Turbo Review: A Jaw-Dropping Mini-ITX Gaming PC
Maingear Turbo: A Powerful, Head-Turning Small Form Factor Gaming PC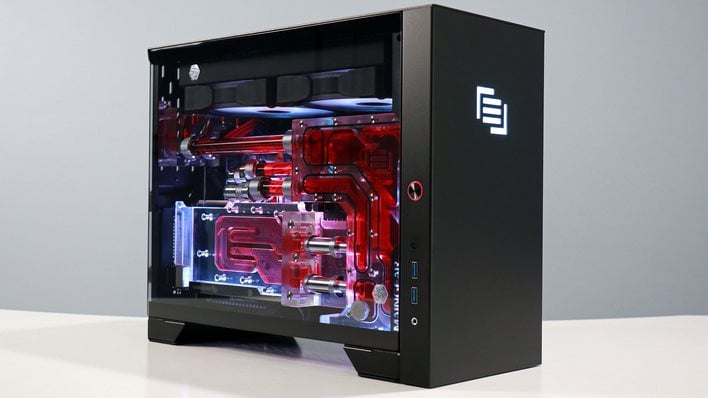 Full disclosure, I've never been much of a mini-ITX form factor kind of guy. I mean I get the allure of a space-efficient PC design that can more easily integrate in to an office or home environment, but there are almost always caveats. Typically the trade-offs are either sacrificing performance and features, or you end up having to tolerate the noise of a small and overwhelmed cooling solution. And so when I considered the
Maingear
Turbo for evaluation here, at first I wasn't all that enthused. However, it seems the folks at Maingear, a highly respected custom performance PC builder out of New Jersey, set out to address some of the inherent shortcomings of the traditional
SFF
(Small Form Factor) desktop PC. That is to say they apparently decided to defy the laws of physics and build something truly unique, powerful and yes, quiet.
Meet the
Maingear Turbo
, which may have just redefined the small form factor desktop PC for us, even those of us that were previously skeptical of the merits of a pint-sized gaming PC platform like this. Take our guided video tour here of this new
Ryzen 9 3900 XT
-powered beastie, and then we'll dig deep on what this mini-might can do...
Maingear Turbo - SFF Gaming PC

Specifications & Features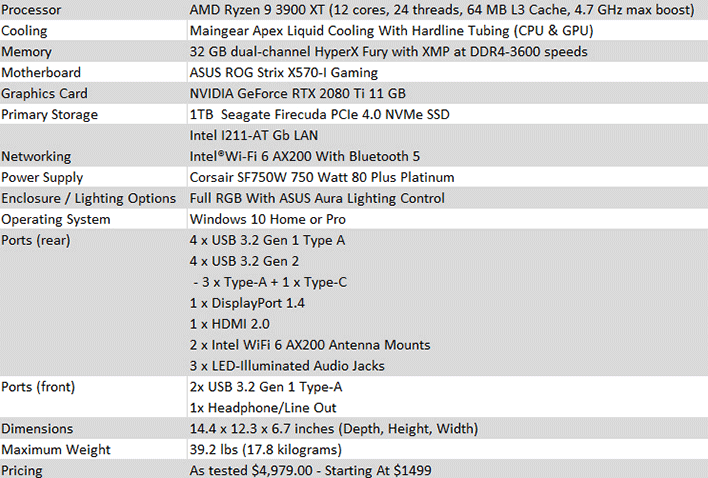 ---
It was no coincidence that Maingear readied its tiny new Turbo gaming PC in time for the launch of AMD's
Ryzen 3000 XT
series processors. T for Turbo, and all that, which makes sense, since Maingear notes the platform CPU of choice is an all-AMD affair, from Ryzen 5 to Ryzen 7 and 9 variants, all of which are XT models. Although you can also configure up to a Ryzen 9 3950X on board a Turbo if you like, which seems like a herculean feat, with 16 cores and 32 threads under the hood of such a petite frame, but alas this is no ordinary desktop PC.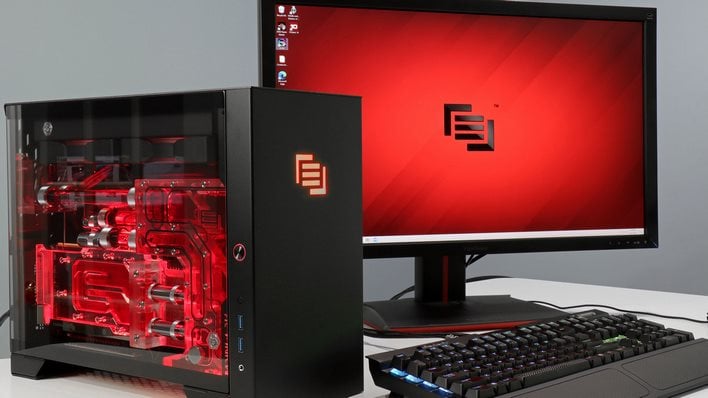 Ryzen Red And Ready For Action
All The Bells, Whistles, Bandwidth And IO Connectivity
Beyond the CPU, Maingear's platform of choice continues to deliver with an
ASUS ROG Strix X570-I Gaming
motherboard laying a foundation for all the latest connectivity options, from PCI Express Gen 4 for its 1TB
Seagate Firecuda 520
Gen 4 NVMe SSD, to its Intel AX 200 802.11
Wi-Fi 6
capable NIC. The only thing we're missing here is a little full speed 40Gbps Thunderbolt 3 connectivity but yep, this is an AMD system, so a few USB 3.2 Gen 2 ports (20Gbps) will have to do, four of them, to be exact.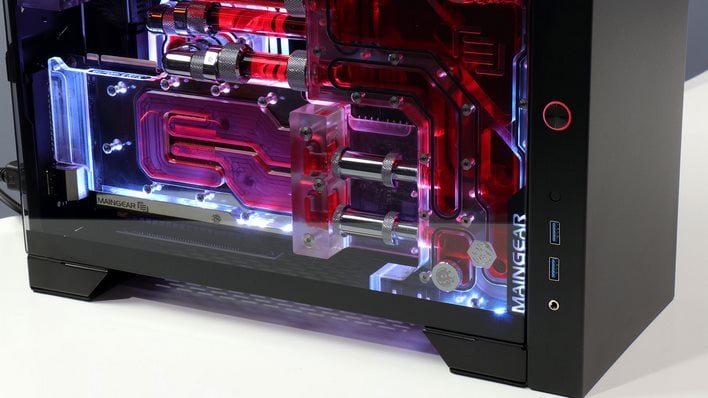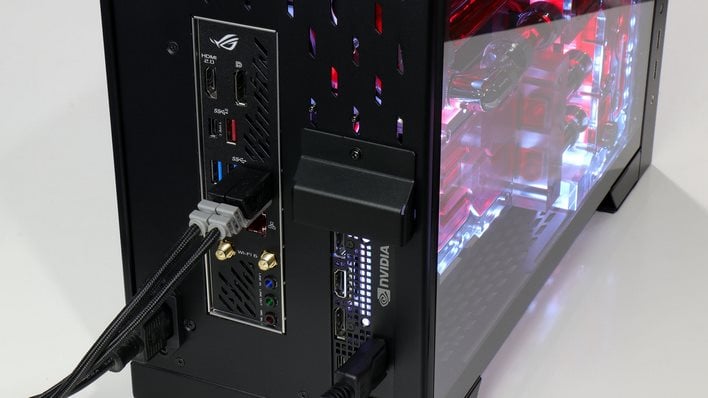 The good news is that IO is readily accessible also on the front of the system, as well as the back panel IO, along with a diminutive reset button and a headphone/line-out jack. Incidentally, we tested the Intel AX200
Wi-Fi 6
NIC and it screamed, even on our legacy 802.11ac network, with download speeds from a 1Gpbs Comcast link topping out at 625Mbps downstream. We'll take it.
Maingear Turbo Tool-Less Design And Precision Apex Liquid Cooling
We're going way back to the late 80s for a deep track on this one -- "read my lips, one screw." OK that sounded wrong, but that's exactly what stands between you and getting inside the Maingear Turbo's chassis: one single thumbscrew. And though it's perhaps not as impactful as GHW Bush's illustrious "no new taxes" speech, there's better execution here because the simplicity of just one screw to remove the top ventilation plate and the way its smoked, tempered glass side panel just lifts away, is far more satisfying. Because, after all, you're going to want to admire what's inside this system, as well as maintain it over time.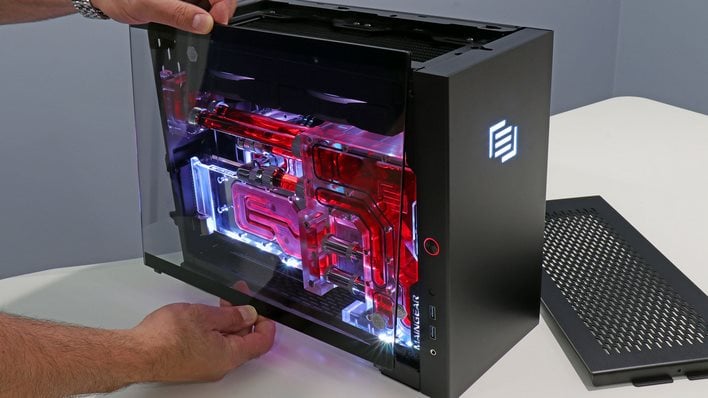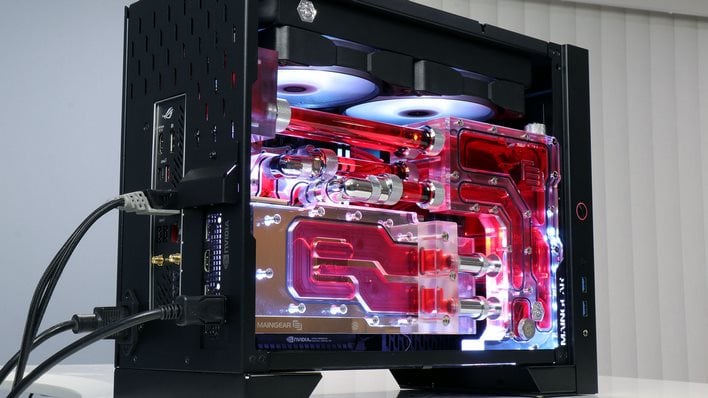 That said, we'll be straight-up with you and say that it's really tight in there, if it wasn't already obvious. The absolute precision, impeccable build quality and attention to detail with the Maingear Turbo and its Apex Liquid Cooling system is abundantly obvious. However, you're going to want to choose your component selection wisely because you're probably not going to want to mess with it for a while, should you decide to procure such a highly tuned beast. Maingear does offer standard AIO closed-loop liquid cooler options on its entry-level Turbo systems. In those system configs, upgrading graphics cards, memory and NVMe storage will undoubtedly be more accessible. However, the benefits of Maingear's Apex Liquid Cooling solution with hardline tubing are many, beside the fact that it all just plain looks freaking amazing. The labyrinth of hardline tubing and custom water block designs, are just (and I use this word sparingly) amazing. We've previously
built a Maingear Vybe
and still catch ourselves staring at the intricacies of that beast, but the Turbo's Apex cooling setup is next-level impressive.
And if you want to course some green NVIDIA venom through your veins, to accentuate the
GeForce RTX 2080 Ti,
that's an option with the Turbo too, with ASUS Aura lighting controls driven from the ASUS ROG Strix X570-I Gaming motherboard.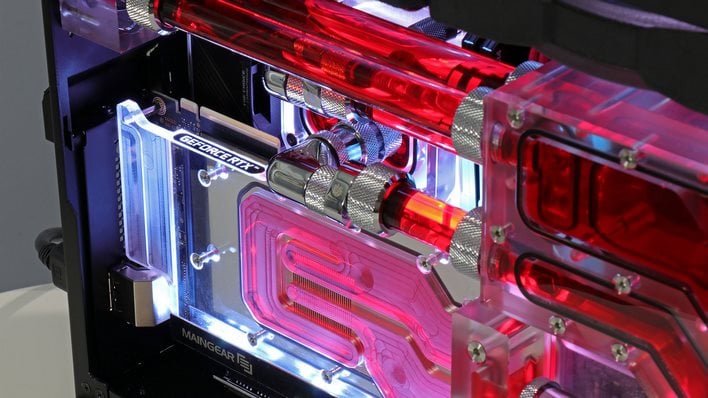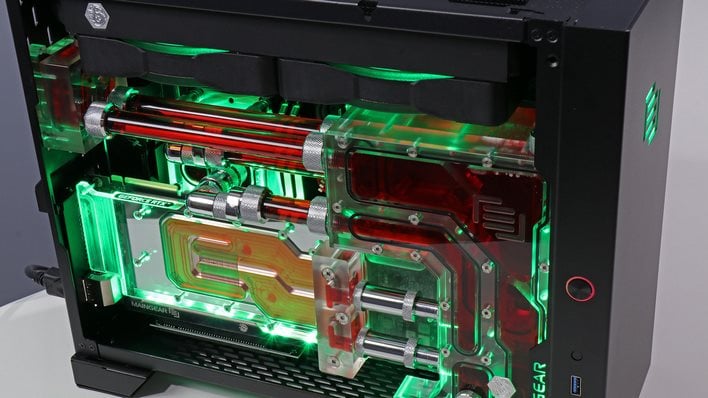 Diving deeper you'll note that there are send and return feeds for both the CPU and GPU cooling blocks in our system. And in fact both blocks, and the Apex Liquid Cooling blocks are custom designs by Maingear and manufactured by Bitspower. The 280mm radiator up top does also appear to be an off-the-shelf Bitspower Leviathan Slim 280 rad with dual 140mm RGB fans.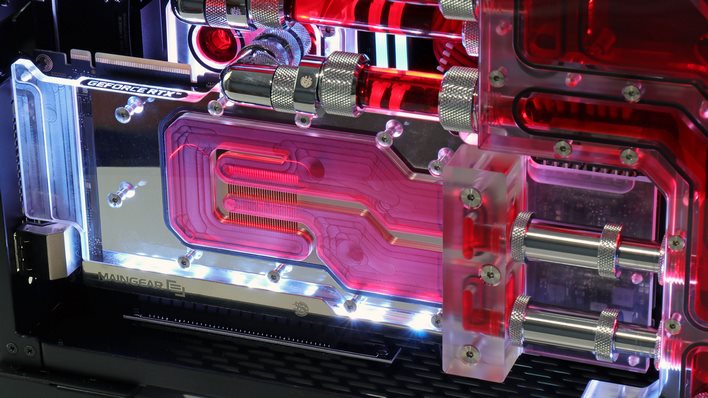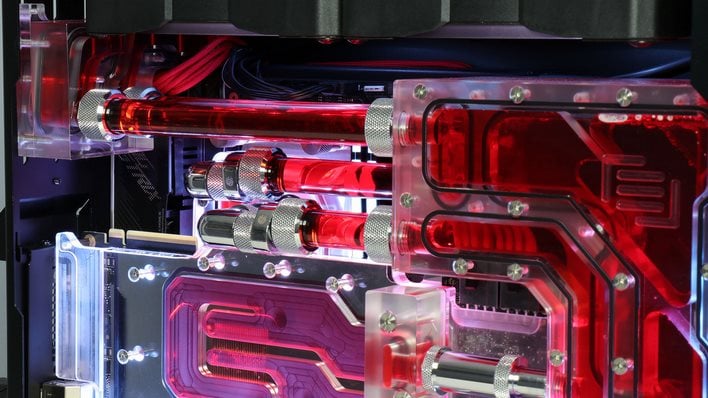 If you peek below here you'll see the fill port at the top of the Apex distribution block, while the drain port is at the bottom and very accessible for servicing the system for top-offs or full drain and fills to refresh cooling liquid. The liquid-cooled GeForce RTX 2080 Ti sits on a motherboard riser card for vertical mounting and it all just works really well.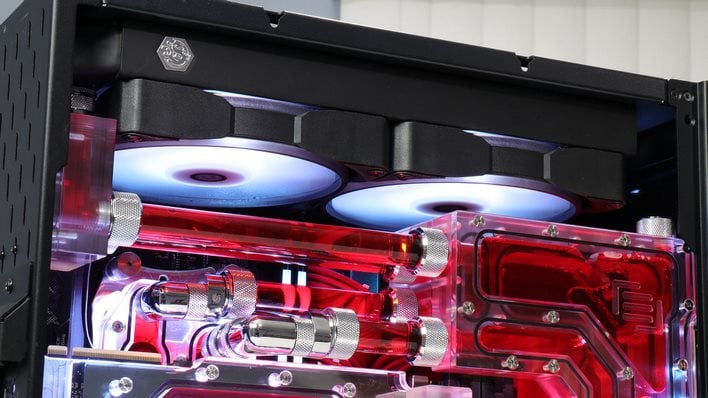 Airflow is well planned-out inside this tightly-packed and wrapped little powerhouse, that weighs just shy of 27 lbs, or about the heft of a chubby Jack Russell Terrier. In fact, that's kind of what the spirit animal of the Maingear Turbo would be. Like our HotHardware.com
mascot Yogi
, it's 100 pounds of attitude and performance in a 26.8 pound frame, (or in Yogi's case 22.5 lbs, he gets sensitive if you tack on extra). Warm air is drawn up and exhausted out of the top of the chassis through the radiator, which does tend to get toasty under heavy loads, though it seems more than capable of the task at hand. More on this shortly.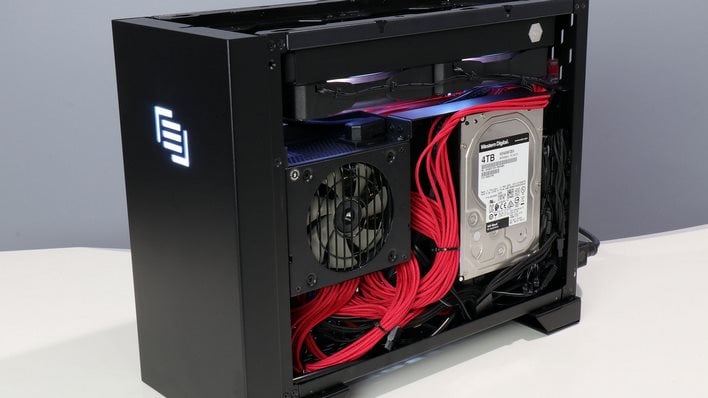 The backside panel of the Turbo removes just as easy as the front side glass panel and here you can see the impressively-small
Corsair SF750 power supply
. Yes that little brick with the fan pulls cool air in (very quietly mind you) and dishes up 750 Watts for the system, and it's fully modular too. Finally, Maingear decided to augment the
1TB NVMe SSD OS
storage in our system with 4 bodacious terabytes of WD Black HDD storage, along with some clean red braided cabling that's only exposed on the back porch here.
Let's fire it up and check thermals and acoustics, shall we?
Related content