Intel NUC10i7FNH Review: Powerful, Palm-Sized 6-Core Mini PC
Intel NUC10i7FNH Frost Canyon NUC: A Tiny, 6-Core Speedster Mini Desktop PC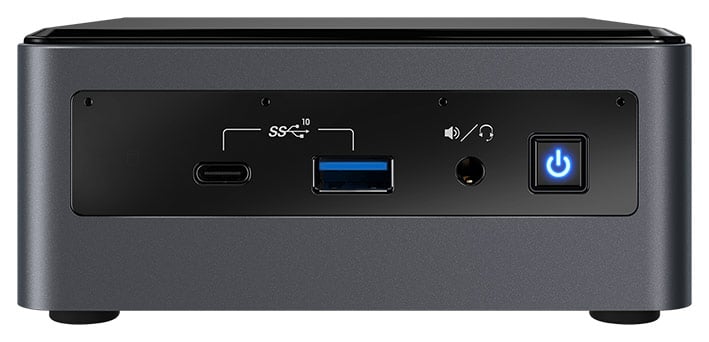 Intel has been steadily updating, upgrading, and augmenting its line-up of small form factor
NUC
systems for many years now. Initially, most of the systems had a similar design language, but over time, Intel has expanded its offerings to address the needs of many more customers and potential use cases. Recently, we took a look at the beefy, high-performance
"Ghost Canyon" NUC 9 Extreme
and a couple of years back got the chance to play with its spiritual predecessor, the
Kaby Lake-G-based "Hades Canyon"
with AMD Radeon Vega graphics. The tiny machine we'll be covering today, however, is more akin to the traditional NUC that targets the meat of the market. As its name implies, the Intel NUC10i7FNH is built around an Intel 10th Generation Core processor platform. It's the successor to the "
Bean Canyon
" 8th Gen mini-machine we checked out last year. This new 10th-Gen NUC, however, packs a couple of additional cores, some updated I/O, and significantly more aggressive power and performance profile that its similar-sized predecessors.
The tiny machine may fit in the palm of your hand and measures only a few inches square, but there's a lot to cover here. Take a peek at the main features and specifications below and then we'll dive in deeper, pull the little fella apart, and see how it performs...
Intel NUC NUC10i7FNH

Specifications & Features
| | |
| --- | --- |
| Processor | Intel Core i7-10710U, 6C/12T, 1.1 - 4.7GHz, 12MB L2+L3, 25W TDP |
| Memory | 2 x 8GB DDR4-2666 Kingston KVR26S19S8 DDR4 |
| Graphics | Intel UHD Graphics |
| Storage | Kingston NVMe 256GB SSD (Phison w/ Toshiba 3D TLC), Seagate 2TB HDD |
| Networking | Intel Wi-Fi 6 AX201 (2x2 802.11ax, 2400 Mbps), 1x Intel I219-V Gigabit Ethernet Controller |
| I/O Ports | 1 x HDMI, 1 x SDXC, 1 x TB3 Type-C (rear), 2 x USB 3.2 Gen 2 (10 Gbps) Type-A (rear), 1 x USB 3.2 Gen 2 (10 Gbps) Type-A (front), 1 x USB 3.2 Gen 2 (10 Gbps) Type-C (front) |
| Audio Ports | 3.5mm Headphone Jack |
| Operating System | Windows 10 Home |
| Price | Starting @ $588 (barebones), $853 (as configured) |
---
As we previously mentioned, the NUC10i7FNH is built around an Intel 10th Gen Processor, the Core i7-10710U. This chip is based on the
Comet Lake-U
architecture and features 6 cores (12 threads), with a base clock of 1.1GHz, a turbo boost clock of 4.7GHz, along with 12MB of shared cache. Handling graphics duties is a run of the mill Intel UHD graphics engine, which is packing 24 execution units and a maximum GPU clock of 1.1GHz. The whole package has a standard TDP of 15W, but Intel allows for a TDP-Up configuration of 25W (or a TDP-Down of 12.5W).
Wi-Fi 6
AX201, Bluetooth 5.0, Thunderbolt 3, and an array of USB 3.1 Gen 2 ports. Now, this particular machine – the NUC10i7FNH specifically – is a pre-configured model with memory, storage, and an OS installed right out of the box. With our particular setup, the system is packing 16GB of DDR4-2666 RAM (dual channel), a Kingston
NVMe
256GB SSD, 1TB Seagate HDD, and Windows 10 Home. Additional configurations with more RAM and storage are also available, as is a barebones model that requires users nab their own memory, storage, and OS.
Thunderbolt
3 port (w/ DP1.2), and a security slot. The front of the machine features a USB Type-C port, another full-sized USB 3.1 Gen 2 port, a combo headphone and mic jack, and the lighted power button.
previous models
, and save for some port locations and colors, it looks almost identical to the previous-gen Intel NUC8i7BEH.
The NUC10i7FNH will function with one or two DIMMs, though memory bandwidth is obviously much better in dual-channel mode, which is important for a machine of this type that relies on system memory for the integrated graphics engine. The system can also support 22x42mm or 22x80mm M.2 drives (The Kingston drive seen here is an
M.2 2280 model
). Because this NUC is of the taller flavor, it also has a 2.5" drive bay for adding an additional SATA SSD (or an HDD). As mentioned, our setup included a Seagate drive for bulk storage.
With a barebones kit, all you've got to do is remove the bottom and plug in the RAM and storage device, and you're ready to install an OS. Our unit came with
Windows 10
Home pre-installed, though, so it was ready to roll right out of the box.
Should you opt for a barebones model, the M.2 SSD is situated along an edge of the motherboard adjacent to some side-panel venting to help keep things running cool. The SSD does, however, sit directly above the wireless controller, which could make things toasty when both the
SSD
and wireless network are under load – for example, when downloading a game from Steam on a fast connection. We didn't experience any issues during our testing, though.
included with Bean Canyon
– you'll understand why a little later.
A Look At Intel's NUC10i7FNH Visual BIOS
Like virtually all of the previous-gen NUCs, the NUC10i7FNH features the company's Visual BIOS. Intel's Visual BIOS is similar to the vast majority of modern systems / motherboard, and offers a graphical interface with mouse input and an easy to navigate menu system.
The overall look and feel of the NUC10i7FNH's BIOS is similar to all of Intel's
previous-gen NUCs
from the last few of years. Users can navigate through the menus using either a mouse or keyboard (or touch if you've got a compatible display) and is home to array of information about the processor, memory configuration, and hardware health data, as well as the time/date and all of the other basics you'd expect.
All of the integrated peripherals can be enabled / disabled in the Visual BIOS and the fan curve can be tweaked should you want to fine-tune temperatures and acoustics. There are a handful of options for configuring the on-board graphics and storage controllers too, but there are no menus specifically related to overclocking. Although this is a relatively high-end NUC, it is not an enthusiast offering –
like Hades Canyon
– and is not unlocked. There are, however, options to tweak the Dynamic Power Technology or Processor Efficiency Policy.
We tested the machine set to high-performance mode (which is the default option), but lower-power modes are available as well. Let's look at the numbers, next...
Related content