Intel NUC10i7FNH Review: Powerful, Palm-Sized 6-Core Mini PC
Intel NUC NUC10i7FNH: Power, Acoustics, And The Verdict
Throughout all of our benchmarking and testing, we also monitored how much power our test systems consumed using a power meter to give you an idea as to how much power each configuration used while idling and while under a heavy workload. Please keep in mind that we were testing total system power consumption at the outlet here, and not a particular component...
Total System Power Consumption
Tested at the Outlet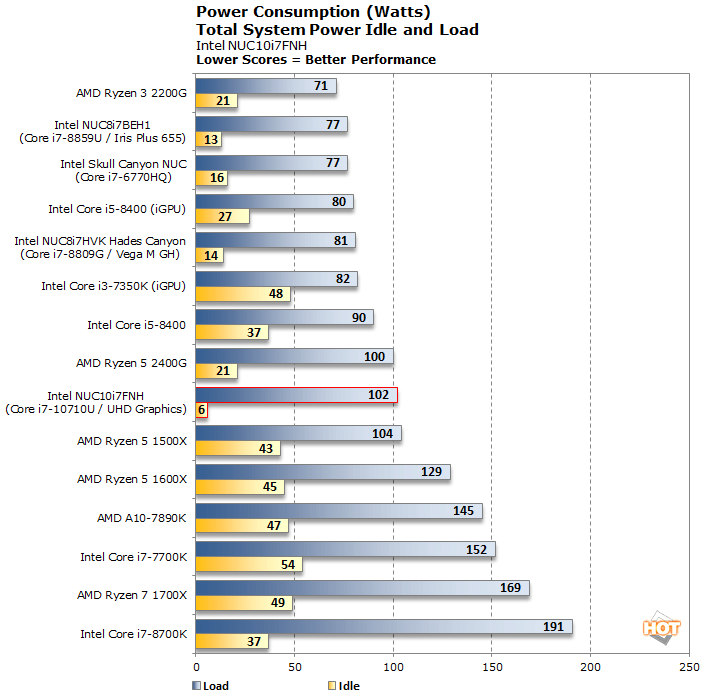 This is some interesting power data to say the least. As you can see, idle power and extremely low, especially considering how much performance the NUC10i7FNH is packing into its tiny chassis. Load power, however, is relatively high for a NUC and puts the system in-line with some full-sized desktops. This is peak power, however. Digging in a little deeper reveals some more wrinkles...




The NUC10i7FNH's power profile it tuned to allow all six processor cores to run flat out, until temperatures hit around 100'C for a short length of time. Then the processor throttles, temps come down to 84'C, and power consumption is cut in half. This configuration makes the NUC10i7FNH a strong performer for shorter, bursty workloads and for short duration, heavily-threaded workloads. With longer, sustained workloads though, the machine can't maintain the same level over performance, similar to many of today's thin-and-light notebooks.
Intel NUC NUC10i7FNH Acoustic Profile
There is a an active cooler in the NUC10i7FNH, complete with a dense heatsink array and a couple of heat-pipes, and venting on three sides of the systems. Given the low-power of the system when idling or with less-taxing workloads, the Intel NUC10i7FNH remains virtually silent until it is under a heavy workload. When the CPU and motherboard temperature are low, the active cooler in the system is barely audible. With typical, bursty desktop workloads, the fan in the machine will spin up, but it remains quiet overall and emits only a dull whir. If the system remains under a sustained workload for an extended period though, the fan in the NUC10i7FNH will spin up faster and generate more noise. The system is not obtrusively loud under load, but you most certainly can hear it across the room.
Performance Summary: Given its diminutive form factor, the Intel NUC10i7FNH is a high-performance little machine. Throughout our tests, the Intel NUC10i7FNH clearly outperformed previous-gen NUCs that topped out with quad-core processors in all of the multi-threaded tests, and single-threaded performance was among the best as well. In relation to a full sized / full power desktop, its performance falls somewhere in-line with previous-gen Core i5 and Ryzen 5-based systems. Graphics performance from the UHD engine is a weak point, however, and is right in-line with other Intel UHD 630-equipped processors from years past.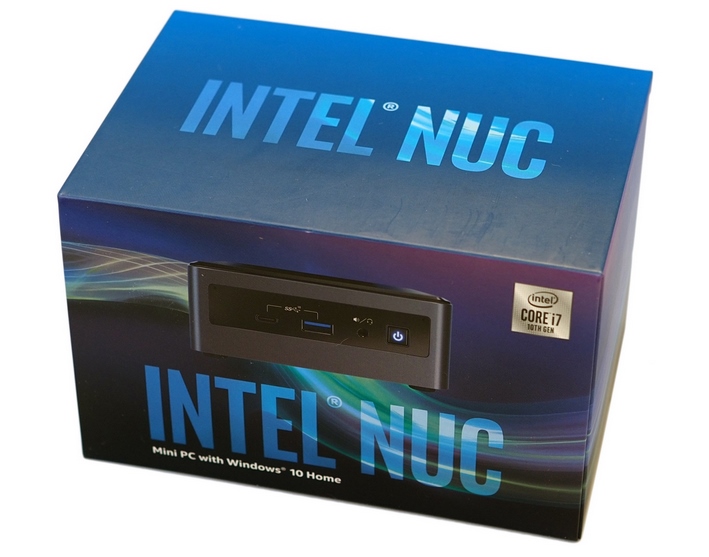 Intel NUC10i7FNH Small Form Factor System -- Find Them At Amazon
As much as we love big, beefy, powerful gaming rigs and workstations around here, we dig these speedy, ultra small form factor systems just the same. The fact is, most non-enthusiast PC users, buy a system, set it up, and bang away on it for years without opening it up or upgrading. For users that can live without the flexibility, upgradability, and expansion potential of a full-sized desktop, these little NUCs make for great machines. Full confession -- my wife has been rocking a NUC-like Zotac mini-PC as her primary home desktop for years, with nary a complaint. This latest NUC amps-up CPU performance considerably, features the latest wireless connectivity, Thunderbolt and high-speed USB, a built-in card reader, and room for M.2 and 2.5" SATA storage solutions. The particular pre-configured setup we featured here currently sells for about $850. That's a little pricier than assembling your own mini-ITX rig, which would likley offer better performance, but you're not building a 4.4" x 4.6" x 2" machine with off-the-shelf parts no matter how hard you try, so a small price premium is reasonable here.

Overall, we really like the Intel NUC10i7FNH. If its integrated graphics are enough for your use case, and its tiny form factor are appealing to you, it's worth taking a closer look. This is the highest performing family of traditional 4.4" NUCs yet.
Strong Performance
Ultra Small Form Factor
WiFi 6 and Thunderbolt Ready
Built In Card Reader

Slight Price Premium

Could Use A Few More USB Ports
Related content