Intel NUC10i7FNH Review: Powerful, Palm-Sized 6-Core Mini PC
Intel NUC NUC10i7FNH: Graphics And Gaming
For our next series of tests with the NUC10i7FNH, we moved on to some game-related metrics with 3DMark, specifically the physics benchmark that's part of the Fire Strike test, along with a couple of actual games. For the 3DMark Physics test, we simply create a custom 3DMark run consisting solely of the physics test, which is CPU dependent, and report the results...
Gaming: 3DMark Physics
Taking the GPU out of the Equation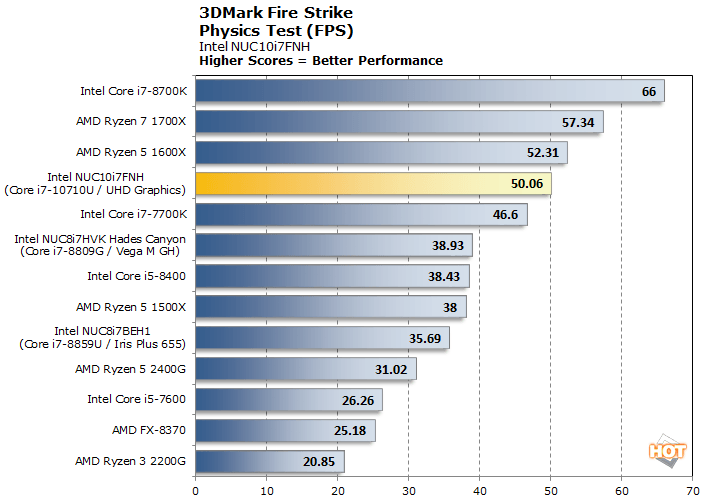 The Intel NUC10i7FNH's 6C / 12T processor, once again, put it well out in front of any of the quad-core processors or previous-gen, small form factor NUCs. Only the 6-core and 8-core desktop processors put up better numbers in this multi-threaded test.
Gaming / Graphics Tests
Putting The GPU To The Test
We also ran some game and graphics tests on the NUC10i7FNH's Intel UHD graphics engine using 3DMark, VRMark, Cinebench, and Middle Earth - Shadow Of War to see what it could do with faster memory and processor behind it, versus previous-gen integrated graphics solutions. We used 3DMark Fire Strike, VRMark, and Cinebench's OpenGL test with their default presets, and Shadow Of War was run at 1080P with the medium quality graphics setting.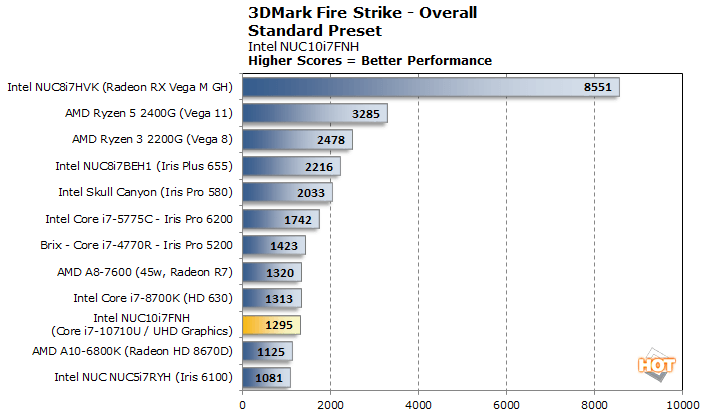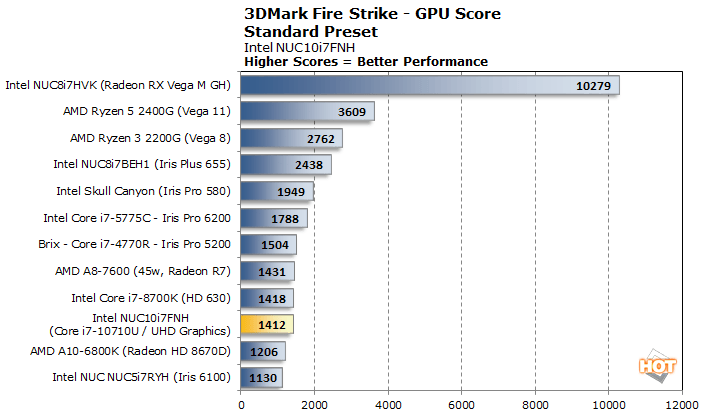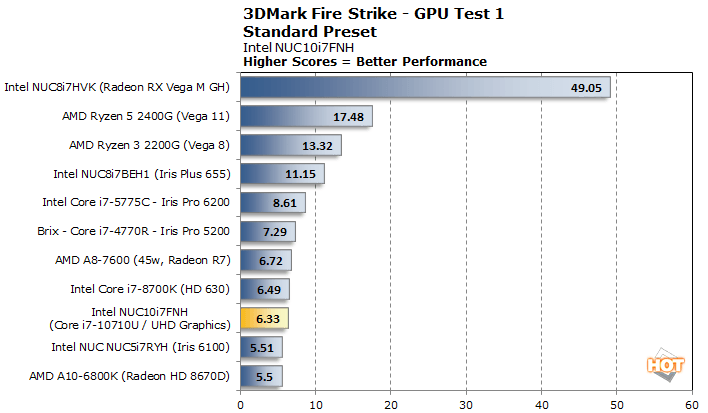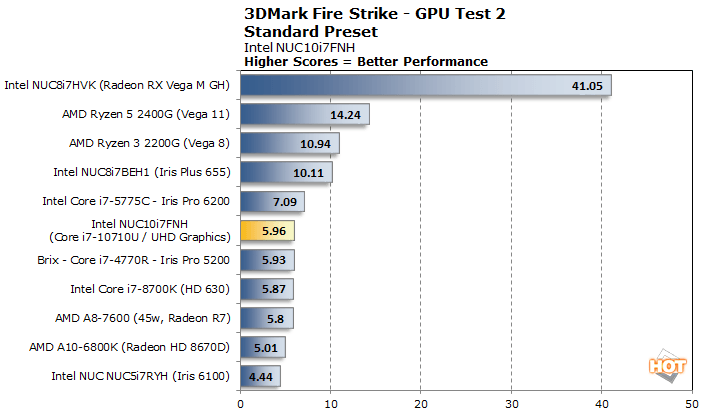 According to 3DMark, the Intel UHD graphics engine in the NUC10i7FNH is essentially identical to the HD 630 (its configuration is basically the same, but it is not branded as the 630 on Intel Ark or in device manager).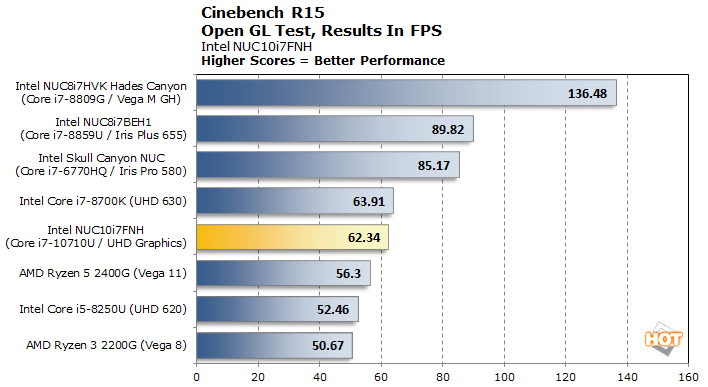 Cinebench's
OpenGL
benchmark tell the same story, with the Intel NUC10i7FNH landing just behind the desktop-class Core i7-8700K with UHD 630 graphics, but trailing the Iris Plus and Pro solutions by a wide margin.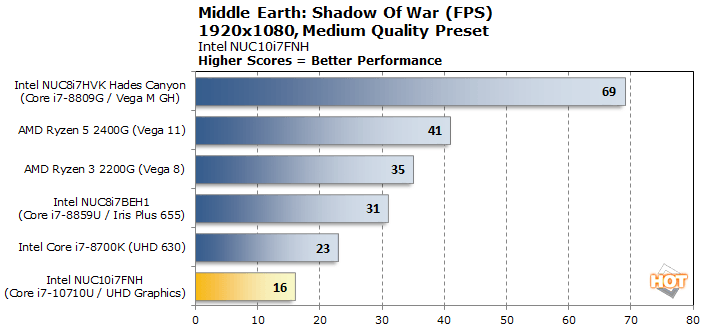 In Middle Earth: Shadow Of War, the NUC10i7FNH lands at the bottom of the stack even on the Medium Quality preset.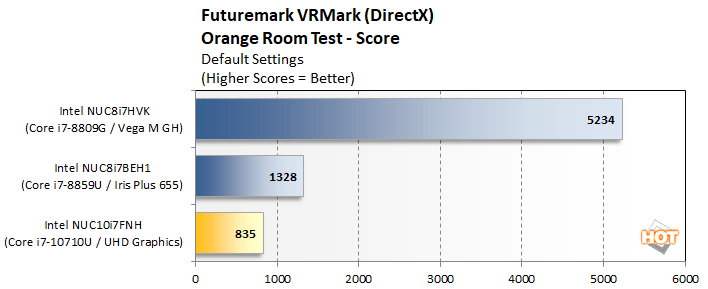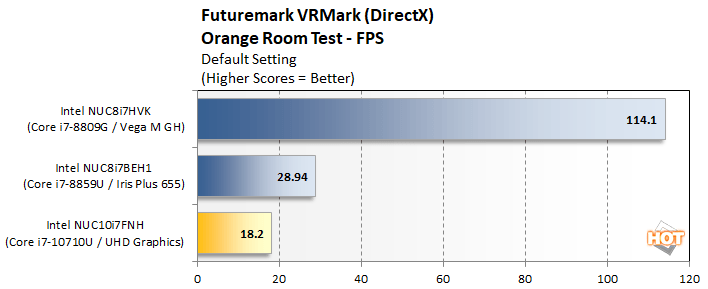 We did not expect the UHD graphics engine in the NUC10i7FNH to perform particularly well in VRMark -- this is not a machine targeted at gamers or VR -- but wanted to see how it fared against a couple of other NUCs we've looked at previous just to see where it stood. This mini-machine it not targeted at gamers, so demanding games and graphics workloads simply are not going to be its strong suit. This is a productivity or media streaming machine, but not gaming.
Related content
Comments