HP Omen 17 Review: A Value-Priced Mobile Gaming Beast
HP Omen 17: Battery Life And Final Thoughts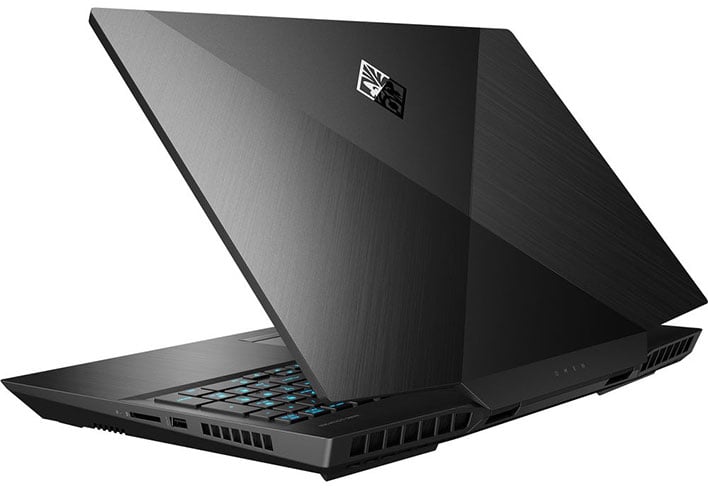 Our Battery Life testing is performed using a custom 1080p HD video loop test we developed here at HotHardware. We conduct the tests with
Windows 10
Quiet Hours enabled and the display's brightness calibrated as close to 115 lux on
our meters
as possible. Brightness calibration is vital to ensure a fair comparison with other notebooks in our group, since it greatly affects battery life.
However, every notebook has different brightness ranges, so it's critical to rely on a light meter, instead of a Windows brightness setting percentage, in order to level the playing field on brightness output. The HP Omen 17 required less than 60 percent brightness to achieve 115 lux.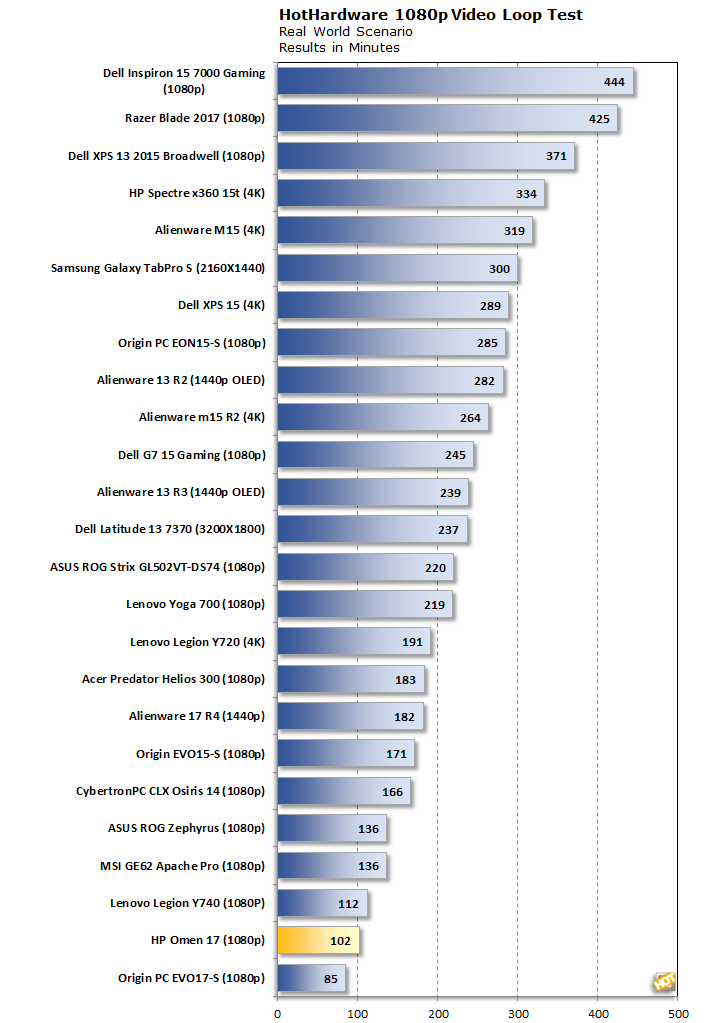 Yeah, so, battery life is not exactly stellar here, to put it mildly. In our video loop test, the Omen 17 lasted less than 2 hours long (1 hour and 42 minutes, to be precise). Incidentally, that wasn't enough to
beat
Origin PC's EVO17-S
for the shortest battery life, so at least there's that.
Really though, whether a gaming laptop lasts a couple of hours or a handful of hours, it's a good idea to be near a wall outlet. Gaming is one of the most demanding tasks, and poor battery life is par for the course on these types of very powerful but still mostly mobile. Sure, it would have been nice if the Omen 17 lasted longer than it did, but realistically, it wouldn't have changed much, in terms of how this laptop can be used (at least for gaming).

Cooling And Acoustics
What we found more concerning than the battery life is the fan noise. On the Default profile in the Omen Command Center utility, the fans had a tendency to kick on frequently, and they're a bit noisy, especially with heavier workloads. Even just surfing the web, however, can kick them on. They're not as loud on lighter loads, but are noticeable to be sure.
This is sort of a double-edged sword that's tied into the laptop's aggressive throttling (there are
forum threads
on this very topic). HP is clearly prioritizing stability over reaching peak performance. This can be observed in the Intel Extreme Tuning Utility, which shows the Omen 17 throttling CPU performance pretty much immediately when firing up a strenuous task, like Cinebench.
People can argue which approach is best, though we can at least see the logic in HP's decision. Real-world performance isn't affected much, and in that regard, playing it safe (perhaps even too safe) to avoid stability issues isn't a bad idea. At the same time, some will find it disappointing to not see the full power potential of the hardware be realized, and that's understandable.

Final Thoughts On The HP Omen 17
The HP Omen 17 proves you do not need to over pay for high-end hardware, because what you get with this gaming laptop is a strong assortment of components at a great price.
Roughly $1,600
is an attractive price for a 17-inch laptop with a Core i7-9750H processor, 16GB of RAM,
GeForce RTX 2070
GPU, and a 512GB NVMe SSD.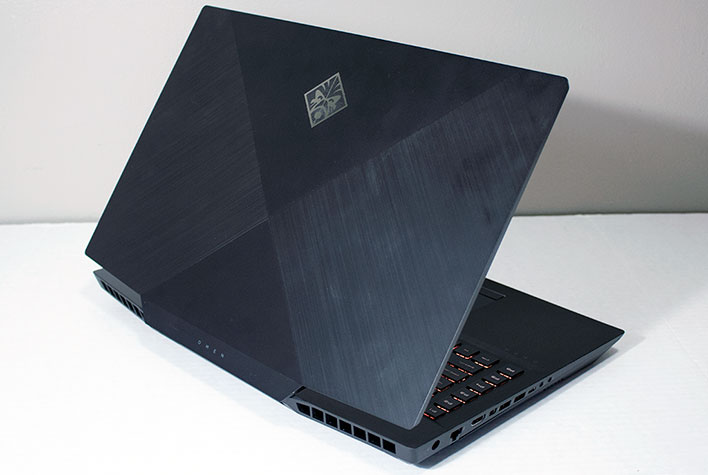 This is also a somewhat increasingly rare breed of laptop, with its 17.3-inch display. Smaller form factors have taken hold in recent years. That's fine and dandy, but for people who prefer a larger system (like this editor), the
Omen
17 fills that need with aplomb. We also like that HP offers both 1080p (144Hz) and 4K display options. Bumping up to a 4K resolution screen will make sense for some people, while others will prefer the speed of a higher refresh 1080p panel. There's really no right or wrong answer, it depends entirely on what kinds of things you do, what games you play, and your preference.
The only thing we found curious is the aggressive throttling on this laptop. In some cases, this caused it to under perform, though overall it posted strong results in our gamut of benchmarks. Still, it's a bit disappointing to see the CPU drop in frequency so quickly when presented with a strenuous task, and when the fans are going at full blast, it's a bit loud. The flip side to this is that HP is erring on the side of stability, while still maintaining a high level of performance in an nice form factor.
Our few gripes aside, the Omen 17 is a big and fast gaming laptop at a price that is typically reserved for lower end configurations, especially when moving past bland designs. The Omen 17's aesthetic is more in line with a boutique system and it is packing some seriously powerful hardware.






A lot of gaming laptop for the money

NVIDIA GeForce RTX 2070 GPU (full fat)

144Hz G-Sync panel
Distinctive design
Great all around gaming performance


Heavy

Short battery life


CPU is quick to throttle
Related content
Comments