HP Omen 17 Review: A Value-Priced Mobile Gaming Beast
HP Omen 17: Design And Build Quality
Laptops have gotten smaller and lighter over the years, including ones built for gaming. Nevertheless, the Omen 17 is still a relatively big system. It measures 15.94 x 11.61 x 1.06 inches and weighs around 7.2 pounds. The exact weight varies with different configuration options, though regardless of the hardware makeup, it packs some heft—its physical size and weight preclude it from barely being noticed in a backpack. Measurements aside, this an attractive gaming laptop.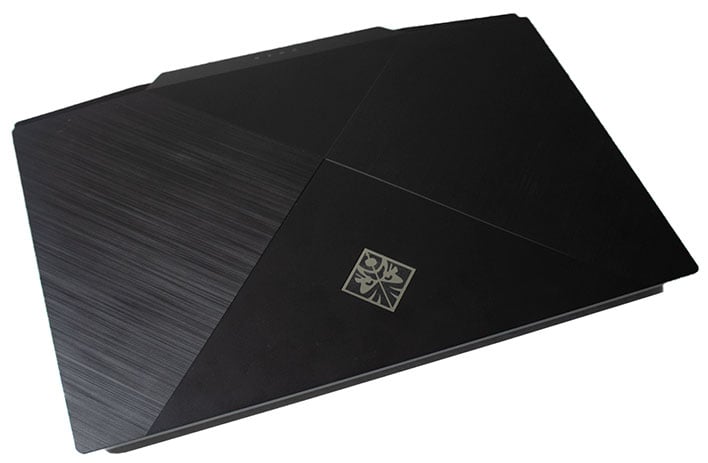 If you read our review of
HP's dual-screen Omen X 2S
, then you have a general idea of what the Omen 17 looks like. They share a similar design language, though neither is a carbon copy of the other. Like the Omen X 2S, the Omen 17 sections the lid with triangles, giving it some subtle character. The two wedges on either side offer up a brushed metal aesthetic, while the top and bottom triangles are smooth.
HP's iconic Omen logo with a mirrored finish further accents the matte black finish of the Omen 17, as does the platformed approach to the rear of the lid—the left and right corners of the lid do not line up flush with the bottom section of the laptop. This is made possible by the centering of the hinges, rather than spreading them further apart like most laptops.

It's a visually pleasing design for a gaming laptop (in our opinion), with a sort of stealth motif that works well. When handling the Omen 17, however, the tactile experience isn't quite as good, as the chassis does not feel as premium as it looks. HP went with a mix of polycarbonate plastic and aluminum in the construction, with the former dominating the latter. The lid/display, for example, is easily flexed and lacks the rigidity of an all-metal laptop. And the chassis as a whole just doesn't feel as rigid as some other machines. That's not say it feels fragile—it doesn't—just that this doesn't have the same premium feel as a higher-end ultrabook or luxury laptop.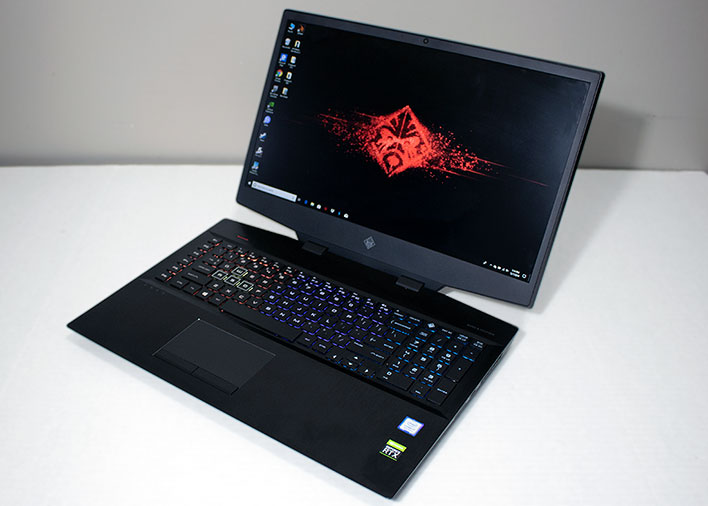 The 17.3-inch display is flanked by bezels on all four sides. They're not overly thick, and with the screen seemingly teetering on the centered hinges with gaps on either side, it has the illusion of looking slightly smaller than it really is (though it still looms large overall).

Our display is the 1080p version with a 144Hz refresh rate and
NVIDIA G-Sync
support. It's an in-plane switching (IPS) panel, too. There's a definite sweet spot, though unlike most TN panels, the image quality does not degrade into a sludgy mess when viewing the laptop at an angle—it just appears dimmer when your vision is not centered.
Using our light meter, we measured the brightness of the Omen 17's display at just over 300 lux, with the display set to 100 percent. That drops to around 280 on the edges, which is not a steep decline. It appears pretty uniform to the naked eye.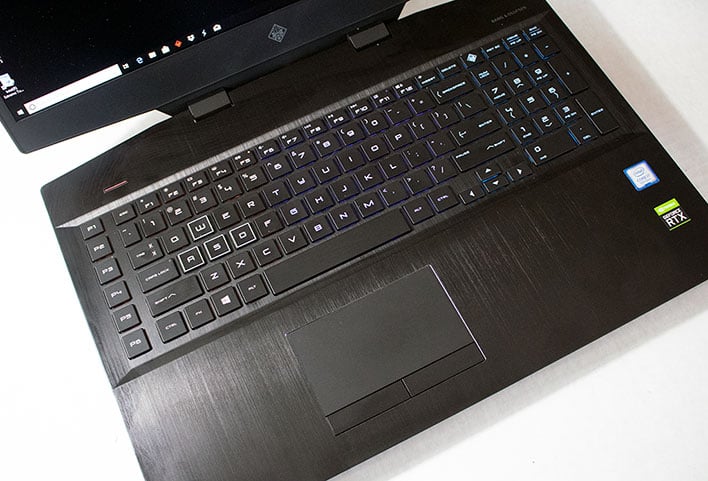 The brushed metal motif extends to the entire deck, save for the touchpad, of course. A recessed section houses the keyboard with standard low-profile keys. Typing is what you would expect on a laptop—it doesn't rival a standalone keyboard, but is serviceable, with tight, reliable key action.
This is a full-size plank, with sufficient spacing between keys to avoid cramping your style (or typing). Only the arrow keys feel a tad squished. There's also RGB backlighting, though it's not per-key lighting—instead of outfitting each individual key with its own, addressable RGB light, there are four lighting zones. Or 3.5 zones, as the all-important WASD keys comprise one of the zones. The other three consist of the left, middle, and right portions of the keyboard.
On the left, HP outfitted the Omen 17 with half a dozen macro keys, labeled P1 through P6. HP's Omen Command Center utility is your hub for programming macros, as well as fiddling with the RGB lighting (and a few other things, which we'll discuss in a bit).
The two-button touchpad sits underneath the keyboard and is positioned slightly off center, to the left. It's not all that large, though it hardly matters for a gaming laptop—most people are going to connect a gaming mouse to this thing and be on their way. The sections on both sides of the touchpad are big, though, and also attract finger smudges. You'll want to wipe this laptop down every so often.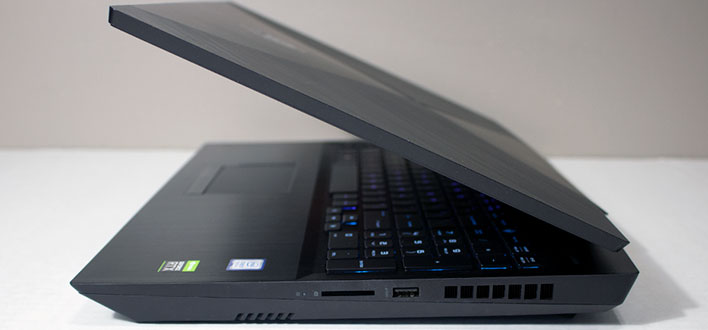 HP Omen 17 Ports (Right Side)

Ports and connectors on the left side of the Omen 17 include the power jack, gigabit Ethernet port, HDMI 2.0 output, mini DisplayPort output, two USB 3.1 Type-A ports, a USB-C (
Thunderbolt 3
) port, and two 3.5mm jacks (headphone and microphone).
Over on the left side is another USB 3.1 Type-A port (for three total) and a microSD memory card reader. There's also a drive activity LED and, new to this latest refresh, an additional vent measuring 51mm long by 8.6mm high.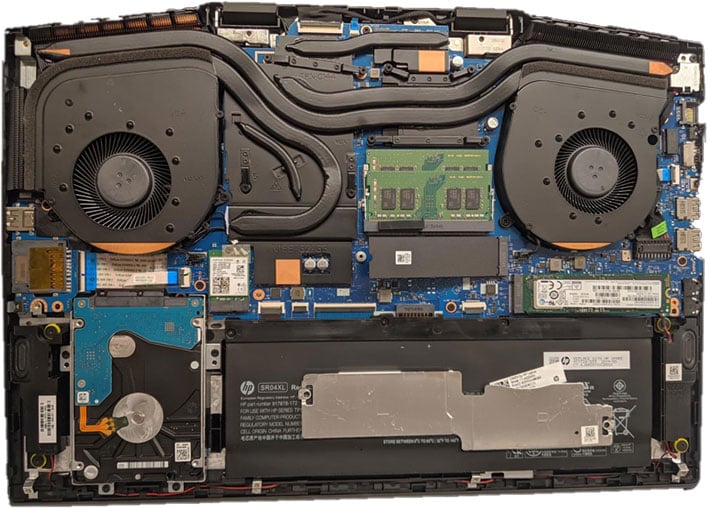 The last thing we'll look at is the underbelly of this beast. HP designed the Omen 17 to be easily serviced and upgraded, with a bottom panel that pops off. It's a bit tedious, as you have to remove 10 tiny screws (some of different lengths, so you'll have to pay attention to where each one went), but at least you can easily get at the hardware.
Once exposed, you can access the RAM, storage drives, wireless module, and the built-in battery without much fuss. You can also service the fans, in case any dust bunnies have managed to take residence inside the laptop. Kudos to HP for making the Omen 17 so user serviceable, in a time when some big tech companies seem to be working so hard to deny a user's right to repair their own hardware.
Now let's have a look at the software...

Related content
Comments