HP Omen 17 Review: A Value-Priced Mobile Gaming Beast
HP Omen 17: Software And User Experience
For the most part,
HP
shipped a clean laptop on the software side, save for loading it up with
McAfee's
LiveSafe security software. We suspect most gamers are going to uninstall it right away, and that's exactly what we did as well. In our experience, the built-in antivirus in Windows is sufficient, especially if you're not being reckless on the web.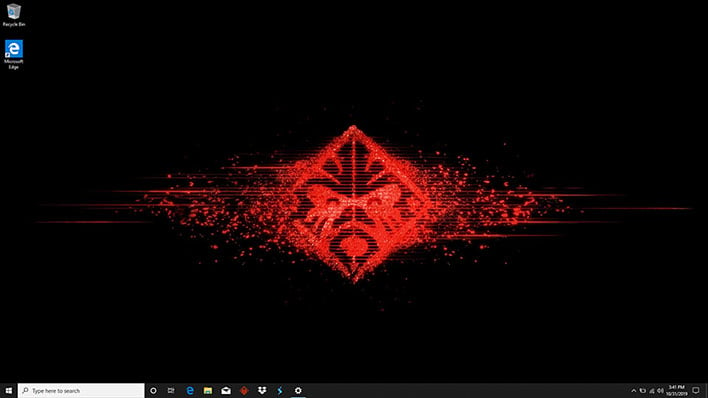 Our configuration also shipped with
Windows 10
Home 64-bit. HP offers the option of upgrading to Windows 10 Pro 64-bit when configuring the Omen 17 on its website, though if you're mostly going to be playing games, the Home version is certainly good enough.
You get HP's custom wallpaper, too, with the Voodoo-inspired logo in red sitting atop a black background. And look at that desktop—it's not littered with icons, just the Recycle Bin and Microsoft Edge (which you'll probably use to download Chrome or Firefox).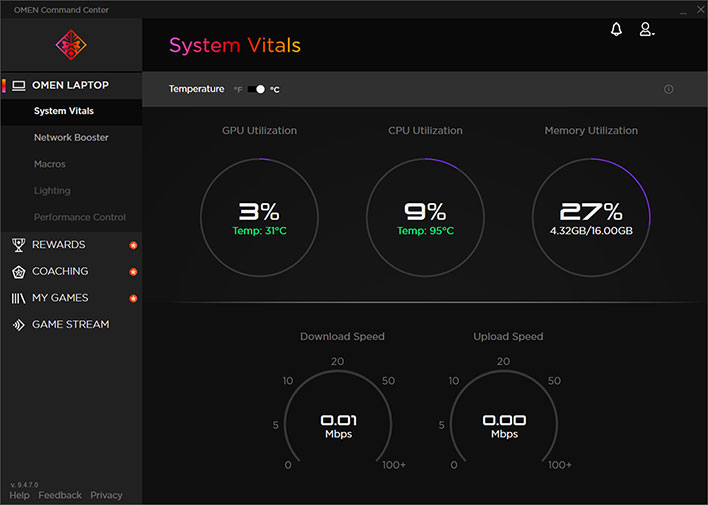 The Omen Command Center is named appropriately, because that's exactly what it is—a command center for the Omen 17 laptop. There are several different sections, the primary ones being System Vitals, Network Booster, Macros, Lighting, and Performance Control.
Here's a quick and dirty rundown of each one...
System Vitals: Monitor CPU and GPU utilization and temps, storage utilization, and network activity (download and upload speeds)
Network Booster: Monitor bandwidth usage and adjust priority levels of apps
Macros: Program macros for the six dedicated keys on the left side of the keyboard
Lighting: Customize the four RGB lighting zones
Performance Control: Select a cooling profile
There's also a few other sections, such as My Games, which serves as a launcher for your installed games (and it can also track how much time you've spent playing each one), a Game Stream section to set up your Omen 17 laptop as a host PC, a Coaching section to supposedly improve your gameplay (HP partnered with Mobalytics for that), and a Rewards section.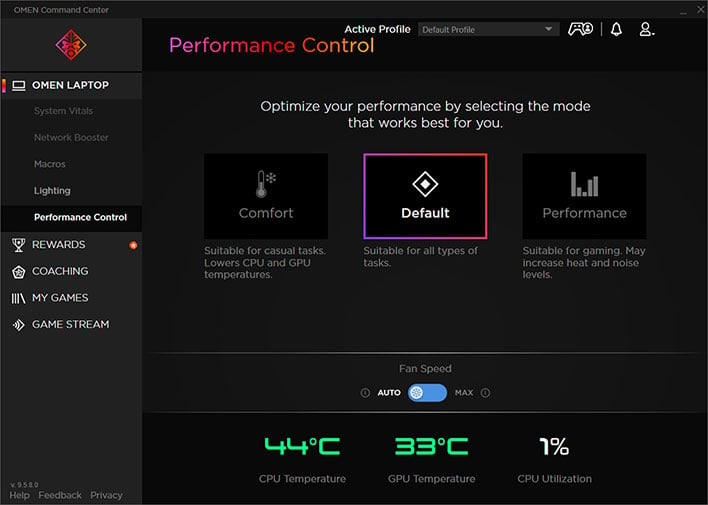 The Performance Control section is perhaps the most interesting. There are three modes—Comfort, Default, and Performance. These dictate how the laptop manages power profiles, and how aggressively it cools the CPU and GPU. There's also an option to set the fan speed on Max instead of Auto, if you're okay with the trade off in noise as well, though it's a pretty big trade off because the fans in this system can be loud when running at full bore.
Now for the fun stuff, the benchmarks!...

Related content
Comments