Dell XPS 17 9700 Review: The 17-Inch Laptop Gold Standard
Dell XPS 17 9700: Battery Life, Final Thoughts And Conclusion
Our Battery Life testing is performed using a custom 1080p HD video loop test we developed here at HotHardware. We conduct the tests with
Windows 10
Quiet Hours / Focus Assist enabled and the display's brightness calibrated as close to 115 lux on our meters as possible. Brightness calibration is vital to ensure a fair comparison with other notebooks in our group, since it greatly affects battery life.
However, every notebook has different brightness ranges, so it is critical to rely on a light meter, instead of a Windows brightness setting percentage, to level the playing field on brightness output. With its high quality display the Dell
XPS 17
only required about 31 percent brightness to achieve 115 lux.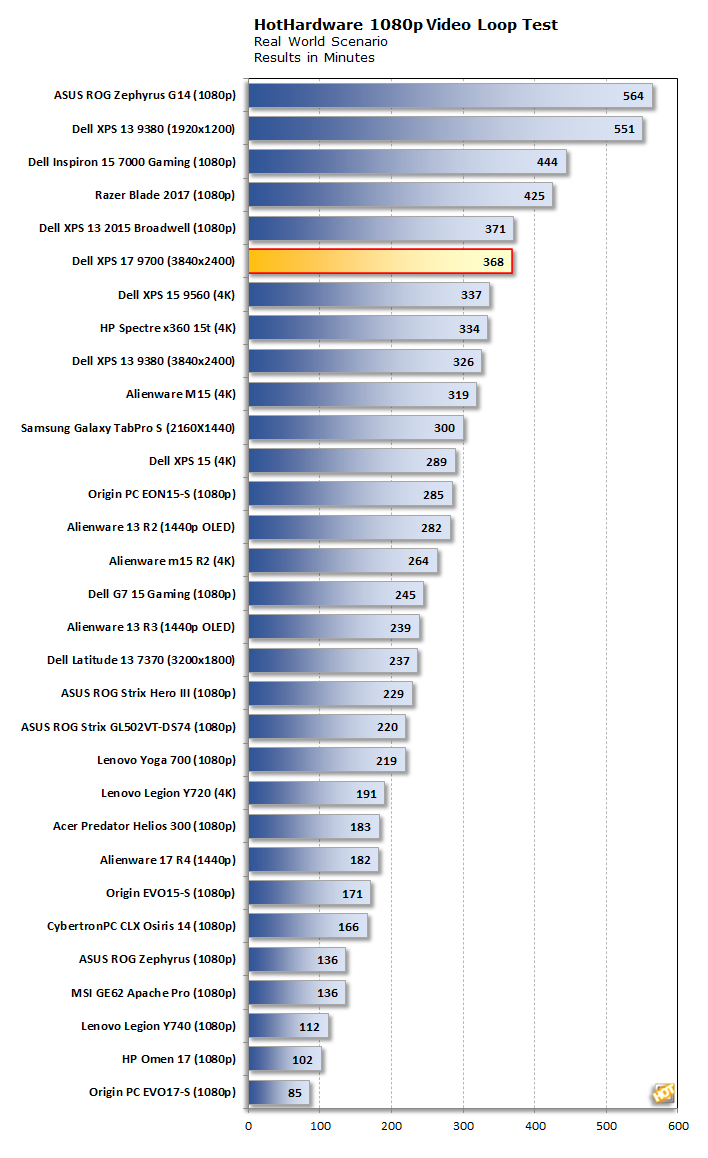 The Dell XPS 17 9700 packs a massive 97Wh battery when configured with a UHD+ touch screen, but 17-inch
4K
displays also tend to suck down a lot of juice. Even still, the XPS 17 held on for a hair over 6 hours in our looped video rundown test. This positions its battery life as the best high-end 4K equipped ultrabook we've tested. The FHD+ variant uses a much smaller 56Wh battery and weighs nearly a pound less, although we do not have a unit on hand to compare its battery life performance here.
Dell XPS 17 Acoustics & Thermals
With great performance comes great thermal management, or something like that. We wanted to see how well Dell managed to tame the XPS 17's hardware under pressure, so we devised a quick torture test. We captured a thermal image here at idle, then launched Cinebench on a loop, alongside the 3D Mark Time Spy Stress Test, for 15 minutes before taking another thermal image.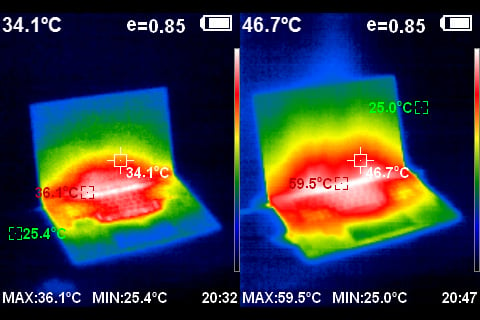 This workload should represent an absolute worst-case scenario for this notebook. Even still, the highest temperatures we pick up from it are around 60C from the rear exhaust. 60C is right about the warmest temperature skin can stand before feeling uncomfortable from prolonged exposure. Thankfully, most of the keyboard remains in the 40-50C range which is much more comfortable. Now we will look at how the XPS 17 is managing these temperatures.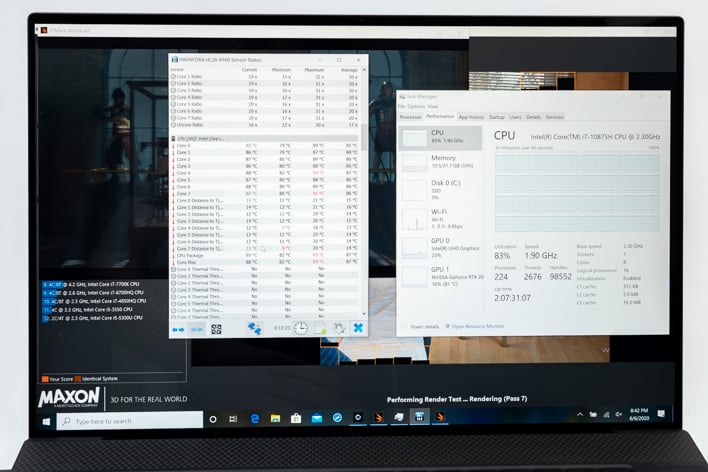 With the CPU and GPU both taxed, the Core i7-10875H's clock speed throttles to 1.9GHz. HWInfo64 reports CPU temperatures in the upper-80C range with a couple cores stepping over 90C at some point. We then stopped the 3D Mark stress test and continued to monitor the system.
With only Cinebench still ticking away, the CPU clocks rebounded to about 2.6GHz within a few minutes. Temperatures also eased off slightly, back to the lower-to-mid 80C range. All the while we measured the system's fan volume.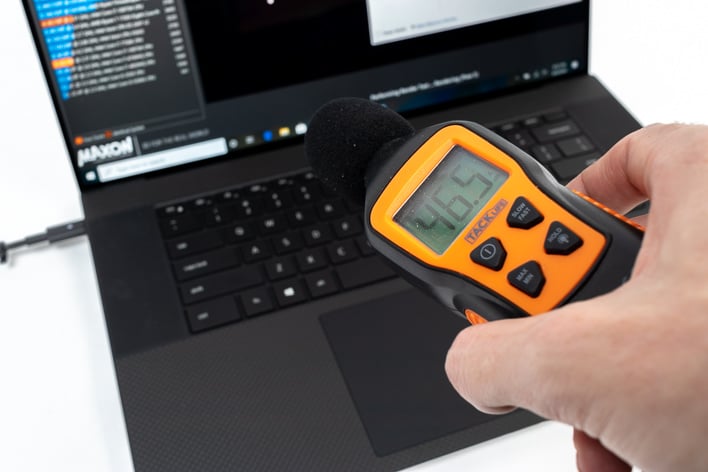 The XPS 17 9700 did not exceed 48dB at any point of our testing. Thankfully, the fans also avoid making any high pitched whine as some systems do. In all, the fan noise is very inoffensive in our experience.
Final Thoughts & Conclusion
The new Dell XPS 17 is an enviable laptop. No matter which aspect we look at – its construction, its aesthetics, its performance – the XPS 17 is sure to please.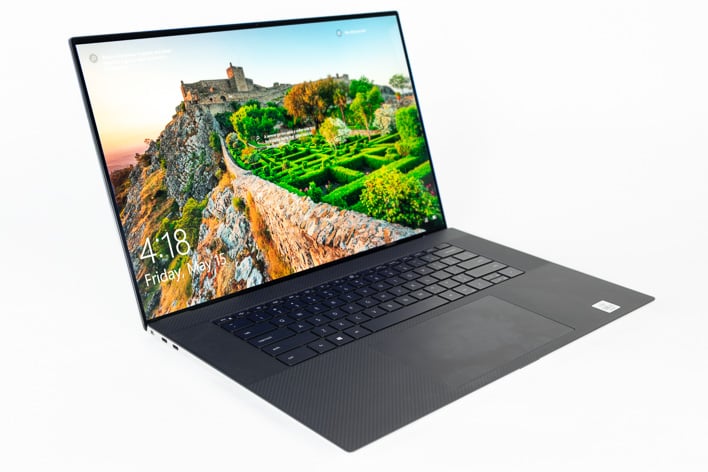 Dell's
XPS
family of laptops have been some of the most meticulously engineered high end notebooks on the market for years and the XPS 17 is no exception. Handling the machine reveals the levels of polish that separate it from less luxurious contenders. The diamond cut sidewalls provide an unmatched level of fit and finish to each port. The
carbon fiber
palmrest provides a more supple feel than pure aluminum can offer, and it has proven to withstand abuse much better than plastic composites in our experience.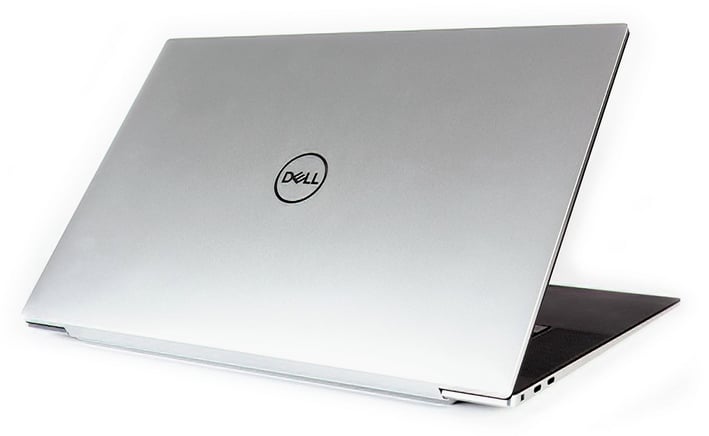 Its appearance is understated, sleek, and modern. The only
Dell
logo is found on the lid. The model name – "XPS" – is only found on the underside of the notebook. Even the ports lack any kind of iconography. Dell can get away with this because all the
Type-C
ports have the same features – Thunderbolt 3 with Power Delivery and DisplayPort. Even the display offers no distractions. It's a bright, high quality display and a lot of it. The Dell XPS 17 is refreshing in its simplicity and execution.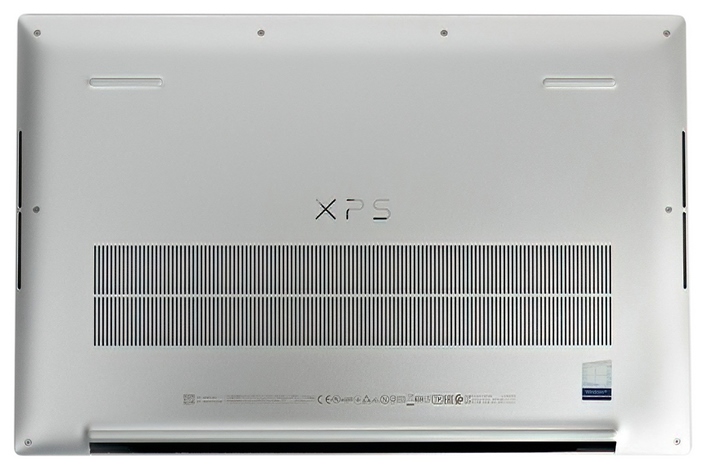 Any luxury item would be just a luxury item if it were divorced from utility. The Dell XPS 17 is not just a luxury item. While our high-end configuration is likely to be out of reach for some consumers – pricing is currently $2999.99
as configured on Dell.com
– its ability to churn through workloads without breaking a sweat means whatever configuration is selected will not be hampered by the machine's svelte size. The new Dell XPS 17's starting price is $1399 (Core i5-10300H quad-core), though we'd suggesting customizing that base build with another 8GB of RAM for $1499, or
stepping up to the 6-core Core i7-10750H
variant for $1899. Of course, we would love to see what a Ryzen 9 powered XPS 17 could do, but Dell has not tipped their hand to know if anything is in the works on that front.
We struggle to find any aspect of the XPS 17 we're not wholly impressed with. Sure, some users are not ready to leave USB-A ports behind. However, the Type-C ecosystem is very healthy now and the only reason to reach for a dongle is to connect a piece of legacy equipment that is likely due for replacement anyway. Quality Bluetooth peripherals – from mice and keyboards to headphones and microphones - are readily available and cut down on cords as well.
For content creators who rely on sound for music and video, the XPS 17's stereo speakers will also not disappoint. Their performance is very similar to those in the
MacBook Pro
16. While the MacBook Pro does admittedly achieve better bass reproduction, the XPS 17 provides better spatial separation and has a brighter overall character - sound quality, however, is obviously highly subjective.
Regardless, no matter how we slice it,
Dell's new XPS 17
is a total hit. It's a spacious, beautiful full-featured laptop with excellent performance, impeccable build quality and components, that also delivers top-notch battery life in its class. As far as 17-inch notebooks go, the new Dell XPS 17 may very well be the flagship laptop many of you have been waiting for.
Sleek aluminum chassis with diamond cut edges

17-inch UHD+ display in 15-inch form factor

Vibrant user-facing stereo speakers

Up to Core i9 8-core and GeForce RTX performance

Physical SO-DIMM memory slots

4x Thunderbolt 3 ports and full SD card reader

Strong 4K battery life

Undeniably pricey as configured

Some may miss USB-A ports

720p Webcam struggles with low light
Related content
Comments