Dell OptiPlex 7070 Ultra Review: The New Disappearing Desktop PC
Dell OptiPlex 7070 Ultra Review: An Innovative New Breed Of Small Form Factor Desktop PC
the Intel NUC
, Gigabyte BRIX and ZOTAC ZBOX, tend to include VESA mounts for easy attachment to the back of your monitor for a cleaner, all-in-one PC-like appearance while using a standard monitor. The flaw in that methodology is not all monitors have VESA mounting holes on the back and the ones that do tend to either have basic stands that have minimal adjustments or nicer swivel and height-adjustable options that attach to where the VESA holes are. This was a flaw I always pointed out during my time employed with ZOTAC, while launching every ZBOX, even the single-generation MAG (mini all-in-one giant), up until the models announced at CES 2015.
Dell's latest
OptiPlex 7070 Ultra
finally solves the old small form factor PC and VESA mount dilemma with a slim new design that slides into a trio of monitor mount options engineered for both form and function. Instead of a basic VESA mounting placement, Dell offers two VESA-compatible stands – also height-adjustable and a fixed height options -that hide the OptiPlex 7070 Ultra compute module and give it the appearance of an all-in-one with the flexibility of choosing your own display. Other mounting options also include an offset VESA mounting plate that lets you mount the OptiPlex 7070 Ultra to any VESA arm mount, including an official one that's coming soon. Our focus today, however, is on the height-adjustable stand with the OptiPlex 7070 Ultra and its tight integration that literally vanishes into the monitor stand itself.
While Intel's 10th Generation Ice Lake is the new mobile hotness, Dell employs Intel's previous gen
Whiskey Lake
processors at the heart of the OptiPlex 7070 Ultra. Dell offers three standard processor options in the form of the dual-core Intel Core i3-8145U, quad-core Core i5-8265U and quad-core Core i7-8565U. System administrators that want more remote management flexibility can opt for the quad-core Core i5-8365U or Core i7-8665U processors with Intel vPro technology as well.
Ice Lake
processors with vPro technology are not available yet, which explains why Dell opted to launch with Whiskey Lake, since systems the OptiPlex 7070 Ultra will likely reside predominantly in corporate environments.
All the processor options feature integrated
Intel
UHD Graphics 620, so don't expect to play your favorite triple-A title on the Dell OptiPlex 7070 Ultra anytime soon. However, Intel's UHD Graphics 620 engine is adequate for the occasional indie game, or a few rounds of some light duty
Counter-Strike
.
Dell OptiPlex 7070 Ultra

Specifications & Features
Model

OptiPlex 7070 Ultra

Processor

8th Generation Intel Core i7-8665U Quad-Core (8MB Cache, up to 4.8GHz)


Display




Dell P2719HC 27-inch USB-C monitor with OptiPlex Ultra Height Adjustable Stand

Graphics

Intel UHD Graphics 620

Memory


16GB DDR4 2666 MHz (2x8GB)

Storage


512GB Western Digital PC SN720 NVMe M.2 SSD

Ethernet

Integrated Gigabit
Intel I219-LM chipset

Wireless Connectivity

Wi-Fi 6, 802.11ax Dual-Band, 2.4GHz & 5GHz, BT 5.0 (2x2)
Intel Wi-Fi 6 AX200
Interface (Left)

USB Type-C (USB 3.1 Gen2) with DisplayPort Alt Mode, USB 3.1 (Gen2), 3.5mm Headphone & Microphone combo jack


Ports (Bottom)

USB Type-C (USB 3.1 Gen2) with DisplayPort Alt Mode/Power Delivery, USB 3.1 (Gen 1), USB 3.1 (Gen2), DC-in

Operating System

Windows 10 Pro 64-bit


Dimensions

10.08 x 3.78 x 1.10 inches (without monitor)

Weight

1.16 pounds (minimum weight, without monitor)


Warranty

3 years hardware service with onsite/in-home service after remote diagnosis

Price
$1,578.76 As Configured And Tested, As Low As $829
---
Dell offers quite a few memory options from 4GB up to 64GB DDR4-2666, which are regular SO-DIMMs. SSD and HDD storage options are available with PCIe x4
NVMe
SSDs from 128GB to 1TB, including a self-encrypting 256GB option, and standard 2.5-inch hard drives as the sole or secondary storage option in 500GB to 2TB sizes in 5400RPM and 7200RPM speeds. A 500GB 7200RPM Opal 2.0 FIPS self-encrypting drive is also available for secure uses, too.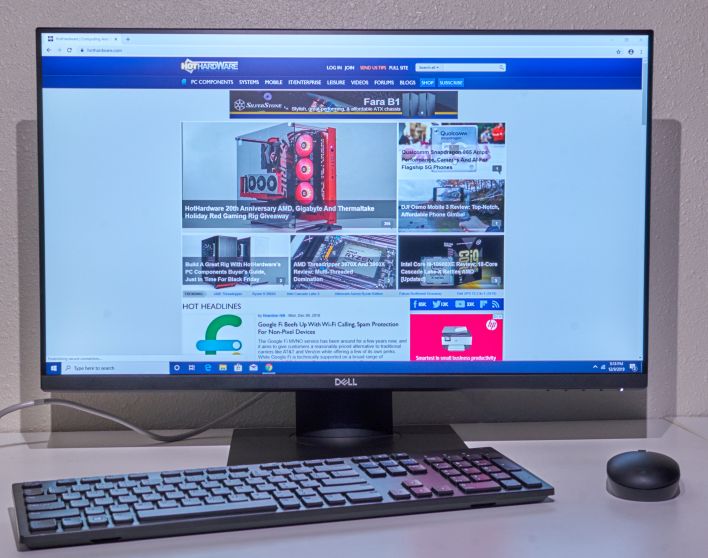 Intel's excellent AX200 wireless adapter is the default networking solution and supports
Wi-Fi 6
and Bluetooth 5.0. Dell offers a downgrade option to a Qualcomm QCA61x4A-based 802.11ac solution for an extra $6.50 but we'd advise the former option will offer better future-proofing even if you're network doesn't currently support 802.11ax connectivity.
The configuration we received from Dell for evaluation features the quad-core Core i7-8665U
vPro
-enabled processor, 16GB of DDR4-2666 memory, 512GB PCIe NVME SSD, the height-adjustable stand and basic wireless mouse and keyboard, which comes in at $1,331.20 without a monitor. Dell sent over a P2719HC USB-C monitor, which can be ordered with the OptiPlex 7070 Ultra for an additional $254.99, bringing our total system configuration to $1,578.76.
Has Dell achieved small form factor desktop perfection or is the OptiPlex 7070 Ultra simply just another proprietary system design? Join us as we dive deeper into the system's design and performance…
Related content