Dell OptiPlex 7070 Ultra Review: The New Disappearing Desktop PC
Dell OptiPlex 7070 Ultra Review: PCMark, 3DMark, and Gaming Performance
Futuremark benchmarks have been go-to system tests since the late '90s. We ran the Dell OptiPlex 7070 Ultra through PCMark 10, which is designed to gauge system performance in everyday use case scenarios with GPU acceleration-enabled, and also with 3DMark to tests its gaming and graphics chops.
PCMark 10

Productivity and System-level Benchmarking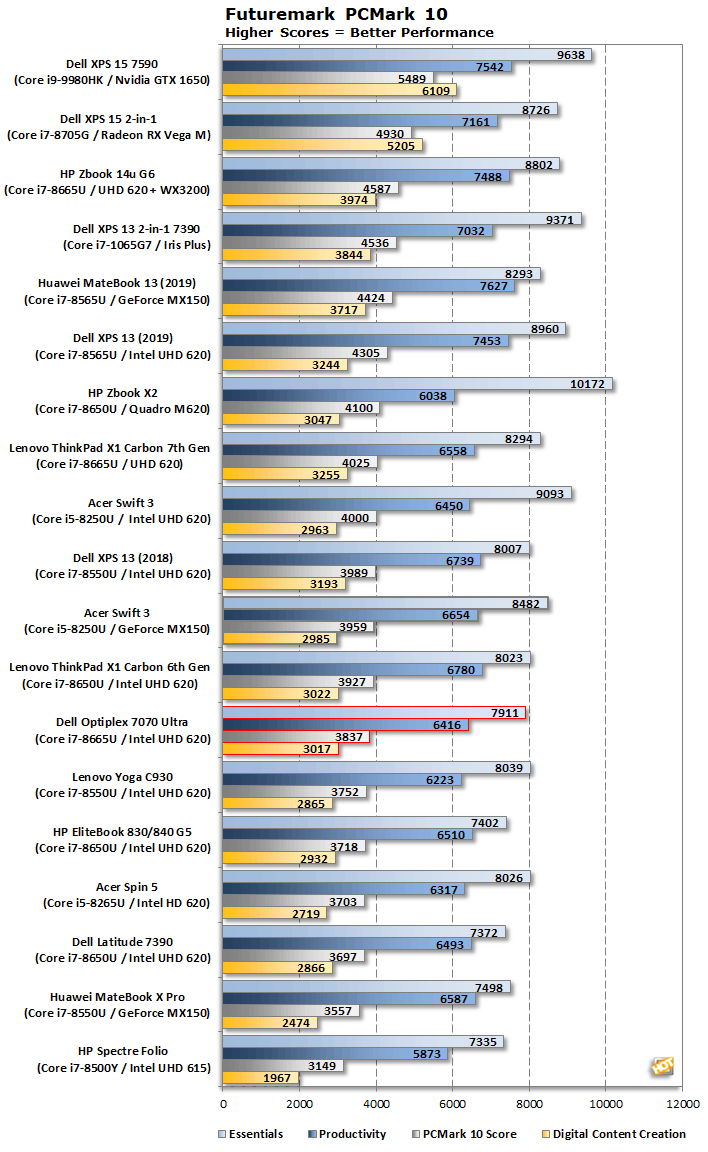 PCMark10 performance doesn't reveal any surprises – performance is on par with notebooks that feature the same or similar CPUs. However, in the Essentials benchmark where it tests everyday usage and app start-up times, the
OptiPlex
7070 Ultra's low-end SSD shows 12-percent lower performance than the Dell XPS 13 (2019) which features an Intel Pro 7600p that delivers nearly double the read speed of the WD SN520.
3DMark Benchmarks
3D Performance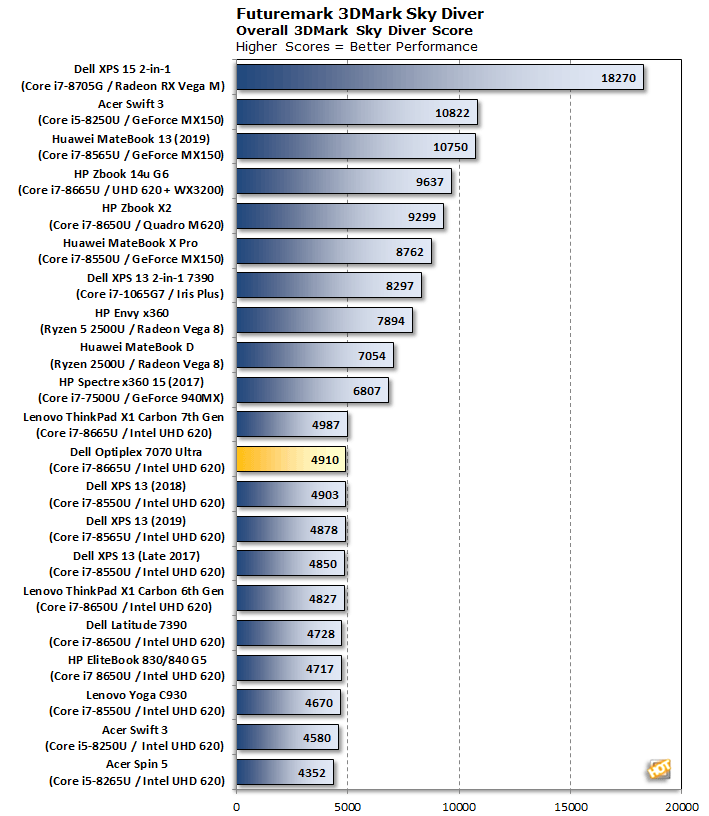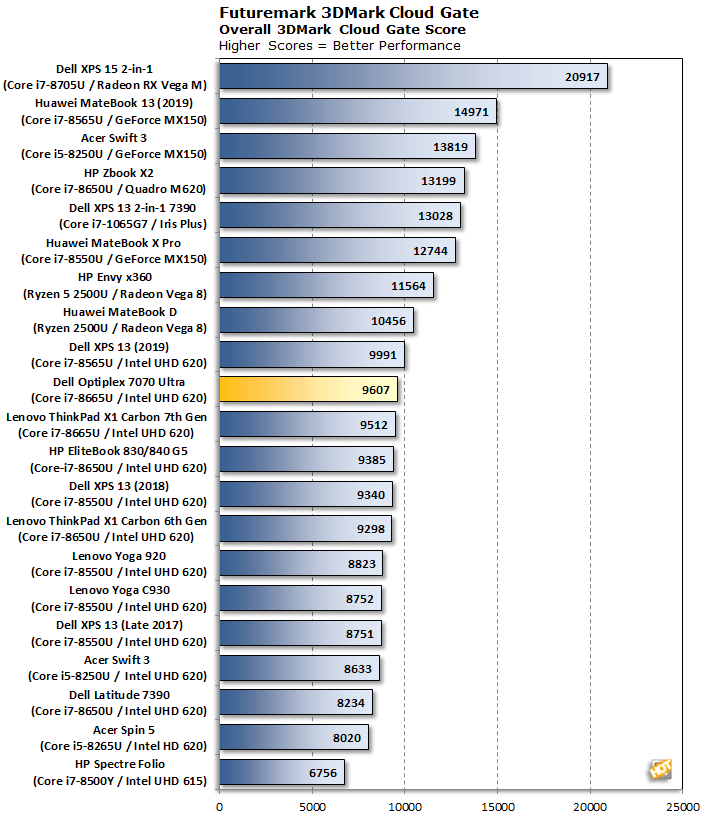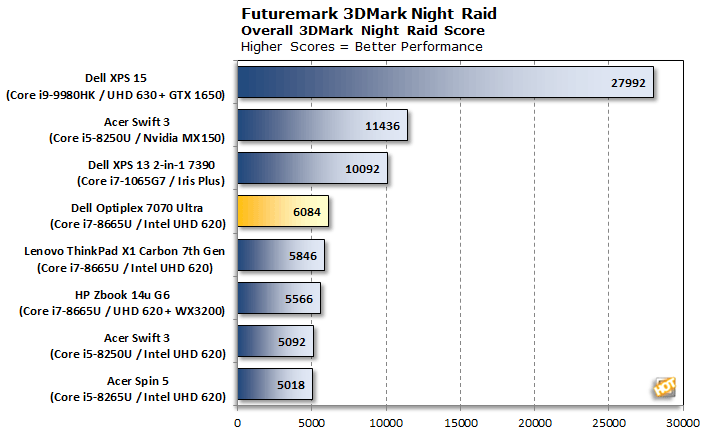 We don't expect much in terms of 3D performance from the OptiPlex 7070 Ultra and its 3DMark results are as expected. It performs similarly to notebooks with the same processor featuring integrated
Intel
UHD 620 graphics, though in actuality the UHD 620 is not something you should expect to do any real gaming with.
Middle Earth: Shadow of War
Gaming Performance
We've recently switched to using Middle Earth: Shadow of War on gaming notebook reviews, so we don't have many notebooks to serve as reference points. To show you how a more taxing game runs on the OptiPlex 7070 Ultra, we ran it at various quality levels at a 1080p resolution...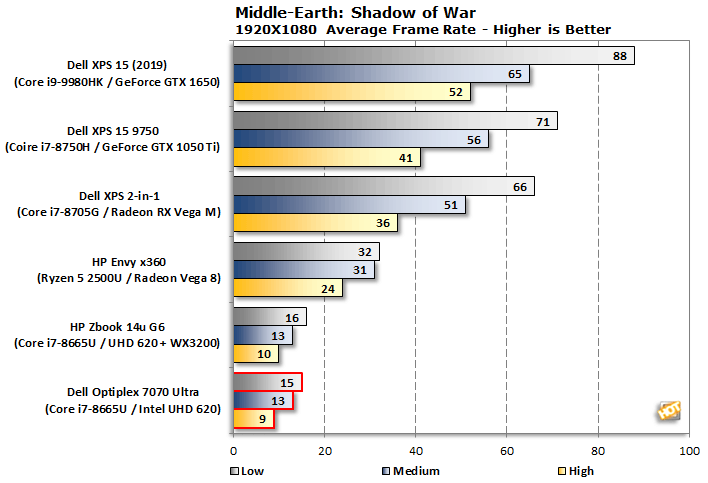 You won't be playing Shadow of War on the Dell OptiPlex 7070 Ultra, especially not at 1080p. Dropping the resolution to 1280x720 with low quality only bumps it up to an almost playable 23 fps and the only way to get a playable 31 fps is to drop the resolution down to 960x540, which is not very pleasant.
GRID Autosport
Gaming Performance
Grid Autosport is a popular cross-platform racing game from Codemasters. Its also optimized for Intel HD graphics and can run on a variety of different hardware. We tested the game using high quality image settings at 1080p.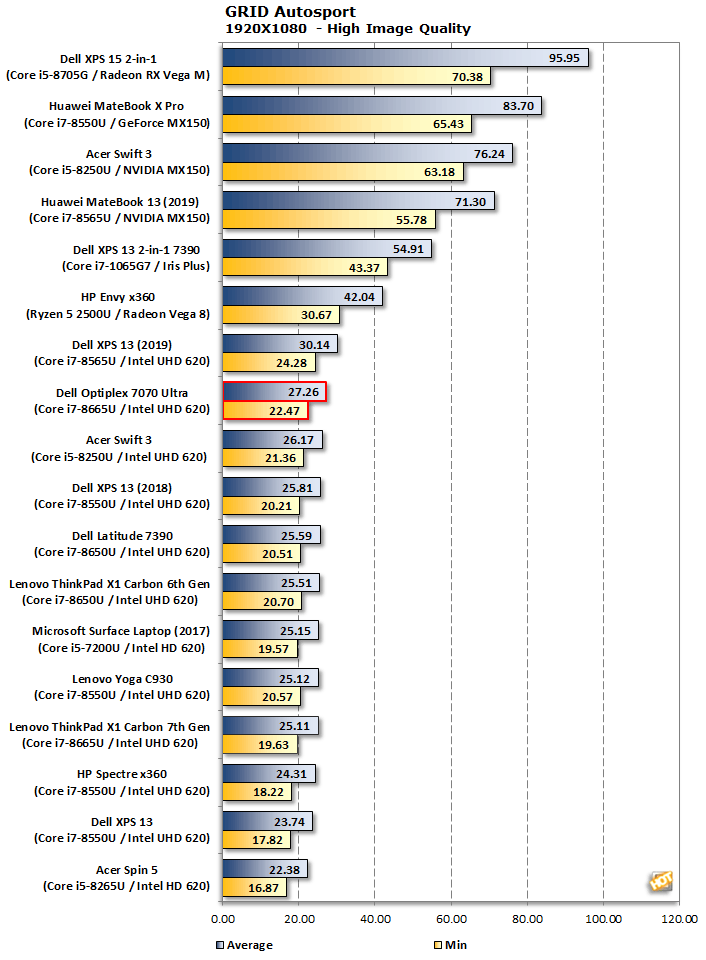 Despite being optimized for Intel HD Graphics, don't expect to play this game at 1080p with high-quality settings either. However, the game defaults to medium quality -- which is less taxing than what we use in the charts -- and is playable at 1080p with an average 37 fps and never dips below 29fps.

Related content
Comments