Dell OptiPlex 7070 Ultra Review: The New Disappearing Desktop PC
Dell OptiPlex 7070 Ultra Review: Design, Mounts, and Displays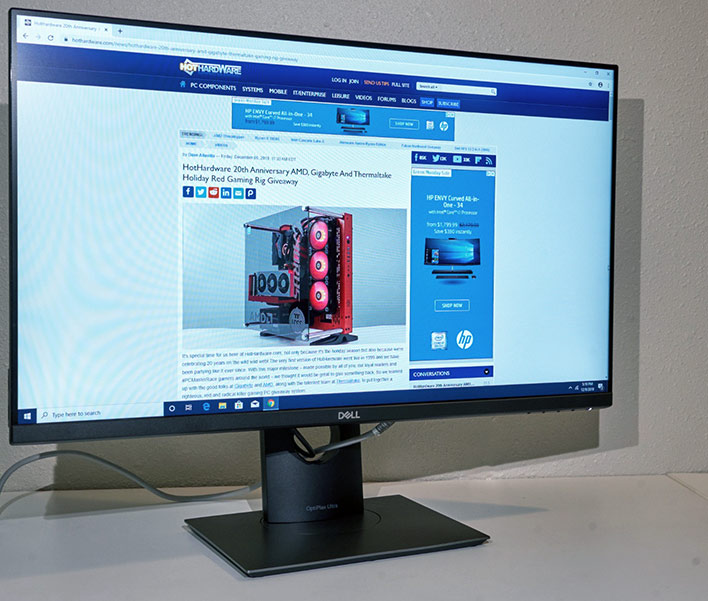 Dell designed the
OptiPlex 7070 Ultra
with form and function in mind – the aesthetic isn't as sexy as something like the white spun-glass XPS 13 2-in-1, but it is sleek, slim and purpose-built, like a tailored suit. It's all business with a sense of style and measures in at 3.78-inches wide, 10.09-inches long with a height of 0.78-inches. An all-metal chassis with a plastic cover forms the entire OptiPlex 7070. The plastic cover feels solid and finished with the same texture that's typical of Dell monitors.
Connectivity is generous, by notebook standards, but not quite in-line with a full-size desktop. You have a USB 3.1 (Gen1), a USB 3.1 (Gen2), Ethernet, DC power and USB Type-C ports on the bottom of the OptiPlex 7070 Ultra. The USB-C port supports DisplayPort Alt mode and Power Delivery for single-cable connectivity to USB-C monitors.
Dell
includes a combo headphone/microphone jack and additional USB 3.1 (Gen2) and USB-C ports on the side. The side USB-C port supports DisplayPort Alt mode as well, but not USB PD.
Thunderbolt 3.0 technology is absent from the Dell OptiPlex 7070 Ultra. However, after being on the market for three years, there are few compelling Thunderbolt 3.0 accessories available. Sure, you can add an external GPU enclosure, but that defeats the size and simple one-cable connectivity of the system. It's more budget-friendly to go the mini-ITX route if you want a small gaming PC anyway. The 10 Gbps throughput of USB 3.1 (Gen2) and DisplayPort Alt mode are perfectly adequate for external storage, memory card readers and daisy-chaining displays.
The OptiPlex 7070 Stand
The stealthy stand is a major selling point of the OptiPlex 7070 Ultra. It looks like the typical stand that ships with all Dell monitors, but a simple button located in the cable management pass-through releases the back cover, revealing a hollow opening. Installing the
OptiPlex
requires minimal effort – it simply snaps into place of the stand cover. There's even integrated cable management to loop longer cables out of sight.
Depending on the monitor you use with the OptiPlex 7070 Ultra, cable management may vary. We only needed a single USB-C cable to connect the system to the Dell P2719HC monitor since it supports USB PD and DisplayPort Alt. The monitor's integrated USB 3.0 hub with four ports makes the system seem more like an all-in-one, too.
One minor gripe we have with the OptiPlex 7070 Ultra and monitor setup is the lack of integrated speakers. The system itself doesn't have any internal speaker nor does the matching monitor. While we wouldn't expect high-quality sound, a simple speaker for Windows sounds and basic audio would've been a convenient addition, especially since you're paying a premium price for the form factor and AIO systems typically have integrated speakers. However, Dell does sell 2.0 and 2.1 speaker options for $33 or $52, respectively, as an order option.
Easy Upgradability
Dell made the OptiPlex 7070 Ultra easily upgradeable, nothing is soldered on-board except for the
CPU
. Flip the system over on its backside and you'll find a single screw holding a metal plate in place. Removing the screw reveals the cooling system and a single SATA 3.0 FFC connector, but with no way of attaching a hard drive. Systems that have hard drives in lieu of the SSD option ship with a different metal plate that protrudes out to accommodate a 2.5-inch HDD and includes the necessary SATA 3.0 FFC cable, which our unit lacks.
We expected access to the system expansion from the metal plate, but Dell had us fooled with the removable cover. Accessing the system expansion is a lot easier and doesn't require any tools. The plastic cover easily slides upwards and comes off, revealing the two DDR4 SO-DIMM and m.2 slots.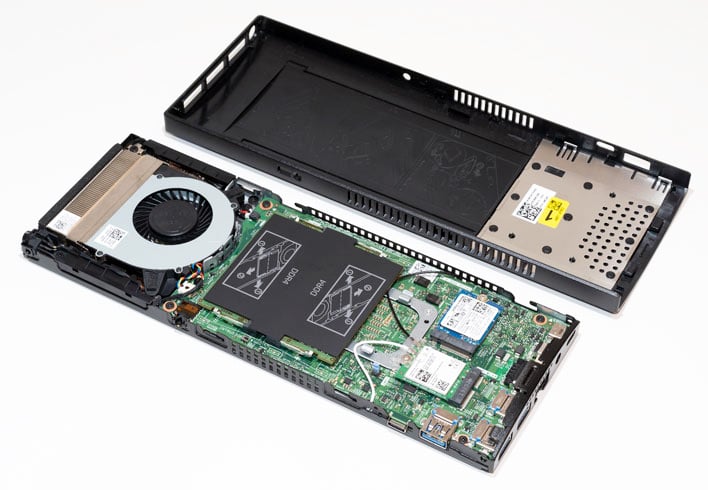 The M.2 slots are limited to the 2230 form factor due to obvious size constraints, but the Dell OptiPlex 7070 Ultra is available with up to 1TB of solid-state storage. Our evaluation unit came with a 512GB Western Digital SN520 NVMe SSD rated for up to 1,700/1,400MB/s read/write speeds. Its not as fast as an enthusiast full-length m.2 SSDs that can achieve over 3GB/s read and write speeds, but there's very few options available in the 2230 form factor and the WD drive is plenty fast for typical desktop use cases.
Related content
Comments