ASUS ZenBook S 13 OLED Laptop Review: A Svelte Beauty
ASUS Zenbook S 13 OLED Review: A Thin And Light Premium Laptop With A Gorgeous OLED Display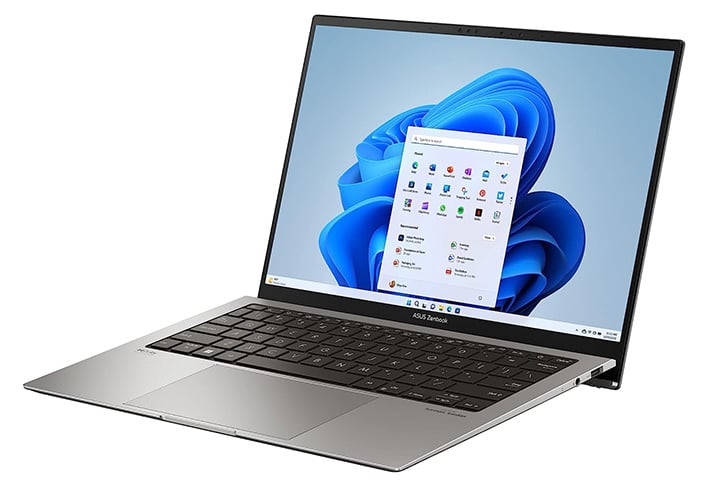 ASUS Zenbook S 13 OLED: $1399 As Configured


The ASUS ZenBook S 13 OLED offers competitive performance, a gorgeous displayh and solid battery life in an incredibly thin and light form factor.







Thin And Light
Excellent OLED Display
Great Battery Life
Attractive Design

Some Fan Whine Under Load
Basic iGPU



---
Ultra portable laptops seem to be getting thinner and lighter with every iteration, while simultaneously getting more powerful. The ASUS Zenbook line has long followed this trend and offered a series of relatively powerful and highly flexible (literally and figuratively) devices. The new ASUS Zenbook S 13 OLED continues the tradition, and it makes a serious case for itself as one of the current top thin-and-light machines to beat.
The Zenbook S 13 OLED also has quite a bit of stiff competition in the space. The
Lenovo Yoga 9i Gen 8
is a compelling, if slightly larger option, while the MacBook Air offers great performance-per-watt for those willing to move to macOS and Apple's platform ecosystem. And, then there's
Dell's XPS line-up
, which have long been some of the better ultrabooks, scoring praise in our reviews here as well.
Regardless, its spec sheet certainly checks all the right boxes, so let's dive into the ASUS Zenbook S 13 OLED below, and journey on to find out whether or not it's a worthy premium laptop competitor for your hard-earned dollar.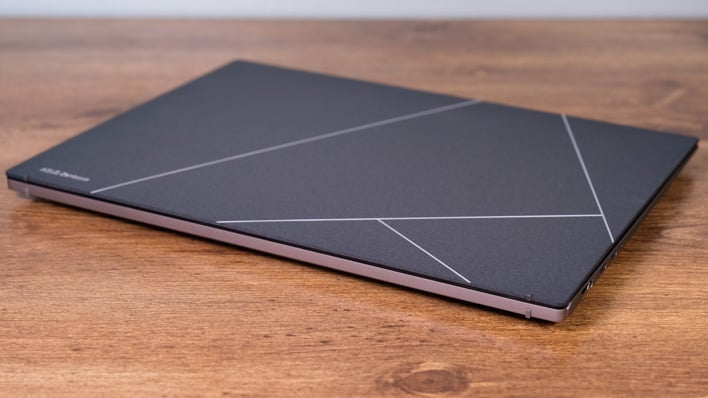 ASUS Zenbook S 13 OLED: Specifications
| | |
| --- | --- |
| CPU | Intel Core i7-1355U (5.0 GHz, 10 cores, 12 Threads) |
| OS | Windows 11 Pro |
| DISPLAY | 13.3-inch 2.8K (2880 x 1800), OLED, 60Hz |
| GRAPHICS | Integrated Intel Iris Xe |
| CPU/GPU COMBINED POWER | 15W |
| MEMORY | 32GB DDR5-5200 (Soldered) |
| STORAGE CAPABILITY | 1TB M.2 NVMe PCIe 4.0 performance SSD |
| WEBCAM | IR FHD type (30fps@1080p) |
| COMMUNICATION | Wi-Fi 6E + Bluetooth v5.3 |
| AUDIO | 2 x Harman Kardon speakers |
| AUDIO JACK | 1 x Mic-in/Headphone-out Combo Jack |
| I/O PORTS | 1x USB 3.2 Gen 2 Type-A, 2x TB 4, 1x HDMI 2.1, 1x combo audio jack |
| BATTERY | 4-Cell, 63 Battery (Whr) |
| AC ADAPTER | 65W USB-C adapter |
| DIMENSION (WXDXH) | 296.2 x 216.3 x 10.9mm |
| WEIGHT (W/ BATTERY) | 1 kg |
| COLOR | Basalt Grey |
Unlike other thin-and-light laptops of late, like
the Yoga 9i Gen 8
, this ASUS laptop is powered by Intel's 13th Gen 15W U-series chips, designed specifically for ultralight laptops with lower power envelopes. That, of course, means that this notebook won't perform quite at the same level as some beefier machines, however, it should have a positive impact on battery life and thermals. The battery on board the ASUS Zenbook S 13 OLED is 63Whr, and ASUS claims it can recharge to 70% in 49 minutes. This laptop also is driven by Intel Iris Xe graphics – so while it's more than ample for productivity, it's not built for more intensive creator or gaming tasks.
ASUS notes a number of different RAM, storage, and CPU options, however, there's only one model available right now – and it's the one we're reviewing. It comes with 32GB of RAM, a 1TB SSD, and an
Intel Core i7-1355U
processor. It's nice there's an option for 32GB of RAM, as it's soldered to the motherboard (as are most thin and lights these days), so you won't be able to upgrade down the road. Storage is available through a single M.2 slot, with up to 1TB available, most should be satisfied with this machine's capacity.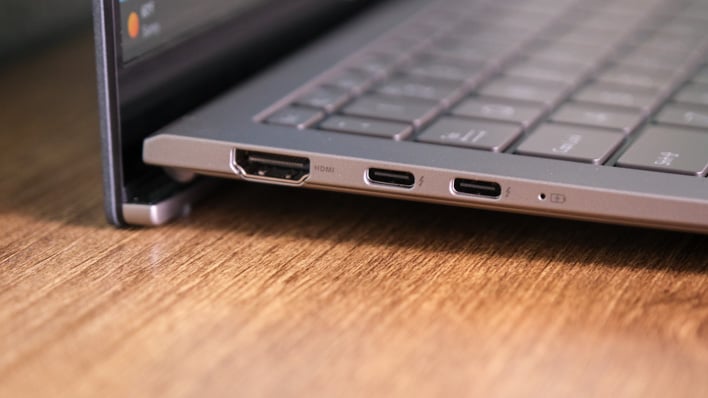 Wireless connectivity is solid here too. The Zenbook S 13 OLED
supports Wi-Fi 6E
, which is the current latest and greatest Wi-Fi standard available in-market, plus you'll get Bluetooth 5.3, all through Intel's AX211 WIFI combo module. With a 2x2 MIMO you could theoretically get up to 2Gbps of bandwidth, though you'll also need a high-end and router and internet connection to get close to that.
The display on this laptop is very high-quality too. As its moniker suggests, this machine sports an OLED panel with a 2.8K resolution (2880 x 1800) and a 60Hz refresh rate. It isn't a touch panel, so if you're looking for touch capabilities, that's not an option here. Let's drop in closer for a look at design and build quality.
ASUS Zenbook S 13 OLED: Build Quality & Design
The first thing you'll note about the Zenbook S 13 OLED is its design. The device does away with the monotone look on offer by most clamshells in favor of a two-tone finish, where the lid is a different tone to the main body of the device. Additionally, the lid has an attractive design with an artistic flare thanks to the lines that separate the lid into segments.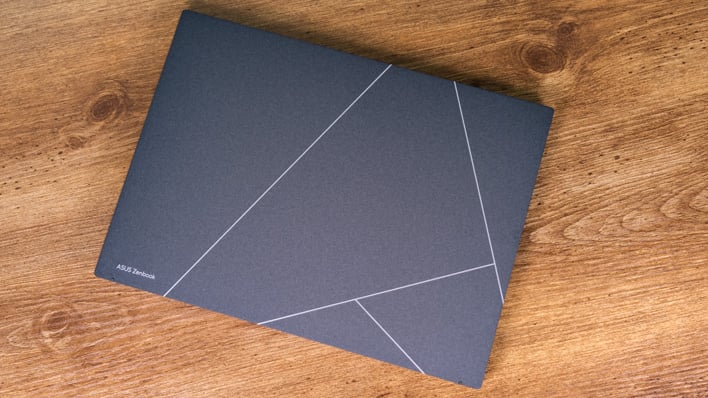 It's not just a looker, either – it's well-built too. The textured lid is built with ASUS's "plasma ceramic aluminum" that's reportedly made with a method that makes each lid totally unique. More important, perhaps, is the fact that however the laptop is made, it's excellent at hiding fingerprints, and it feels unique too.
On the left side of the laptop, you'll find an HDMI port and
two Thunderbolt 4 ports
, while the right is where you can find the USB-A port and combo audio jack. The port selection is fine, but another Thunderbolt 4 port on the right side would have been nice. An SD card slot also would have been nice. Alas, you'll have to join the dongle life if you need to use an SD card with this laptop.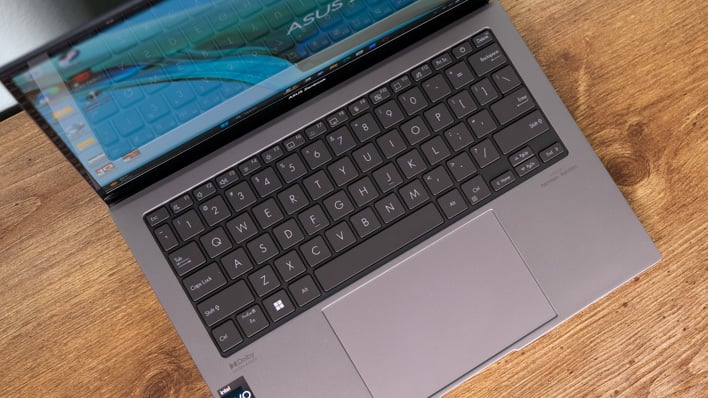 The display on the laptop looks fantastic. There's no touch, and no high refresh rate support, but colors look vibrant and the contrast ratio of OLED is superb. In addition, this laptop is easily able to get bright enough for the vast majority of situations, even outdoors at 550 nits brightness. The panel has a16:10 aspect ratio, which makes for plenty of room for content, too. Our only issue is that there's a bit of glare, since it's a glossy display, so in some environments it can be a little distracting. But short of those reflections, most will love what's on offer here.
Above the display panel, you'll find the webcam, which is quite good. The camera itself is aided by a suite of AI features that are baked-in to help with things like lighting and background blurring. Colors were bright enough, and detail was good – certainly good enough for video calling. The camera has an IR blaster as well for
Windows Hello
support, which is always helpful.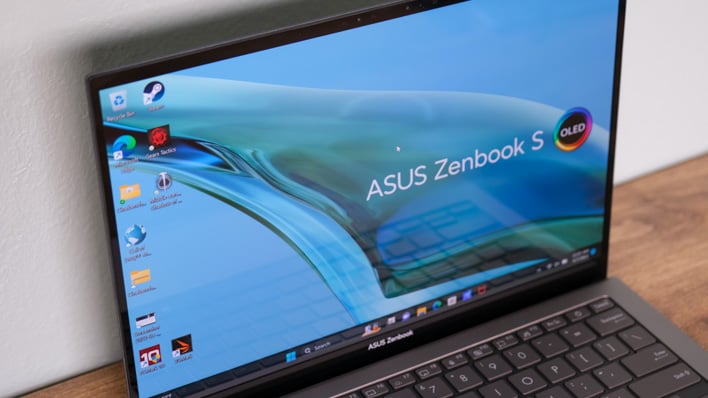 The typing experience here is pretty solid as well. The keys are well-spaced and feel quality enough with good travel, though they also feel slightly softer than we generally prefer. The trade-off, however, is that this keyboard is relatively quiet, which is nice. Like any decent laptop keyboard you'll get used to the feel with just a bit of learning curve.
The trackpad also isn't perfect, but again, it gets the job done. It's not as responsive in the corners, and requires quite a push for a hard click, though as someone who uses tap-to-click, that's not much of an issue. Still, for the most part this very spacious trackpad works as it should.
ASUS Zenbook S 13 OLED: Software Experience
The Zenbook S 13 OLED ships with Windows 11 Pro, and we had the 22H2 build installed from the get go. No updates were available when we got the device, so our experience was as up to date as possible.
Generally, Windows 11 Pro on the Zenbook S 13 OLED is how you would expect, with a relatively stock experience overall. Unfortunately, there is some extra software pre-installed, including McAfee, which you'll likely want to opt out of when you set up the device because frankly, Windows Defender is enough for most these days. There's also the ClipChamp video editor, which we would probably pass on as well.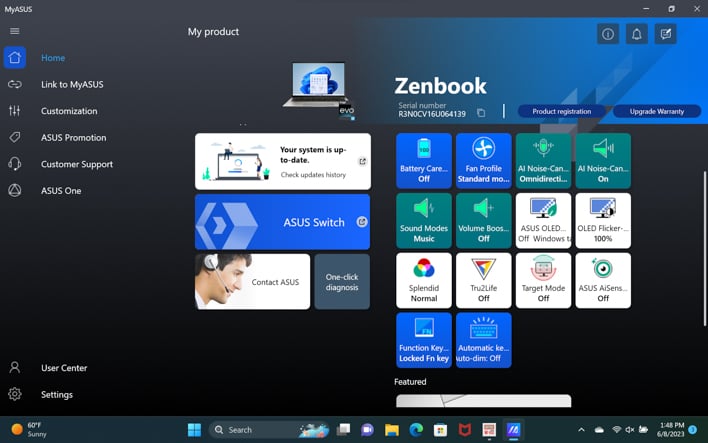 On top of those apps, the laptop comes with the myASUS utility. With this app, users are able to modify features like Battery Care Mode, which only charges your laptop to 80%, and select fan profiles, microphone modes, and more. There's a good selection of options, however, the software also has ads, which may be off-putting for some.
For the most part, you'll probably leave things set the way they are out of the box and leave myASUS alone, except for checking for firmware and driver updates, but it's still nice that many of these settings are available as needed.
Alright, on with the benchmarks, next...
Related content