Dell XPS 17 (9730) Review: A High-Performance, Gorgeous Laptop
Dell XPS 17 (9730): A Refined, Roomier XPS Notebook With GeForce RTX Power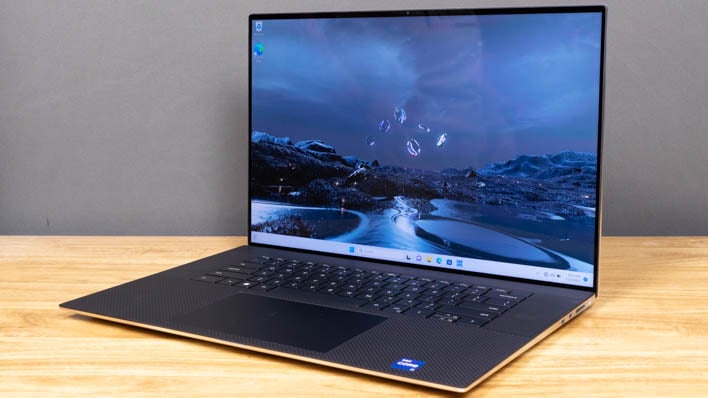 Dell XPS 17 (9730) - Starting at $2,049


Dell's larger, 17-inch XPS 17 (9730) laptop blends high performance, great battery life, and a gorgeous display into a surprisingly portable package.









Big, bold, gorgeous display
Excellent battery life
Premium, thin design
User upgradeable RAM and storage
Top-tier CPU and solid graphics performance
Good keyboard with biometric authentication

No high-refresh display options

Minimal external connectivity

720p webcam is disappointing






---
The Dell XPS 15 (9530) with Raptor Lake 13th Gen Intel Core processors and Ada Lovelace NVIDIA GeForce RTX graphics made for a really nice portable, powerful, and power efficient combination. So, it stands to reason that a 17" version with similar specifications, but with a larger display and battery, and a slightly higher power and heat budget, would be more of everything -- more power, more battery life, and more screen real estate, but also in a somewhat larger footprint with just a bit more heft. Today, we're looking at exactly that: the Dell XPS 17 (9730) is more or less a 17" version of the slightly smaller
XPS 15 notebook we looked at
recently.
And what we just said about it is true, mostly, but of course there's a lot of detail to cover. How much additional performance does the extra thermal headroom afford users? Is the additional screen real estate worthwhile? These questions and more will be answered as we work through this evaluation. First, however, let's get up close and personal with the Dell XPS 17 (9730)...
Dell XPS 17 (9730) Specifications
Much like the XPS 15 (9530) that launched this year, the Dell XPS 17 (9730) has everything you'd expect from a premium laptop. To start it's powered by an Intel Core i7-13700H with six performance cores and eight efficiency cores. There's plenty of single-threaded performance available with a 5 GHz maximum boost clock, and a total of 20 threads for multi-threaded oomph. Our review unit came with 32 GB of DDR5-4800 backing that up, and the memory is located in a pair of SO-DIMM slots that can be upgraded later.
The GPU in our unit is the same NVIDIA
GeForce RTX 4070
with 8 GB of GDDR6 as we saw before, but thanks to the XPS 17's enhanced vapor chamber cooling solution, the maximum graphics power has been upgraded from 40 Watts in the XPS 15 to 60 Watts here. Performance rarely scales linearly, so we don't expect an extra 50% performance, but we should see a tangible boost in graphics-bottlenecked scenarios. For the performance-minded buyer, this might be enough reason all by itself to upgrade to the larger sibling.
The XPS 17 (9730) is also outfitted with a 1 TB PCI Express 4.0 M.2 NVMe solid state drive for primary storage. There are actually two M.2 slots that support the very common 2280 form factor for fast storage. The XPS 15 shipped with a blazing-fast drive, and as it so happens, our XPS 17 has the exact same model. It should rip, to be blunt. Networking is handled by the same AX211 -- a popular and very speedy Wi-Fi 6E and Bluetooth 5.3 controller -- and it's mounted on a small M.2 slot on the motherboard.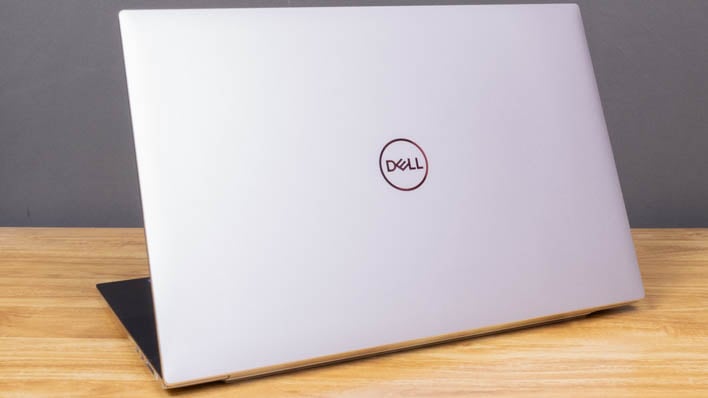 Dell XPS 17 (9730) Features And Build Quality
Externally, there's very little to distinguish the XPS 17 (9730) from, say, the previous generation that we looked at last year. There's an all-aluminum lid with the Dell logo etched in the center, and also an aluminum base. Sandwiched in between is the traditional (for XPS notebooks) carbon fiber palm rest. These notebooks are quite fetching and understated, and we see no reason to make much of a change. There's minimal flex and the hinge is extremely solid, too. Dell hit it out of the park, with what we view as industrial design perfection.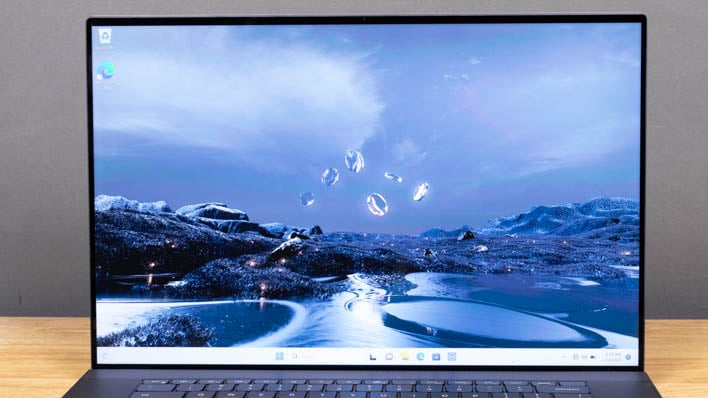 Once we get in front of the notebook, we're greeted by a 17" display panel. It's got a native resolution of 3,840 x 2,400 and an aspect ratio of 16:10. This is quite a treat with accurate colors, deep black levels, and plenty of brightness. The panel has a sustained brightness rating of 400 nits, but can brighten smaller areas to 500 nits to attain DisplayHDR 500 certification. And of course, Dell ensures that the XPS 17's display bezels are kept to a minimum on all four sides, to maximize the display real estate for its given footprint.
The only flaw to behold in this display is the 60 Hz refresh rate. When we looked at the ASUS Vivobook 16 Pro, part of the
NVIDIA RTX Laptops for STEM Students
program, we noted that machine could have a (lower resolution) 120 Hz OLED panel. We'd love to see a more premium notebook from Dell like the XPS 17 (9730) that could boast that same spec.
Above the display sits a 720p webcam for video chats and conference calls, and in a laptop of this price point that's needlessly restrictive. With typical overhead lighting, the video quality is somewhat blotchy, but with some judicious placement of lighting, it can be made acceptable for basic use. There's also a pair of noise-canceling microphones that filtered out our air conditioner unit and ceiling fan noise nicely. And just like the XPS 15 before it, the XPS 17 ships with a second infrared sensor for the facial recognition built into Windows 11.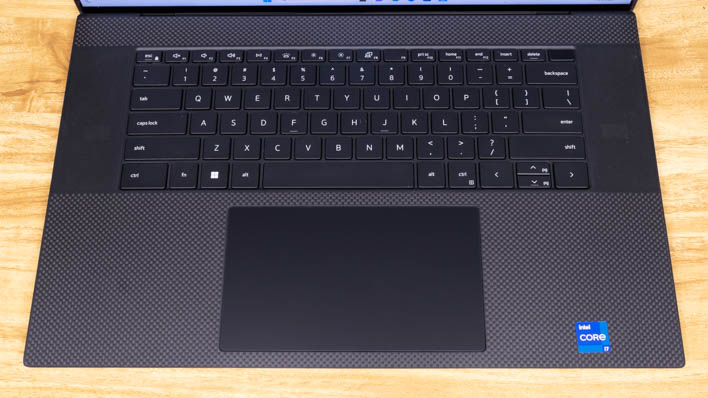 The XPS keyboard, found in its traditional resting place above the carbon fiber wrist rest, is pretty nice. It's got backlighting, which is very convenient when using the notebook in the dark. There's enough travel distance to feel like you're pressing on the keys with a mild tactile response. As always, this review was produced on the XPS 17, so we've got plenty of experience using it. Below that is a very ample trackpad with integrated buttons and multi-touch gesture support. There's also a handy button to disable the trackpad entirely to prevent accidental touches, which we particularly like when also using a mouse. At the top of the keyboard is the fingerprint sensor, built into the power button, which supports Windows 11's biometric authentication.
On either side of the keyboard we find a quad-speaker array. There's a pair of 2.5 Watt woofers and 1.5 Watt drivers that combine for 8 Watts of audio power. They're plenty to fill a room, but as is typical with laptops they lack a lot of bass definition. However, the inclusion of audio engineering house Waves' MaxxAudio technology can generate some psychoacoustic frequencies to fool your ears somewhat, and Waves Nx 3D audio can try to keep your ears guessing where the sound has originated.
The port configuration for the XPS 15 (9730) is identical to its smaller sibling. Around on the right, we've got a pair of Thunderbolt 4 ports with USB Type-C connectors, which also carry USB 4 and DisplayPort -- a requirement of the Thunderbolt 4 spec. There's also a full-sized SD card reader for photographers on the go. Finally, a four-pole combination audio port can support any number of headsets or desktop speaker setups to boost the audio quality if the built-in speakers or privacy are a concern.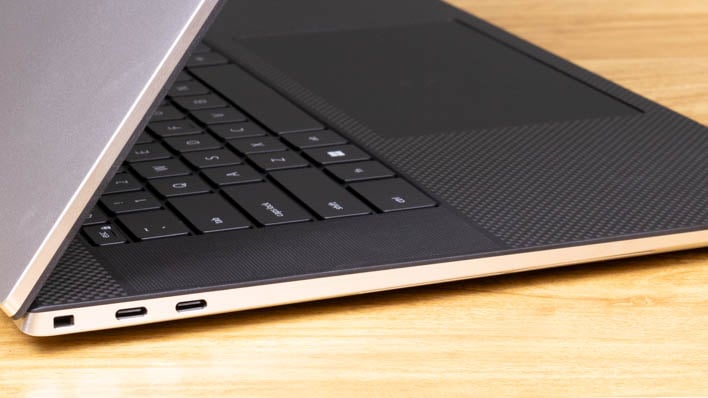 Around the left side, the XPS 17 (9730) has another pair of Thunderbolt 4 connectors with all the same features as the right-sided ones. Incidentally, any of the four Thunderbolt 4 ports is also capable of power delivery with the included 130-Watt AC adapter with its own USB Type-C connector. There's also a Kensington-style lock port on the left side so that the laptop doesn't grow legs and wander off.
Dell XPS 17 (9730) Software Experience
Like the XPS 15 before it, our XPS 17 review unit came preinstalled with Windows 11 Home version 22H2 out of the box. We did have a firmware update as well as some driver updates to install prior to testing, but that's typical for any laptop. This notebook is part of the NVIDIA Studio program, so it gets NVIDIA's Studio drivers for content creators, and the latest of those are the graphics drivers we loaded for testing.
Very little else was installed on the review unit, outside of the Digital Delivery app, which also includes a 12-month McAfee subscription, and the My Dell application. Let's take a quick look.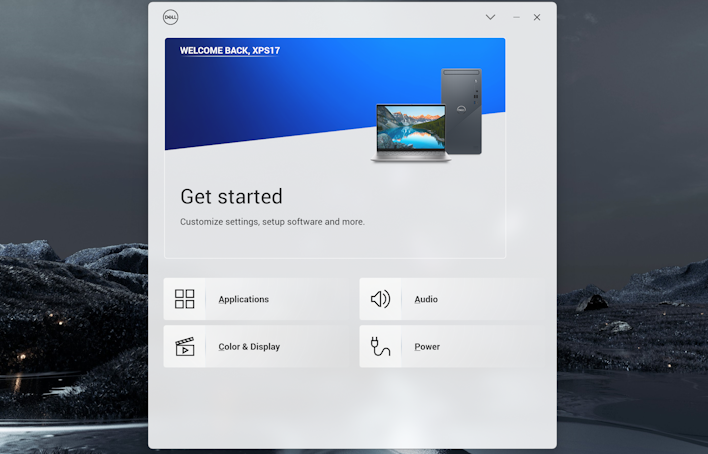 My Dell has been given a visual overhaul to blend in with Microsoft's Fluent UI design principles that make up the bulk of Windows 11's interface with four core pieces of functionality. Applications holds Microsoft Store links to control panel apps like the Killer control panel and
Dell
SupportAssist. The Audio page allows configuration of different Waves audio effects, while Color & Display gives control over color profiles and Dolby Vision tweaks. Finally, Power allows configuring the power and cooling profiles for the laptop; we'll look at this in more depth in a moment.
Now that we've gotten a thorough rundown of the XPS 17 (9730) let's see how this puppy performs...
Related content