Intel 13th Gen Core Processors Revealed: Raptor Lake Unleashed
Intel Raptor Lake 13th Gen Core Processors: More Cores, Cache And Performance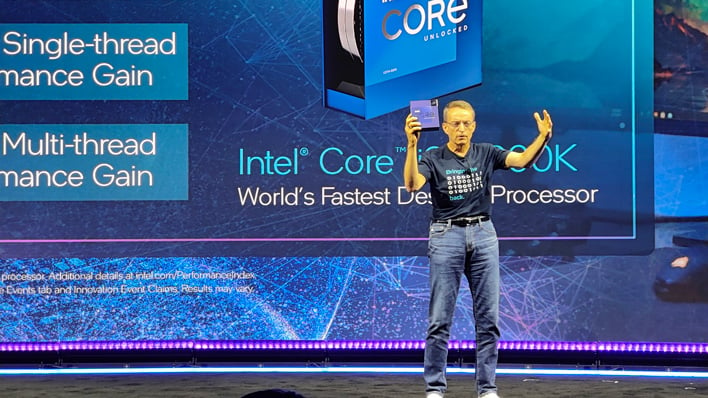 At the Innovation 2022 event currently underway in San Jose, Intel CEO Pat Gelsinger revealed a number of details regarding the upcoming 13th Gen Core processor line-up, codenamed Raptor Lake. If you're a regular HotHardware reader, you've likely seen a myriad of Raptor Lake-related rumors and leaks over the last few months. Today though, we can cast the rumors aside and confirm much of what has previously been reported. Of course, there's a lot more to share as well – so let's get right to it...
The new Intel 13th Gen Core Processor family will scale all the way from low-lower mobile U-series products on up to 125W S-series desktop processors, though like
previous-gen CPUs
, the top-end S-series parts will scale way beyond 125W when boosting to maximum frequencies. Desktop processors will be arriving first, and mobile parts will begin arriving later this year and into 2023.
Raptor Lake's Inner Workings
Although Raptor Lake isn't a complete departure from current 12th Gen Core processors based on Alder Lake, Intel has made a number of key changes that will alter performance and efficiency significantly.
Raptor Lake remains a hybrid architecture with a mix of P (Performance) and E (Efficiency) cores. The P-cores in Raptor Lake, however, will boost to considerably higher frequencies. The P-cores in the first salvo of high-end 13th Gen Core processors will boost up to 5.8GHz, and at an event held in Israel a couple of weeks back a special-edition SKU that will boost to a full 6GHz was teased. The number of E-cores in 13th Gen Core will be increased as well – up to 2X is some models. And the L2 cache for both the P- and E-cores is larger too. There will be 2MB of L2 available per P-core (that's double what's in Alder Lake) and 4MB per E-core cluster. All told, the combination of higher clocks, more cores, and more cache – along with some additional tuning within the design – results in a 15% uplift in single-threaded performance and a 41% uplift in multi-threaded workloads.
On the top-tier Core i9-13900K, Intel is claiming up to 25% better gaming performance and up to a 34% speed boost for creator workloads versus the
12th Gen Core i9-12900K
.
So, how did Intel pull this off without a complete overhaul of the architecture? The enhancements and improvements in Raptor Lake-based 13th Gen Core processors come by way of an upgraded Intel 7 manufacturing processor that leverages 3rd Generation Intel SuperFIN transistors, with better channel mobility. In addition, Intel has turned the knobs and tweaked the dials on its Intel 7 process as it has matured. The updates and refinement to the manufacturing process allowed Intel to alter Raptor Lake's frequency and voltage curve significantly versus Alder Lake. Raptor Lake will run at the same frequencies of Alder Lake at lower voltages (>50mV) or at 200MHz higher frequencies at similar voltages. The architecture can also turbo more than 600MHz higher. The speed paths within the chip have been improved as well, and there's a new dynamic prefetcher algo dubbed L2P that incrementally improves performance too. Officially supported
DDR5 memory speeds
have also been increased with 13th Gen Core processors.
Most of the performance improvements in single-threaded workloads come by way of increased frequencies, but faster memory and more cache also play a role. For multi-threaded workloads the additional cores / threads, along with those highest clocks play the largest role, but all of that additional cache helps too.
The die shot above clearly shows the large complement of E-cores and 4MB of L2 cache per cluster. The top-end processors in the stack will have up to 16, single-threaded E-cores, but the number has increased virtually across the board. The E-cores can also boost higher (up to 4.3GHz).
To keep the beast fed, Intel has increased the officially-supported DDR5 memory speed to 5,600MT/s when using one DIMM per channel, or 4,400MT/s when using two DIMMs per channel. Like AMD's just-released Ryzen 7000 series processors, filling all of the DIMM slots on the motherboard will reduce peak bandwidth, due to the signally challenges associated with high-speed DDR5 memory. Intel is, however, supporting higher speeds than AMD can currently. Of course, higher memory speeds are always possible with overclocking, but your mileage will vary.
Intel 13th Gen Core processors also feature faster fabric within the chips that can boost up to 5GHz to provide a lower latency path to system memory, in addition to a larger L3 cache that scales with the number of cores, with a new dynamic inclusive/non-inclusive caching algorithm (INI). Inclusive caching keeps all of the multi-level (L1 / L2) cache data in the LLC to optimize single-thread performance, by improving hit rates. Whereas non-inclusive caching only copies select MLC data, freeing up more capacity in the LL3, which can improve MT performance. Using telemetry data and machine learning techniques, Raptor Lake's LLC dynamically adjusts its caching policy to optimize performance.
Intel 13th Gen Processors: Performance Expectations
Intel is claiming leadership gaming performance with its 13th Gen Core processors. Data provided by the company shows a Core i9-13900K outpacing a Ryzen 9 5950X and Core i9-12900K across the board, with some significant upticks in games that benefit more significantly from the increased cache and cores, over and above Raptor Lake's higher frequencies. The
Ryzen 7 5800X3D
is also represented in one of the graphs, and has a much better showing, but we'll be able to test all of this when we get processors in-hand.
Content Creation performance is also significantly improved. Intel is reporting massive gains over a Ryzen 9 5950X. Of course, the Ryzen 9 7950X also offers significant performance benefits over the 5950X, so it looks like we're going to have a real battle for next-gen desktops relatively soon.
Normally you'd think upping core counts and frequencies without moving to a more advanced process node would result in a big increase in power consumption, but Intel is claiming the refinements it made to
Intel
7 along with enhancements incorporated into Raptor Lake significantly improve efficiency. In fact, Intel is claiming similar performance to Alder Lake, but at roughly 25% the power. And at similar peak power, performance is improved by more than 41%.
Raptor Lake Overclocking And Platform Updates
If stock performance isn't enough, Raptor Lake based 13th Gen Core processors are reportedly highly overclockable as well. During some extreme overclocking attempts, Intel is claiming its P-cores have exceeded 8GHz and they've achieved >10,000MT/s DDR5 memory speeds. A new version of Intel's Extreme Tuning Utility is also inbound with new per-core tuning and visualizations, with 1-click overclocking modes for the CPU and memory.
New 700-series chipsets are coming for 13th Gen Core processors that will offer more PCIe Gen 4 lanes and additional high-speed USB 3.2 Gen 2x2 20Gbps ports. Of course all of the leading-edge IO available with the existing 600-series chipsets for Alder Lake is also present. We should also mention that 13th Gen Core processors will work in 600-series chipsets as well, with both DDR4 or DDR5 memory.
Intel 13th Gen Core processors ranging from the Core i5-13600KF on up to the Core i9-13900K will be arriving soon. Like previous-gen Intel Core processors, all "K-SKUs" are unlocked for more flexible overclocking and "KF-SKUs" ditch the on-board graphics. Otherwise, they are similar. All of the processors in the stack have increased core counts versus 12th Gen processors, with more cache, and higher frequencies. Pricing, however, is in a similar ballpark. The Core i5-13600KF entry point will arrive with an MSRP of $294, while the top-end Core i9-13900K for enthusiasts will be priced at $589.
AMD's
Ryzen 7000 series
went on sale today, and we'll have Intel's Raptor Lake-based 13th Gen Core processors soon. Although we always have to take manufacturer-provided benchmarks with a grain of salt, we're confident Raptor Lake is going to be a significant step up over Alder Lake across a variety of workloads. If you're itching to grab or build up a new system or upgrade a current rig, you're going to have a ton of options in the next few weeks, so stay tuned to see how everything stacks up...
Related content